Businesses in the volume hiring space traditionally select candidates for roles manually, and many decisions are often based on a candidate's past experience. However, when it comes to hiring for entry-level hourly positions, this is not the smartest approach.
Experience does not necessarily equate to future success, which is why recruiters must identify the specific skills their top performers currently possess and look to hire candidates who share these key competencies.
But how do businesses pinpoint what these key competencies are?
Enter competency mapping.
Subscribe and stay up-to-date with everything recruitment related by receiving a weekly content digest and email updates on new resources!
Competency mapping as part of the job task analysis process
Before we dive into the topic, let's start with some definitions.
What is job task analysis?
Job task analysis is the process of identifying the key responsibilities and day-to-day tasks for each job and the knowledge required to perform these successfully. This helps employers identify existing skill gaps in their current employees, develop and provide appropriate training, and write accurate job descriptions for future roles.
What is competency mapping?
The process of competency mapping involves identifying specific skills and behaviors that an employee needs to perform effectively in a particular role. A competency map is sometimes also known as a competency profile or a skills profile.
There are many benefits of competency mapping for both employers and employees, including making better hiring decisions and building a high-performing team.
Competency mapping vs. job task analysis
Job analysis focuses solely on job evaluation, whereas competency mapping defines the ideal candidate. Both of these processes work in tandem when it comes to volume hiring.
At Harver, we begin by observing our client's current top performers and the daily tasks they perform in a specific job. From these tasks, we can then identify which competencies are most important in this role. Finally, we select the right psychometric tests to measure this unique set of skills and behavioral competencies, so businesses can continue to hire new employees at scale who possess these and will excel at their job.
This competency mapping exercise helps companies hire with more confidence and gives them a competitive edge.
Candidates applying for entry-level roles are predominately looking for a short and simple application process so they can gain job security. Designing a hiring process with too many assessments can scare candidates off, which is why your selection process must be short, fast, and focused on measuring only what you need.
This is why we recommend using situational judgment tests (SJTs) as your main assessment, coupled with personality questionnaires, learning agility tests, or any other pre-employment assessments suitable for the role.  
Examples of competencies needed in hourly roles
Many people mistakenly believe that hourly, entry-level roles can be easily performed by just about everyone. But this is not the case. These roles all have specific job requirements that require specific skill sets. 
How do we know?
Because when our clients have transitioned to hiring based on specific skills rather than resumes and experience, they have seen attrition rates fall and consistently improved their hire quality. 
Each industry in the volume hiring space is slightly different, and therefore the desired behaviors and competencies of employees vary. Here are some examples.
Retail
The core competencies needed for working in retail will differ depending on the type of retailer. A low-end grocery chain will focus on skills like teamwork, reliability, shelf-stacking, heavy-lifting, and customer service. In contrast, a luxury beauty brand might look for candidates who possess a certain level of self-confidence, are creative, good at sales, and can upsell and cross-sell products to customers. 
Generally speaking, the following competencies will be important for an entry-level retail role:
Communication
Teamwork
Customer service
Performing under pressure
Resistance to stress and conflict
Resilience
Positive response to leadership
SJTs are commonly used in volume retail hiring because they're a strong predictor of how a candidate will perform on the job. Situational judgment tests can evaluate numerous skills, including resistance to stress, decision-making, sales skills, and customer orientation. These can tell you how a candidate will deal with a long queue of impatient customers or an angry customer complaint.
At Harver, we understand that every business is different and will require a unique set of core competencies. This is why our clients can choose from a library of standard SJTs or opt for custom ones created by our team of psychologists based on the specifics of the role. 
Personality tests will also help you assess the applicant's key personality traits and see whether they match your company culture. Benchmarking your most desirable behaviors and skills will help you put together the right questions.
For example, a question like "do you enjoy helping people?" would help you determine how likely a candidate is to actively go out of their way to help their teammates and customers while at work. 
Hospitality
The hospitality industry is notorious for its sky-high turnover rate compared to other sectors, and the key to reducing this begins with hiring the right people. Although this may sound obvious, it's a little more challenging in practice. 
The long, irregular hours, demanding customers, and physical nature of the job require specific personalities to ensure team members are not only able to cope but thrive in their roles. 
Hospitality staff must be strong communicators but also excellent listeners. They need to have a desire to make customers happy and also be able to tolerate high levels of stress. On top of this, they must have a strong, unwavering work ethic and be solid multi-taskers. 
Let's take a hotel receptionist as an example. In this role, a person must communicate well with a wide range of customers traveling from all across the world. They need to multitask when checking people in and out and answering the phone. Plus, they need to stay calm in high-stress situations, for example, when a customer comes to the desk about an issue with their room. 
There are various ways to test a candidate's aptitude for working in hospitality. One option is to combine SJTs that offer realistic job previews with personality questionnaires or multitasking assessments where candidates are tested on their ability to rapidly switch from one task to the next.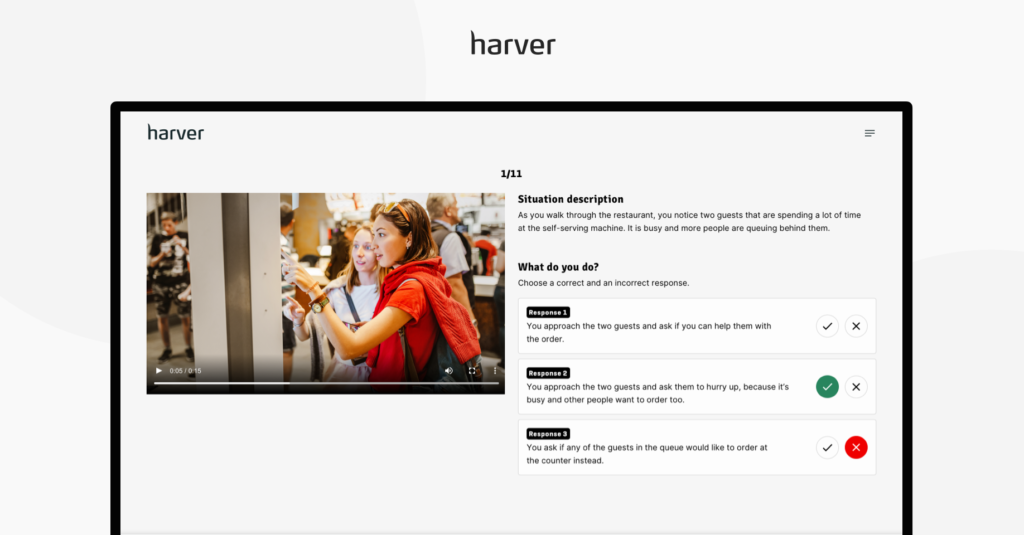 Competency mapping will help you define the core competencies needed for employees to perform in a hospitality role at your organization. This will enable you to hire employees with the same level of proficiency, reduce turnover, and ultimately grow your business. 
You can learn more about Harver's volume hiring solution for the hospitality industry below.
Restaurants
The responsibilities and requirements for entry-level restaurant roles vary slightly depending on your organization and the specific position in question.
For example, suppose you're looking to hire a customer service assistant for an Italian restaurant chain. Your hire will need multiple skills, including great customer service, basic cleaning skills, the ability to operate a till, and potentially prepare, pack and serve food and drinks.
Generally, customer service is one of the most crucial skills in the restaurant industry as your employees will need to cater to customers and ensure they have a positive experience. But what if you're competing with many other restaurants in your area?
We already know that candidates don't want to wait around for a hiring decision. Therefore, to avoid losing top talent to your competitors, you must speed up your selection process and improve your chances of candidates accepting the roles you're hiring for. 
Realistic job previews are one of the most effectives ways to help human resource teams quickly identify qualified candidates. This will reduce the number of employees quitting early on after being hired and save you a lot of time and money in the long run.  
Quick service restaurants
The biggest hiring challenge in the QSR industry is finding high-quality hires. The nature of the industry means that the majority of workers are enter-level employees.
What's most important to these employees? Job security and a fast application process. 
The first step to improve your QSR recruitment strategy is to analyze current employee performance and map key desired competencies for job success. The most important skills for roles like these tend to be teamwork, communication (speaking and listening), and resilience.
The next step is to screen candidates for these skills.
SJTs are effective because they offer candidates realistic job previews and allow them to self-select out at any stage if it doesn't feel like a good fit.
For example, with Harver, you can show candidates a video of an angry customer complaining that the food they've received is cold. They are then prompted to choose the best way to handle the situation from a set of multiple-choice options. You can rank these from most to least effective beforehand, allowing you to assess how suitable they are for this role. 
Don't forget to grab your free copy of our white paper on the digital transformation of restaurant volume hiring. Learn about:
Contact centers
Contact center employees today are required to liaise with customers through various channels, including phone, email, live chat, social media, and text messaging. The key competencies for these roles will depend on the type of contact center in question.
Inbound contact centers largely employ customer service and support representatives, while outbound contact centers mostly employ salespeople and telemarketers. However, both types of contact centers require strong customer service skills (verbal communication and listening) and multitasking.
Competency mapping will help you pinpoint the key characteristics for success at your organization's contact center. From here, you can then use assessments to help your hire the best candidates.
With Harver, you can deploy a chat simulation assessment. This mimics a typical day at work and puts the candidate in life-like situations, thereby giving you a strong indication of how they'll react and behave on the job.
Unlike on-site tests, our live chat support simulation module allows you to test hundreds of candidates simultaneously without needing to expand your recruitment team. In addition, a typing assessment can help you identify candidates with strong typing skills and a suitable typing style that will reflect well on your brand. 
Experience our best-in-class Live Chat Assessment first-hand!
Perfect for remote hiring, our live chat assessment makes it easier than ever to hire live chat agents. Candidates experience the job, while you get actionable data to drive hiring decisions.
Next steps
Competency mapping helps organizations identify the core desired competencies for job success. It's a clear pathway to hiring top candidates who will be happy and effective in their roles and help your business grow.
If you'd like to see how competency mapping can work for you when hiring at scale, and how Harver can help, you can book a demo below.
Ready to transform your hiring process?