Artificial Intelligence is taking the recruitment world by storm – and for good reason! In our space, building relationships is key. When you're able to establish true relationships with applicants, they get excited about your company's values and goals, your hires become intrinsically invested in the company, encouraging them to stick around longer – allowing your organization to get more done.
In a perfect world that is. The reality, unfortunately, is a little bit different. Finding, connecting, and retaining people is a complicated process, and when just one bad hire can cost you upwards of $50,000, you can't afford to employ the wrong person.
But what if there was a way to make this perfect world a reality? Luckily there is. In this day and age recruiters have the possibility to leverage Artificial Intelligence (AI) in the recruitment process. All to make sure you're putting the best individuals in your open positions, without having to spend 25 hours a day, 8 days a week in the office.
By taking the repeatable time-sensitive stuff off of your team's hands – interview scheduling, resume screening, or the entire pre-selection process while we're at it -, AI allows you to spend time on the really important stuff. Like building genuine relationships with high-profile candidates.
By adding AI to every level of recruitment and hiring, you can attract the right applicants, ask the right questions, and make smarter choices about who will best fit your open positions. To help you get a grasp of what AI can actually add in value to your recruiting on a strategic level, we've collected these 7 top benefits of AI in recruiting.
1. Improved quality of hire
The quality of your applicants depends on the initial candidates you're attracting with your job posting. If you're unable to get quality candidates excited about your open position, you'll find yourself weeding through semi-qualified applicants, hoping one of them can fill your needs.
Adding AI to your recruitment process can help you improve the quality of your applicants in a number of ways.
In the very first phase of the process, AI can help you formulate clear, descriptive job descriptions, for example, that help explain what exactly you're looking for in applicants. When your job description accurately represents who you're looking to hire, you'll see more candidates who fit your needs and less that are over -or under qualified for the position.
But there's more. AI can be used to find exactly the right candidates online with something called 'programmatic job advertising'. We've talked about programmatic advertising before, but if it's your first time here: it's advertising targeted to individuals based on demographic and behavioral variables you can determine for yourself.
In short: the right message, to the right person at the right time. Programmatic advertising draws in the right people and thus – just like writing the perfect job description – ups your conversion rates.
Subscribe and stay up-to-date with everything recruitment related by receiving a weekly content digest and email updates on new resources!
2. Automate tedious manual tasks
Between scheduling interviews, screening candidates, and trying to understand the ever-evolving needs of your team, tedious manual tasks are the last thing you want to deal with.
When used correctly, AI can act like a personal assistant to recruiters. You can use it to automate many of the mundane tasks that eat your day away. By using scheduling software or automated resume checkers, you can ensure things get done without needing to take time away from your busy schedule.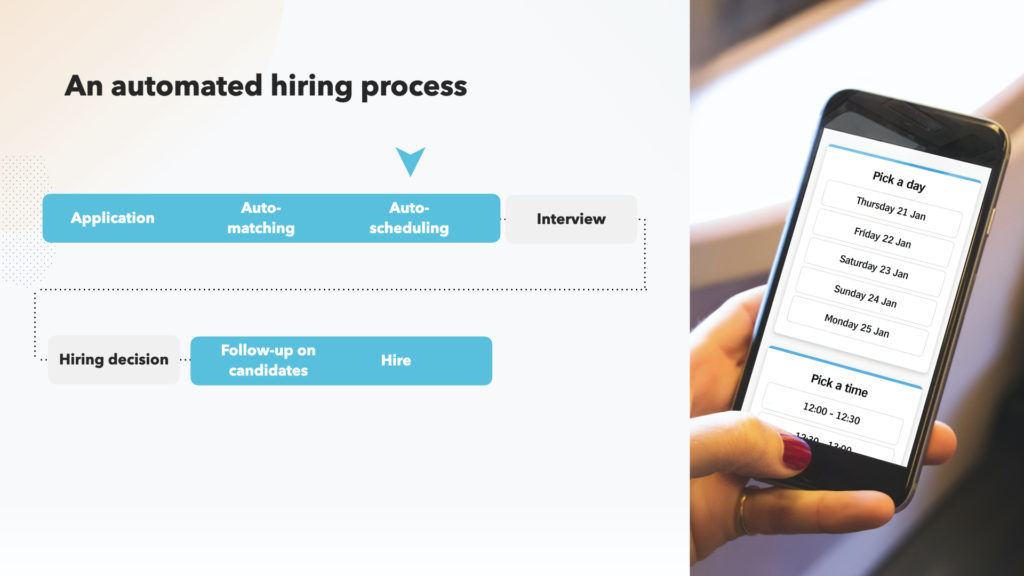 Another great way to automate these tedious tasks is chatbots or automated messaging services. By automating conversations related to specific hiring or job questions, candidates can get the answers they're looking for at any time of the day. This reduces your need to respond to emails or phone calls without reducing the experience of the candidate.
3. Better experience for candidates
Now, using AI is not just beneficial for you and your team. In fact, AI in your process is just as beneficial for the candidates! It might sound counterintuitive – how can you give candidates a better experience with less human interaction right?
Well, because the candidate experience is such a core element of the recruiting process, many of the AI tools in the recruiting world are designed to make life easier for every party involved. When job candidates and applicants can get the answers and information they need quickly and easily, they'll feel more compelled to stay connected with your organization.
Software like the chatbots we described guide candidates through the interview process more efficiently. Not just in terms of time and costs, but also in terms of candidate experience. By eliminating barriers, hurdles, or complications that may deter them from finishing an application or following up on a resume or questions they've sent in, the application process becomes more smooth for both parties.
When thinking of adding AI instruments to your recruitment process, think beyond just what it can do for you and your team. You'll also want to think about how it impacts and improves the candidate experience.
One organization that did an awesome job on this part is US retail giant Zappos. Zappos implemented Harver in their recruitment process and put an emphasis on candidate experience. And it paid off!
After a year, 97% of applicants 'agreed' or 'agreed strongly' that they've had a positive experience applying at Zappos. To see what their process looked like an read more about the case, go here.
4. An optimized recruitment process
In order to hire the right talent, you need your recruitment process to function like a well-oiled machine. When certain areas start to squeak, top candidates may get lost – sending them right to your competitors. To ensure you're bringing the right applicants through the entire process and make it as efficient as possible, you have to keep an eye on the big picture.
AI can give you this eye. After all, AI equals data. Many of the tools that use a form of Artificial Intelligence collect data and display it in such a way that it's insightful to you. Having your recruitment funnel data displayed in an orderly fashion lets you 'grease the machine wherever it squeaks'.
We've covered the topic of data acquisition and visualization in the Harver platform in the article below.
5. Cost-effective hiring
Hiring a new employee is a costly endeavor. When you need to post job applications, screen applicants, host interviews, and ultimately train employees, you want to be sure you're investing in the right individual.
Although Infusing your recruitment process with AI comes with additional costs, it creates a more effective hiring funnel as a result and thus will definitely have a positive impact on long-term ROI.
Not only will AI reduce your need to hire additional recruiters, interviewers, or employees, but it also ensures you're putting the right individual in your open position the first time around. By hiring better employees, you'll reduce turnover and save money on training, signing bonuses, and other expenses associated with taking on new team members.
Efficient hiring has always been a bit of a double-edged sword. While you want to put the right candidate in your open position, you also need to fill that slot as quickly as possible and as cost-efficient as possible. Depending on the position you're looking to hire for, the responsibilities may be falling on other members of your team – decreasing their happiness with the job.
However, you don't want to give the position to the first person that comes along. Remember that all-too-famous project management dilemma triangle where you had to choose between 'good', 'cheap', and 'fast' – but could only pick two? The same is true in recruitment.
Using AI in your recruitment process can help to balance out this dilemma. We've already shown you how to improve the 'good' and 'cheap' sides of the triangle, but your process gets faster too. By significantly reducing the amount of time you need to spend digging through resumes or screening applicants, AI helps you move through the interview process faster – without sacrificing the quality of candidates. Win-win.
7. No more 'talent waste'
Sometimes, the best person for a job doesn't even know they're looking. Passive candidates and candidates who may have applied for other positions earlier can sometimes be a better fit than direct applicants. However, it isn't easy to find these individuals. Without assistance from AI-powered scraping software, you would need to spend hours sifting through LinkedIn, resume boards, and applicant tracking systems.
Adding an AI tool like Textkernel can do the manual work for you. By allowing AI to pull past applicants who may fit the job, you can save time and money trying to connect with new candidates. You've already interviewed and established a relationship with past applicants, so you can cut down on the time and cost to hire the second time around.
AI can also comb through candidate databases and job boards to find applicants you may want to connect with. By paying close attention to what you're looking for in potential candidates, AI can provide you with recommendations of applicants and professionals to reach out to about your open position.
Conclusion
Artificial Intelligence is changing the game in a number of industries, including recruiting. If you're not adding AI into your recruiting process, or at least reading up on the possibilities, you're definitely missing out.
There are a number of benefits to adding AI to your recruitment process. As you begin to test new processes or systems, you can learn more about what you and your candidates are looking for during the job hunt. With the right software, you can develop an automated process that improves the quality of your candidates and their application experience.