The first few months of employment are critical in your new hire's journey at your organization. In fact, almost a quarter of employees leave within the first 45 days of employment!
If that hasn't set your mind racing, here are a few other stats to give you food for thought:
Almost 33% of fresh hires start searching for a new job within the first six months of starting their careers.

Employee turnover costs range between 100% and 300% of the replaced employee's salary.
Unpleasant, right? But, never fear, you can prevent this from happening to your business by preparing your candidates from the moment they accept their job offer, even before their onboarding starts.
How? By having and executing a great pre-boarding process.
Let's take a look at this in greater detail!
What's in?
Subscribe and stay up-to-date with everything recruitment related by receiving a weekly content digest and email updates on new resources!
What's pre-boarding?
In short, 'pre-boarding' refers to whatever process your company has up and running when the candidate accepts their job offer, right the way through to their first actual day working for you.
The focus should be preparing your new hire and drumming up some excitement as their first day approaches.
Needless to say, how you welcome recruits hinges on your company's culture, budget, and creativity…but the important thing is having some sort of pre-boarding plan and protocol in place. 2 weeks – 1 month
That's the typical notice period length.
That means that the period between accepting an offer and actually starting the job can be quite long and the new hire might need some help getting excited about their new job.
Pre-boarding: What are the benefits?
There are tons of perks to a robust pre-boarding process, including:
1. You'll solidify the employee's commitment to your company
Your pre-boarding process has a massive impact on the level of loyalty the new employee feels towards your company. With the right communication and outreach, you can generate rapport with new hires from the get-go.
After all, you don't need us to tell you that these days, employee engagement is a massive problem. So, it's imperative you use the pre-boarding period to excite your new hire about your company before they even start. Again, not only does this get them pumped to dive straight into work, but it's also an excellent way of strengthening their commitment to your brand — win-win!
2. An improved 1st-day experience
Did you know, 4% of employees quit after a disastrous first day? That's quite a lot.
But, when planned and executed well, pre-boarding can help make your new hire's first-day experience genuinely a great one.
How?
By focusing on what's really important.
Hint: It's not signing forms and going through copious amounts of red tape; instead, it's encouraging them to start building relationships with colleagues and managers.
It stands to reason, when people feel involved, they're more likely to feel a part of something bigger than themselves, which is crucial for ensuring a killer first day!
Top Tip: It's clear that no-one wants to spend their first day wading through paperwork. So, encourage new hires to complete and submit documents like their W-4 and I-9 forms before their first day. You should note, the I-9 form must be signed within the first three days of the employee's start date.
3. Employees are more productive, faster
As we've already established, a decent pre-boarding process ensures new hires feel engaged with your organization. When workers don't have to waste time with administrative tasks, they can get straight down to business with in-house training and other work-related jobs. 90 days
That's how long it takes new hires to decide to stay – or leave – their new job.
Source: SilkRoad
Starting with preparing your new hires for their new jobs even before the onboarding period helps retain them.
Pre-boarding best practices
Okay, so now we've covered why you should have a pre-boarding procedure, how do you go about launching a successful one?
Take note of the following tips!
1. Reinforce your employee value proposition
Your new hire probably accepted your offer because they found your employee value proposition appealing. So use the pre-boarding period to reinforce this. Not only does this show you're an organization that fulfills its promises, but it also demonstrates that managers care about their employees: the phrase two birds, one stone springs to mind.
Simply asking the new hires for their feedback about the hiring process also goes a long way in strengthening their impression of what kind of company you are.
Speaking of showing employees you care, you could include company-branded swag as part of your pre-boarding strategy (if you have the budget).
You could even take this a step further by including extra merchandise for their spouse and kids (if they mentioned them in their interview). This is a straightforward yet effective way of drumming up some excitement and making new hires feel a welcome part of your organization. 81%
of new hires want to receive details about their new role in the pre-boarding stage.
Source: Tydy
New hires are excited to hear about what challenges await them. Their hiring manager can give them more details about the role to make them feel prepared.
2. Personalize your pre- and onboarding systems
Consider the individual needs of your employees and design both their pre- and onboarding processes accordingly. Take an interest in their well-being; this works wonders for bolstering job satisfaction.
For instance, encourage their future teammates and managers to congratulate them on making the cut. This is always an excellent way of welcoming new hires to your organization.
Hiring new employees might be an everyday thing for you, but for the workers, accepting a job offer probably isn't something they routinely do. So, make a big deal about this! Be sure to congratulate and celebrate the onboarding of your new recruits properly.
And as we've just alluded to, the simplest way of doing this is encouraging their future teammates to ping over a welcome email. Again, you could also take this one step further by sharing the new hire's LinkedIn profile and prompting the current employees to connect with their new teammate.
Managers play an even more critical role in the pre-boarding process. As such, a telephone call rather an email might be more appropriate. A quick chat over the phone is an excellent way for the manager to get to know the new hire, and answer any questions they have. This also helps with making more meaningful introductions between the new hire and the rest of the team on their first day.
It goes without saying; there are plenty of different ways you could connect with new hires before they start their first day. So, here are a few other suggestions to fuel you with inspiration:
Schedule a lunch:

If you have the time and the budget, why not invite them out to lunch? Ideally, their future manager and the team will all be there. This is an excellent environment for you to meet and chat in a more casual setting and as such, eradicate those award first-day introductions.

Alternatively, if lunch isn't practical, you could

schedule a video call

instead. Yes, this is more formal, but it still gives you all the chance to 'meet' before their first day.

Is your office particularly social?

Do you occasionally go out for an after-work drink? Or do you host other social events? If so, invite the new hire to come along.

Schedule an office tour for the new hire.

Not only does this solidify the fact they've got the job, but it also makes their first official day much less intimidating. 1-2x a week
That's the recommended engagement frequency throughout pre-boarding.
Source: Tydy
Effective pre-boarding doesn't have to mean bombarding your new hires with emails and calls. Instead, opt for strategic communication about things that will matter in their employee journey.
3. Help them with administration
New hires have to endure a ton of bureaucracy. They have loads of forms to sign, namely tax forms and direct deposit info. That's in addition to accounts to set up and software to get familiar with. So, guide them through it. Trust us; your new hires will thank you for that!
One of the things you could do for them is to set up their new company email address. That way, it's ready for them from the get-go. All you need to do is confirm their preferred first and last name before going ahead and creating them an email account.
Top Tip: Once their inbox goes live, encourage their manager to invite them to upcoming meetings. This should give them a better feel for what's in store during the weeks to come.
Stop guessing,
Start data-driven hiring.
Learn how you implement a modern candidate selection process, that is: streamlined, experience-driven and backed by data.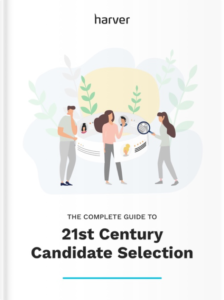 4. Provide clear guidelines for their first day
Around 50% of workers worry they'll be late to their first day at work. So, help nip that anxiety in the bud by sending clear instructions for the first day.
Tell them where they need to be. I.e., the specific address, department, and person they need to report to. And, if your office is tricky to locate, provide specific instructions to help them out.
Don't forget to tell them what the dress code, details on office parking, and how to check-in. This info helps massively for ensuring everything goes off without a hitch.
In addition to all the above, we suggest sharing any vital company information you have. So, provide any relevant materials before their first day — for instance, an employee handbook, a benefits guide, details on employee resource groups, etc.
These documents help employees to familiarize themselves with what you're offering. When new hires know exactly what's provided to them and expected from them, before stepping a foot through the office door, enrolling them on day one is way easier.
Top Tip: If you're not already, now's the time to start using eSignature. We suggest getting new recruits to sign your company documents digitally. By making this part of the pre-boarding process, not only does this force them to get to grips with the day-to-day running of the business (and the company culture), it also saves you lots of time when it comes to onboarding.
5. Pay extra attention to international hires
If you have workers relocating from abroad, they might need extra information and support from you. So, be ready to answer their questions and address their needs.
We suggest a proactive approach, put yourself out there, and ask how you could help make their transition easier. Then, follow through on whatever promises you've made! 41.5%
of international hires are given up to 30 days to relocate.
Source: Allied
International hires often have to relocate quickly. That's why being available for answering their questions will help relieve their stress immensely.
6. Consider using a pre-boarding app
Using a pre-boarding app can work wonders for helping new hires acclimatize to their new workplace, especially if you often have multiple people starting at the same time. It's a straightforward and accessible way of ensuring workers have all the info they need conveniently in one place. Apps such as Appical or Talmundo can help you design an engaging pre- and onboarding process.
7. Prepare their first-week schedule
Create a timetable outlining the first week of your new hires. Then once it's ready, send it to them a few days in advance. There's a good chance your employees want to know what's awaiting them. This simple gesture is a fabulous way to help them combat their first-day nerves!
You could also ping over digital calendar invites for:
Onboarding sessions

In-house training

Meetings

Planned lunches
Those are just a few examples, but you get the idea — the point is, fire over calendar info for whatever you have scheduled. Companies with pre-boarding in place are
11%
more likely to retain their first-year employees than those without.
Source: Aberdeen Group
Giving your employees an excellent pre-boarding experience strengthens your position as a great employer and your employees are more likely to stay with you longer.
Ready to launch your own pre-boarding process?
For the majority of us, starting a new job is pretty stressful — a unique environment to get used to, wondering whether you've made the right decision, meeting new people, and so on, and so forth. In fact, studies show changing your line of work is even more stressful than a change in residence or a foreclosure of a mortgage or loan!
But, with the right pre-boarding process, you can make this period of change much easier for your new hires. And more importantly for you, you'll boost the engagement, loyalty, and productivity of the recruits from the get-go. In the long run, your pre-boarding process could even encourage recruits to stay with you for longer. So, suffice to say, this is certainly worth investing some time and energy into. Trust us; you'll be glad you did!
Stop guessing,
Start data-driven hiring.
Learn how you implement a modern candidate selection process, that is: streamlined, experience-driven and backed by data.