Over the past few years, the job market has become more volatile than many of us have ever known it in our lifetime. Employment rates have plummeted, shifted across industries, and continued on an unpredictable and erratic trajectory.
With no sign of employment stabilizing any time soon, businesses in the volume hiring space must have an effective hiring process that helps them source qualified candidates from the right places in a fast and fair way. But how can they achieve this when the job market remains unstable? 
The answer is by putting together a data-driven recruitment strategy and making sure they have the right tools and processes for collecting, processing, and visualizing data in an effective manner. A data-driven hiring strategy helps you improve your recruiting efforts by facilitating objective, non-biased hiring decisions, and helping you identify process bottlenecks at scale.
While the steps for building a data-driven recruiting process might vary from one company to another, there are some general steps you can follow when getting started. Let's dive in.
Subscribe and stay up-to-date with everything recruitment related by receiving a weekly content digest and email updates on new resources!
The first steps toward data-driven recruitment
Traditional recruiting usually involves recruiters looking to fill one open role with one new hire, while volume hiring involves hiring multiple people for similar positions. Although there are many differences in the recruitment process, the following steps apply to both types of hiring. 
Start with the big picture
The first step of data-driven recruiting is to look at the entire picture of your current hiring process.
What does the hiring journey look like for candidates and your recruitment team? What recruitment channels are you using, what does the interview process look like, and are there any bottlenecks? What platforms and tools are you currently using, and what are the key data points you are measuring? 
Mapping out the big picture of your hiring journey will give you more clarity on where your current data is coming from and what type of data it is. 
Analyze your current tech stack
Now that you've got a clear list of the tools you're using in your hiring process, it's time to look at which of these tools are collecting data and where they're collecting it from.
For example, an applicant tracking system (ATS) will store certain data, while an assessment tool collects other types. Your sourcing channels (e.g., Linkedin, Indeed, Total Jobs) will also provide various data and analytics. Using Google Analytics on your careers page will give you another set of data and insights. 
Categorize your data
The next step towards data-driven recruitment is to categorize the type of data you're collecting or need to collect. For example, operational data, candidate data, sourcing data, and employee performance data.
To do this in a structured way, map out the different categories of data to the platforms or tools you're using. For example, an application submitted through a job board might get you candidate data such as personal details, past experience, and key skills.
Data from social media channels will tell you which channel is the most effective for sourcing candidates, while assessment data will tell you which candidates fit your culture and have the right skills and characteristics for the job.
How will you use this data?
Now that you've categorized your data, it's time to think about how you'll implement data in your hiring process to make it more effective.
If you're collecting candidate assessment scores, will you use this data to trigger an automation that auto-progresses qualified candidates to the next stage of your recruitment funnel? If you're collecting data on your acceptance rate, will you use this to invest more money in sourcing channels that consistently provide you with the best candidates?
How you wish to use this data will inform the integrations you need to have in place.
Create your data model
The penultimate step is to create your data model. Are you missing any important data points that can be collected during your hiring journey?
For example, do you need to add a new data collection point during the application process, such as candidate work preferences or availability? Or are there any areas where you have an unnecessary overlap of data?
Which system will be your source of truth?
The final step is to decide which system will be your source of truth. Organizations that operate at scale and engage in volume hiring will greatly benefit from a data warehouse instead of a standard analytics tool. Data is only valuable if it's easy to understand and take action from. This is why it's vital to have real-time data from every point of your recruitment process in one place where you can easily identify inefficiencies.
Harver includes a business intelligence (BI) suite that customers streamline data collection across platforms—job boards or social media job listings, assessment and interview data, or performance data—and create a single source of truth. You can learn more by watching the webinar below.
Data sources you need to track
In regular recruitment, it's important to track metrics such as the number of candidates who applied for a role, key characteristics or skills, recruitment sources, the selection process, and more.
In volume recruitment, you must track several data sources to help your talent acquisition team make informed hiring decisions and improve retention rates in your organization. Let's explore the main data sources you should keep an eye on when volume recruiting.
Job boards
Whether you're in the volume hiring space or not, it's vital to keep an eye on hiring costs and make sure you're getting a return on the avenues you're investing in.
To avoid a bad hire, you'll have to do more than write a winning job description and publish a job posting. You want to attract candidates with a particular set of skills and behaviors and have them apply for your open positions.
Tracking and analyzing recruiting data and key metrics will give you a solid understanding of how your job ads are performing, along with information on your visitors like demographics, location, and even the devices they're using. Plus, how many people have seen your job, the number of applicants, and the cost per applicant.
This data will show you which of your adverts are performing well and which ones need tweaking, enabling you to invest in the sources that yield the greatest quality of hire.
Social media
Social media is a brilliant way to source candidates, particularly younger ones. But how do you know if your social media recruitment strategy brings you the right candidates? And how can you determine which channel is the most effective? For example, if most of your target audience is on Facebook, you don't want to invest your time and money on marketing campaigns on Linkedin. 
Tracking social media recruitment metrics will show you which social media platform yields the best results, the number of candidates each platform generates, your capture cost per hire, and much more. This data will help you direct your resources to the best-performing platforms and campaigns.
Applicant tracking system
A smart ATS will provide you with all the answers to your questions when it comes to your applicants. This includes where they came from, the role they've applied for, what stage they're at in your application process, and which candidates in your talent pipeline match your open roles.
Your ATS is the key foundation to any recruitment strategy, and the right one will help you streamline your recruitment process. 
Candidate relationship management tools
Volume hiring means you're constantly dealing with hundreds or thousands of applicants for multiple (often entry-level) roles. This is where a CRM tool can help you create a better candidate experience and ultimately boost your employer brand. But what data should you be tracking?
The answer is anything that involves your candidates in your pipeline. This includes your abandoned application rate, how many candidates you have in your pipeline, how long they're spending at each stage, time to hire, time to commitment, quality of hire, drop out rate, and referral rate too.
With volume hiring, the ultimate goal is to deliver a stellar candidate experience as quickly and efficiently as possible so that you retain the best candidates for your business. The only way to achieve this is with data-driven recruitment. 
Assessments and interviews
Resumes allow plenty of room for bias during the hiring process, whether you're aware of it or not. Plus, they tend to be unnecessary when recruiting for entry-level roles where job success is not dependent on experience but rather a set of pre-determined behaviors and characteristics.
Assessments reduce bias in the recruitment process and help you identify the most suitable candidates for your roles. They can be customized to fit your exact needs and help you find candidates with specific skill sets, who fit your company culture.
Harver, for example, offers a selection of different pre-employment assessments to choose from that will help you measure academic skills, hard and soft skills, or job fit for each candidate. This includes personality questionnaires, cognitive ability tests, culture fit, situational judgment tests, and more.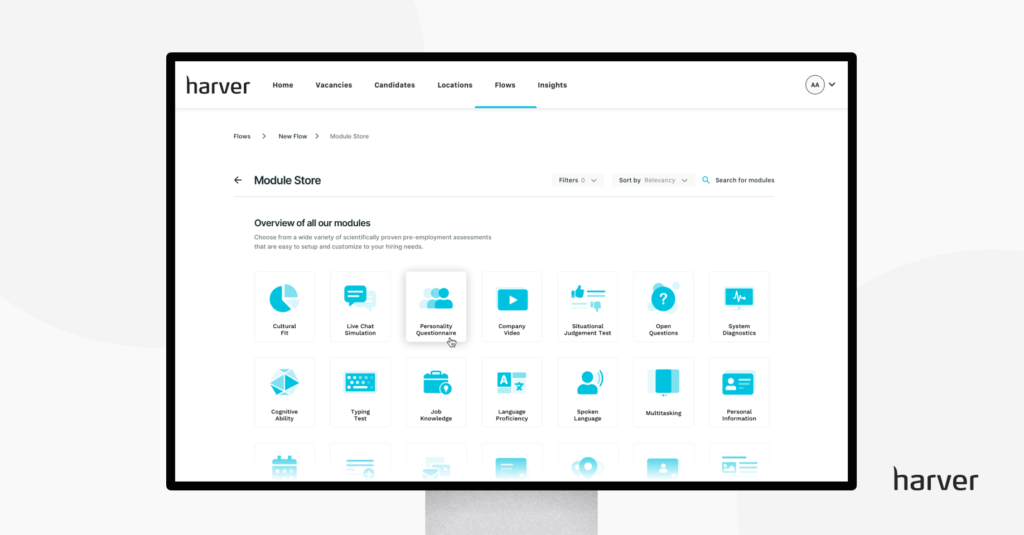 You can use the data collected through these assessments to compare what an ideal candidate looks like with your benchmark, and to automatically progress candidates through the recruitment funnel if their assessment scores are high enough.
At the same time, data collected through pre-employment assessments can be used to identify the types of roles a candidate would fit the best. For example, are they a better match for a customer service or an outbound sales role?
In addition, you can track the number of qualified candidates applying for your roles and utilize candidate routing for retaining qualified candidates for alternative positions in your organization. 
Although your hiring managers must carry out interviews, they still yield valuable data that should be tracked. This includes how long it takes to move successful candidates to the interview stage, how effective your interviewers are, and whether your interviews are consistent. 
Human resource information system
An HRIS is integral to HR analytics and enables you to measure your HR efforts. All HR activities and information technology are integrated, and HR teams use this system to stay organized and make their processes more efficient.
An HR information system tracks data including employee turnover, employee attrition rates, cost per hire, or benefit participation rates. This data is key for making more informed hiring decisions that benefit all areas of the business. 
Performance data
Data doesn't stop after onboarding your new employees. Employee performance data offers a valuable look at how well your employees perform in their roles, which can help you improve your recruitment process. For example, suppose after six months, it turns out that 90% of the people that scored high on creativity perform exceptionally well. In that case, you can decide to let creativity weigh heavier in your preselection.
First, you should outline desired performance standards and compare employees to your set benchmark. This is a great way to determine whether employees are meeting or exceeding performance expectations in your organization.
Performance data metrics will vary depending on the industry in question. For example, in retail, performance metrics might include customer service or product knowledge. In contrast, in a contact center, they might consist of abandonment rate and the average time customers spend in a queue.
Next steps
As you can see, there are quite some factors to consider when creating a data-driven recruitment strategy, and setting up the entire infrastructure when hiring at scale can be a tough challenge. Regardless of the tools you plan to use, it's important to start with a clear understanding of your goals, current recruitment process, main KPIs, and current data collection and visualization flows.
Harver helps organizations in the volume hiring space improve their recruitment processes and hire better, faster and in a fundamentally fair way. If you'd like to see how we can support your organization in moving toward a data-driven volume hiring strategy, you can book a demo below.
Ready to transform your hiring process?