In volume hiring, because of the scale of operations, you can't afford to have an inefficient recruitment process. But it's easy to introduce inefficiencies in the system when you operate with complex tech stacks that require recruiters to use multiple tools that aren't always properly integrated.
To avoid such issues and make sure everything runs smoothly, you need to zoom out and take a look at the bigger picture. You do this by looking at your entire hiring journey, and mapping out all the steps and touchpoints in the hiring process, as well as the tools used, the data collected, the communication sent to the candidates.
We'll dive into our framework below, but first, let's quickly look at why you need a hiring journey map.
Subscribe and stay up-to-date with everything recruitment related by receiving a weekly content digest and email updates on new resources!
Why create a hiring journey map
Ultimately, before you start redesigning your hiring journey, you need to have the big picture, as the purpose of this exercise is to help you improve your recruiting strategy for both candidates and your talent or recruitment team.
A visual representation or a map of what your candidates go through on their recruitment journey with you, as well as what the experience looks like for your talent team, helps you spot weak points and make more informed decisions.
It's essential you take time over this initial step because it shows you what your process is now, where the bottlenecks and gaps are, how the candidate experiences the application process, what your employer brand looks like for an outsider, and so on.
Moreover, if you put yourself into your candidate's shoes, you quickly realize that from their perspective, the selection process is part of the employee journey or employee experience. A great candidate experience is an excellent way to start the onboarding process of a new employee, while a selection process that causes frustration and leaves the applicant confused can push the best talent away.
Then, mapping the hiring journey gives your recruitment team and hiring managers greater insight into how you can improve your candidate experience because by putting on paper all the funnel steps, you get to see the process for yourself.
It also makes it easier to understand what might be missing during the different stages, from a candidate's perspective. For example, you might find out that the information job seekers receive about the role isn't clear enough, so their expectations aren't properly managed, and this leads to early attrition.
Now let's see what this process looks like in practice.
Mapping the hiring journey: process steps
Step 1: Review your current recruitment workflow
The first step of mapping out your recruitment funnel is to look at both the experience for the candidate and at the process for recruiters.
When it comes to mapping out your current recruitment workflow for candidates, note, there are two parts to it:
The stages of the hiring process
The candidate journey touchpoints
We'll go through the candidate journey below, but a quick word about touchpoints: There are multiple touchpoints along the candidate's journey that they will hit during hiring, such as viewing your job ad on a job board, visiting your career site, scrolling through your social media, talking to an existing employee, submitting a job application, carrying out pre-employment assessments, or scheduling and taking part in an interview.
It's important to remember that every touchpoint a candidate has with your organization plays a role in helping them make a decision about whether they submit an application or not. This is why you need to map out the entire hiring journey, from start to finish, to make sure job seekers have a positive experience.
Candidate experience
For most applicants, their journey with you starts well before they actually apply for your job: It's when they first become aware of you, that's the first touchpoint candidates have with you. How important is this stage?
3 out of 4 applicants say they'll consider your branding before they even think about applying. Are you meeting the candidates' needs and expectations with your branding? Is your recruitment marketing on point? Are you making them think 'wow, who are these people?'.
Secondly, list all the channels that you use to target candidates. How are you keeping job seekers informed, how do you reach them with employer branding campaigns?
It could be that you're using social media, job boards, manual outreach, an existing talent pool, or a referral system. Every single one of these touchpoints has the potential to attract candidates, so you need to make a solid first impression and highlight what sets you apart from the competition.
Here's, for example, the candidate journey we've built for Albert Heijn. It's interactive, fun, and engaging, and it gives applicants a clear overview of the roles they're applying for.
One early touchpoint as mentioned above is your job advert. Recruiting is a two-way street, it isn't just about filling your open roles, so make sure your job description delivers, alleviating any reservations, and deterring unsuitable candidates from applying.
Put yourself in the applicant's shoes and experience your entire candidate journey for yourself. Consider for a moment, if you wanted to come and work for your company, how easy is it to submit an application? Do job seekers need to switch between platforms in order to apply for a role? Can candidates apply for more than one role at your company at the same time?
Submit a complete application for a target role through every channel where you are advertising your role or you have a touchpoint with potential candidates. Were there any elements that took too long? Was there any information you had to submit you didn't know why? How easy is it to apply from your mobile?
Once you've submitted your application, how long is it until you hear back? What are the steps in between? Are these clearly communicated? Do applicants know when can they expect to hear from you regarding the next steps?
Next, complete all the assessments that you require candidates to go through. This is also a great opportunity to show applicants what it's really like to work at your company, what the role entails, and what your culture looks like through realistic job previews.
It might sound counterintuitive to give applicants an insight into the role before they've signed up to it, potentially putting them off applying, but it saves everyone a lot of time and money providing candidates with a realistic idea of what their day to day life will be like at your company.
Once you're told you're hired, your candidate journey isn't over, you've still got pre-boarding and onboarding to go. Do you fire applicants up with your communications? Are they getting excited to come and work for you? Do they know when their first day is, who is their team leader?
Recruiter experience
Once the applicant experience is clearly mapped, move on to the recruiter experience. Your talent team, from recruiters to hiring managers, is the ones who have to work through it daily. Go through all the stages above, but with your recruiter hat on.
Are there any stages that require manual input and are taking a lot of time from your talent acquisition and recruitment team, and could be made more efficient with automation? Have you automated the recruitment process from application to hire?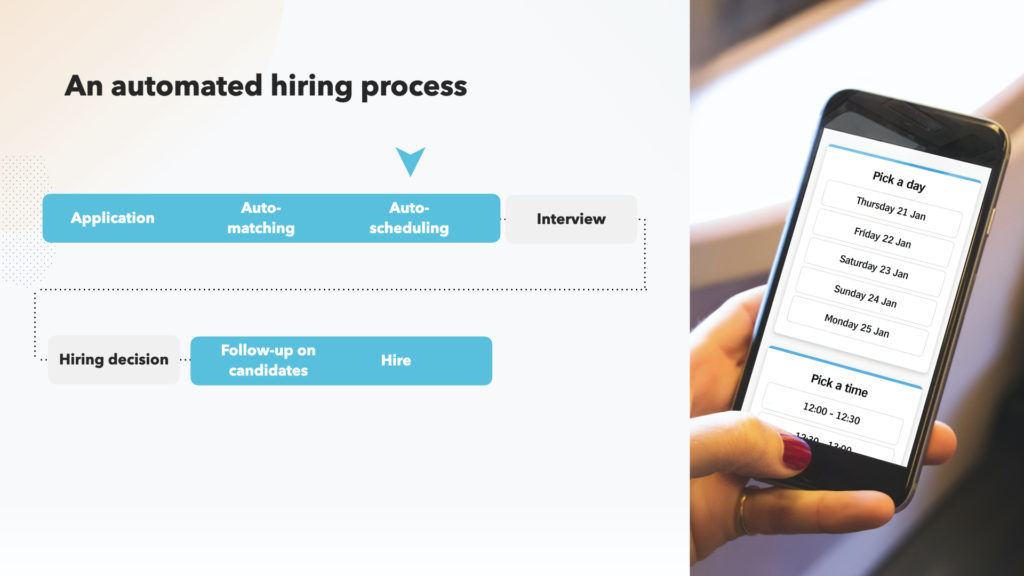 Do you automate job advertising or sourcing?
Do you automatically track applicants?
Do you automate candidate pre-screening?
Do you automate interview scheduling?
Do you nurture applicants automatically?
Are your communications automatic?
Do you run automatic background checks?
Do you have automatic candidate discover and ranking?
You want the recruitment process to be as smooth for recruiters as it will be for candidates. After all, your recruiters are the ones doing the heavy lifting for you, you want them to be productive and to keep them onside!
Step 2. Review your tech stack and integration options
Evaluate your current end-to-end recruitment process from a tech point of view. Make a complete inventory of your recruitment tech stack – what tech do you use:
CRM platform
ATS platform
HRIS platform
Assessment platform
Performance management platform
Notifications platform
Scheduling platform
Interview platform
How is the tech integrated? Does it help or hinder your recruitment process?
Getting clarity on this aspect will help you not only simplify your tech stack but also streamline your data collection and design a data strategy that gives you full visibility into your main recruitment metrics. Using technology to aid your recruitment process is a great idea, just make sure the tech you're using adds value, rather than adding another bottleneck.
Don't forget to ask yourself – are there any notable tech gaps here? Are there any wishlist items you have when it comes to making changes to your infrastructure? Do you need more touchpoints in the process? For example, do you feel like you need more human connection during the application process? If yes, you might want to add a video interviewing tool to your recruitment toolbox.
So when you review your tech stack, check what recruitment KPIs are measured, what and how data is collected, how you analyze all the collected data, and how all these platforms are integrated. You want to uncover where any points of friction in your recruitment funnel are, or what data your team doesn't have access to yet.
Step 3. Candidate data collection and integration
Now that you've gone through the candidate journey, and you've made an inventory of the tech stack, the next step is making sure you can leverage your data to your business advantage.
For example:
Where are your best candidates coming from, what sources?
What are the conversion rates?
Where and why are candidates dropping off?
Are you getting enough qualified candidates through? Too many? Too few?
What skills and competencies do your ideal candidates have?
Are you using assessments to evaluate their skills? If yes, are these predictive of performance? Does the quality of hire go up?
Is your recruitment process biased?
You're collecting reams of business intelligence, and the only way to get better visibility into your recruitment performance is by being able to analyze and interpret all the recruitment data you're capturing through the above tech.
Most recruitment tech tools have the ability to report on the data they capture, however, in order to make automated hiring decisions, you want to be able to bring all the data from your hiring processes into one place.
At Harver, we offer an enterprise self-service analytics suite called Insights, which captures all of your data collection into one single source of truth, making it incredibly easy for you to get a full picture of your recruitment process, and to spot any inefficiencies in your system.
We've talked about it extensively in a previous webinar.
Next steps
At Harver, we use this framework to help large enterprises in the volume hiring space redesign their recruitment strategy to make it more effective, easier to scale, and future-ready.
We start with a journey mapping workshop during which we take time to understand our clients' challenges, goals, and tech stacks, and propose a solution design that solves not only their current hiring problems but also the challenges that they might face in the future, as they digitalize their volume hiring.
If you're struggling to improve your candidate experience, hire better quality candidates, or meet your recruitment needs, we'd be glad to support you! Book a demo below, let us know what your challenges are, and our team will get in touch to plan the next steps!
Ready to transform your hiring process?