Does your candidate experience leave unsuccessful applicants wanting to reapply in the future? Would candidates recommend your organization to their networks, based on their application experience with you?
Building a candidate experience that meets expectations is vital for businesses to remain competitive, especially when volume hiring. Not only will a lousy process have candidates questioning how you treat your regular employees, but in our review-led world, it's almost guaranteed that a disgruntled candidate will spread the word about how poorly their application was handled.
So let's take a look at what the expectations of candidates are, before diving into how you can build a winning application process that meets those expectations and delivers quality candidates at scale.
What are the expectations of candidates?
Candidate expectations of the recruitment process are constantly transforming. In order to meet them, employers need to know what these look like currently. The challenge here is that job seekers' expectations vary across industries and between generations.
In general, though, for entry-level jobs, candidates expect:
Short, mobile-first application process
More and more entry-level job seekers are using their smartphones to find their next job. As such, they expect to not only be able to find a job using their mobile but apply for it from their device too. 
However, candidates quit the process if the application takes too long. According to Glassdoor, candidates applying on mobile devices complete only 22% of applications, compared to 47% on desktop. And this happens because mobile applications take almost twice as long to complete: 10.5 minutes per application on mobile, compared to 5.9 minutes on desktop.
58%
of Glassdoor users are looking for jobs on their phones.
Source: Glassdoor
Quick reply from recruiters
The majority of the workforce is made up of digital natives, people who grew up with technology. They expect quick communications from employers.
34%
of applicants expect to hear back from a recruiter within 24 hours.
Source: DaXtra
The DaXtra Candidate Experience survey revealed that more than half of job seekers would be happy to communicate via live chat throughout the recruitment process because it's deemed the quickest method of communication.
Fast hiring decision
The best candidates, even for entry-level positions, are only on the market for 10 days, and they expect to receive an update on their application or a hiring decision in a timely manner.
But according to Workable, the average time to hire for warehouse, transport, and utilities roles is 25 days, for manufacturing it's 30 days, retail is 25 days, and for the BPO industry, the average is 25 days. 
Flexible schedule
Flexible working is no longer nice to have. Millenials and Gen Z are particularly drawn to flexible jobs, and in retail, for example, more than a third of the workforce is under the age of 28.
According to surveys, three-quarters of hourly workers want flexible work schedules, and 20% say that 10-12 hour shifts would be extremely unattractive in the post-pandemic reality.
Job security
Candidates expect job security, even in entry-level positions, but attitudes might differ between generations. Company loyalty is still in existence – older generations are more likely to have a job for life mentality and just get on with things when the going gets tough. Younger generations are more likely to leave a job if it isn't fulfilling both professionally and personally.
59%
of 18-24 year olds think it's acceptable to stay in a job for less than a year.
Source: DaXtra
Now that we've seen what candidates expect, let's see how recruiters can build an application experience that meets these expectations and increases their chances of attracting top talent.
Subscribe and stay up-to-date with everything recruitment related by receiving a weekly content digest and email updates on new resources!
How to build a candidate experience that meets expectations
Candidate experience is all about how a candidate feels during your recruitment process. It incorporates everything from how you market your open roles and design the application process to how you screen candidates and how you communicate with them. 
A winning candidate experience is friendly, informative, engaging, and transparent, sets realistic expectations, and is easy to navigate. At the same time, a candidate-centric experience treats applicants with respect and gives them the option to continue with the process or self deselect. 
It might sound like a big ask, but when you leverage technology to help build your candidate experience, you'll meet expectations across all stages of your recruitment process.
1. Accessible on all devices
A quick win, straight off the bat, is to ensure your application process is accessible. 77% of Americans own a smartphone and regularly use this device to job hunt, so make sure your application is mobile-friendly, allowing candidates to apply as soon as they see your job advert.  
According to HubSpot, almost 75% of job applications in the transportation industry happen on mobile. The number drops to 71% for restaurants, and 65% for manufacturing and production roles. Almost 60% of retail job seekers apply on mobile devices.
Thus, if you're hiring high volumes of candidates for entry-level roles, you should aim to create a candidate experience that's mobile-first. Still, don't neglect desktop users: we've previously seen that drop-off rates are higher on mobile.
60.5%
of retail job applications are captured on a mobile device.
Source: HubSpot
2. Short and engaging
If your job application is lengthy and time-consuming, applicants will lose interest and you'll lose applicants. In today's tight labor market, you can't afford to lose candidates due to a poor application experience.
Thus, when designing your candidate journey, you should make sure it delivers a memorable, unique experience, from the first interaction with your organization. Aim for an interactive process that not only holds a candidate's attention, making them less likely to drop out of your funnel, but also enables you to sell the role.
Also, don't forget to ask for feedback from candidates at the end of the application process. This will help you optimize the steps of the funnel that are causing drop-offs.
3. Skip the resume and cover letter
When you're high volume hiring for entry-level roles, consider who your applicants are likely to be. These roles usually have no skill or experience requirements, therefore attracting a high number of applicants who often won't have a resume or know how to craft a winning cover letter. 
Do everyone a favor, and bin this unnecessary requirement, as one's experience isn't likely to predict their success in the job. Instead, implement pre-employment tests that enable you to assess the skills and characteristics that are linked with top performance in the roles you're recruiting for.
For example, if you're volume hiring for retail, you can use situational judgment tests that offer candidates a realistic preview of the job. Such assessments are engaging, help the candidates understand what the role is about, and make it easy for recruiters to identify the applicants with the right set of skills.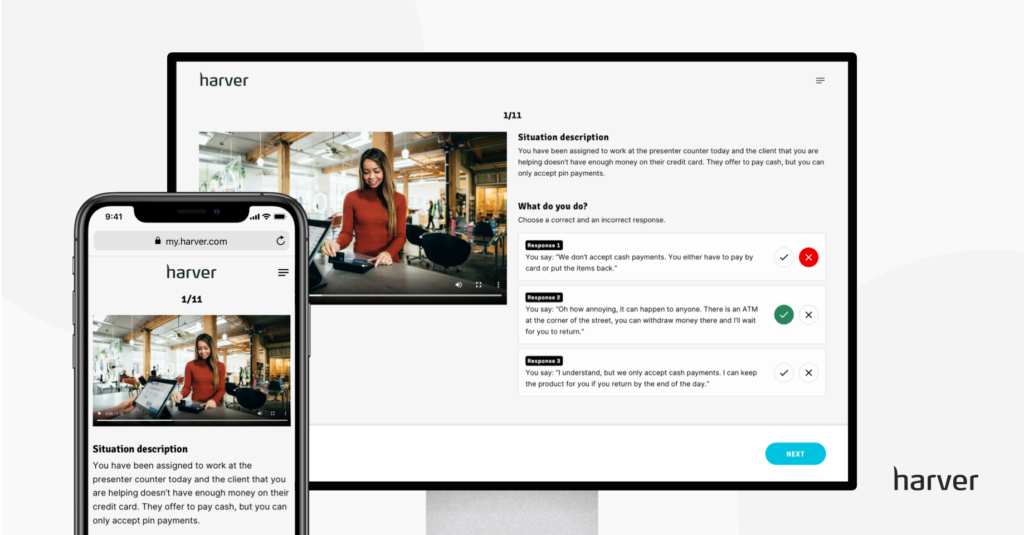 4. Showcase the company culture and work environment
In entry-level jobs, the misaligned candidate expectations are one of the main causes of employee attrition across industries. Job seekers applying for these roles don't always know what the day-to-day work will look like, and recruiters don't have the time to explain all the responsibilities.
As a result, candidates accept jobs that they're not skilled for or don't match their expectations, and end up quitting in their first months of employment; or even worse, they don't even show up at work.
22%
of candidates who accept an offer fail to show up for their first day.
Source: Indeed
This issue can be avoided by showcasing the company culture and the work environment during the application process. Embed company videos throughout the application to engage and delight candidates, giving them a glimpse at your company culture before committing to come and work for you. 
Let them hear first hand from your current employees what your organization is like, what the work environment is like, through employee testimonials, providing candidates the opportunity to determine, for themselves, if your values match theirs and if they see themselves being a cultural fit. 
5. Offer a realistic job preview
Realistic job previews are an effective way to not only assess candidates' skills and abilities but also provide them with a virtual job tryout, so applicants can literally 'try' your job and see if they like it or not.
RJPs allow you to combine selling the role with assessing applicants and selecting the right candidates. For example, when hiring QSR employees, you might see firsthand how a candidate reacts when confronted with an angry customer. Or when hiring live chat agents you might want to see how well they multitask. 
Here's for example the Live chat simulation module developed by Harver, which allows contact center applicants to experience the role before accepting an offer. This module can be used in the first steps of the application process, to filter out the candidates who find the role too stressful or not a good fit for their skills.
RJPs don't just enhance the candidate experience, they enhance recruiter experience too, allowing recruiters to make data-driven decisions, something you can't do when manually assessing applicants via resumes alone. 
6. Provide timely feedback
Having gone through your fun, interactive, engaging, informative application process, the last thing you want is to leave candidates hanging around while you manually move them through your pipeline. Besides, candidates want to be kept informed and know where they are in your process. 
The easiest way to do this is to automate your hiring process, from screening to interview scheduling. In the end, out of your entire recruitment process, the only aspects that can't be automated are the human elements – the interviews themselves and the hiring decisions.
Every other stage of your hiring process can be delivered automatically. For example, you can send rejection messages automatically to candidates who don't meet your selection criteria after the assessment phase. Or you can schedule replies to be sent within 48 hours of the application for all the other candidates.
7. Let candidates self-schedule interviews 
What better way to put the power back into a successful candidate's hands, during a process that is ordinarily recruiter-led, than by allowing the candidates to self-schedule a live video interview with your hiring managers on a day that fits them best?
Even better, steamline and scale with virtual interviews that integrate seamlessly into your existing application process, providing successful applicants the opportunity to interview straight away. Strike while the iron is hot!
8. Optimize based on data
A data-driven hiring process is essential to help you optimize sourcing and recruiting when volume hiring, while ensuring you deliver a candidate experience that meets expectations.
By tracking the candidate journey and collecting the data into a single platform that will serve as a single source of truth, you can make better hiring decisions, while keeping candidates satisfied.
For example, if you notice that on mobile, candidate drop-off rates are higher at a specific point in the journey – such as uploading a resume, filling in a form, or going through a long questionnaire, you can immediately take action and optimize those specific steps.
Volume hiring platforms such as Harver enable you to collect all recruitment data and turn it into actionable insights, making it easy to spot issues in the recruitment funnel and candidate journey.
Next steps
Delivering an outstanding candidate experience is essential to staying competitive and attracting top talent, especially when volume hiring. And this starts with understanding what job seekers expect from your company and optimizing the application process to make it enjoyable and align it with candidate expectations.
If you'd like to see how Harver supports high volume recruiters in building engaging candidate experiences, you can book a demo below.
Ready to transform your hiring process?