If hiring in the candidate shortage is a real challenge for your organization right now, it's worth asking yourself this: Is it really the market that's the problem, or could there be some bottlenecks in our recruitment process that are costing us quality candidates?
Bottlenecks are stages of the recruitment process that create inefficiencies or slow the process down, and the result is that you're left with fewer applications or candidates who just aren't the right fit for your organization.
Many of the companies we work with at Harver reach out to us because they know there are problems with their process and they want to improve it, but they just don't know where to start.
So let's take a look at some of the most common process bottlenecks we see in volume hiring and what you can do to fix them.
Subscribe and stay up-to-date with everything recruitment related by receiving a weekly content digest and email updates on new resources!
7 common process problems in volume hiring
1. Decentralized hiring
If you're part of a large organization with multiple locations to hire for, you might think it's logical to leave hiring to your location managers without involving talent acquisition teams.
But this is a hiring strategy that causes more problems than it solves. An autonomous, disconnected recruitment strategy like this leads to inconsistencies everywhere; in your processes, in quality of hire, and in everyone's understanding of what the end recruitment goal is.
Not only this, but decentralized hiring makes it much harder to gather recruitment data that you can learn from. For example, why do some candidates quit soon after joining the company and others stay for longer? When all your hiring is subjective, your recruitment data will be too. Hiring managers will all have different opinions and that makes your data unreliable.
Because in a decentralized reality the expertise tends to stay within locations and teams work in silos, it's common for organizations using such operating models to lose sight of the bigger picture and not make the best decisions when it comes to longer-term strategy or investments.
2. Manual candidate screening
If your candidate screening is done manually, this results in delays, inconsistencies and the wrong candidates getting hired because the decision has been left to a hiring manager's gut feel.
In high-volume recruiting, application numbers are too high to manage effectively through human input, and this presents two problems:
Candidate screening becomes superficial, subjective and inconsistent, so candidates are hired who are not a right fit for the role or company culture.
Recruiters can't pre-screen fast enough so competitors get to those candidates first.
Stop guessing,
Start data-driven hiring.
Learn how you implement a modern candidate selection process, that is: streamlined, experience-driven and backed by data.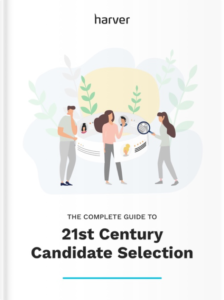 3. CV-based applications
The traditional way to apply for customer-facing roles in high-volume recruitment is to submit a resume. But CV-based recruitment is outdated and restricts your talent pool heavily.
Most of the best candidates you want for these entry-level, low-complexity roles (for example, in retail, hospitality, and contact centers) won't have a CV. So just think about how much a CV-based application stage will be decimating your candidate pool – it makes it impossible to get good results.
Asking applicants to manually upload a CV instantly eliminates great candidates from your process. If you're convinced that the candidate shortage is your main recruitment challenge right now, it could be your CV-based application that's the real problem.
4. Unclear picture of the role
Often we see situations where an organization comes to Harver because they're struggling to pull in enough applications to fill their vacancies, and it quickly becomes clear that this is because candidates don't have enough information to decide if the role is something they want to apply for.
For example, the advertised role might not come with a strong job description, or the company's employer brand might not be strong enough so the candidate doesn't feel like they have the information they need to make the decision whether or not to apply.
Essentially, candidates need more information on the role requirements and what the job actually entails before they'll hit that "apply" button.
5. An HR tech stack that doesn't integrate
If your current recruitment strategy involves using multiple tools for different stages of the hiring process, the likelihood is that these tools aren't seamlessly integrated.
For example, does your interview scheduling tool automatically feed data directly into your CRM, or do you have to update candidate records with interview dates once they're confirmed? And do the results of your pre-employment assessment need to be manually uploaded to your recruitment software and evaluated by recruitment teams?
If you're having to manually input data from one tool to another, just think about the time you're wasting compared to competitors who have all stages of the process digitized, automated, and on one platform.
As well as causing delays, using multiple tools that don't feed into each other seamlessly also means crucial information gets lost, and often candidates are left without getting feedback after they submit an application.
As a result, the experience is poor for both candidates and hiring managers. And you can't afford to have a poor candidate experience in the current market, where everyone's competing for the same talent.
6. A process that's too complex
If candidates are finding your application process too complex, this has two potential outcomes and neither of them are what you want.
Either, you have a situation where candidates drop out of the process before completing their application, or they submit an application that's a misrepresentation of themselves because they weren't clear on how to complete it.
For example, the candidate might not understand what information they're being asked to provide or what documents to upload, or they might leave fields empty because they've not been indicated as mandatory.
This result of this is that hiring managers are left to review incomplete profiles that are almost impossible to base hiring decisions on.
7. Interview scheduling that's not fit for VH
Interview scheduling at scale is extremely difficult to do efficiently if you don't have the right technology to support you.
Naturally, when you're dealing with high volumes of interviews, there will be a lot of rescheduling involved and this raises the risk of losing candidates if you can't accommodate changes quickly.
If you're using an interview scheduling tool that's hasn't been built with volume hiring in mind, it's likely it won't be able to cope with the scale of your hiring needs. For example, it won't give you a single overview of all available recruiters and time slots, so you might lose qualified candidates because of lack of availability.
How to solve these recruitment bottlenecks
The exact solution design needed to solve your recruitment process pain points will vary depending on the industry you're recruiting in, what your organization's approach is to hiring.
Every company is different, but there are a few guiding principles that every volume hiring organization will benefit from following.
Take a holistic approach to hiring
When you're under pressure to fill vacancies, the focus can easily become about patching up holes so you can ramp up your strategy and start hiring as quickly as possible.
But rushing to accelerate a broken process just leads to poor hires and wasted resources. Creating a recruitment strategy that's fit for hiring at scale requires a holistic approach.
Slow down, take a step back and consider how the role fits into the bigger picture of the organization. Poor-fit hires cost the company, so it's better to take it slow and focus on fixing all the broken parts of the process before you speed it up and scale it.
Map your hiring journey
Bottlenecks can appear anywhere in the process, and they don't just affect the candidate, but your recruiters too.
This is why it's important to take some time to map out what the hiring journey looks like from both the candidate and recruiter's perspective every step of the way.
Once you have it all mapped out, you can use your recruitment metrics to confidently identify the pain points, see who is impacted by them and think holistically about how to fix them.
Streamline your hiring process
For any volume hiring process to be scalable, it needs to be centralized. By implementing an end-to-end volume hiring solution that centralizes your processes and data collection, this will make it easier to track and identify potential bottlenecks quickly so you can address them as soon as they appear.
It also means you can standardize your recruitment process workflows across all your roles based on what the data tells you, while retaining some flexibility at a local level.
Digitize the hiring process
A fully digitized application process isn't just fast and efficient for your recruiters, it's also fun, fast, and engaging for your candidates too.
With the right volume hiring recruitment solution to support your application process, you'll be able to provide a candidate journey that job seekers love while giving your recruiters less work to do.
They'll be confident that their application process is compliant, while at the same time candidates can enjoy a more engaging, interactive experience. By digitizing your application, you'll be able to include realistic job previews and virtual job tryouts that give them a more accurate picture of what the job entails.
Use standardized assessments
Standardizing your assessments will simplify your application process and eliminate bias by ensuring candidates are all scored against the same criteria.
Using standardized pre-employment assessments means you'll choose candidates for your roles based on skills, and compare them based on how they score, not biased opinions.
And to really optimize your candidate pool so you're never losing out on quality candidates, use your recruitment technology's matching framework to assess candidates' suitability against more than one role simultaneously. They might not be the perfect fit for one role, but could their skills be applied to a role elsewhere in the organization?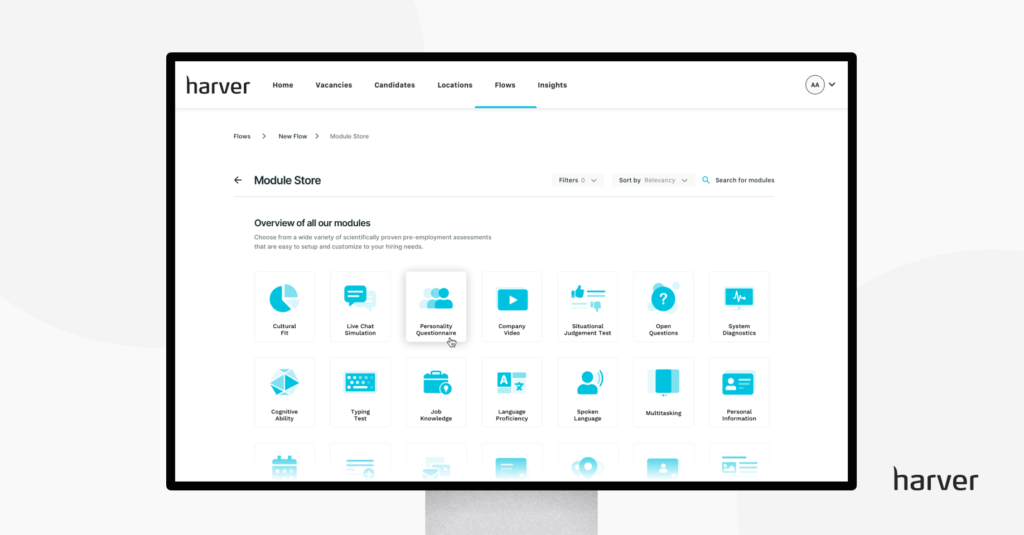 Centralize data collection
To fix any bottlenecks in your recruitment process, you need to be able to see clearly exactly where those bottlenecks are occurring. The only way to reliably and quickly identify bottlenecks in your process is by constantly gathering and learning from your recruitment data.
To do this, use standardized, real-time dashboards to track your recruitment process across the entire organization. This gives you an overview of your candidate journey performance and quality of candidates on each level and tells you what sources your best candidates are coming from.
Next steps
The first step towards fixing bottlenecks in your recruitment process is recognizing that there are some process challenges that need fixing, so if you're reading this article, you're likely already there!
Harver helps solve these bottlenecks by helping you adopt a holistic approach to recruitment and implement an end-to-end hiring solution that's specifically designed for companies like yours who are hiring at scale.
If you'd like to see how Harver can transform your hiring process, you can book a demo below.
Ready to transform your hiring process?