In comparison to more specialized roles, entry-level candidates for higher volume, lower complexity jobs are rarely afforded an opportunity to fully evaluate the role they applied for.
In high-touch application processes, candidates have multiple interviews to evaluate the opportunity and ask their most pressing questions. At scale, when hiring quickly is a priority, organizations need to find a way to deliver the same level of transparency to applicants.
That's where two-way matching comes in. Rather than having a one-way talent matching process that only collects information about applicants for recruiters and hiring managers, the most successful hiring processes also have a way to deliver information about the role to candidates, in an efficient and engaging way.
Let's dive into some of the major pitfalls of using a one-way candidate selection process in high volume recruitment, and how you can implement a two-way matching framework to improve your candidate experience while boosting employee retention and engagement.
The traditional candidate selection process: one-way matching
In most hiring processes, information flows predominantly in one direction: from the candidate to the talent team. Applicants submit their resumes, answer questions in interviews, and are assessed against the criteria laid out in the job description. In the end, the talent team will have abundant information about the candidate, but the candidate rarely receives the same level of transparency.
This is especially true when conducting volume hiring, where thousands or tens of thousands of candidates are simultaneously moving through the process.
In industries that mainly rely on decentralized hiring processes, like restaurants and supermarkets, it can be even more challenging to provide a standardized candidate experience and set accurate expectations for the job. After all, recruiting is only one of many tasks on the mind of busy location managers.
One-way talent matching results in misaligned expectations
When you think about how a traditional recruitment process functions, you'll typically think of one-way matching.
It's a methodology in which candidates supply recruitment teams with a variety of information about themselves throughout the recruitment funnel, through CVs, phone screenings, and interviews, until they are ultimately accepted or rejected.
In this type of method for selecting candidates, there isn't necessarily a flow of information in the other direction: from the hiring organization to the candidate.
Candidates are expected to evaluate the opportunity through their own research, testimonials from recruiters or hiring managers, and by asking questions when given the opportunity. Especially in high volume recruitment, where candidates are sorted and moved through the hiring process very quickly, this can lead to misaligned expectations.
One-way candidate selection leads to high attrition rates
When candidates aren't given a full, accurate picture of the job they're signing up for, it increases their likelihood to churn soon after joining. Unlike traditional recruitment for in-office roles, in volume hiring for entry-level jobs, candidates don't get to see where and how they'd work until the on-site interview, which is often the last step of the process.
In the current reality, this is even true for some "office" jobs, because remote recruiting and on-boarding are slowly becoming the new norm for many industries.
Regardless of the role, when candidates come on board without the right expectations of the role or organization, it can be jarring when the day-to-day isn't what they expected or they encounter an uncomfortable critical situation (like an angry customer). It often leads to early attrition or even no-shows.
This attrition is no small problem — especially for industries hiring at scale. Retail, restaurants, supermarkets, and call centers all have attrition well above the industry average — costing organizations millions of dollars a year.
Not only are you able to manage those expectations better, you're also limiting your ability to share your employer value proposition (EVP). When your process focuses only on selecting the candidate, you miss the opportunity to sell yourself — by sharing your organizational culture, advancement opportunities, benefits scheme or other reasons why that candidate should work for you than your competitor.
In short, one-way matching has downsides for candidates and hiring organizations alike. They impede the ability for candidates to accept the job with fully aligned expectations, and limit an employer's ability to standardize the information they present to candidates to attract talent.
That's why more and more companies are adopting a two-way matching process, that combines selling and selecting to attract and retain more top talent.
Let's dive into what a two-way candidate selection framework really looks like, and what types of organizations are seeing the biggest results from using one.
Stop guessing,
Start data-driven hiring.
Learn how you implement a modern candidate selection process, that is: streamlined, experience-driven and backed by data.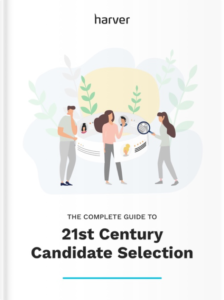 Finding the right candidate: the two-way matching framework
In this section, we'll cover what a two-way matching framework is, how it works, and why it has such drastic impacts on volume hiring processes. Then, we'll dive into which types of roles and organizations would benefit most, and where to get started.
If you'd rather discuss two-way matching in the context of your roles and organization, rather than reading about it, you can get in touch with us below.
What is two-way talent matching?
Entry-level candidates are mainly looking for two things: a paycheck and job security. This means that the speed of your process will always be a priority if you want to attract talent. However, fast processes often sacrifice giving applicants enough information to self-select into or out of the recruitment process. That's where two-way matching comes in.
Two-way candidate matching frameworks combine selling and selecting, to level the playing field between candidates and recruiters. Here's how it works.
Selecting candidates
The main priority of any recruitment process is to select the best possible candidates for the role, as efficiently and accurately as possible.
One-way and two-way candidate matching processes can both be effective at selecting the right talent, but the lack of information flowing back to candidates in a one-way matching process opens up the risk of no-shows or attrition, and as we mentioned earlier, limits your ability to display your employer brand to engage talent.
To select the right candidates effectively at scale, you need matching technology.
Matching technology incorporates a set of assessments that helps you to automatically identify candidates with the right skills and competencies for your roles, based on personality, cognitive ability, or other relevant criteria.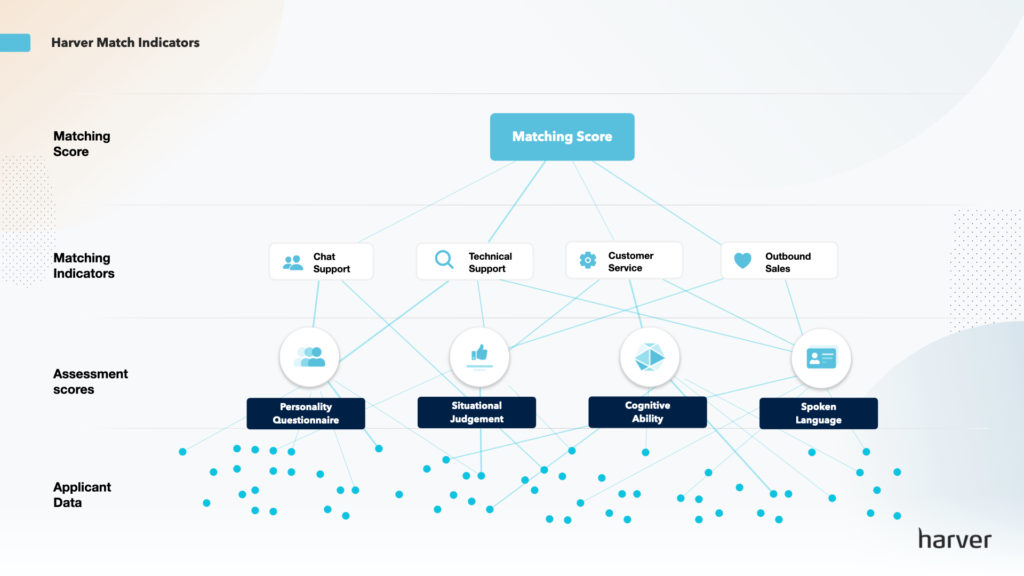 The exact set of criteria will be different for each role and organization, but the results should always be easy to interpret, objective, and enable your team to make faster data-driven decisions.
Candidate selection is the main priority of a one-way matching framework, but remains crucial for two-way matching, too.
Selection might look a bit different from company to company, but when volume hiring a few things always need to remain the same. Assessments need to be predictive of success, enable automation, and they need to provide an engaging and informative candidate experience at scale.
That's where the other side of the matching, selling, comes into play.
Note: To learn more about a fully digital selection process, including how matching technology and what assessments are most relevant to your roles, have a look at our guide to end-to-end digital recruitment or request a demo below.
Ready to transform your hiring process?
Selling the job
The main thing that is missing in a one-way matching framework is the selling piece, where candidates get details about the role to help them decide if it's the right fit.
This is particularly important for high-volume roles that are entry level, like in quick service restaurants or supermarkets, where attrition is often high due to misaligned expectations.
The costs and time associated with refilling open positions can be alleviated substantially by implementing a realistic job preview, a situational judgement test, or providing a day-in-the-life experience during the application process.
The reason why most companies haven't already implemented a two-way matching process is because they don't think it's feasible to do on such a large scale: where thousands or hundreds of thousands of roles are being filled across cities, states or even countries.
Fortunately, with the help of technology, the ability to enhance your candidate experience without needing to drastically scale your recruitment team or work hours is now possible.
The main way to do this is through a realistic job preview, like a situational judgement test or a work simulation. By allowing candidates to experience a critical situation, like an angry customer or a message that they need to answer quickly, you're setting an accurate expectation of what the job will really look like.
Not to mention, these experiences also help to assess candidates while they inform them — bolstering the accuracy of your selection in the process.
You can learn more about SJTs and realistic job previews in the articles below.
Now that you have a basic idea of how selling and selecting come together, let's take a look at who could benefit from this framework the most.
What types of roles benefit from two-way matching?
Selection is important for any role, but efficient and accurate selection is most important for high volume roles where the time and costs of recruitment can add up quickly.
The selling component, providing the candidate with information, is important for lower-touch recruitment processes where candidates often don't get to experience the job or work environment until the final step: the interview.
Improving selling and selecting are especially important for entry-level roles, where resumes aren't necessarily predictive of success and the barriers to leaving the job are relatively low.
Any organization would benefit from two-way matching, but it's most impactful for:
High volume roles, where many candidates are recruited to fulfill a single requisition
Low-complexity jobs, where the candidates being hired are often entry level or need no prior experience
Entry level jobs, where there are a high number of potential candidates who have a high degree of mobility between organizations, and a low level of commitment to a specific one
Roles with high attrition, where costly early turnover and no-shows result from misaligned expectations
For example, two-way selecting had a drastic impact on the attrition rate for Sitel, who decreased attrition within the first year by implementing matching technology and giving each candidate a realistic job preview.
Stop guessing,
Start data-driven hiring.
Learn how you implement a modern candidate selection process, that is: streamlined, experience-driven and backed by data.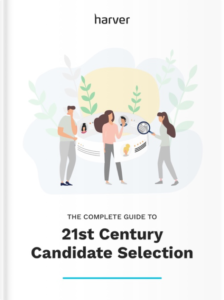 How to get started with two-way matching
Ready to reap the benefits of a two-way matching framework, but not sure where to start?
We'll walk through the basics at a high level, and how you can begin to use it with two simple steps, based on bolstering your selling and selecting abilities. What this will look like in practice will vary from organization to organization, but the basic components are the same.
Step 1: Implement assessments built upon this framework
To truly combine selling and selecting, your assessments need to be tailor made to inform candidates while they assess them. Tests need to be relevant to the role, like personality, spoken language or typing, but shouldn't be separated from providing candidates with valuable information. For example, typing is an important skill for a live chat agent at a call center and so is multitasking.
Rather than assessing typing, and multitasking, and then filling candidates in on the day-to-day, you can leverage a realistic job preview – such as a live chat support simulation – that tests the candidate in an environment that mimics the role. Here's what this looks like in practice.
Not only is it faster and more engaging for the candidate, it also gives your recruitment team a more accurate picture of how they might perform.
If you aren't sure which assessments are most relevant to your roles, get in touch with our team.
Step 2: Use a situational judgment test
… Or another type of realistic job preview. The most important thing is that the candidate is able to see the day. In high volume hiring, where the process needs to be quick, the most effective way to deliver this information is in combination with your other pre-employment assessments, like we mentioned above.
In contrast to a contact center agent role, the criteria for a supermarket employee look different. For example, Ahold Delhaize is looking for candidates with the right DNA to interact with customers face to face. They use a situational judgement test, which extracts a critical situation to assess the candidates natural response.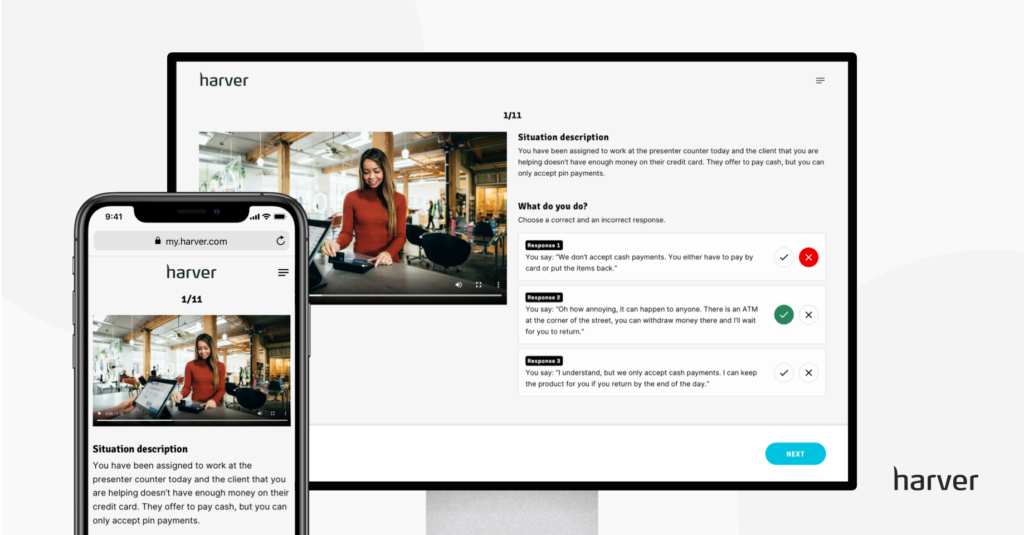 This, like the live chat support simulation, still assesses the relevant criteria of the candidate, but does so in a way that's tailored to the role and industry. In the end, it's giving the candidate the same sort of valuable information to determine if the job is for them, while recruiters get data that shows if they'll be the right fit.
By using assessments that are giving candidates as much information as they collect from them, selling and selecting are simultaneous and linked together. This makes the process as predictive, engaging and efficient as possible.
Next step
Now that you understand why and how to use the two-way matching framework, you might want to see what it can do for you, in practice, based on your specific job openings. To get the full picture of what this talent matching framework could look like for your organization, book a demo below.
Ready to transform your hiring process?