In the quick-service restaurant (QSR) industry, the biggest hiring challenge is quality of hire. Low-quality hires lead to high attrition rates – as much as 130-150%, with even the best QSRs losing almost 100% of their employees each year.
Most QSR workers are entry-level employees, meaning they want two things – job security and a quick application process.
It sounds like a relatively easy fix, but the problem is, as well as the usual high employee attrition rates, in the last year, the number of jobs needing filled in the QSR sector has increased exponentially, with 4.2 million new positions created.
The most effective way to tackle this challenge while meeting demand is to improve QSR recruitment by using candidate selection methods that predict on-the-job performance, helping you hire candidates who will stay for longer.
Let's see what this means in practice and what type of assessments you can use during the hiring process to find the best candidates for your open roles.
Don't forget to grab your free copy of our white paper on the digital transformation of restaurant volume hiring. Learn about:
Skills needed for quick-service restaurant workers
We've said that QSR roles are typically entry-level roles, but that doesn't mean just anyone will be suitable for filling them. There are certain skills that quick-service restaurant workers need to possess in order for them to be a good fit.
Skills such as:
Teamwork – QSR employees need to be able to pull together with the team, to work effectively, delivering food and outstanding customer experience to each customer.
Listening – restaurant employees take customers' orders, so listening and understanding their wants is vital to delivering their correct order.
Communication – communicating with colleagues and customers is essential in this industry, as is being diplomatic when resolving disputes or working through conflict resolution.
Resilience – QSR employees often have to work long, hard shifts in a fast paced working kitchen, yet they're still expected to be polite and professional with customers, even if they're being difficult or rude.
How do you measure these skills, to make sure you're selecting candidates with the right characteristics and attitude for your open roles? Let's explore some of the options in the next section.
How to assess QSR candidate skills
The best assessments for screening QSR candidates are often situational judgement tests (SJTs), because they not only offer candidates a realistic job preview, they also allow candidates to self-select out if they don't like what they see. We'll dive deeper into SJTs in the next section.
Other assessments you can use include realistic job previews (RJPs) or virtual job tryout assessments, which enable the candidate to experience the role and work environment before joining your company. These are great for managing candidate expectations, as they show both the good and the bad parts. Alternatively, you can assess an applicant's personality with a personality questionnaire, but these are less recommended as standalone tests.
Now let's zoom in on the types of pre-employment assessments mentioned above and see what they actually look like. We'll focus here on the assessments that the Harver platform provides, but you can always choose to include different types of tests if you think they're relevant for your open roles.
Situational Judgement Tests (SJTs)
SJTs should include questions that are tailored specifically to your role. For example, when hiring QSR front of house employees, candidates might be shown a video of an angry customer complaining about their order, while the candidate has to deal with another customer.
The candidate could be prompted to choose which they think is the best way to handle the situation from a series of options, which you have beforehand ranked from most effective to least effectual. How a candidate responds to your particular situation will help you assess their customer orientation skills as well as their customer service skills, their ability to multitask and their sales skills.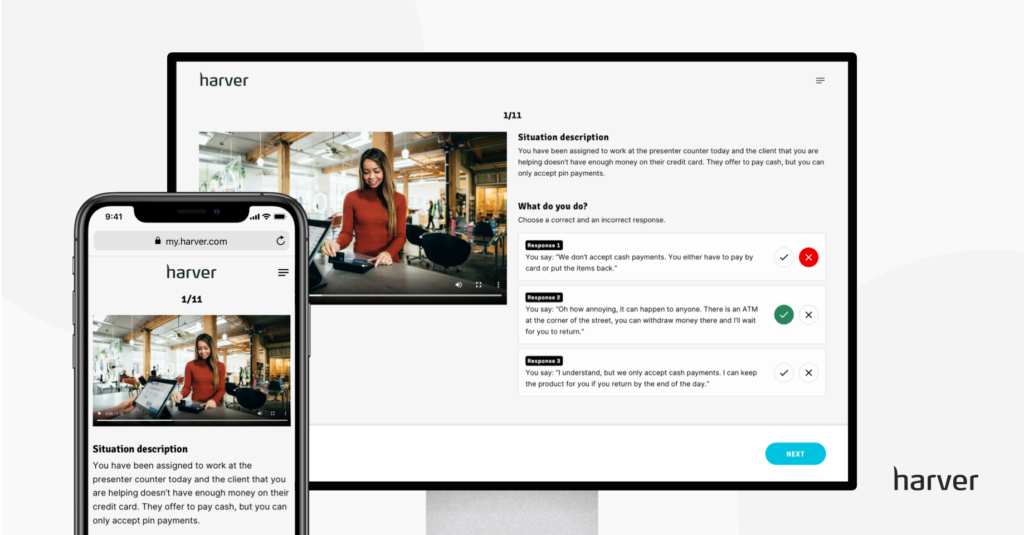 In the Harver platform, every candidates' answers are scored and compared against your specific benchmarks for what you deem to be the appropriate response to your realistic job situation. These scores are then displayed in your recruitment dashboard, so your talent team can easily spot the candidates who fit your selection criteria.
Hiring QSR workers isn't a one way street. In today's competitive environment, everything you can do to make your organization stand out from other competitors is going to give you the edge. And again, as we've touched on above, delivering an outstanding candidate experience through your recruitment process is an easy win for you.
One of the biggest reasons for such high levels of attrition in the QSR industry, along with a perceived lack of career path and usually low pay, is misaligned expectations.
Situational judgment tests not only help you screen candidates because you set the core skills you want to assess i.e. resilience, stress resistance, customer focus, multi tasking etc. But you get to determine which aspects of the role you want candidates to experience through a realistic job preview (RJP), i.e. dealing with angry customers, having to multitask, answer questions about the products etc.
This works twofold, because SJTs not only help you to assess a candidate's suitability for your role, they also provide an RJP for applicants to see for themselves, firsthand, what a typical day in the role they're applying for looks like, before they commit to it.
If you'd like to see our SJTs in action, you can book a demo below.
Ready to transform your hiring process?
Personality tests
Personality tests are a great way to assess if candidates will be a good fit with your company culture, because they're scientifically designed to assess a candidate's dominant personality traits.
You set the desirable characteristics and qualities that make an excellent cultural fit for your organization. We then create questions to identify these traits in applicants. The personality assessments use your desirable characteristics and qualities as a benchmark to score applicants against.
Questions for QSR personality assessments might include questions about teamwork, which is likely going to be a core value for your organization. In which case, we would design a question to assess candidates by asking them how much they enjoy working with others, or how easily they find it fitting in with a new team.
Other skills, characteristics and traits that can be determined through personality assessments include:
Communication skills
Resilience
Resistant to stress
Sociability
Customer orientation
Ability to perform under pressure
Self motivation to perform
Response to leadership
How many assessments should you use?
We usually advise recruiters to only use SJTs because people who typically apply to entry-level jobs are less concerned with their career projections and more concerned with getting hired as soon as possible. Thus, they don't want to spend hours filling in application forms and going through complex pre-employment assessments.
We've learned that when candidates for low-complexity, high-volume roles have to undergo multiple assessments, the drop off rates increase. Therefore, the most effective way to keep candidates' attention is to keep assessments short and to the point.
Harver SJTs, for example, typically include 12 questions and take around 8-12 minutes for candidates to complete.
Creating QSR pre-employment assessments vs out-of-the-box
Most roles in the QSR industry have similar criteria, therefore standard or generic SJTs are ok to use, as long as they address the most common critical incidents and daily tasks of your QSR employees.
The problem with standard assessments though, is that while they're available for immediate use, they are generic at the end of the day, and they leave big holes in your applicant assessments.
Because they're not bespoke to your company, you can't evaluate whether a candidate will fit your company culture, nor can you manage candidate expectations by giving them a realistic job preview, for example. And these shortfalls are likely to come back and haunt you later down the line, when you fail to identify that an employee doesn't fit your company culture, and there's a real clash, for example.
Which is why we suggest the ideal way to accurately assess candidates is to have customized assessments, created bespoke to meet your organization's specific needs, taking into consideration the exact nature of the job within your company culture.
Using a pre-built solution just for your QSR, provides a more rounded evaluation of each candidate, even at scale. Plus, it enables you to include company videos accurately showcasing your company culture and offering realistic job previews to all applicants, helping each candidate better understand the real nature of the role they're applying for.
We've seen first hand how tailored pre-employment assessments have helped our clients significantly improve key metrics such as the time to hire and cost to hire, decrease employee attrition rate, increase candidate satisfaction score.
One key point to note – when you're custom creating SJTs, it's critical for them to be scientifically validated and to measure the right skills, personality traits and characteristics of candidates, in order to allow you to make unbiased, data driven hiring decisions.
Subscribe and stay up-to-date with everything recruitment related by receiving a weekly content digest and email updates on new resources!
How can you create QSR pre-employment assessments?
With so much riding on them, you need your pre-employment tests to deliver scientifically validated, accurate, fair, unbiased results time and again. While you can of course create QSR pre-employment assessments yourself, you need a team of I/O psychologists to back you up, as well as a creative team for content strategy and video production, otherwise your efforts are going to be for nought.
You don't want to create assessments that deliver the wrong candidates, leaving them in a job they don't want or that doesn't suit them, resulting in them quitting, and you back at square one again, with high employee turnover.
At Harver, we have a dedicated team of I/O psychologists working closely with our clients – our People Science Team, who take a scientific approach to developing custom pre-employment tests for filling QSR roles.
They're responsible for tailoring the candidate evaluation flow to accurately reflect each role's reality, ensuring each applicant gets an accurate preview of the role and what it's like to be an employee in your organization.
When we design custom pre-employment assessments for a client, we follow a specific framework to make sure we accurately understand your company culture and that the pre-employment assessments we create are a bespoke solution for your business.
We only create assessments to track and measure necessary skills and personality traits based on KPIs that correlate with successful job performance within your company culture. This makes them incredibly predictive of identifying top performers, based on your own benchmarks.
This approach works for multiple reasons:
You don't waste candidates' valuable time by making them sit through needless assessments testing them for irrelevant skills the role doesn't require. When you use out-of-the-box assessments you can fall foul of this, and not only does it waste everyone's time, it also gives candidates mixed messages about what the role entails.
It delivers a better candidate experience and increases candidate satisfaction scores. Instead of applicants simply sending in their resumes and waiting to see if they're brought forward for an interview, it's a two way street where applicants benefit from a short experience that gives them a brief insight into the job they're applying for and a glimpse at your company culture. Giving them the opportunity to decide if they like what they see before they commit to working in your QSR.
It allows successful candidates to accept or decline your job offer and come into your role with their eyes wide open, knowing what lies ahead for them. Managing candidate expectations from before the get-go goes a long way to increasing employee retention and reducing employee attrition rates.
Next steps
With custom pre-employment assessments, volume-hiring for quick-service restaurants can be made much more effective. These work wonders for helping you identify better quality candidates and reducing attrition rates in the long run.
Harver's pre-employment assessments have helped clients like McDonald's and Burger King transform their selection process. If you'd like to see what our solution can do for you, schedule an intro call with our team below!
Ready to transform your hiring process?