From automated CV screening and reading cover letters to holding whiteboard interviews and asking trick questions, the range of methods employers use to assess candidates is immense and overwhelming.
So, how can you tell which employee selection methods will be most effective in your recruitment process?
We'll detail the topic below, and we'll show you some practical examples of pre-employment tests that you can use in the hiring process to make candidate selection bias-free, less time-consuming, and more aligned with your company culture and goals.
What is employee selection?
Employee selection, also known as candidate selection, is the process of finding a new hire best suited for the role in question.
The steps in the employee selection process depend on the role you're hiring for, your recruiting budget, the seniority of the position, available resources, and your organizational needs.
Rather than relying on one method as the sole criterion for selecting or rejecting candidates, your selection methods should be combined to make the most informed decision possible.
For example, you can combine pre-employment tests with other employee selection methods like job interviews or trial days to accurately predict job success and cultural fit.
Booking.com shares their employee selection process and methods for different roles.
What are the types of candidate selection methods?
Before we dive into the topic and detail the different selection methods, let's quickly look at how they're classified or grouped.
External vs internal recruitment
First off, you can recruit candidates from external sources, and this method is called external recruitment. Secondly, you can look inside of your company and source candidates for new or open roles from your existing employees. This is called internal recruitment.
Sourcing channel classification
Another way to classify the different candidate selection methods is to group them based on the sourcing or recruitment channel used. For example, you can use advertising to source new candidates; this includes direct advertising, where you place job adverts on job boards or your career site, and social advertising, where you source your candidates through job adverts shared on social media platforms.
Talent pool and referral recruitment
Another channel for finding new employees can be your existing talent pool or database of candidates who have previously applied to roles within your company and were suitable but were not hired. Then, you can rely on referral recruitment as another selection method. Here, as the name implies, you're asking your existing employees to refer potential candidates.
Internships and apprenticeships
If the roles you're hiring for are entry-level, as is often the case in high volume recruitment, then a good employee selection method is to offer internships and apprenticeships. Both options ensure that you're getting candidates with the right skills and potential, and the "trial" period gives you the perfect opportunity to develop their skills, while assessing their culture fit.
Boomerang employees
This method doesn't apply to all roles, but it can be a solution if, for example, you're hiring a lot of seasonal workers. Boomerang employees are basically people who have worked for your company before, and have left on good terms. You already know they have the right skills, and they know the ins and outs of the job already, so they're a good option to consider.
In the next section, we'll focus on the external recruitment methods and referral recruitment, and we'll detail some of the types of assessments you can use to make sure you're selecting the top candidates for your open roles.
Subscribe and stay up-to-date with everything recruitment related by receiving a weekly content digest and email updates on new resources!
Best employee selection methods for choosing top talent
1. Assess cognitive ability
Cognitive ability is the number one predictor of job performance across all employment levels and industries.
Cognitive ability assessments are a form of pre-employment testing used to evaluate how well candidates use a wide range of mental processes, such as working with numbers, abstract thinking, problem-solving, reading comprehension, and learning agility.
When implemented and administered correctly, cognitive skills assessment is a highly effective method for predicting job success. However, one potential pitfall is the risk of adverse impact, which is the negative effect that a biased selection process has on a protected group of people.
To prevent it from hindering your recruitment efforts, you should make it a point to regularly measure the adverse impact of your cognitive ability tests.
For example, our platform provides recruiters with a variety of recruitment dashboards that track the most important hiring metrics. Among others, you can see if there's any bias in your recruitment process, in which stages it occurs, and whether one location is more prone to bias than others.
If you'd like to see the Harver cognitive assessment in action, you can book a demo below.
2. Evaluate learning agility
Evaluating learning agility is another effective employee selection to build into your recruiting process. American author, Alvin Toffler, broke down learning agility well when he said:
"The illiterate of the 21st century will not be those who cannot read and write, but those who cannot learn, unlearn and relearn."
In other words, learning agility is the ability to be in a new situation, not know how to handle it, and then figure it out anyway. An agile learner can apply his or her past learnings to new scenarios that they have yet to experience.
Learning agility is a crucial ability that you can measure to gain a true understanding of how applicants function and adapt in ever-evolving work environments.
That said, it's challenging to develop a well-constructed, reliable assessment for gauging learning agility. Challenging, but not impossible. If you'd like to see what this assessment looks like in practice, book a demo below.
3. Situational judgement test (SJT)
Another great way to enhance employee selection is to assess situational judgement capabilities. Situational Judgement Tests (SJT) present candidates with various scenarios that they might experience if they're selected for the specific role they're applying for.
Here's for example an SJT developed by our People Science team for a client in the BPO/Contact Center vertical. This type of pre-employment assessment asks the candidate to choose the best and the wrost way to handle a job situation.
The scenarios are strategically chosen in collaboration with your recruitment or talent team, to illustrate the critical incidents that an employee might deal with once hired.
Behind the scenes, these hiring tests assess how well applicants prioritize client inquiries, follow instructions, and handle situations that crop up in the workplace.
They're highly predictive of job performance and culture fit and can provide candidates with a realistic job preview early on in the application process.
With that said, Situational Judgement Tests can be costly and sometimes difficult to construct and implement by a recruitment team alone. This is because they typically require input from an industrial-organizational (IO) psychologist, as well as a production team and designer.
While our platform does offer a series of out-of-the-box employment tests, SJTs are always tailor-made, based on a client's profile, company culture, and hiring needs.
You can see below an example of the new candidate journey that we've designed for McDonald's, which includes a preview of their SJTs as well.
Harver provides both out-of-the-box and custom SJTs. If you'd like to see industry-specific examples, and understand how they can help your company hire better candidates, you can book a demo below.
Ready to transform your hiring process?
4. Measure employee integrity
Of course, you want to hire honest, reliable employees for your organization—but how exactly do you measure something like that?
Employee integrity tests allow you to collect insights into candidates' honesty, dependability, and work ethic. Integrity and other relevant soft skills are typically assessed via a digital personality questionnaire. Of organizations that work with pre-employment testing
24%
use integrity tests.
Source: CriteriaCorp
However, there are potential legal issues to be mindful of before jumping on the integrity testing bandwagon. Some have been challenged in court for requiring candidates to rate statements that could be seen as discriminatory. Some areas, such as Massachusetts in the U.S., have even banned employee integrity testing altogether.
To avoid legal problems, it's important to be sure your test complies with applicable laws, does not have an adverse impact, and demonstrates validity.
5. Test job knowledge
Does the candidate have the actual knowledge needed to do the job in question?
While most of the time that knowledge can be learned on the job and other factors are more important, there are certain roles that require applicants to possess specific job knowledge and skills already.
Each job family requires a different skills assessment; however, some skills like multitasking, typing, and language proficiency can be useful across various roles and industries.
With that said, skills assessments are still an extra step for candidates. That's why timing is everything. Introducing a skills test too early in the recruiting process can scare away applicants. To avoid this, keep your skills assessment short, allow an adequate amount of time to complete it and wait until you have a small, shortlisted pool of candidates to move forward.
Stop guessing,
Start data-driven hiring.
Learn how you implement a modern candidate selection process, that is: streamlined, experience-driven and backed by data.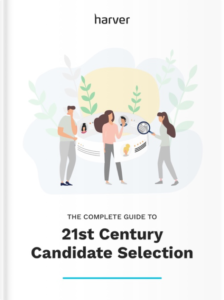 6. Give a test work assignment
Test assignments or work sample tests are an excellent way to help with employee selection. They let top candidates get a sense of what they would do on the job, while you can understand the skills they bring to the table.
The downside to test assignments is that if they're administered too early or are too long, candidates might drop out of the recruitment process. Keep your test assignments brief, provide clear direction and introduce the test later in the recruiting process, such as after an initial interview, when candidates are more invested and likely to follow through.
For instance, for our Contact Center and BPO clients, we've developed a Live Chat Support Simulation module that allows recruiters to assess the most important skills of a chat agent while providing candidates with an engaging experience.
Experience our best-in-class Live Chat Assessment first-hand!
Perfect for remote hiring, our live chat assessment makes it easier than ever to hire live chat agents. Candidates experience the job, while you get actionable data to drive hiring decisions.
7. Organize an assessment center
Assessment centers allow employers to see candidates' hard and soft skills in action. Rather than places that candidates go to take a specific test, in this context assessment center refers to a testing process that analyzes each candidate's social, analytical and communication skills.
These tests consist of simulations and exercises designed to evaluate how an individual would perform in real on-the-job scenarios. They are usually given in a stipulated amount of time and typically last for one day.
This approach helps recruiters and hiring managers make fully informed hiring decisions. Also, it provides candidates with a clearer picture of the realities of the job they're applying for.
One shortcoming is that these tests need to be evaluated by trained people and can be costly to administer and rate. That's why assessment centers are most cost-effective for large-scale recruitment efforts.
Because grading is manual, results can also be subjective. If you're thinking about incorporating an assessment center, your assessors should be thoroughly trained to administer tests and evaluate candidates.
8. Structure your interview process
Structuring your interview process ensures that everyone is treated fairly and asked the same pre-determined questions. Doing so allows recruiters to compare candidates' responses and to be more objective, keeping hiring biases to a minimum.
A structured interview process is especially helpful when you have several qualified candidates for the same role. With that being said, interviewers might evaluate candidates subjectively, which can make it difficult to take what they say at face value.
To get the most out of your interviews, create a standardized interview guide that includes both pre-determined questions and detailed scoring criteria. This will ensure you ask every candidate the same questions and remain as objective as possible when making your new hire selection.
9. Conduct peer interviews
It's always a good idea to involve the team you're hiring for, as they know the day-to-day responsibilities and current skills gaps better than anyone else. Peer interviewing helps ensure that you remain objective in your hiring efforts, as well as on the same page as the hiring manager and internal team.
By letting team members interact with the candidates, you can gain extra insights that the hiring manager might have not been able to yield. Peer interviews help with deciding cultural fit and help candidates feel more at ease. Chances are, they'll open up more than they would if they were interviewed by a potential boss!
Potential pitfalls are that it's necessary to train the interviewers to be sure they ask the right questions. It can also be distracting, sometimes getting in the way of daily responsibilities. You can combat this by choosing the right interviewers, creating a standard interview structure, providing comprehensive interview training and making the job requirements clear.
10. Check candidate references
Reference checks are more than just a formality. They're a way of revealing valuable insights that can help you identify top candidates and better understand how an applicant would transition into the new role. Checking references allows you to find out more about candidates and how they work and can bring red flags to light before you make your employee selection.
That said, checking references can be time-consuming—especially when you're hiring for countless open roles at a time. However, you can make it worth your while by asking the right questions.
Focus on questions that provide more insight into performance, accomplishments, and weaknesses. Avoid asking closed questions that only require a yes or no answer, as those are less likely to offer useful information.
Instead, here are examples of relevant, open-ended questions to ask during a reference check:
How long did the candidate work for your organization?

What were the candidate's roles and responsibilities?

What was their biggest strength? Biggest weakness?

Why did the candidate leave your organization?

Would you rehire them if the opportunity arose? 76%
of the referees prefer to take an online assessment when compared to more traditional reference-checking methods.
Source: SmartRecruiters
11. Host a job trial day
Like any long-term investment, it's wise to try things out before making your selection. Inviting shortlisted candidates to a job trial day is a great way to see how they react to common situations that they make encounter in the role if they're selected.
Think of it as an audition to assess both job and cultural fit. You can see how candidates and potential colleagues get along and help set expectations about both the specific role you're hiring for and the company overall.
The downside to job trial days is that they are time-consuming for candidates. You should always discuss and agree on the conditions (e.g. compensation, a full/half-day or a couple of hours, etc.) ahead of time to ensure the candidate experience remains positive—you don't want to lose your top choice along the way!
In conclusion
The employee selection process is as unique as an organization itself, and the best format for yours depends on many things. You need to find the selection methods that are reliable, predictive and best suited for the roles you need to hire for.
And also, don't rely on just one method to make your decision. Instead, build a combination of several employee selection methods that get the job done—and put the right people in the right roles at your company!
Stop guessing,
Start data-driven hiring.
Learn how you implement a modern candidate selection process, that is: streamlined, experience-driven and backed by data.