Employment in the quick-service restaurant (QSR) industry has been on the rise in recent years, with more than 4.8 million employees in the U.S. alone.
Today, QSRs are facing historically low unemployment rates and rising wages as demand for labor increases—challenges that likely aren't going away anytime soon.
In fact, according to the National Restaurant Association's State of the Industry 2020 report, three in 10 restaurant operators reported having trouble filling open roles.
The question is, why is recruiting and hiring quick service restaurant employees so difficult? In particular, what makes QSR volume hiring so different from regular hiring practices, and how can restaurant managers approach the process effectively?
Don't forget to grab your free copy of our white paper on the digital transformation of restaurant volume hiring. Learn about:
What defines high volume hiring in quick-service restaurants (QSR)? 
The fast-food industry is no stranger to turnover. QSR turnover rates run as high as 130-150% for countless reasons, from low wages and so-so benefits to a lack of career growth and development opportunities.
To remain profitable and productive despite their high employee turnover rates, global market leaders hire around 1 million workers in the U.S. each year. As you can imagine, this presents a series of challenges that are not experienced in regular recruitment.
On the one hand, fast-food chains face the constant demand for human resources and the ever-present potential for turnover to rear its ugly head. As such, HR and recruitment teams need to make sure that they have enough employees on deck to avoid service disruptions and continue offering top-quality customer service.
On the other hand, QSRs who operate multiple locations need to maintain consistency and uniformity both in their services and in their recruitment practices. Franchises and chain restaurants that rely on a low-paid, unskilled workforce need to come up with sourcing and recruiting strategies that enable them to shorten their time-to-hire while recruiting high-quality candidates.
Given the entry-level nature of these jobs, finding candidates shouldn't be a problem; but finding good candidates – as in, applicants who don't quit after a few months and who have the skills needed for representing the brand – is a tough challenge, especially for multi-location QSRs.
As we've learned from our clients, some locations are particularly hard to recruit for, and HR leads need to act fast in order to not lose candidates to competitors. Timing, speed, and a well-coordinated recruitment process are therefore essential for finding good hires for quick-service restaurants.
Subscribe and stay up-to-date with everything recruitment related by receiving a weekly content digest and email updates on new resources!
What does the QSR recruitment process look like?
Although it varies by company, most QSR recruiters hire employees that fit into four categories: customer service, food preparation, shift management and general management.
Of these, the first two are typical entry-level jobs, so that's where most of the volume hiring happens. Here's how the quick-service restaurant's recruitment process typically unfolds for most candidates:
Apply in-person or online via the company's website
Complete a personality assessment to gauge job fit
Schedule an interview to meet with the hiring manager
Start orientation after receiving an official job offer
In recent years, quick-service restaurants have taken steps to improve the candidate journey for applicants. For example, McDonald's Germany launched an initiative called "Job Day" to leverage a more human-centered approach and enhance the candidate experience. The results speak for themselves: On the first day alone, the fast-food chain had hundreds of new hires, with some locations even hiring more than 20 people at a time.
Candidates loved the opportunity to get an exclusive, firsthand, behind-the-scenes look at a day in the life of a McDonald's employee. They also got the chance to "ask the crew" – aka their potential new colleagues – questions about what it's really like to work there, and received immediate feedback on the outcome after their individual interviews as opposed to waiting for an indefinite amount of time.
What challenges do high-volume QSR recruiters face?
Along with exceptionally high turnover rates, quick service restaurant recruiters face a myriad of unique volume hiring challenges, as detailed below.
Inefficient processes extending time to hire
If there's one thing that candidates for QSR roles are looking for, it's speed. These applicants are looking for a paycheck more than they're looking for a career, so chances are that they're applying for multiple positions at once. If you want to hire the best candidates, speed is key, and efficiency drives speed.
In many cases, inefficient recruiting processes extend applicant interviews and candidate selection. The time to interview and time to hire stages are often far too long, which drives up hiring costs and forces candidates to play the waiting game while they stand by for a response.
Not only is a long time to hire stressful for potential candidates and inefficient for employers, but it can also lead to losing applicants due to a lengthy process—especially if the candidate experience is also not in line with the target group's expectations.
This can result in a time-to-fill period that takes too long, meaning roles are open – and maybe even vacant – for longer.
Lack of data and insights into recruitment processes
Lack of data and visibility can greatly hinder volume hiring in quick-service restaurants. QSR recruiters who are not taking advantage of their recruitment data are missing out on potentially invaluable insights that can help steer and streamline their hiring efforts.
Without actionable numbers to provide valuable insights into their existing recruitment processes, there's no feasible way for a QSR's corporate headquarters to optimize their strategy, upgrade their technology and drive meaningful improvements.
And we're not talking about typical recruitment metrics such as the number of candidates in each stage of the recruitment funnel, or the time to fill and time to hire metrics.
We're talking about sourcing channel data that can help recruiters optimize their strategy to attract better candidates; bias data and insights that can help QSR leaders in developing guidelines and processes for a more diverse and inclusive workforce; and performance data, which can help recruiters predict the quality of hire and select best-fit candidates.
Such data can be tracked and analyzed with software designed for QSR volume hiring, such as our platform.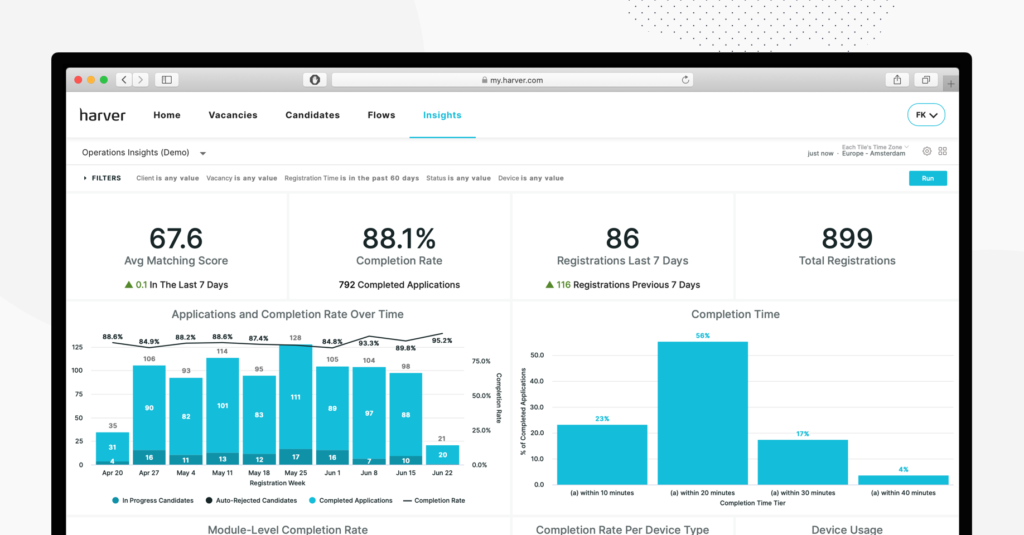 Misaligned candidate expectations
Misaligned candidate expectations is one of the biggest drivers for employee turnover in QSR.
A candidate might think that they want to work at their favorite burger restaurant because they love coming there and the job seems fun. Then one day they get asked to clean the parking lot – that's when you lose an employee, and a client. Managing that expectation is key in retaining staff.
Even when candidates think they understand all of your expectations for the role, there might still be some misalignment that can lead to your new hires jumping ship. You can counter this and make sure your applicants are fully aware of what the job entails straight away by offering a realistic job preview during the recruitment process.
A poor candidate experience
The candidate experience plays an important role when volume hiring for quick-service restaurants. In many cases, candidates are not treated as customers, which may cause them to rethink whether the company and job are a good fit.
This is especially true for recruiters engaging in high volume hiring without the strategy and technology in place to support their efforts adequately.
When something has to be sacrificed, unfortunately it's often the candidate experience that takes a hit. According to Mercer's 2019 Global Talent Trends Study, HR leaders identify a poor candidate experience as one of their top three talent acquisition pain points. 1 in 4
employees would rate their company's hiring experience as excellent
Nailing the candidate experience isn't easy—especially at scale—but it's essential for minimizing turnover and putting the right people in the right roles.
Poor quality of hire leading to high attrition rates
Poor quality of hire can lead to a number of challenges, from the high cost of turnover and increased attrition rates, to service gaps and the potential for a negative customer experience.
Many companies have a 50-60% 90-day attrition rate because they fail to measure quality of hire before the interview process, accurately assess applicants and adequately manage candidates' expectations for the role in question.
Increasingly tight labor market during COVID-19 and beyond
COVID-19 has dramatically changed the current state of the QSR industry. Many quick service restaurants like Chipotle, Papa John's, Taco Bell and Dunkin' are on a hiring binge in order to keep up with the demand for more hourly workers and fill roles as quickly as possible.
With that said, the increasingly tight labor market has made doing so challenging—especially with so many competitors in the exact same boat.
We've explored these challenges in the webinar below.
How should you approach high-volume QSR recruiting?
The right QSR recruitment strategy and technology can help you automate your hiring processes, work more efficiently, assess and select candidates at scale and improve your time to hire—all without sacrificing quality of hire or the candidate experience.
Use matching technology
Matching technology is technology that allows you to make data-driven, consistent, objective, and fair hiring decisions every time, without compromising on the quality of your new employees.
Using matching technology in recruitment speeds up the applicant screening process, improves the quality of candidates as a whole, reduces both attrition and turnover rates and aids in delivering consistent hiring decisions. It's most effective for volume hiring, especially when recruiting multiple people for the same open role.
High volume recruiters can use matching technology to automate the screening process and assess candidates across multiple competencies in an effective, unbiased manner.
Volume hiring platforms such as Harver eliminate the need for QSR recruiters to manually check every resume and speed up the process by auto-progressing candidates who are a good fit for the next stages. Moreover, our software allows candidates to self-schedule interviews, so the risk of losing an applicant due to a lengthy process is extremely reduced.
Manual hiring isn't an option going forward—especially when it comes to volume hiring, as slow and inefficient workflows result in lost candidates, increased costs, and mediocre talent.
Besides, as we've learned from our QSR clients who deal with high volumes of applicants, the resume and past experience are not the best predictors of success for such roles. In fact, one's personality and skill set are more likely to predict a candidate's success in the role.
Create a data-driven hiring process
To be successful when volume hiring and keep costs low, QSR recruiters need data and analytics on every step of the recruitment process. From time to hire and quality of hire to turnover and beyond, hiring managers and talent leaders need continued insights to keep control of the volume hiring process.
Some of the most important metrics to track in volume hiring include:
Average time to hire
Attrition/turnover rates
Overall quality of hire
Candidate satisfaction
A data-driven hiring process will generate insights on your critical recruiting KPIs, but also allows you to measure the success of your recruitment program.
When top performers can be identified and measured against their performance in the selection process, you have tangible results to drive strategy. Being able to recognize challenges and opportunities makes your recruiting more agile.
In addition, a digital process allows for insight into KPIs outside of time to hire, cost per hire, and attrition. You can also gain valuable insights into if there is any level of bias, or demographic attrition in your business and where it originates from. The outcome of robust business intelligence is a process that is controlled, agile, and fair.
Our platform facilitates the collection and analysis of relevant recruitment data through complex integrations with ATS systems and a series of dashboards meant to provide quick and actionable insights into aspects such as recruitment efficiency, candidate experience or hiring bias.
Ready to transform your hiring process?
Offer a great candidate experience
Recruiting should be a two-way street: Responses from QSR recruiters should be timely, and all candidates should be treated equally to ensure fair and equitable hiring practices.
Candidates should receive a friendly and informative experience, even at scale. They should be able to see the role in action and learn about what they're signing up for – both possible with pre-employment assessments that include SJTs (situational judgement tests) and realistic job previews.
Granted, with hundreds or thousands of applicants, that can be a hard task to pull off, to say the least.
However, if you've successfully completed your digital transformation by adopting modern recruitment technologies and data solutions to automate workflows and introduce efficiencies, then there's no reason why you can't deliver an outstanding candidate experience at scale as your quick-service restaurant business grows.
Here's for example the candidate experience we've designed for McDonald's, one of our QSR clients. As you can see, the experience is fully digitized, engaging, and in line with the expectations of the young generation.
Besides offering candidates a realistic job preview to help manage their expectations, this application flow enables recruiters to showcase their company culture and to keep the hiring process human, despite the lack of actual interaction with the candidates.
Next steps
To address challenges and optimize your volume hiring, you need a recruitment strategy and the right tools in place to guide the process.
At Harver, we support QSRs in their digital transformation journey by helping them make the recruitment process fully digital and by offering an end-to-end digital hiring solution that solves all the major challenges.
Schedule a below demo for a firsthand look at our leading QSR recruitment platform, designed to quickly identify top candidates at scale and support volume hiring initiatives.
Ready to transform your hiring process?