Finding a new job is challenging, and so is finding a perfect employee. Together, your recruitment team, along with potential candidates, needs to go through different stages of the hiring process. The question is, how should this candidate journey look to ensure that you're attracting and selecting the right people?
There is a way to provide a great candidate experience and hire the right person for the job, and it all comes down to the hiring journey—from attracting candidates to onboarding them into their new position.
So let's dive into the topic and see what a candidate journey is, why it's important, and how to use it to pave the way for future employees.
Subscribe and stay up-to-date with everything recruitment related by receiving a weekly content digest and email updates on new resources!
What is a candidate journey?
A candidate journey is comparable to a customer stepping into a shop to buy something.
Before they decide to buy, a customer will think about if a product is right for them, make an effort to learn about the brand, read reviews of the product and the brand, and ultimately decide whether they want to buy.
The journey to purchasing a product mirrors the journey a candidate takes when they're looking for a new job. A candidate will look for a job that's right for them, research the company, and make a decision based on the treatment and actions towards them during the hiring process. 
On paper, it can be described as the journey a candidate experiences during the job hunting process. For a candidate, the journey starts well before they apply for the job, and it doesn't finish until after the company has made the hiring decision, and they've accepted the job.
The bottom line is a candidate's experience while going through your company's recruitment process matters.
Of candidates who have had a poor experience,
72%
have shared that negative experience online or with someone directly.
Source: CareerArc
Touchpoints on a candidate's journey
A candidate's journey can be mapped out through touchpoints, which makes it easier for both job seekers and recruiters to envision how the process will work.
There are several of your company's touchpoints a candidate will hit during their hiring journey. Touchpoints, which can be found both online and offline, include:
Viewing your job ads

Visiting your career site

Visiting your company social media pages

Any interaction they might have had as a customer

Talking to a company representative at a career fair

Proceeding with an online job application

Pre/Post-application emails

Receiving feedback on their application

, and so on.
It's important to remember that every touchpoint on your candidate's journey plays a crucial role in their decision whether to proceed with their application. That's why your recruitment process must make sure every touchpoint gives candidates a positive experience.
The difference between active and passive candidates
Everyone is a potential candidate for taking on a job at your company. However, candidates can be split into two categories—active and passive.
The majority of candidates are passive as they're not actively looking for a job, while active candidates are searching for a new employment opportunity. 
The problem companies face if they're only focused on attracting active candidates is they are missing out on a huge opportunity to attract the best people for the job.
While passive candidate might not be actively applying for jobs, 91% of people in the labor force look at job opportunities at least a couple of times a year. So if recruiters don't have a plan to capture passive recruits, they're missing out and it will work against them when they're looking to fill a position on their team.
The good news is, by building a smarter candidate journey for your company, you can not only capitalize on every touchpoint but also capture active and passive candidates. 
Stop guessing,
Start data-driven hiring.
Learn how you implement a modern candidate selection process, that is: streamlined, experience-driven and backed by data.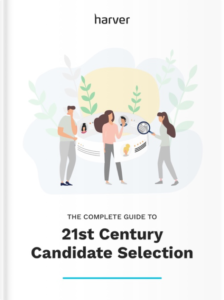 Tips to ensure a smooth candidate journey
1. Put the candidate in the center of the process
The journey needs to be candidate-centric at every stage, otherwise, you risk alienating job seekers. To create a candidate-centric recruitment model, the focus needs to always be on the candidate's needs and overall experience.
However, the goal of candidate-centric recruiting is not only to provide a great experience and make it easier to pick the right person for the job but to build long-term relationships with them, so they continue to interact with your company, even if they aren't hired. 
Talent Management thought-leader Dr. John Sullivan says creating a candidate-centric approach means changing the design of recruiting processes, including the application process, interview scheduling, and the information provided to candidates, to put the applicant's needs first. 
38%
of companies ask candidates for feedback consistently throughout the recruiting process.
Source: TalentBoard
In short, your application process should be short, engaging, should help in managing candidate expectations by offering them a realistic preview of the job, and should provide timely feedback.
2. Think about the pre-application stage 
If you think that the candidate journey starts with their application—you're wrong.
In fact, 3 in 4 job seekers consider an employer's brand even before applying for a job. Also, a study from CR Magazine found 69% of people would not take a job with a company with a bad reputation, even if they're unemployed.
It's vital to think about what applicants see in your company before they choose to look at whether or not they want to work with you. A candidate's journey begins as soon as they hit one of your touchpoints. Whether that's viewing your company online, reading your reviews, or receiving an email.
To build a smooth candidate journey, you need to be thinking about how people are interacting with your company and how you can rely on it to attract high-quality talent.
Every single one of your company's touchpoints that a possible candidate interacts with has the potential to turn them into active job seekers. Making a positive impression is the first step in attracting the right candidates.
That's why building and managing strong employer branding is essential to ensuring a smooth candidate journey. We've covered the topic in the articles below.
3. Identify candidate needs
Hiring isn't just about filling a position in your company. It's about what your candidates are looking for in their ideal job role.
It's essential to be transparent and ask yourself, what do your candidates need to know to help them engage with your company? 
Let's take a look at what a candidate's needs might look like using Maslow's hierarchy of needs. Need fulfillment starts at the bottom of the pyramid. As the bottom layer is answered (physiological), the candidate will then move onto other layers like safety, belonging, esteem and self-actualization. 
If we use the triangle as a visual in identifying a candidate's needs, it's easy to see that it's up to you to communicate how your job position fits into your candidate's life and career goals and how it can fulfil their needs.
A study by Forbes found that above all else, employees are looking for flexibility, healthcare, and a deeper sense of purpose in their job roles. By identifying and answering the needs early in the process, it creates a pathway for a smoother candidate journey. 
4. "Mystery-shop" your own application process
How easy is it for candidates to apply for your job roles? An excellent way to answer this is to go through your own application process.
If you need to answer too many questions, cannot apply on mobile, or can only upload necessary documents like a resume in a specific format, it's a sign that your application process may be causing friction.
One goal could be to minimize the time it takes for candidates to apply for a job, like cutting out any unnecessary fields on your forms to help speed up the application process. You should also give as much control as possible to your candidate in steering their application process.
For example, you can let your candidates self-schedule interviews based on a recruiter's availability. Not only does this cut out the back and forth emailing and calling with a candidate, but it also adds interview appointments straight into your calendar.
Here's, for example, how Hema reduced their time to hire and achieved 97% candidate satisfaction after transforming their recruiting process with Harver.
5. Chart your ideal candidate journey
It's important to have a visual of how your ideal candidate will engage with your company.
Plot out what you think the steps they will go through in their candidate journey will be, from awareness to onboarding, and create a chart. You might come up with a base like this:
Charting your candidate's journey is vital for a couple of different reasons. First, it allows you to see what touchpoints a candidate might be hitting on each stage of their journey. Secondly, having a visual helps recruiters to see what factors may impact candidate behavior, experience, and attitude.
By charting what the ideal candidate journey looks like, it makes it easier to build a plan to make it a reality.
6. Show what it's like to work at your company
One of the most important parts of a candidate's journey is whether or not they can envision themselves working at a company.
A job might be perfect on paper. But unless a candidate can get a realistic idea of what their day-to-day life will be like at the company, it's hard for them to picture themselves in the role. This is where realistic job previews or virtual job tryouts come into play.
Here's for example our Live chat support simulation module, which enables contact center and BPO recruiters to hire top performing candidates at scale, while providing applicants with a realistic preview of the day-to-day work.
Experience our best-in-class Live Chat Assessment first-hand!
Perfect for remote hiring, our live chat assessment makes it easier than ever to hire live chat agents. Candidates experience the job, while you get actionable data to drive hiring decisions.
Besides giving candidates a clear picture of what the role entails, your company must communicate what your core values are, what your team is like, and what your culture represents.
This can be done by creating purpose-built career pages to channel the message to future candidates. An example of a career page that clearly and effectively communicates core values, responsibilities, culture, and expectations is none other than Netflix.
Not only does the page have an extensive amount of information on the company's inclusion & diversity stance, work/life balance, and philosophy, it even has its own podcast.
Another example is McDonald's, who partnered with Harver to create an engaging, fully digital candidate experience.
The application process incorporates a series of pre-employment assessments that help recruiters find the candidates with the right skills while showcasing the company culture and work environment.
7. Keep your promises
Nothing is more deflating to a candidate during a job hire than a recruiter that breaks their promises. Whether you've promised to return an email or make a decision on an application, when you have a timeline with a candidate, stick to it.
Treat every opening as a marketing campaign rather than just a job ad, and think about how your company is being represented. With 72% of job seekers airing their feelings about a company online, you can't afford to break your promises on a single candidate journey.
Here's where automation is changing the game when it comes to hiring candidates. Software can now trigger automated actions based on candidate status or level of engagement, and streamline your entire selection process from 'apply' to 'hire'.
For example, you can use your candidate selection tool or your candidate relationship management software to follow up with candidates on your shortlist or after an interview—automatically.
8. Make pre-boarding a part of the candidate journey
Last but not least, it's important to remember that a candidate's journey doesn't end once they accept your job offer. On the flip side, use this stage of the candidate journey to get them excited about working for you and start building their commitment to you.
This process is called pre-boarding.
Start to build a relationship with your new hire and let them know how excited you are that they're going to be joining you on your epic company journey. After all, you don't want to lose an employee in just a couple of months after spending so much time, effort, and resources on the recruitment process.
LinkedIn's Onboarding in a Box states that pre-boarding increases new hires' excitement and fosters a relationship with them even before orientation. The guide recommends putting together a new hire checklist for your recruiter to complete, along with a welcome email with clear instructions to help candidates feel welcome and included.
Wrapping up
The hiring game has changed. The days of a simple interview and job offer are gone. Now, recruiters need to be thinking more about what their employees' needs are, their impression of the company and channeling a message that goes beyond just a pay packet.
Today's employees are looking for the complete package. Mapping out and planning the hiring process allows companies to see what a candidate is thinking and feeling at every stage of their journey, and how they can improve it every step of the way.
Remember, it's not just you interviewing your candidates. They're also interviewing you. It's your mission to make sure you're living up to their expectations in each step of the candidate's journey.
Ready to transform your hiring process?