75% of job seekers consider an employer's brand before they even apply for a job—and companies are taking notice. 96% of employers believe that their employer brand and reputation can positively or negatively impact revenue. With numbers like these in mind, many organizations make efforts to build and strengthen their employer brand. The question is: how can they measure how successful their employer branding program is?
It all comes down to tracking the right employer branding metrics—and we're here to share 11 of the best ones to help you measure your company's success. Keep reading to learn why they're important and how they're calculated!
What metrics are inside?
Subscribe and stay up-to-date with everything recruitment related by receiving a weekly content digest and email updates on new resources!

Measuring metrics that match your recruitment goals
"Start with your goals. Without clear goals, you'll never be able to measure success. If your goal is to retain employees by adding a benefit package, your measure of success would be employee retention and feedback on that package. If your goal is to drive awareness, there's a metric for that. If your goal is to get clicks to job openings, there's a metric to that. Set clear goals and measure against them." –Carmen Collins, Social Media & Talent Brand Lead, Cisco
In other words, there are no universal or one-size-fits-all employer branding metrics that every company should measure. The metrics you track are entirely dependent on the goals your company wants to achieve with building its employer brand. You have to know what you're trying to achieve to measure how successful you are in your efforts, right?
Some of the most common employer branding goals are:
Building a positive reputation as an employer.

A top goal for companies focusing on employer branding efforts is to build a reputation as an employer. This helps companies differentiate themselves from their competitors and demonstrate their unique mission, values, and culture.

Attracting high-quality candidates.

Of course, you want to attract top-quality candidates—and employer branding is a great way to do just that. Many employers focus on employer branding to reach the best candidates in the job market.

Decreasing the overall cost per hire.

A strong employer brand can help decrease your cost per hire significantly, by as much as

43%

or higher. Companies with a positive reputation as an employer receive more applicants who are a better fit, ultimately decreasing the overall cost per hire.
Employer branding metrics to measure success
Hannah Fleishman, Inbound Recruiting Manager at Hubspot, explained why the employer branding metrics you track should align with your company's specific recruitment goals:
"Most companies I talk to about employer branding do one of two things: They measure everything, or they measure nothing. Tracking every email click-through-rate, web page view, and application conversion rate is a good idea in theory, but what does that actually tell you about the impact of your efforts? Pick metrics that you know you can have an impact on, but that also move the needle on your overall recruitment goals." –Hannah Fleishman, Hubspot
Here are 11 employer branding metrics that can help you measure the effectiveness of your efforts and the strength of your employer brand.
1. Candidate Quality
If you want to attract high-quality candidates, then you need to look into whether you're doing so. Studies show that a strong employer brand leads to 50% more qualified applicants, but how can recruiters measure and learn from candidate quality? Along with results of pre-employment assessments used to screen and evaluate applicants, recruiters can calculate the percentage of applicants to interviews, which is around 12% on average.
If your applicants-to-interview ratio is above 12%, you're probably attracting a lot of qualified applicants to your company. If it is less than that, you should think about ways to improve candidate quality.
However, some roles attract as many as 250 candidates. The more quality candidates you have, the more choice you have and the more likely you are to make the right hiring decision.
2. Cost Per Hire
Fees for recruiting, pre-employment assessments, advertising, and more all contribute to the cost per hire—and it adds up quickly. As we mentioned before, a strong employer brand can help decrease your cost per hire significantly. (In fact, it some cases it nearly cuts the cost per hire in half!)
When a company earns a reputation for being a top employer, more candidates come to them directly—and those candidates are often a better fit for the organization since they know exactly what it stands for. With more quality candidates coming to them, recruiters can spend less time—and of course less money—on sourcing ideal people for open roles.
3. Brand Awareness
While brand awareness is a bit more abstract than the more tangible employer branding metrics, it's really important to have an idea of how many people know you as an employer. The more well-known and well-liked your company is, the more likely it is you'll attract high-quality candidates when hiring, because you will be their employer of choice.
Rather than calculating a number with a formula, brand awareness can be measured through social listening. By monitoring your social media mentions and interactions, you can develop a better understanding of brand awareness and sentiment—meaning how people feel about your company as an employer.
…and 86% of job seekers use social media in their job search. That's why finding ways to raise your brand awareness through social media is key to strengthening your overall employer branding.
4. Source of Hire
Where did your hires come from? How did they find out about you? Measuring source of hire helps recruiters learn where they're most effective and what sourcing channels are less successful. To measure source of hire, determine where the bulk of your hires come from and evaluate whether you're allocating resources effectively.
If you recognize that very few of your new hires are coming from more cost-effective sources like employee referrals, you may want to consider strategies to increase referrals. For example, many companies offer referral bonuses to current employees who refer people for open roles.
Stop guessing,
Start data-driven hiring.
Learn how you implement a modern candidate selection process, that is: streamlined, experience-driven and backed by data.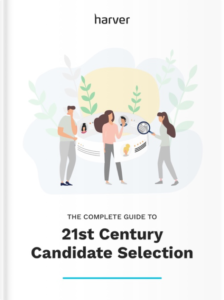 5. Number of Open Applications
While this may not seem like a metric worth tracking, it's really helpful to track the number of candidates that apply for open roles. By adding this option to your career site, you can be sure that people who sent in an open application know your employer brand.
Studying the number of applications will also help you gain an understanding of how visible your company is as an employer. If you focus on building a strong employer brand and then begin to notice an uptick in the number of open applications coming in, you're probably on the right track.
A video game development and publishing company Bohemia Interactive offers their career page visitors an opportunity to submit an open job application. Candidates submitting a general application likely know and like your brand, that's why the number of open applications is a good indicator of your employer branding success.
6. Offer Acceptance Rate
Measuring the offer acceptance rate is beneficial to employers for so many reasons. Not only does it help track how successful your hiring efforts are, but also points out the number of candidates who are turning down offers. You can calculate the offer acceptance rate and complement it by researching the reasons for rejection. Ask for feedback and learn as much as you can about why you're not the employer of choice for candidates who reject your job offers.
7. Hiring Manager Satisfaction
One of the best ways to measure the success of your employee branding program is to incite feedback from hiring managers. How satisfied are they with your candidate selection?

Measuring hiring manager satisfaction will help you determine whether or not you're attracting the candidates you aim to attract, as well as how good of a cultural fit they are. One way to measure hiring manager satisfaction is to send out surveys to learn how satisfied managers are with the candidates you're recruiting and analyze the feedback.
8. Employee Experience
A major aspect of employer branding is determining how well the employee experience matches up to what type of employer the company thinks they are. While there's no formula for calculating something like the employee experience, there are still ways you can measure and learn from it. Many companies analyze insights gleaned from employee surveys and exit interviews to get helpful feedback on the employee experience.
If you find out that your employee experience differs from what you're trying to provide as an employer, it might be time to make changes in how you're building and communicating your employer brand.
Companies investing in employee experience also outperform others in employee growth and average revenue.
9. Employee Referral Rate
A study revealed that while referrals only accounted for around 7% of applicants, they still generated over 40% of new hires. Employee referrals help decrease cost per hire and improve retention rates—so it goes without saying that many companies measure employee referral rates. By learning the number of employee referrals, you can better understand how effectively you're communicating your brand internally and externally.
10. Employee Retention Rate
Employees are always coming and going—especially in today's dynamic job market. Many of the companies looking for ways to reduce turnover and increase retention focus on building out their employer brand to make improvements.
Some studies suggest that retention rate is the most commonly measured employer branding metric, which makes sense because it's easy to measure and brings a lot of insights through conducting and learning from employee exit interviews. Find out as much as possible about your employees' experiences before they jump ship and use what you learn to improve your employer branding and recruiting processes.
11. Bonus Tip: External Reviews
In addition to these metrics, it's always a good idea to review and learn from your company's online presence. Websites like Glassdoor, Comparably, and Indeed provide overall company ratings, CEO approval ratings, current and existing employee reviews, and many other helpful details that you can leverage to inform your company's employer branding strategy.
Almost half of job seekers indicate that they read company reviews in their job search. 30% of those look for positive reviews regarding compensation & benefits.
Wrapping it up
To measure the success of your employer brand, you need to determine the right combination of employer branding metrics that will help you further optimize your activities and track your goals over time. The 11 employer branding metrics we shared in this article should be a good place to start. Now check out these employer branding examples for retail and hospitality businesses for ideas on how to become an employer of choice!
Stop guessing,
Start data-driven hiring.
Learn how you implement a modern candidate selection process, that is: streamlined, experience-driven and backed by data.