Low application completion rates are usually the result of a badly designed recruitment process that's either too long, too complex, or just plain confusing for applicants.
The data speaks for itself: Research has shown as much as 73% of candidates will abandon a job application altogether if it's taking too long to complete.
And with candidate shortages plaguing almost every volume hiring industry at the moment, you need a hiring process that's as appealing as possible to job seekers. There are plenty of job opportunities on the market right now, and candidates know it, so their tolerance for bad application experience is much lower.
In order to reduce your application abandonment rate, you first need clarity on where exactly your candidates are dropping out of the process, and why. Once you're armed with the facts, you can redesign the application process, fix any gaps and create a volume hiring application process that candidates actually want to complete.
How do you get this clarity? Let's explore below!
Subscribe and stay up-to-date with everything recruitment related by receiving a weekly content digest and email updates on new resources!
Understanding why candidates are dropping off
In order to improve your application completion rates, you first need to work out where the problems are for your candidates. To get full clarity on your application process and identify any gaps or bottlenecks, map out your entire recruitment journey from both a candidate and a hiring manager's perspective.
At Harver, we do this for our clients through a series of workshops during which we look at the full recruitment funnel, including all the sourcing channels, touchpoints, and data collection flows. The result looks similar to the journey below.
Once you have this in place, you can gather data from your recruitment technology that tells you exactly which stage in the journey candidates are dropping off: Is it while filling in a form? While recording interview answers? When doing a virtual assessment?
However, this is only quantitative data, and in order to understand the why behind the drop-off rates, you need qualitative data as well. So you can start looking into what exactly it is that's making the candidate drop off at these particular stages. You can learn this by doing interviews with recruiters and candidates, or triggering a feedback collection form on exit intent.
Here are a few reasons why your candidates might be dropping off at different stages of the application process:
Too many questions – Studies have consistently shown that asking too many questions can degrade application completion rates – as much as 365% if they take longer than 15 minutes.
An un-mobile-friendly application – Almost 90% of job seekers will use their mobile phones when searching for new job opportunities. If your application process isn't totally mobile optimized, or even if it just looks messy on a smartphone screen, you will be putting great candidates off from applying.
Job descriptions that are too long – To catch job seekers' attention, you want to include just the right amount of essential information in your job descriptions so they don't take too long to read. Research indicates that job descriptions convert the most candidates when they're 300-660 words long.
Having to re-enter information they've already provided – if you're using the right technology to handle your applications, a candidate's information will automatically be parsed from a LinkedIn profile or CV into the Applicant Tracking System (ATS) automatically. If a candidate has to re-enter or re-format information they've already provided elsewhere, this is a bad candidate experience and very likely to impact your application completion rates.
Double logins – Likewise, if a candidate has to log in to a job board or careers site first and then log in again to an ATS, this is a messy application journey that won't prove popular with job seekers. Your recruitment technology should integrate seamlessly with the application platform so that information is passed through automatically.
Once you know exactly where the problems are in your volume hiring application process, you can decide what adjustments you need to make to reduce candidate drop-off rates speed up time-to-hire.
Once we know what the candidate and recruiter experience looks like, what platforms and tools are used, and where the bottlenecks are, we can start creating an ideal application journey to decrease the drop-off rates. We've detailed our process in this article: Hiring Journey Mapping in Volume Recruitment: A Framework
6 process adjustments to improve application completion rates
The adjustments you make will of course depend on your recruitment goals as well as the company and types of roles you're hiring for.
However, there are some best practices that apply to any business looking to improve their application completion rates in volume hiring.
1. Be strategic with sourcing channels
Even with an excellent application process for candidates, if you're posting job adverts on the wrong channels, you'll never get the results you need. It's important to prioritize the sourcing channels that bring in the best candidates, not just the highest number of applications.
So for example, you might reach a huge amount of applicants on a job board aggregator, but how many candidates are completing the application from that job posting? And how many of those submissions are successfully converting to new hires?
Look closely at your hiring metrics to see which channels bring the highest conversions and make those the focus of your sourcing strategy. Otherwise, you're just wasting your job advertising budget on platforms that are never going to bring you the right candidates. Being more strategic with your sourcing channels can massively reduce recruiting costs.
2. Keep questions to a minimum
You can't rely on longer-form traditional application forms when recruiting candidates in volume hiring industries. For entry-level roles that are common in volume hiring, you need short, mobile-friendly forms that just ask for the bare minimum if you're going to engage candidates at this stage of the process.
Studies suggest that the optimum number is to ask 25 questions or less, or risk drop-offs rising by up to 50%.
Focus on what you really need to know at this first step of the process and instead. For example, the candidate's contact details, availability, and work preferences (the location, number of days and shifts they would be available to work). You can also use auto-complete on forms to make it even easier for candidates to apply.
In volume hiring, CVs and application questions don't predict performance, skills do. Therefore, an interactive job simulation or virtual job tryout (VJT) will tell you a lot more about whether they're the right candidate than an application form will.
Here's, for example, a candidate selection flow that incorporates a virtual job tryout. You can replace this type of assessment with an SJT (situational judgment test) in most cases.
Unlike a traditional application process, this type of sequence is more engaging and informative, as it provides candidates with details about the role and the company through the custom assessments, while allowing candidates to show their personality through async video interviews. The process is short, efficient, and helps recruiters gather the needed information about candidates while "selling" the job.
3. Create a streamlined application journey from multiple platforms
To attract as many candidates to your job vacancies as possible, you need to be able to reach candidates across multiple channels and allow them to apply from all these different platforms.
But no matter which platform or device the candidate is applying from, the entire application journey should have the same look and feel and be completely user-friendly. The application should integrate seamlessly with your recruitment technology so that the process is streamlined and prevents candidates from having to create multiple accounts or fill in the same data again and again.
Streamlining the application process creates a positive user experience that will reduce application drop-offs. But on top of this, it also ensures that every candidate is treated fairly in that they will experience the exact same application journey that takes the same amount of time to complete, regardless of which online platform they apply through.
4. Divert candidates to more suitable applications
There's no point in pushing candidates through an application process for a job that they're not the right fit for. No matter how urgent your need for talent is, a bad fit will only lead to the candidate churning soon after onboarding, and a high turnover rate is damaging for your organization.
But rather than filtering candidates out of an application process if they don't have the required skills or experience, you can use online assessments to match them to a different role.
This means replacing one-way assessments that only show you if a candidate is a good fit for a specific role, with two-way matching technology that shows you different types of roles the candidate would be a right fit for based on the skills and characteristics they demonstrate in the assessment.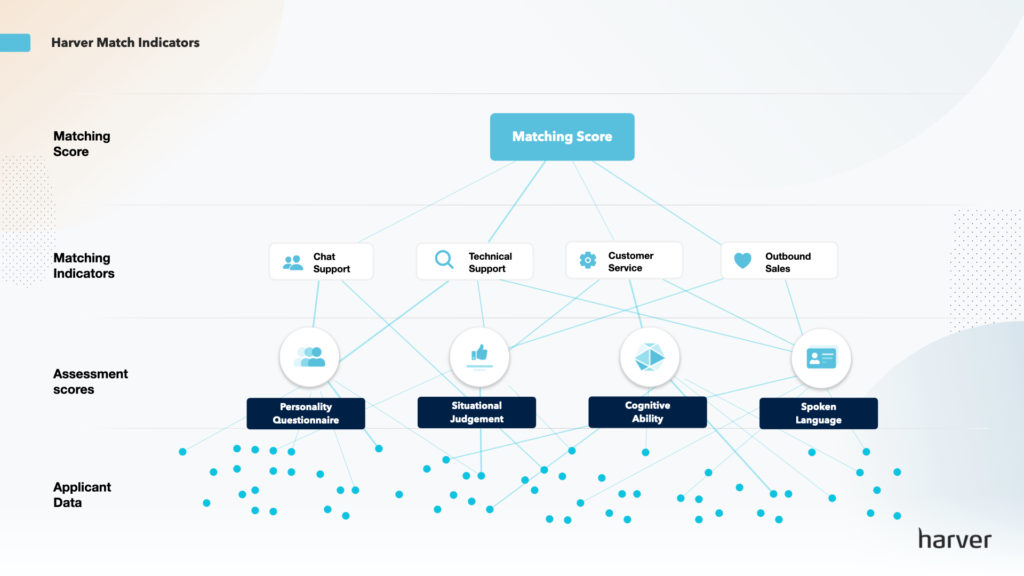 Similarly, you don't want to miss out on placing a candidate simply because they applied for a role in a location that's no longer hiring. Facilitate multi-location applications to automatically route candidates to locations with fewer applications. This will increase their chance of getting hired, while helping you make the most of your talent pool.
We've detailed the topic of candidate routing in this article: How to Improve Fill Rates in Hourly Roles by Routing Candidates Between Locations.
If you'd like to take a closer look at Harver's matching technology, you can book a demo below.
5. Keep it interesting
If your application process is too long or text-heavy, there's a strong chance good candidates will drop out of the process because they're bored of it!
But there's really no reason for candidates to lose interest in your process if they're the right fit, you just need to make your applications more interesting for them. For example, think about how you could make the application process interactive by alternating assessments with brand videos that showcase the work environment, employer brand and company culture.
Not only will this keep candidates engaged with the application journey, but it also enables you to 'sell the job' to the candidate while assessing their skills and job fit at the same time.
Here's, for example, the application process created by Harver for Albert Heijn, the largest supermarket chain in the Netherlands.
6. Track and optimize your funnel data
Sometimes, improving your application completion rate is just a matter of trial and error. With the right application technology, you can track your recruitment funnel metrics to see where the biggest drop-off rates are, and adjust those stages as needed.
For example, if a high number of candidates are dropping off when doing a personality questionnaire, consider replacing it with a Situational Judgement Test (SJT) that's more interactive and shorter to complete, but still measures the same skills and personality and facets you need in order to assess if a candidate is a right fit.
Essentially, it's about using the metrics you hold to optimize your application journey and provide the best possible experience for your candidates.

Next steps
Tracking your recruitment metrics will give you the data insights you need to understand where candidates are leaving the application process so you can work out why they're dropping off, and what you can do to improve your conversion rates.
By consistently learning from your data and taking steps to improve your job application process, you'll not only keep drop-offs to an absolute minimum, but in the longer-term, you'll improve your quality of hire and retention rates too.
If you'd like to learn more about how Harver can support you in creating application processes that engage and inform candidates every step of the way, you can book a demo below.
Ready to transform your hiring process?