Retail employee turnover leads to a vicious cycle of constant sourcing, hiring, onboarding, and training that drains time from store managers and money from your business. According to the National Retail Federation, retail turnover is regularly above 60%, more than 3X the all-industry average. For part-time, hourly employees, the number is even higher.
Not only does this drain budget and work hours, but it also places the burden of never-ending recruitment on store managers, and leaves locations at risk of being short-staffed. And, the problem isn't limited to hourly, front-line employees. The average turnover is 41% for assistant store managers, and 20% for store managers, and remains high in warehouses and distribution centers.
Despite the costs and time involved in re-hiring to replace employees who leave, many retailers view turnover as a necessary evil of operating in the industry, where hours can be difficult and wages are often low. However, as the availability of labor shrinks and competition for talent becomes more fierce, it's too risky to assume there's an endless supply of great employees for your business.
So, what causes retail turnover, and is it a necessary evil or a challenge that can be solved? Where there are problems, there are solutions — let's dive in.
Causes of retail employee turnover
In retail, the bulk of hiring – and the majority of turnover – is related to high-volume, low complexity roles. Think of it: cashiers, sales associates, and stock associates. There are many of them for every one store manager or associate manager — and their priorities when taking a job are vastly different.
Many retailers are strengthening their employment propositions to help with retention, from providing better pay, to flexible work hours, to advancement opportunities. However, a large portion of retail job-seekers are looking for two things first and foremost: a paycheck, and job security. When those candidates join your organization, if they aren't the right fit in the first place, those perks and opportunities may not help you retain them.
That's why in high-volume recruitment, particularly for entry-level roles, recruitment is a major determinant of your retention rates. Not only do you need to find the right talent, and do so efficiently to meet staffing demands; You also need to give candidates enough information about the role to avoid misaligned expectations.
A retailer can decrease employee turnover by..
So, how to decrease turnover? Let's dive into the recruitment funnel, from sourcing to onboarding, to look at the tactics you can leverage to improve retail employee retention.
Before hiring
1. Optimize sourcing
The talent that enters the recruitment funnel will ultimately determine the quality of employees you can hire. That means that it's crucial to guarantee that you have the right talent hitting the "apply" button, otherwise the rest of your efforts will be lost. Luckily, today retailers have the luxury of taking a data-driven approach to sourcing, and can easily find out where the best candidates come from: so that they can target and hire more of them.
First, you need to know what your ideal candidate profile is: so you know what type of employee you're looking for. Then, you need to invest in and maintain your talent pipeline by building a talent pool. Typically, most retailers have taken these steps. But, here's the key: at the end of your efforts, you need to track and analyze your sourcing metrics.
What sourcing method are most new-hires coming from? When looking at turnover, are candidates from a specific source more likely to stay than others? By collecting data on hiring and retention outcomes, you'll be able to see which talent is bringing you the best talent, or the talent most likely to stay — allowing you to increase your sourcing from those channels.
2. Optimize screening
If you aren't selecting the best talent for your roles, then it's much more likely you will have higher involuntary retention. If candidates who are hired are a poor job-fit, it's more than likely their performance will suffer and they will either leave or need to be let go.
Mis-hires are most commonly a result of lacking or inaccurate screening and are often an issue in the decentralized recruitment process where store managers have to balance recruiting with other day-to-day tasks.
The best way to alleviate this is to assess for skills shared by your top performers, rather than focusing on resumes or past experience alone. In the end, having been a cashier or associate at another store doesn't testify to a candidate's ability to succeed in your organization. But, if your top performers are differentiated by high levels of conscientiousness or multitasking ability, then assessing these characteristics as part of your recruitment process will help predict if they'll succeed.
In addition to being more predictive, it's also faster and reduces the likelihood of bias creeping into the process. Store managers have a lot on their plate: from building schedules to addressing customer queries, so they don't always have the time to select candidates the way a full-time recruiter would, even if it's one of their job tasks.
Assessing candidates during the application process removes the screening burden from store managers, so they can focus on high-impact parts of the process: like interviewing and training new hires.
Implementing a validated assessment is only half of the battle. How does this actually fit into your selection process, and save time for store managers?
3. Optimize selection
Candidate screening and selection go hand in hand. Optimized screening, where candidates are assessed on the basis of their skills, competencies, and overall job/organization fit, enables you to streamline your candidate selection process.
In a traditional retail selection process, candidates who apply online or drop resumes off at the store wait for a store manager to review their resume and availability, and then endure a call-back period before they're called for an interview. This leaves candidates waiting, and places a burden on the store manager to act at each step of the hiring process to keep things moving.
The top talent will leave the market the fastest, even being hired by your competitors: so the efficiency of your process is directly tied to the quality of your new hires. That's why having a matching framework that enables automated candidate selection is so critical for volume hiring. Once candidates are screened, it's possible to automatically rank them within your ATS, or even allow them to self-schedule an interview if they meet the minimum criteria.
For example, you can set a minimum score of 80/100 on your assessment. Candidates who meet that threshold are automatically progressed to the next stage. This can be done by allowing top candidates to self-schedule interviews, sending a text-alert to managers when a candidate scores in the top percentile, or even triggering an offer email if your process doesn't require an interview.
While optimizing screening is all about accurately identifying the best talent, optimizing selection is about quickly moving them through your process so you can hire the best employees before other organizations.
Stop guessing,
Start data-driven hiring.
Learn how you implement a modern candidate selection process, that is: streamlined, experience-driven and backed by data.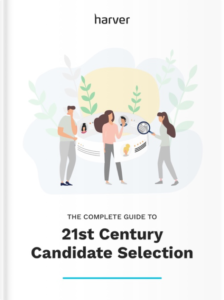 4. Route candidates, offer flexibility
Whether it be a cluster of locations in a city or thousands across the country, the reality is that you're facing the challenges of multi-location hiring. When hiring at scale, these difficulties are further magnified.
In most retail recruitment processes, hiring is done in a decentralized way where candidates apply to a single location and go through a process overseen by that hiring manager. This typically results in your organization having hundreds, or even thousands of slightly different recruitment processes that vary from location to location.
In reality, you can make the most of the available talent pool by having a process that is implemented across all locations, with the availability to tailor to individual markets where needed. One of the best use cases for retailers is multi-location routing; Instead of a candidate applying to just one location in a busy shopping center, they can apply to all locations within a specific distance that works for them, and be routed to the location with the highest need for staff.
We've explored the topic in the webinar below.
In this example, both your organization and the candidate benefit. You are able to route candidates where you need them most, and candidates have a higher chance of securing a position by applying to several locations. Otherwise, you might end up with 100 candidates for the location in a busy shopping center, and only 10 in a less visible store that's just a few minutes away.
However, to take advantage of routing efficiently, this needs to be done automatically; otherwise, you're simply developing a new process that your store managers have to stay on top of: selecting and distributing candidates amongst themselves.
5. Manage candidate expectations
The main contributor to voluntary attrition (where a candidate quits themselves), particularly within the first 30 or 90 days of employment, is misaligned expectations.
Because of the high availability of entry-level, low complexity jobs, the barriers to entry and exit are much lower. If a candidate starts working for you, and the job isn't quite what they expected, they can most likely find a new position with relative ease. In some instances, candidates may realize this before their first day, resulting in no-shows.
So, how can you solve this? Well, as we covered: recruitment is just one of many tasks on a store managers list of day-to-day responsibilities. Even where recruiters are involved, educating candidates about the realities of the role, especially the less pleasant parts, can involve a lot of time and back and forth that will slow down your recruitment process. You need to be able to set expectations in a transparent and engaging manner, consistently for all applicants.
One of the most effective and efficient ways to do this is with a realistic job preview, where you display the reality of the role, work environment, and some of the critical situations that employees encounter when working in your stores. This can be done during the application with video, or you can even take it a step further and combine selling and selecting with a situational judgment test (SJT).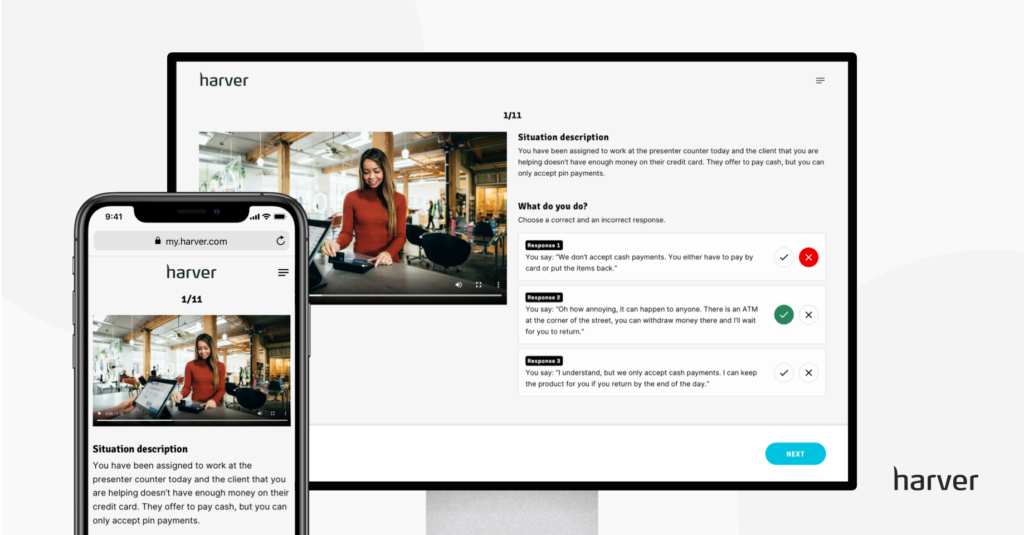 A situational judgment test is an assessment where a candidate is presented with a critical situation from the job, such as interacting with an angry customer or fixing a problem, and then asked how they'd respond.
It helps to test behavior and can help you identify which of your candidates react the same way as your highest performers. While you gather that data, the candidate is getting valuable insight into what the job might be like: so they can decide if it's right for them.
Especially in a more competitive labor market, it can seem counterintuitive to give candidates an opportunity to self-select out of the process. However, losing an applicant is much less costly, and less time-consuming, than needing to re-hire and re-train when someone quits – especially if they quit within the first few months.
In addition to being transparent and providing insight into the role, you also need to keep candidates engaged and up-to-date on the status of their application.
6. Provide timely candidate communications and feedback
Hiring the best talent, after all, is a competition between your organization and others who are hiring in the market. In addition to providing a fast and informative hiring experience, you can differentiate yourself as an employer by keeping candidates up to date and informed about their application.
After all, as we mentioned earlier, in addition to a paycheck candidates are seeking out job security. When they receive communication from you about their status as an applicant, you're essentially providing them with the feeling of assurance that they could join your organization.
Being able to engage candidates at scale is closely tied to your optimized screening and selection. When your screening tools are accurate and enable faster selection using your matching technology: you're able to automate candidate communications at each stage. When qualified candidates are identified, you can automatically send them a text to inform them they will progress to the next phase, or even allow them to self-schedule an interview.
Retailers are often hiring entry-level candidates, many of whom are younger and used to doing everything online and getting things on-demand. When you allow them to self-schedule an interview or send them text updates about their application, you are speaking their language.
Not only does this set a positive tone from the very beginning of the employment journey for new hires, but it also means you're more likely to hire the top talent because you are identifying them and engaging them quickly.
Not only can providing timely feedback help you make the most of your talent pool, it can also help smooth the transition from applicant to employee. When you can more quickly communicate hiring decisions, offers, and on-boarding information, it all adds up to a more positive candidate or new-hire experience.
You've made it through the hiring process. Now what? Let's take a look at how you can improve your chances of retaining these new hires.
Don't forget to grab your free copy of our new white paper on the digital transformation of retail volume hiring. Learn about:
The challenges currently shaping the retail volume hiring space
How to align your recruitment strategy with today's reality by adopting technology
The four building blocks of a fully digital recruitment process
After Hiring
7. Create a seamless onboarding experience
On-boarding is your new hires' first experience as an employee of your company. Effectively transitioning them from being an applicant to part of your organization, and has a tangible impact on retention rates. In addition, if you're struggling with no-shows, effective on-boarding will be key to getting employees in the door after they accept your job offer.
The same as applicants want to be kept up to date with the status of their application and ultimately a hiring decision, new employees will be eager to get information about their offer, start date, and training schedule. Especially if you have a fast and engaging recruitment process, if your onboarding is slow or frustrating for candidates, it can cause them to lose excitement about the job.
Plus, you want the process to be efficient and not burdensome for store managers. So, what to do? Start with pre-boarding, provide a personalized onboarding plan, and make sure you're communicating when candidates need information. For a full picture of how you can onboard effectively, even when working remotely from HQ, take a look at this guide.
8. Invest in training
Training and on-boarding go hand in hand. If your goal is to seamlessly integrate new employees into your stores, they need to be equipped with the tools and knowledge to succeed in the role. Proper training is directly linked to retention for a number of reasons; Firstly, it increases the likelihood of success, by helping employees understand how to complete their tasks you drastically reduce frustration for them as well as store managers.
In addition, equipping your employees with the knowledge to succeed makes them feel more capable of handling difficult situations than could otherwise cause someone to panic and decide they can't do the role. Effective training also positions you as an employer who is invested in their employees, be it for their growth or simply to help them succeed in the present.
9. Flexibility and predictability
Retail is a fast-paced, consumer-centered industry. Whether you operate a c-store or a high-end boutique, there always needs to be staff to address customer needs and keep things running smoothly.
This means that when staffing demands fluctuate — due to someone out sick, turnover, or absenteeism, scheduling can become unpredictable for employees, leading to frustration and burnout. At the same time, retail is one of few industries where employees value flexibility even more than pay. So, how do you strike a balance?
Flexibility has become increasingly common in other industries but poses a challenge in retail when someone needs to be in-person at certain hours to open the store, manage customers, and close up. Offering flexible schedules, allowing employees to take vacations with notice, or offering flexible paycheck schedules can all help create a more pleasant work environment for your teams.
On the other hand, retail employees need a level of consistency and stability in order to avoid stress and burning out. First and foremost, it's important to try to respect your employees scheduling preferences: from days, times, to total hours per week. Having ample part-time staff, or salaried managers who can cover certain shifts can help avoid asking an employee to come in at the last minute on their day off.
Scheduling is a big piece of building predictability, employees should know well in advance when they're working. And, even if your schedule changes week to week, it needs to be predictable so employees can plan their time — at least two weeks in advance.
And lastly, to build predictability into retail roles: you need to foster a consistent and healthy work environment. One of the things that can make retail jobs so stressful is that the day-to-day issues or customer behavior can be so unpredictable. While that may be out of your control, you can provide your team with a positive work environment and high-quality management to help reduce stress and anxiety.
10. Strengthen your employment proposition
While recruitment, on-boarding and training can vastly increase your retention rates, you should also seek to offer a high value employment proposition to candidates. First and foremost, many candidates are looking for a paycheck and job security. Low pay and a lack of benefits are always on the list of reasons for employee turnover, and especially now with many workers skeptical about re-entering the workforce, it can be a powerful lever to attract and keep talent.
On the flip side, looking at the primary reason why employees leave jobs can also provide insight into how to strengthen your value proposition. Career development, work-life balance, and manager behavior were the top reasons employees quit in a 2018 study. These reasons, in addition to low pay, are also contributing factors to why many workers prefer to remain unemployed than return to working in retail and restaurants.
So, it's only natural that investing in career development for employees who want it, providing respectful work life balance, and ensuring your managers are treating their employees fairly will directly impact your retention.
In addition to employees who are just looking for a paycheck, there will always also be new hires who are hungry for growth and development. In addition to finding ways to support all employees, be sure to look out for and invest in high-performers who could grow into leaders within your organization.
So, with all of that covered, how can you put these tactics into practice?
Next steps
Here at Harver, we're no stranger to what it takes to reduce employee turnover. We've helped organizations around the globe to create efficient volume hiring processes that help them hire and retain top talent. To implement these tactics effectively, you need technology. And that technology needs to be purpose-built for volume hiring, where the rules of traditional recruitment no longer apply.
A streamlined recruitment process from apply to hire benefits your candidates and your store managers, by reducing manual tasks, identifying the right talent for the job, and helps you communicate your employer value proposition to every applicant. Without a solution that can handle each and every step, you end up creating a handful of new processes that become a new difficulty for your talent team and store managers to control.
That's why we built a volume hiring solution for the retail industry that enables an end-to-end digital recruitment process that candidates, managers and recruiters love. To learn more about how Harver helps you enact these tactics to reduce turnover, get in touch:
Ready to transform your hiring process?