In 2020 we've processed over 12M applications through our recruiting platform, and a big part of these was for high-volume retail clients.
Although the profiles of our retail customers vary, they have two things in common:
They typically hire more than 3,000 candidates per year, and
They often come to us looking for a replacement for their current candidate assessment solution but soon realize that our volume hiring software can help them in more significant ways.
Today we won't focus on what our product does.
Instead, we'll look at how Harver helps retail recruiters implement an end-to-end digital hiring solution to fully streamline their volume hiring strategy and hire faster and better.
Why the traditional approach to volume hiring no longer works
Despite the accelerated adoption of innovative technologies for their on-site locations, retailers are still lagging behind when it comes to their recruitment processes.
The classical approach to volume hiring is a chain of manual tasks and human decisions that is inefficient, time-consuming, and biased.
Traditionally, recruiters and candidates follow several recruitment funnel stages – the number of which may depend on the company's size and the quantity of volume hires it hopes to make.
A candidate enters the process at the top of the recruitment funnel and exits at different stages, depending on their application's success.
Generally, the recruitment funnel includes the following phases:
Advertising the role: Typically, recruiters reach out with an online job ad, and candidates respond. Using these responses, recruiters shortlist candidates that might be a good fit.
Candidate screening: This may involve a quick phone call with a hiring manager.
Candidate interviews: This is a more in-depth process where candidates are asked questions about their skills, experience, personality, values, and motivation for applying for the role.
The job offer: Here, recruiters decide who to hire. The successful candidates are given job offers, and the unsuccessful ones are politely rejected.
Closing: Sometimes, there may be a negotiation between the candidate and recruiter surrounding salary/hourly rate, start times, the role's intricacies, etc. It's often at this stage the candidate decides whether or not to accept the position.
The downside to this approach is that it doesn't always involve a fully streamlined and well-thought-out recruitment strategy.
Often, this kind of recruitment funnel is more reactive than proactive, i.e., it's a response to a sudden need to hire en masse. In the case of larger retail companies, this approach can be particularly problematic.
When we talk about volume hiring, we're typically referring to retail companies hiring between 5,000 to 500,000 per annum, including seasonal hires during busier periods (Christmas, Black Friday, and so on).
Here, recruiters are under pressure to quickly and efficiently process thousands of applicants without bias. Needless to say, recruitment teams and store managers don't have time to manually wade through every application.
The same applies to conducting phone interviews. Just take a look at what store managers do on a day-to-day basis.
They handle a wide range of tasks, from inventory management and stock control to store promotions, staffing, managing budgets, training new employees, and driving revenue.
The problem with this approach is that when you deal with a situation like Covid-19, and your reality changes overnight, the number of applicants that a store manager has to screen, assess, interview, and hire increases as well.
Your volume hiring strategy should enable you to work more efficiently by automating the manual tasks, empowering your store managers to focus on what matters – customers and revenue – and offering candidates an engaging experience.
Sounds great, but can you go fully digital without losing the human component? If you automate your entire volume hiring process, don't you end up losing the overview of your team's performance?
"To digitize or not to digitize?" is an outdated question
Plenty of retailers already use an assessment solution for screening candidates and filtering out the applications that don't match role requirements.
The issue with this approach is that when you only automate one step of your recruitment process, you're still left with time-consuming, manual tasks that are costing you money.
That's exactly why we've built our platform to not only help retail recruiters screen and assess candidates in an automated manner but also to eliminate repetitive tasks such as moving candidates from one column to another in your ATS or constantly switching between platforms to schedule interviews with the selected candidates.
The Harver vision for an end-to-end digital recruitment strategy is not to remove the human component from the process, but to enable you to build an engaging experience for applicants while automating 90% of your manual tasks.
We'll look more in-depth at our digital transformation framework and the pillars of our end-to-end volume hiring solution, but first, let's see if our proposition for a fully digitized recruitment strategy is the right solution for you.
Subscribe and stay up-to-date with everything recruitment related by receiving a weekly content digest and email updates on new resources!
The main challenges our high volume retail clients face
When you handle thousands of applicants daily, your reality looks very different from that of a small retail store.
Your systems and online tools have to seamlessly integrate with one another. Otherwise, there's a risk of bottlenecks and system failures that will slow down the entire recruitment process.
Therefore, streamlining your retail volume hiring strategy doesn't mean picking random tools that can automate parts of the recruiting process, but choosing the right solution for your specific problems.
Manual tasks and inefficient processes
What we see with our retail clients is that sometimes their recruiters or store managers have to use too many tools.
Using too many tools to facilitate each recruitment stage isn't just time-consuming and confusing; it can deter candidates. Plus, it's more difficult for recruiters to be strategic, as they're so immersed in the detail, it leaves little time to be proactive.
Fragmented view of recruitment activities
For high volume retailers recruiting for multiple locations, the lack of a centralized hiring strategy and rerouting process is a costly problem. Candidates who are rejected for a position at one site aren't considered for other, potentially more suitable roles at other locations.
On top of that, candidates are sometimes only evaluated using one method, for instance, their resume. But not asked to carry out a situational judgment test (SJT) to assess their suitability for a retail role.
Human bias in candidate selection
When busy recruiters manually flick through resumes, there's always the risk of unintentional bias against some candidates. Situational judgment tests (SJT) can help eliminate this. The same goes for other automated processes that can sift out suitable candidates.
We've covered the topic of candidate selection more in-depth in our ebook below.
Stop guessing,
Start data-driven hiring.
Learn how you implement a modern candidate selection process, that is: streamlined, experience-driven and backed by data.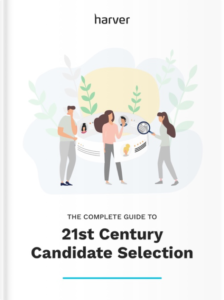 Too many hats for store managers
Store managers are busy people with multiple priorities. When they become too involved in selecting candidates, they risk taking their eye off the store's performance and sales. Not to mention that usually, they're not qualified recruiters and, as such, risk missing suitable candidates with transferable skills.
Poor candidate experience
If the recruitment funnel is cumbersome and lengthy, candidates may well drop off. This is especially true of lower-paid, entry roles such as those in retail stores. It's not worth their time to invest in long job applications for a role that may only last a matter of months or weeks.
High attrition of new hires
A common problem our high-volume retail clients face is the high attrition rates among new hires. Candidates who didn't get a proper job preview before being hire end up leaving their jobs within weeks or months because of misaligned expectations.
Lack of insights into recruitment data
When you're in high-volume hiring, your biggest business asset is your data. Without a proper recruiting strategy in place, a lot of your candidate data is lost, so it's impossible to predict which candidate profile fits your organization and a specific role the best.
On the other hand, when you systematically and strategically collect data, you can feed it back into your assessment system to help you source candidates, assess, and hire them in a more effective manner.
What we see with our retail clients is that they're able to achieve impressive improvements in the quality of hire from the first months, because they can adjust their talent acquisition strategy based on hard data.
With these challenges in mind, let's now look at our solution for a fully digitized retail recruitment strategy.
The four pillars of a streamlined retail volume hiring strategy
We strongly believe that now it's the best time to accelerate the digitization of your recruitment strategy by adopting an end-to-end digital hiring solution.
Our framework is built around four main pillars:
Matching technology
Automation
Candidate experience
Business intelligence
Matching technology
No matter the type of retail job that you're looking to fill, you should always start by identifying the key characteristics leading to success in your specific organization. From there, you can build a matching framework to help you find qualified people for the role.
For example, some typical characteristics needed in retail jobs are dependability, interpersonal skills, customer service skills, and sales skills. What we see, however, is that focusing only on assessing candidates for job-specific characteristics is a poor predictor for the quality of hire.
Out-of-the-box pre-employment assessments are good at telling you if applicants fit a specific role, but they can't predict whether those applicants will attrit during their training period because of misaligned expectations.
Employee attrition in retail is most often caused by a poor understanding of the nature of the job. Applicants don't fully understand what the job is about and how the day-to-day reality looks in a retail position.
For this reason, we've developed a two-way matching framework that incorporates custom pre-employment assessments that allow you to screen a candidate while enabling the candidate to self-select as well.
Offering candidates a realistic job preview during the application process is the best way to make sure that they understand what the role entails and that they can filter themselves out if they expected something else.
We've covered the topic thoroughly in a previous article: Choosing pre-employment assessments for retail volume hiring.
Automation
Recruitment automation speeds up your workflow by quickly moving suitable candidates through your hiring funnel while rejecting those that are a poor fit.
A faster workflow means fewer lost candidates and costs. So, not only do you increase the likelihood of employing top-quality talent, you save money too.
Now, if we look at what happens under the hood and how digitizing your operations affects store managers, we have to acknowledge that automating your volume recruitment process requires a shift in strategy and changes in the way your store managers handle their daily tasks.
While the depth of automation varies from one client to another, high-volume retail recruiters can automate virtually any step in the hiring process, from "Apply" to "Hire".
In the scenario above, the candidate visits any job portal or career site and applies through a regular application form. From there, he or she is taken to either a client ATS or to the Harver platform, where automation kicks in.
When the candidate enters the auto-matching flow, they're presented with a company video that helps them understand the culture and the environment they will work in.
Then, they go through a series of assessments and if they fit the profile you're searching for, they're moved to the auto-scheduling phase, where they can select a time slot that fits their schedule.
What happens in the backend is pretty impressive too: candidates are scored and your store managers or recruiting team can see in real-time who fits the role and who doesn't.
Candidate experience
Thanks to matching technology and automation, candidates receive a more informative experience about the role they're applying for, so they can decide if they want the job or not before going through an on-site interview.
In the video below you can see what the candidate experience looks like for Albert Heijn, one of our retail clients. They decreased their time to hire by 40% by using the Harver solution!
As you can see, this candidate journey is very different than the boring resume-based application. It's engaging, short, it assesses the candidate's skills and fit for the role while giving them a very good preview of what the role entails.
Candidates are exposed to both routine tasks and critical incidents, such as angry clients requiring immediate assistance, or multiple tasks requiring their attention at the same time.
What candidates see during their application process is fully customizable, and most of our retail clients prefer to start with a company video that shows the company culture and work environment.
Once their application ends, candidates are asked for feedback, and the data is fed back into our system. This enables you to measure candidate experience while making it easy to see which stages of the process are causing bigger drop-offs.
This is especially important in retail, where the applicant is often your customer as well; and not only them, but their families too!
Zappos, one of our biggest retail customers, achieved a 97% candidate satisfaction score after integrating Harver into their end-to-end digital hiring strategy.
Business intelligence
The fourth pillar of our digital recruitment strategy is business intelligence. To make the most of your data, you need to be able to extract actionable insights in an easy manner.
Our platform offers real-time data through a series of out-of-the-box dashboards, but you can create your own reports as well if you want to track specific KPIs.
For example, one dashboard shows you candidate experience scores, such as how satisfied they were with the application; another report gives you insights into the matching scores of your candidates, enabling you to easily see how's a good fit for the open roles.
Then we have the sourcing insights. When you work in high volume, you need to know what source gives you the best candidates, where your top performers are coming from.
Our BI solution is therefore suitable not only for interpreting candidate scores but also for optimizing your sourcing strategy to decrease your cost per hire and improve the quality of hire in the long run.
Don't forget to grab your free copy of our new white paper on the digital transformation of retail volume hiring. Learn about:
The challenges currently shaping the retail volume hiring space
How to align your recruitment strategy with today's reality by adopting technology
The four building blocks of a fully digital recruitment process
Where do you start digitizing your retail recruitment strategy?
An assessment provider gives you scores on how assessments are performing, but when you digitize the full process, from applying to interview scheduling, you start seeing results from day one.
Your store managers and recruiters work more efficiently, you hire better candidates, you offer applicants a better experience, the manual steps in between are fully automated, and all the data is collected and turned into actionable insights.
Although the exact steps for reaching these goals vary from one client to another, our implementation process is standardized, so we can get you up and running within a couple of weeks.
In big lines, here's what you can expect when you partner with Harver to digitize your high volume recruitment strategy:
we define the goals and scope of the project;
we organize a series of workshops with your team to go through the roles that you want to hire for, look at the applicant journeys, identify the critical incidents and the best assessments to use, and decide how to best reflect your company culture and EVP during the application process;
we analyze your employee performance data and benchmark the metrics to build custom SJTs;
we analyze your tech stack to design an integration solution that accommodates your ATS and back-office systems;
we define the BI solution that best fits your needs, then we develop the dashboards and train your team before going live.
If you're ready to digitally transform your hiring strategy with Harver, book a demo below.
Ready to transform your hiring process?