Recruitment is a complex process, but essentially it is marketing – if you want to convert your candidates to hires, the same way marketers look to convert leads to sales, you have to ensure that your recruitment funnel is as solid as it can be.
The recruitment funnel enables you to break down the complex recruitment process into various stages, and then further break down each stage into goals and tasks. The cycle usually starts with creating awareness about you as an employer and ends with the onboarding of a new hire.
Make no mistake though, the recruitment funnel isn't a cut and dry process, it has multiple stages, all of which can contain multiple obstacles. For example, if it takes too long to get through one stage, you might lose candidates. Or maybe you're attracting applicants that don't fit your roles and waste valuable time screening applications as a result.
So how do you build and manage a solid recruitment funnel? Let's start with the basics. If you're already familiar with what a recruitment funnel is, you can jump right to the funnel stage that interests you the most.
What is a recruitment funnel?
A recruitment funnel is a framework for you to follow that takes you through the entire recruitment process from start to finish, narrowing down the candidate pool until you are left with a desired number of hires.
The recruitment funnel aims to keep prospects interested and candidates engaged throughout, and it can be broken down into 7 stages:
Awareness

– where you create awareness around your brand to get your ideal candidate's attention.

Attraction – where you put your best recruitment marketing strategies to use to make your job opening as attractive as possible.
Interest

– where you should be prepared to field questions from interested candidates.

Application

– where interested candidates apply for your job.

Pre-selection

– where you assess candidates by targeting specific skill sets.

Interview

– where you meet and have conversation with each shortlisted candidate in person, via phone and/or video.

Hiring

– where you commit to a candidate and make them an offer.
Tips for building and managing an effective recruitment funnel
If you want to build and manage an effective recruitment funnel, break down each stage into smaller steps. These manageable chunks can be defined as goals (to be achieved) and tasks (to be allocated). By doing this, nothing slips through the cracks, and what can be a daunting process becomes a manageable one.
Awareness stage
1. Focus on employer branding
According to a survey by Glassdoor, 76% of job hunters want to know what makes a company a compelling place to work, prior to applying for a job there. So figure out what makes your company great, ensure it is clearly defined, and promote this messaging consistently throughout all of your communications, both external and internal.
Employer branding starts way before a candidate is invited to an on-site interview. Your career page and the job application process are great touchpoints for showcasing your company culture and attracting top candidates.
Here's for example the candidate experience we've built for McDonald's. It includes company videos that clearly showcase the culture and work environment, to manage candidate expectations.
2. Build a social media presence
Social media is a great place to share job openings and to communicate and demonstrate your company culture. Encourage followers to engage with you by asking questions or potentially running competitions.
35%
of job seekers use social media to check out a company prior to applying to work there.
Source: Pew Research Center
Attraction stage
3. Write a compelling job description
It all starts with the job description, one of the first things every potential candidate sees. Perfecting this piece of work is crucial to snaring the right kind of candidates – you want to convey enough information about the job opening and your brand to whet prospective appetites, without overwhelming anyone.
4. Advertise at places where your ideal candidates are
Don't use the scattergun approach to advertising and share your job advert far and wide, you'll only be inundated with unsuitable candidates.
Instead, review your recruitment channels and take a targeted approach to advertising, and only place your job ad where your ideal candidates are likely to be looking. For example on targeted online job sites, in trade publications, on social networking sites, or even in your local newspaper.
39%
of in-house recruiters use specialist job boards to attract candidates.
Source: Eploy
Use analytics and machine learning to target your specific audience. Programmatic advertising employs algorithms to only show your job advert to people who fit your ideal candidate profile, thereby reducing the number of unsuitable applications you receive, saving you time and money.
6. Perfect your career site
Ensure the career page of your website provides as much information about the company and the job possible, such as what the benefits of working at your company are, what the work-life balance is like, your approach to flexible working, what career development opportunities exist and if possible include employee testimonials.
7. Show employee stories
Make short videos or conduct interviews where current employees talk about who they are, what they do, what they enjoy about working for your company, and what the perks are.
Subscribe and stay up-to-date with everything recruitment related by receiving a weekly content digest and email updates on new resources!
Interest stage
8. Be prepared to answer questions from potential applicants
Interested candidates are likely to get in touch before committing to filling out an application form, so have someone available to field their questions or put into place a system for responding to candidates' communications.
Consider including an FAQ section on your career page to answer common queries.
9. Think about employing a chatbot
Recruitment tech doesn't have to solely be used during the CV sifting process. Consider employing a chatbot to respond to candidates thereby freeing you up to focus on more pressing tasks.
A chatbot can answer questions at any time of the day or night and if the chatbot can't help, it can forward the candidate's request through to someone who can.
10. Pay attention to your employer reviews
We live in a world of open communication, and if you have a disgruntled employee, chances are they've not kept their grievances to themselves. So pay attention to employer reviewers and keep an eye out on sites that allow employees to review their employer, such as Glassdoor, Indeed, Comparably, and Careerbliss.
These sites can be useful if the reviews are positive (or negative) – if you see any points you deem relevant, action them.
83%
of people say employer reviews impact where they apply
Source: Indeed
11. Reach out to previous applicants
Every candidate who has ever applied to your company should be stored in your ATS. Typically only one person is hired for each job opening, but that doesn't mean every other candidate who made the shortlist isn't worth reconnecting with.
Use candidate rediscovery technology to create a list of suitable potential candidates from your existing pool of talent and reach out to them.
Stop guessing,
Start data-driven hiring.
Learn how you implement a modern candidate selection process, that is: streamlined, experience-driven and backed by data.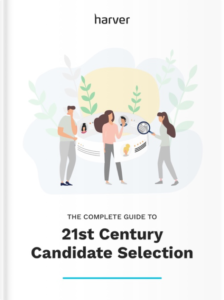 Application stage
12. Make your application process easy
According to a survey by CareerBuilder, 60% of candidates will abandon a job application, despite the job really appealing to them, because the application process was too long and convoluted.
13. Optimize the application for mobile
Desktop applications have had their time, now, 66% of candidates would apply for a job via their mobile phone. To ensure you don't lose any of these candidates by making them wait to fill in the application at a later date, optimize the application for mobile phones.
14. Send confirmation emails
Don't leave candidates in the dark about where they stand on their application. Send an auto-response for every application received thanking the candidate for applying and letting them know the next steps and your anticipated timeline. Include in the email a way for the candidate to get in touch should they have any queries in the meantime.
Pre-selection stage
15. Assess candidates for the right skills and traits
This is where you whittle down the applicants to a select group of potential hires.
Analyze predictors of job performance for each role; those should be the characteristics you evaluate your candidates on. Common assessments include cognitive ability testing, personality questionnaire, culture fit assessment, and more.
Below you can see our library of assessments. Based on the job you're recruiting for, you might want to use only one of these pre-employment tests – for example, a Live Chat Support Simulation – or more of them, to get a more complete candidate profile.
16. Make the pre-selection process engaging
When the average time to hire is 24 days, you want to make the entire application process as engaging as possible. This includes the pre-selection process. Consider creating an assessment experience that is unique to your company. You can include company videos with realistic job previews, a gamified assessment or situational judgement tests.
Here's for example how an SJT – situational judgement test – for a chat agent role looks. Instead of sending a resume and going through a standard application procedure, the candidate gets a sneak peek into the actual role, and experiences how it's like to work as a chat agent.
17. Eliminate bias
Don't allow bias to guide you. Check out the most common hiring biases to help you avoid them and implement strategies to reduce bias in your recruitment process.
Interview stage
18. Assemble diverse interview panels
To eliminate the potential for bias during interview, make sure you have a diverse selection of interviewers on the panel, all of whom are looking for and value different qualities in a candidate.
You won't necessarily be working alongside the candidate you're interviewing, so why not let one of their potential peers interview them instead.
Not only do candidates tend to relax more if they're not around authority figures, but by having an existing employee conduct the interview, they will know what the job entails and will be able to tell, from personal experience, if the candidate has the potential and the skills to carry out the job.
20. Evaluate soft skills
Just because a candidate may be lacking in some hard skills doesn't mean you should discount them. Hard skills specific to the job can always be taught; teaching someone to play well with others, to communicate, to be on time, and to be a team player can not, these are soft skills and they should not be overlooked.
80%
of talent professionals believe soft skills are increasingly important to company success.
Source: LinkedIn
21. Standardize interviews
Don't let interviewers run with their own line of questioning. For a fair interview, ensure that each candidate is asked the same questions, and don't allow interviewers to deviate too far from these questions.
22. Use interview scorecards
Rather than relying on one person's opinion, ask all interviewers to score candidates on previously established criteria and then rank candidates based on the total score or their average score.
Hiring stage
23. Prepare a tailored offer for the chosen candidate
Modern candidates care about more than just what their remittance will be. So find out what matters to your chosen candidate and include it in your offer.
Chances are if your chosen candidate is the pick of the crop, they'll be in demand and could be receiving offers from elsewhere. So make your offer the most compelling. Think about including your flextime policy, health benefits, or insurance, for example.
More general tips for your recruitment funnel
Choose software that matches your needs. There is so much available tech to help you recruit, narrowing down your digital options can feel overwhelming.
While there is no one recruitment tech stack to help you throughout your recruitment funnel, you can assemble your own from various technologies that match your needs. So take time getting to know what tech is available to you, how it works, how it can help solve your problems and challenges, and how it can improve your company's recruiting efforts.
Analyzing your needs will help you select the right recruiting software.
25. Use metrics to establish what works
How will you know what steps of your recruitment funnel are working for you if you don't track metrics such as time to hire, cost per hire, quality of hire, for example? By tracking these metrics you can test and adjust, constantly improving your recruitment process.
Conclusion
Building a recruitment funnel that is efficient and leak-free is no easy feat but you can start implementing some of our practical tips immediately and improve your recruitment process. You will have engaged, qualified candidates to make the shortlist from, your interviews will be better, time to hire will decrease and the quality of hire will increase.
Stop guessing,
Start data-driven hiring.
Learn how you implement a modern candidate selection process, that is: streamlined, experience-driven and backed by data.