As the number of businesses in your niche is constantly growing, the top talent now has more job opportunities to choose from. For recruiters, this means that finding and hiring qualified candidates is now more difficult than ever.
In today's candidate-driven job market, it's not recruiters that choose candidates anymore. It's the candidates who get to pick.
And, to gain their trust and inspire them to choose you over your competitors, you need to ensure that your marketing and recruitment efforts work together.
Subscribe and stay up-to-date with everything recruitment related by receiving a weekly content digest and email updates on new resources!
1. Build a solid brand that attracts top talent
The only way to stand out in the sea of similar businesses is to turn your company into a recognizable and memorable brand. Not only for consumers but also for potential employees.
Sure, employer branding is not something that happens overnight. This is a long-term strategy focused on bringing value to your audience. 75% of job seekers research an organization's reputation before applying for a job. That's why it is crucial to be consistent in your employer brand messaging.
Polish your website
In the overcrowded digital marketing landscape, your website is your ID. It is the first thing a searcher will see when googling your brand name. Most importantly, other digital channels like SEO, PPC, social media, or job posting platforms all lead to your website.
Once a potential candidate lands on your website, they will want to find the information about your company and job openings fast, as well as submit their application effortlessly.
That is why your website needs to be perfectly optimized and user-friendly. In short, you should pay attention to the user experience. Your website architecture needs to be simple so people can find the desired information faster, while your website design needs to be professional and pleasant to the eye. Every element, from your menu categories to the choice of your colors, fonts, and links needs to be used strategically.
Make sure your site seems trustworthy. Eliminate annoying ads, popups, and aggressive CTAs. You should also shift from HTTP to HTTPS, as Google started labeling sites with HTTP as "Not Secure". Lastly, your site should comply with GDPR (General Data Protection Regulation) to assure your candidates that their data is safe with you.
Don't forget to include sections like "About Us," "Our Missions," and "Corporate Culture" that will help emphasize your major brand values and help a website visitor understand what your company stands for.
Build your recruiting strategy on the inbound methodology
Employer branding is all about building lasting relationships with your target audience and inspiring them to come back to your website. That's why employer branding goes hand in hand with the inbound methodology. Unlike outbound marketing that targets almost anyone around the web, inbound marketing focuses on attracting, engaging, and delighting people that are interested in working for you.
Inbound recruiting has several stages, including:
Attracting strangers and turning them into website visitors through high-quality content, social networks, targeting relevant keywords, and registering on all relevant business directories.
Turning visitors into leads by creating user-friendly forms and powerful lead magnets.
Converting leads into candidates by sending them regular email newsletters and content about your company's new achievements, application processes, vibrant culture. Give them the opportunity to connect with your employees via email, social, or live chat.
Finally, inbound marketing focuses on turning your job candidates into brand promoters. Provide them with exceptional experience during the process of application and interviewing and seek their feedback.
Let the candidates meet their potential colleagues
Your potential candidates want to learn more about your corporate culture and the people behind your brand name. So, let them meet each other.
For starters, have a page on your website dedicated to your employees. This is exactly what big brands like McDonald's do. The global fast food franchise's website has categories like "Benefits" and "Meet Our People" where they share their employees' stories, roles, images, and testimonials.
You could also share behind-the-scenes photos and videos of your staff on Facebook or Instagram. For example, Marriott, a leading lodging enterprise, has an awesome Instagram page called Marriott Careers. They use it to publish the photos of their employees, share their insights, and emphasize why they appreciate them as a part of their team.
2. Improve candidate experience right from the start
Did you know that over 60% of job seekers have had a negative candidate experience, while 72% of them decided to voice their dissatisfaction publicly? The candidate experience you provide is the indicator of your corporate culture. As such, it represents a notable decision-making factor. Namely, 83% of candidates emphasize that negative experiences can hurt their perceptions of an employer.
For you as an employer, greater candidate churn means lots of bad publicity, as well as greater financial losses. Let's take an example of Virgin Media that was losing over $5.4 million annually due to poor candidate experiences.
To avoid such deadly mistakes, keep in mind that acquiring top talent begins long before they even apply for a certain position. You need to find a way to turn a passive candidate into an engaged one.
Write straightforward and easy-to-understand job descriptions
They should summarize the major responsibilities, qualifications, and skills needed for a position, as well as highlight what the most exciting aspects of the job are. To improve user experience, your job description needs to be consistent and detailed enough to help them determine if it's right for them.
Choose precise job titles. Create a catchy and unique job summary – one that will grab readers' attention. Outline your employees' core responsibilities and day-to-day activities, as well as include a list of hard and soft skills needed for the position. Most importantly, keep your job description consistent across your online channels to build trust with candidates.
Create content for applicants
Your content marketing strategy is a major indicator of your company's trustworthiness. Your blog posts for potential applicants should emphasize your organization's experiences in the industry and help them understand how your teams work.
For example, design a comprehensive FAQ page that will cover your candidates' most commonly asked questions and detailed answers to them. Create a series of podcasts or videos focused on your company's values and missions. Strengthen your content marketing tactics with strong PR, where you would provide details about your company's charity initiatives, news, work environment, activities, and so on.
Use chatbots to provide timely feedback
With the growing number of chat-building platforms, integrating chatbots with your website or social networks has never been easier. Based on machine learning, chatbots are able to recognize the keywords used by a candidate and provide them with relevant, targeted and accurate answers. A candidate will have an opportunity to gain a better understanding of your organization and the role in real time and make their decision faster.
Chatbots deliver multiple benefits to recruiters, as well. They can answer repetitive questions for you, giving you more time to focus on complex aspects of candidate communication. Most importantly, they can help you qualify the candidates more effectively. They can ask questions about a prospect's skills, previous experiences, or qualifications and rank them according to these criteria. Chatbots can even schedule in-person meetings and calls automatically, saving you loads of time.
Don't ignore mobile recruiting
With the rapid growth of mobile searchers, the need for mobile recruiting has also risen. Look at the stats and you will see that 45% of job seekers look for professional opportunities on their mobile devices, while 89% of them believe that mobile experiences are important in job hunting.
First impressions count. Therefore, make sure your website loads quickly on mobile devices and that users can move fast from your main website to your careers site. Moreover, all online channels you use (social, email, job boards, organic search, paid ads) should always lead to your mobile-optimized careers pages.
Test your call-to-action buttons and links to see whether they are easy to tap. Simplify your application forms and ensure users can fill them out effortlessly on mobile devices. What about your website content – does it load fast and fit the screen as expected? These are some of the most common mistakes companies make when investing in online recruiting.
Most importantly, save your applicants' time with one-click applications. Just like their mere name implies, these features allow job candidates to apply for a preferred job position with a single click. This saves your candidates' time and prevents them from ditching lengthy application forms.
3. Increase the visibility of your website
Just building a killer website is not enough to attract relevant traffic, generate leads and, ultimately, convert them into applicants. And, to set yourself apart from your rivals, you need to work on your brand's online visibility.
Register on job search platforms
Most job seekers rely on popular global or region-specific jobs search sites and on sector-specific job boards when finding potential career opportunities. The reason for that is simple – instead of browsing the web endlessly, they can use search and filtering options within a job posting platform to browse open positions by job title, niche, location, requirements, or even a specific company.
For you as an employer, this is a great opportunity to get yourself noticed. All you need to do is register on a relevant job posting platform and upload your job listings to increase your online exposure.
Apart from sites where you can register for free, there are also paid alternatives that provide you with some additional features, such as multiple application options, candidate tracking tools, adding company brand logo, and remarketing to users that view your job post and then leave it.
SEO vs. PPC: Why not get the best of both worlds?
When it comes to increasing your site's visibility in Google's search results, there is no need to choose between search engine optimization (SEO) and pay-per-click (PPC). Instead, you should merge them together to maximize your online presence. SEO is an investment in the long-run. It's focused on targeting organic keywords, on-site optimization, trusted off-site SEO practices (e.g. building links on reputable sites), and creating top-notch content.
The one disadvantage of SEO is that it is slow.
If you want to promote your time-sensitive job posts faster, investing in PPC may be right for you. Your PPC bids determine how much you will pay for each click on your link and, if they're among the highest for your desired keyword, your ad will appear above organic search results. The mere name of pay-per-click advertising strategy suggests how it works – you will pay your bid amount only when a user clicks on your ad.
4. Establish stronger relationships with candidates through social recruiting
The number of social media users is rising at an astounding pace. A recent research study says that there are almost 3.5 billion active social media users worldwide. Moreover, an average internet user has about 7.6 social media accounts.
Therefore, most of your potential job candidates are on social. Moreover, the LinkedIn survey says that 49% of professionals are following relevant organizations on social networks to keep pace with their recruitment processes. That's why social media marketing is a fundamental aspect of any solid recruitment strategy.
Choose the right social networks
The key to your social recruitment strategy lies in choosing the right platforms to promote your brand and build relationships with potential candidates.
As the largest social network for professionals, LinkedIn will probably be your most obvious choice. You can use its advanced search and filtering options to find the top candidates looking for new professional challenges, as well as those that work at competitor companies. Therefore, it's not surprising at all that 20,000 organizations in the U.S. are already using this platform to connect with potential candidates.
Apart from LinkedIn, you can also use other social networks like Facebook, Twitter, or Instagram to target and connect with your potential applicants. Consider finding an ATS provider with integrated social media to save time and costs on social media recruiting.
Always make sure that your business accounts are updated. Provide all crucial business details, like your company's name, address and phone number, as well as publish company news, events, accomplishments, rewards, employees, and photos.
Stop guessing,
Start data-driven hiring.
Learn how you implement a modern candidate selection process, that is: streamlined, experience-driven and backed by data.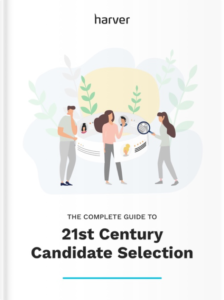 5. Have an employee referral program
Employee referral programs are one of the most powerful and yet, often underestimated hiring tools. When implemented strategically, they can have multiple benefits for your hiring process, including lower turnover rates, spending less time on the recruiting process and onboarding, and minimizing cost per hire.
Given the effectiveness of this hiring method, many popular brands rely on it.
For example, Intel provides referral bonuses to their employees. Moreover, when an employee recommends women or minorities, their bonus doubles. Salesforce hosts so-called Recruitment Happy Hours, meetings where their staff members can invite people they want to refer.
6. Host killer recruitment events
Throwing a recruitment event is an amazing opportunity for you to expand your talent pool. Most importantly, it lets you build stronger relationships with potential candidates and see things that cannot be found on their CV.
Here are a few things to know about planning a recruitment event.
First, know what your goals are and determine what kind of recruitment events would work for you. If you're a smaller company that wants to build relationships in a warmer way, then an open-house event may be right for you. In this case, your goal is to create a pleasant atmosphere where your guests will get to know and talk to your team members.
Bigger companies in popular industries like IT or tourism that have higher employee turnover rates could also organize a job fair. If you belong to this group, make sure you plan everything thoroughly. Design promotional materials that will spark people's attention and inspire them to apply. You should also prepare for Q&A and formal job interviews.
Second, create event pages and social media events. Promote them widely by sending email invitations, publishing regular social media updates, and having your event listed on key event directories. This phase should be implemented consistently until the day of the event.
Once the event is over, analyze its results. Sometimes, the number of people is not an indicator of an event's success. You need to observe how it contributed to your hiring processes. Have you aimed to raise brand awareness or get X applications? By tracking the performance of your event, you will be able to calculate your ROI and, above all, understand what tactics work or don't work for job seekers in your industry.
Over to you
The recruitment marketing sphere is evolving impressively fast. Tactics that work this year may not be effective in 2020 and beyond. Most importantly, the success rate of the above-mentioned strategies depends based on your company's specific goals and your target candidates.
That is why any recruitment marketing method needs to be observed on a case by case basis. Always test the effectiveness of your tactics to separate the wheat from the chaff and focus on what really works for your company.
About the Author
: Jacob Wilson is a business consultant, and an organizational psychologist, based in Brisbane. Passionate about marketing, social networks, and business in general. In his spare time, he writes a lot about new business strategies and digital marketing for Bizzmarkblog.com.
Subscribe and stay up-to-date with everything recruitment related by receiving a weekly content digest and email updates on new resources!