Companies today list effective recruitment as one of their top priorities, but also one of their biggest bugbears for good reason.
Hiring the right candidate for a role has never been more important as Millennials and Generation Z rapidly become the cornerstone of the workforce.
Their fluid and transient approach to employment, a far cry from the "job for life" attitude of the Baby Boomers, results in a continual flow of employees. And it means sourcers and recruiters have their work cut out for them.
We are going to take you through some of the biggest challenges that modern sourcers and recruiters face, and then give you 17 tips you can easily implement in your recruitment sourcing strategy, in your quest to source the perfect candidates.

Candidate sourcing explained
Candidate sourcing is the process of searching for, identifying, and contacting potential candidates for roles you are either recruiting for or will be recruiting for in the future. LinkedIn reports 90% of people are open to learning more about new opportunities, but only 36% of candidates are actively searching for a new job.
To clarify: recruiting happens after sourcing and incorporates the screening, interviewing and evaluating elements of the recruitment process.
Sourcing is essential to today's recruiting strategy as hiring success ultimately boils down to a great hire, with minimal time and money spent in the recruiting process.
Building an effective sourcing strategy in recruitment is essential. Over 80% of companies currently source proactively.
Therefore, sourcing and recruiting teams who master candidate sourcing are going to take the lead in the competitive talent marketplace.
However, candidate sourcing isn't always rosy.
Candidate sourcing struggles
Recruiters sourcing candidates can encounter hurdles along the way, such as:
A low number of applicants, or low-quality candidates
Difficulty getting in touch with candidate leads
Serious competition from rival companies
Not knowing which job boards or social media platforms will generate leads for the recruitment pipeline
Managing the recruitment pipeline
Lack of time, leading to lengthy time to hire
Not knowing what metrics to measure and therefore not measuring metrics accordingly
So how do you handle these struggles? How to reduce sourcing time? And how to improve candidate sourcing in general? We've put together 17 tips for a killer sourcing strategy in recruitment.
Subscribe and stay up-to-date with everything recruitment related by receiving a weekly content digest and email updates on new resources!
Tips for an effective sourcing strategy in recruitment
1. Know the difference between sourcers and recruiters
Typically, sourcers find and qualify new candidates, whereas recruiters handle the process from when a candidate is deemed interested or qualified, right through to the moment that they're hired.
If your team is big enough, don't have them both doing the same job: have the sourcers constantly supplying one end of the recruitment pipeline so the recruiters can work the other end.
If you're working with a small team, clearly define the steps and the timeline in the sourcing and recruiting process to make it easier to handle the workload.
2. Plan your sourcing strategy
That's the start of sourcing candidates efficiently. Take the time to analyze the job's requirements, then create and build the ideal candidate profile.
Candidate personas are created by defining the characteristics, skills, and traits that make up your perfect hire, you can use this as a benchmark when sourcing potential candidates.
3. Understand the job requirements
Before you start a new search, you should make sure that you understand every inch of the job requirements. If possible, have a quick chat with the relevant hiring manager to make sure you're on the same page.
You also need to ascertain if hiring managers would consider candidates that might not necessarily be working at the level you're hiring for but have the skills and capabilities to suggest they could step up and perform at a higher level. This widens your pool of candidates to source in.
42%
employers are worried they will not be able to find talent they need
Source: Talentnow
4. Start your search with former candidates
Start your search at home with your silver and bronze medalists – those candidates who didn't make the grade first time around.
To put it into perspective: an average corporate role has 250 applicants of which you will have hired one person, leaving 249 unsuccessful, yet interested applicants, for you to draw upon for future hires.
Push on these open doors.
5. Start your sourcing pipeline
You should hopefully have captured these unsuccessful candidates' data on your applicant tracking system (ATS), candidate relationship management system (CRM) or a similar database when you processed them initially. This will be your sourcing pipeline.
Remember, you've already done the hard work to find and engage with these candidates, there is no need to repeat that work again.
6. Build and maintain your sourcing pipeline
It will save you time in the future. Fill it with passive candidates, those people who aren't ready to move just yet, and those silver and bronze medalists as mentioned above.
Did you know that candidates who've previously applied to a position at your company are 4 times more likely to respond to a recruiter's outreach?
Stop guessing,
Start data-driven hiring.
Learn how you implement a modern candidate selection process, that is: streamlined, experience-driven and backed by data.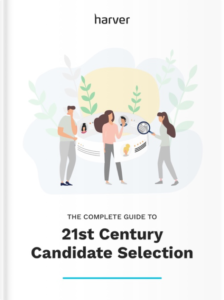 7. Add candidates to the pipeline immediately
Always add potential candidates you source to your sourcing pipeline immediately by annotating them on your CRM or recruiting spreadsheet, you never know when they could become relevant.
8. Look for candidates for the future
Encourage your sourcers and recruiters to always be on the lookout for new candidates that match your candidate personas and company culture. Train your staff to have future hiring plans in the back of their minds at all times.
Look at what the business and growth plan of your company is and predict hiring needs for the upcoming period. You will be able to see which teams need to expand and based on that, start the search for the new people before the urgent hiring need arises. This will give you a head start on the shift in the workforce, as well as on your competitors.
9. Expand your search
Keep modifying your search terms to source additional new candidates online. Broaden your search terms and expand your semantics – get beyond the people everyone else has found and uncover the rough gems hiding in the background.
Remember basic searches will turn up basic results. But even more frustratingly, every company uses different titles for the same role. So, when you're running a new search on social media or via a search engine, you need to make sure you've got all possible titles to hand before you start.
Sourcing candidates directly is one of the top recruitment priorities for organizations.
10. Mind passive candidates
Be wary of spending your time on passive candidates. Of course, they're a great potential resource, but tread carefully and do your due diligence. Are they interested in talking to you? Great! But if they're not, don't waste your time.
For example, if you're looking at passive candidates, don't be surprised to discover their LinkedIn profiles are out of date. People who aren't interested in new opportunities have little motivation to update their profile and list all their current skills and experience.
Ask yourself various questions and track different metrics, namely:
How many messages and communication attempts it takes to get an initial response from a candidate.
Engaging with candidates you've found is often the most overlooked step of the sourcing process. If you want to improve your reply rate, you need to:

Get data on the types of messages that are actually effective.
Establish template analytics to see which ones get the most responses.
Track emails and see when they're being opened.

How long it takes to nurture a candidate and convince them to apply for a role.
How long it takes from the initial interview of a sourced candidate to hire.
Whether candidates that you've sourced move through the screening and interview process faster than general applicants.
Where are the best candidates sourced from?
Essentially, monitoring metrics allows you to build up a clear picture of where the top talent is hiding and how they like to be communicated with, meaning you can then optimize your approach to maximize your hiring success, saving you time and money.
12. Build your employer brand
Attract potential talent by marketing your company towards your target group. When you're working on company branding to attract customers, figure out employer branding too.
Millennials are more inclined to work for and stay at a company they have an emotional connection with, so give them something to connect to. Check out these awesome killer recruitment videos for ideas.
13. Use social media and various platforms
Use social media and platforms to develop your company branding. Instagram is a great platform for building employer branding, for example.
Social media is also great at helping sourcers narrow their search and identify qualified candidates quicker. Here are a few social media tools and platforms that you can tap into to streamline your sourcing:
Recruiters use social media to source candidates for various job levels, ranging from hourly employees to upper management.
14. Think outside of the box
Source talent in places where your target group hangs out online – for instance, Behance for creatives or Github for developers. Show what your company is doing and how you're doing it to capture the attention of your potential candidates.
15. Think about hiring internally
Hiring doesn't always mean you have to hire externally, why not see if you can source existing talent? This works especially well if you're expecting changes in your workforce and are working on succession planning.
The old staffing cliché rings true: "good people know good people".
Referrals can be the top source for quality candidates. Ask your employees for referrals, encourage them to refer candidates who qualify for your roles and consider working up an employee referral program as an incentive.
Employee referrals are known to reduce time-to-hire, improve quality of hire and increase retention rates, so reward your employees with the money you save.
17. Use AI in sourcing
Source from databases that use artificial intelligence (AI). Sourcing can benefit from AI in two ways – automation and accuracy.
Automated sourcing uses recruitment technology to find candidates online who fit the requirements of your role. This not only improves your efficiency metrics but decreases time to fill and cost per hire as well.
AI can find patterns in resumes and candidates who are better matches for a job's requirements. AI can also reduce bias at the sourcing stage by removing the need for human decision making.
Final word
Finally, remember that sourcing strategies in recruitment are like snowflakes: no two are exactly alike because what your organization requires will be significantly different to what someone else wants.
Some companies rely heavily on recruiters, while others don't. Some rely on online job boards, whereas some take an individual approach. Just figure out what sourcing strategy works for you early on, measure it and see where you can improve to get even better results.
But remember this: a sourcing strategy in recruitment is only as good as the last employee who was hired.
Subscribe and stay up-to-date with everything recruitment related by receiving a weekly content digest and email updates on new resources!