In the past decade, the priority of digitizing hiring has fluctuated with changes in the labor market and competed with other organizational priorities. Over the last few years, competition for top talent has become more demanding, and TA leaders looking for a competitive advantage turned to emerging technologies to source, attract, select, and ultimately hire the best talent for their business.
In the midst of a global health crisis, digital recruitment went from nice-to-have to a must-have; TA leaders around the globe scrambled to find ways to attract and hire the right talent remotely, and are now looking to make sustainable investments in an end-to-end digital recruitment process.
What should this process look like? And can you go fully digital without eliminating the human component from the hiring cycle?
Let's look at the full recruitment funnel, from sourcing to onboarding, and see what it looks like before and after digitizing, as well as how you can get to a fully digital hiring process.
The benefits of a fully digital recruitment process
Each manual step of sourcing, selection, hiring, and on-boarding takes hours of your time and even more of your budget.
Not to mention, with recruiters and hiring managers spending time on job postings, interview scheduling, resume screening, or collecting onboarding materials, they're taking time away from their high-impact, revenue-driving priorities.
Traditional selection processes are riddled with bottlenecks like:
Consistently writing and posting job advertisements
Searching for and contacting candidates on job boards or social media
Manually retrieving and reviewing resumes from job boards, ATS, and email
Manually contacting candidates, and scheduling interviews
Collecting on-boarding documents over email or in-person
It ends up looking something like this, where every step of the process requires manual effort from someone in your organization to move a candidate forward.
Tasks like these all prevent hiring processes from being as fast, efficient, and cost-effective as they could be. Not to mention, they create a lengthy and unpleasant experience for candidates and hiring managers alike.
Some tasks, like interviewing and training, will always be done best by humans. But, with the technology available today, repetitive manual tasks like document collection, sending application updates, and assessing candidates can be done more quickly and accurately using technology.
That means you can take that very manual process, and turn it into a partially or fully automated one, such as below.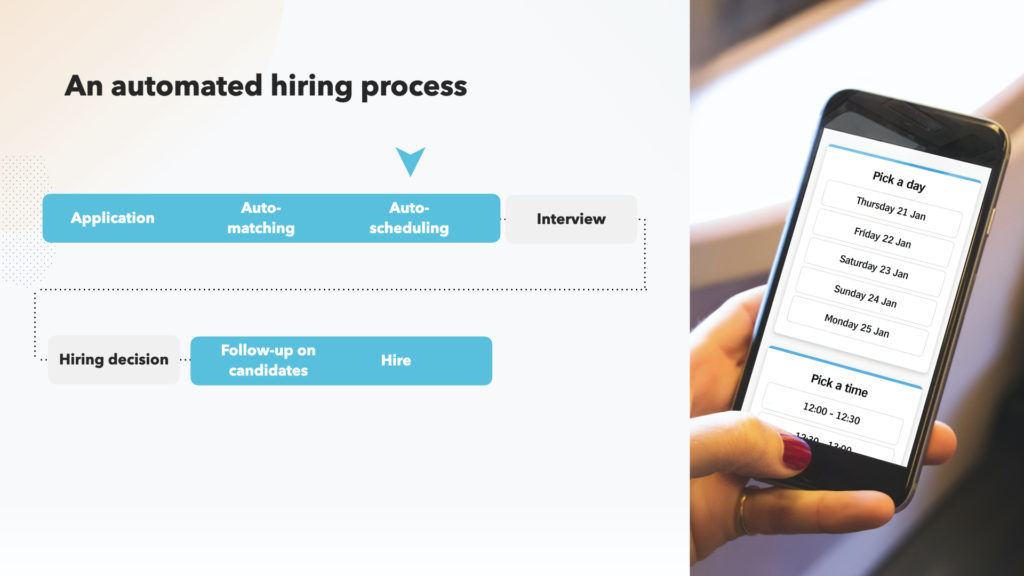 By digitizing certain aspects of the recruitment process, you can easily turn a very manual process into one that is fast and only requires manual tasks where they'll have the highest impact: at the interview, and during the hiring decision.
That way, your recruiters can focus on hard-to-fill roles or employer branding initiatives, and your hiring managers can focus on their business-critical tasks.
With the before and after state in mind, let's break down the beginning of an employee lifecycle (from sourcing, all the way to onboarding and retention), and how digitization can come into play at each part of the process. At the end, we'll take a look at how this all comes together.
Sourcing
What you'll need:
Applicant Tracking System (ATS),
Candidate Relationship Management platform (CRM),
Careers Page,
Referral System
The way candidates are sourced should directly reflect the way the candidates you're looking for live their day-to-day lives. Outdated sourcing processes, where you wait for the candidate to come to you, won't be as effective in today's competitive labor market. If your competition takes a more proactive approach to attract talent, you'll miss out.
67%
of large companies have difficulty filling roles.
Source: Manpower Group
For example, if you're looking to hire an executive level candidate, you can't expect that they'll be looking for an opportunity on Indeed or Facebook. Conversely, you wouldn't necessarily expect to attract dozens of cashier's for a convenience store on LinkedIn.
And, even if you have your roles advertised in the right place, you might be missing out on passive candidates, who aren't actively searching for a job. This is just one example of how the one-size-fits-all sourcing strategy can fail you.
So, what does a digital sourcing strategy look like?
Build an ideal candidate profile
An established candidate profile will help you to more accurately target and source the types of candidates you want to attract. Before you can decide how you will target potential applicants or brand your careers page, you need to decide who you'll be marketing to. You can start with this guide to candidate profiles before we continue.
Source the talent you want
Once you know who to target, you can programmatically target the applicants you want to attract. In the old process, you may need to post dozens or even hundreds of job ads across platforms. In a digital process, you are automatically buying, placing and optimizing job ads based on your ideal candidate profile.
Tools like Pandologic, AppCast, and Perengo can help automate your job ads so your recruiters can focus on their highest-impact priorities.
Optimize your talent pool
A talent pool is a powerful tool to keep track of the candidates who have expressed interest in joining your organization. However, tracking and searching through candidate files can be a time drain if done manually.
Digitizing your talent pool allows you to quickly access relevant talent, or even passive candidates when roles open up and can improve the speed and effectiveness of your recruiting efforts.
Using your HRMS and CRM, you should be able to add sourced candidates, past candidates, and allow interested candidates (usually passive candidates) to register to join through your careers page to stay up to date with opportunities at your company. Having a well-documented and organized talent pool will help you to better track and engage candidates.
Invest in candidate engagement tools
Whether it be engaging applicants or keeping in touch with your talent pool, you should leverage technology to build the relationship between your company and talent across stages of the recruitment process. Candidates should automatically be kept up to date with company updates, new opportunities, or the status of their application.
Communications can be synced to your ATS and HRMS to trigger automatic text or email notifications, to enable engagement at scale. You can read more about candidate engagement when hiring high volumes of candidates below.
Establish a strong employer brand
Establishing a clear, attractive employer brand across a variety of channels is crucial to your sourcing efforts. From optimizing your careers page to improving your SEO rankings, to engaging with social media — a digital strategy requires a well-communicated employer brand.
Companies who have a digital selection process also have a strong digital presence. What does that look like, and how does it save your team time?
An attractive, engaging employer brand that lives on your careers pages will: help drive candidates to your talent pool, convince candidates to take the step to apply, and give the recruiter's a head start by getting candidates excited. You should leverage a variety of media, from videos to photos, to testimonials that help give candidates a picture of the company.
A solid SEO strategy: Improving the SEO of your careers page will automatically improve your sourcing strategy and help you find both active and passive job seekers. You should use a tool like Ahrefs or Google Analytics to find what words your target audience is searching for, like "weekend jobs with health insurance," or "remote customer service jobs," and ensure they appear on your careers pages to drive traffic.
Social media: You have to meet candidates where they spend the most time. Especially if you're targeting entry-level candidates, they're likely to be active on Tiktok, Twitter, Instagram, and Facebook. This will help you more effectively target ads and engage the talent you're looking for.
Subscribe and stay up-to-date with everything recruitment related by receiving a weekly content digest and email updates on new resources!
Attracting
Getting your organization's name out in front of candidates is one step, but you need to be able to sell your roles and company to candidates in order to get them to join. The best digital recruitment process will attract candidates across every stage: from sourcing, to during the application process, and even during onboarding by helping to excite an employee about their new role.
It begins with sourcing, when you build and communicate your employer brand and engage candidates through the talent pool. But, the best digital recruitment strategies don't stop attracting candidates after they apply. And, why should they? Today, there are a variety of tools to help infuse employer brand across different phases of recruitment.
Let's take a look at how technology can help you attract candidates during the application process.
Stop guessing,
Start data-driven hiring.
Learn how you implement a modern candidate selection process, that is: streamlined, experience-driven and backed by data.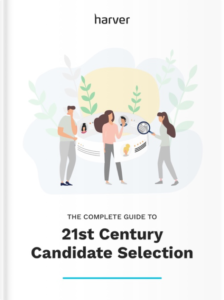 Brand your application
Today, it's unlikely you're recruiting simply by having candidates upload a resume and hit apply. And if you are, it may be time to reconsider. Especially for entry-level positions where candidates are looking for a paycheck rather than a career, a boring or lengthy application can cause you to lose talent.
Meanwhile, an interactive application experience helps to hold a candidate's attention so they don't drop out of the funnel. You can also place videos or testimonials within your application, to ensure the candidate is getting a taste of your employer brand while they apply.
By allowing candidates to get to know your organization and meet some of the team during the application, you're saving recruiters and hiring managers time and setting them up for success by increasing the likelihood that a candidate will move through the recruitment funnel.
Introduce the job during the application
You can also combine selling with selecting, by using a Situational Judgement Test to show a candidate the realities of the role, while gauging if they are the right fit for the job.
For example, if hiring retail or QSR employees, you might want to see how they'd react to a critical situation such as helping an angry customer. You can evaluate their customer orientation skills through SJTs that recreate such incidents and ask candidates to select the best and the worst way to handle the situation.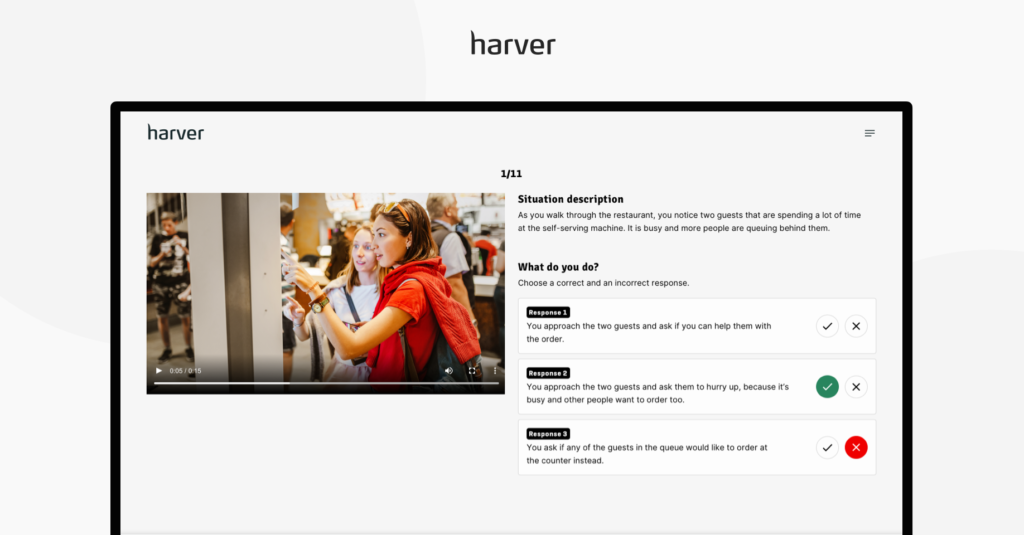 Besides offering candidates a preview of the job, SJTs also help recruiters make better-informed decisions, as they can see how applicants would handle realistic situations. This is much more relevant than assessing candidates based on resumes alone.
Also, it helps with managing candidate expectations and reducing attrition rates, as candidates who don't like what they see can self-select out of the application process at any stage.
We've detailed the topic of SJTs and realistic job previews in the article below.
Engage candidates automatically
Hopefully, your candidate has undergone an engaging, informative application process. If they have, they'll likely be excited about the role and the company. You don't want to risk waiting too long, and letting that excitement fade or even losing them to a competitor.
Candidates want to know their status. By automating candidate engagement through your ATS, via text or email, you can alert candidates to their progress without having your recruiters spend hours on follow ups. At scale, automating things like application receipt, FAQs, and interview scheduling can save thousands of work hours.
Plus, in some industries — like retail or hospitality, your candidates may also be your customers. Ensuring they're engaged during the process and kept updated, even if it's a rejection, will help you keep the relationship positive.
In a traditional, manual process, selling the role to candidates becomes a laborious process for recruiters and hiring managers. In a digital process, you have the opportunity to embed different media, engagement tools, and checkpoints to engage candidates through your process.
Selecting
As we mentioned above, the best process will combine selling and selecting. Ultimately, whether you're hiring one employee or one thousand, selecting the right talent who will succeed in the role is crucial.
In a digital process, technology assists with selecting the right candidates for the role to increase the likelihood of new-hire success and reduce bias in the process.
Use matching technology
Matching technology, i.e. digital tools which aid in selection candidate decisions, enable you to build speed and accuracy into your process. Here's for example how our matching framework works.
Instead of focusing on vacancies, our platform uses a combination of pre-employment tests to assess candidates for various skills and characteristics, then returns matching scores for a variety of positions.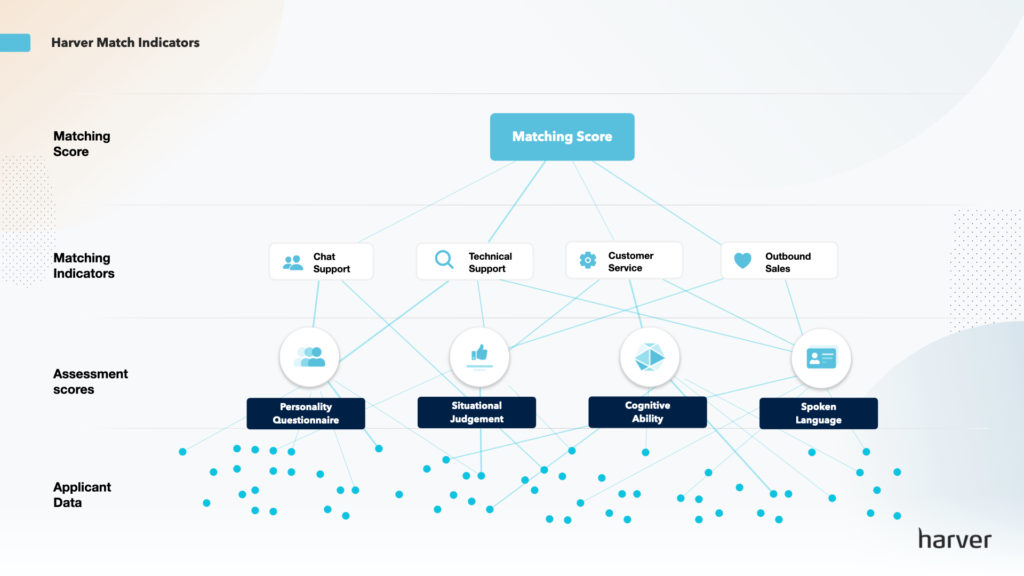 In this model, the focus is on the candidate and his or her skills, not on the role to be filled, so you can be sure you hire people who not only match your current selection criteria, but also have transferable skills and can take on more hats if the job requirements change.
Depending on the job, any number of assessments could be appropriate. From personality to multitasking, to the situational judgment test we discussed in the last section. To determine the best test for the role, you may want to speak with an IO-Psychologist.
Regardless of what you'll need to assess, you'll want to ensure the selection tools are:
Engaging for candidates
Predictive of success (i.e. measure what matters in the role)
Are easy for recruiters to interpret (for example, a simple match score)
In the image above, you can see a candidate detail page with matching scores for different positions, based on specific skills and characteristics. This makes it easy for recruiters to decide who to hire, and removes the bias that comes with selecting candidates based on resumes.
Automate the process
In a fully digitized recruitment process, scores from any assessments can be tied to stage progression in your ATS, as well as candidate engagement. Thus, if a qualified candidate applies at night, they could progress from the sourcing stage all the way to the interview scheduling phase, without any manual effort from your recruitment team.
This means your recruitment machine will always be on, no matter the day or the time. In the end, that quicker time to hire will help you capture the best talent.
If you'd like to see how your recruitment funnel can be automated through our platform, you can book a demo below.
Hiring
In a fully digital recruitment process, the hiring phase may be the first time the candidate interacts with someone on your team. To enable this process to be as quick as smooth as the other, fully automated pieces of your recruitment process, you'll want to enable candidate self-scheduling.
In both standard and high-volume hiring, interview scheduling is typically a bottleneck that slows down time to hire and causes frustration for candidates.
Even for organizations that have invested in digital sourcing and selection, some come up short when it comes to making it easy for candidates to schedule an interview. Your candidate will have quickly picked up steam from the engaging application and selection, and you don't want them to lose momentum while waiting to hear back from a recruiter.
On the other hand, if hiring managers are coordinating interviews, they're losing valuable minutes or even hours per candidate while trying to coordinate a time to meet.
Not to mention, given the rise of remote-interviewing and many candidates' hesitancy to meet face to face due to fear of rejection, this also needs to be handled virtually. Whether it be a video interview, self-scheduling, or on-demand interviewing, you'll want to make the process as frictionless as possible.
Video interviewing
You can embed the video interview in the application process for all candidates, or trigger an invitation to record a video interview for only candidates who score well on your other assessments.
Video interviews are a simple, standardized way to hear directly from candidates and make hiring decisions using defined criteria. Not to mention, they require less time than other forms of interviewing as the recruiter only needs to view the responses at their convenience.
Self-scheduling
Self-scheduling allows candidates who meet the qualifications or score well on the skills-based assessments to automatically schedule to meet a recruiter or hiring manager from times built into their calendar.
Then, the interview meeting details are automatically sent to the candidate and to the recruiter or hiring manager's calendar. This is best for organizations where hiring is done on a consistent basis and team members can consistently make time to schedule interviews.
Onboarding
You don't want to stop your digital process at "you're hired." Onboarding is your new employees' first experience as a member of your organization, and you don't want to leave them hanging after such a quick and engaging recruitment process.
If recruitment and selection are smooth and digital, but onboarding is slow and manual, the candidate might be off-put despite your best efforts through the rest of the recruitment process.
Luckily, the foundation you've built to digitize the rest of your recruitment process lays the foundation for a successful onboarding experience. Your sourcing efforts hopefully made the employee familiar with and excited about what you offer as an employee, and if they've been engaged throughout the process of selection: you'll have a new hire who is both excited and a great fit.
Digital onboarding helps ease the transition from applicant to employee and ensures candidates aren't left hanging as soon as they sign their offer. Quickly answering their questions and providing them with the information they need will only make your recruitment process more successful, as new hires are more comfortable as they start.
We're written more extensively on this topic in the guide to remote onboarding below.
The outcome
Fully digital recruitment and selection transforms a time consuming, heavily manual process into a smooth, repeatable experience that is easy and enjoyable for candidates and recruiters.
Where you start with a recruitment funnel that had a laundry list of tasks to be done at each phase, you end with a streamlined journey where human effort is leveraged only where needed to make the highest possible impact.
Every recruitment process is different, and the exact results will vary depending on the nature of your current process and how drastic your transformation.
But, in our experience, the outcome of digitizing even one step of the process is powerful. It's exponentially more impactful when carried out from end to end, as you can see in the success stories below.