Recruiters these days have to be smart. It's hard enough to find great candidates as it is, so why risk losing top talent just because they didn't cut it this time for this particular role? In fact, why not build a relationship with them and keep them interested instead?
How? By building and managing a talent pool!
What is a talent pool?
A talent pool is a database of candidate profiles interested in working for your organization.
It can be a mix of people who applied before and weren't a right fit at the time, people with specific expertise – or people with a more generalist profile, passive candidates and former employees.
https://w.soundcloud.com/player/?url=https%3A//api.soundcloud.com/tracks/718809424&color=%23ff5500&auto_play=false&hide_related=true&show_comments=true&show_user=true&show_reposts=false&show_teaser=false
Why build and manage a talent pool?
To make your life easier, for one. With cost per hire and time to hire increasing, it is great to have a solid starting point to begin with your sourcing efforts before launching a full recruitment campaign. Also, whenever you find yourself faced with an impromptu departure from one of your employees, it's good to have a safety net to fall back on. That safety net being your talent pool, in this case.
Having a rich pool of potential candidates to tap into has several benefits:
Always qualified candidates at hand
If built the right way, a talent pool is a great source for qualified candidates. Imagine you're recruiting for a role that requires specific expertise. Even if you only need to hire one of them right now, chances are you'll receive applications from at least a handful of suitable candidates.
Likewise, if you often hire for a similar profile, keeping candidates that didn't cut it the first time around can ease your recruitment process next time. If you make sure all your applicants get a great candidate experience, they'll be more inclined to keep in touch – and to apply again in the future. All the more reason to treat your candidates well.
…as well as 56% of medium-sized businesses globally. That's why having qualified candidates in your database can help you make recruiting easier.
Passive candidates with details and contact info
Passive candidates can be tough cookies to crack. They usually are happy with their jobs and – as the passive part suggests – are not actively looking for new opportunities. However, thanks to, among other things, the rise of social media, it's become easier than ever before to make the first move and connect.
And while passive candidates might not be in the market today, they're still interested in useful and relevant content that will help them with their careers. If you provide them with this kind of content, they'll be happy to share their details and contact info with you in return: win-win.
Having a long-term recruiting strategy
In an ideal world, we'd all have a well thought-out, long-term recruiting plan, right? Of course, reality often tends to differ from our dream scenario due to numerous internal and external factors.
But as much as possible, we should create a long-term recruiting strategy (or succession plan). Therefore, building and maintaining a talent pool is indispensable. It gives you an idea about the positions and profiles you probably got covered and the ones you need to work on.
If you don't have enough qualified employees, you risk losing your business. Planning ahead mitigates against this.
How to build and maintain a talent pool?
Now, onto the how-to part. How do you build and maintain a talent pool? We've listed 9 ways to get you started.
1. Add your sourced candidates
This is probably the easiest way to pour candidates in your talent pool. During your sourcing process, whenever you come across interesting people who don't fit any of your current open roles, just add them to your talent pool.
Keep in mind though that if you want to keep people interested, you need to regularly engage with them. For example, you can update them on industry news, the newest tech developments at your company, or invite them to events you're organizing.
2. Build a dedicated landing page
If it's the other way around, meaning candidates like your company but don't see a suitable opening right now, you need to have an alternative for them. Meaning a talent pool they can join to stay up-to-date.
Blackboard, an e-learning software company, did a great job building an appealing talent community landing page for candidates to learn more about opportunities in different departments. Blackboard's talent community consists of multiple department-specific communities, so the candidates can be sure they will be receiving relevant information from a division they are interested in.
3. Re-engage unsuccessful candidates
Re-engaging with candidates who applied before but didn't cut it is another straightforward way of filling your talent pool. That is if you provided them with a great candidate experience (as mentioned above).
A quick reminder of basic 'polite recruitment behavior':
Keep candidates updated about the process & next steps
Stick to the timeframe you communicated
Answer candidate questions as quickly as possible
Give people feedback about how they did (and if they didn't get the job, tell them why)
Be honest about what candidates can expect from the job and the company
If you stick to these basics, there's no reason why unsuccessful candidates wouldn't want to stay in touch and be in your talent pool. Unless they felt like the company wasn't the right place for them after all, of course.
Stop guessing,
Start data-driven hiring.
Learn how you implement a modern candidate selection process, that is: streamlined, experience-driven and backed by data.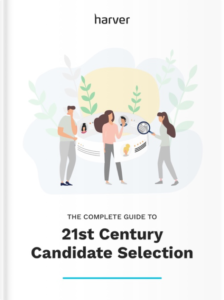 4. Engage students and graduates-to-be
Talent pooling is all about planning ahead. So what better way to do so than by engaging with the future workforce: students and graduates-to-be?
While students usually aren't looking for a full-time gig yet, they often do want to work part-time. Either for the money or to start exploring what they'd like to do when they hit the job market or both. The same thing goes for graduates, albeit in a slightly different way.
While some of them will already have a job in the pocket when they get their diploma, many graduates are still looking for that fantastic job opportunity once they finish their higher education.
Social media is a great way to show students and graduates what it's like to work for your company and what in particular you have in store for them. Think (summer) internships, graduate programs, part-time contracts, job shadowing, chats with your CEO, etc.
Getting your student and graduate 'offering' right also has a tremendous benefit for you as an organization; an internship or graduate program is a great way to spot talent and see who might be a good fit for your company later on.
Until then, you can fill your talent pool with them and keep them engaged with content relevant for those who are just starting their careers.
5. Include internal talent
Now, this is one you might not immediately think of. And yet, your internal talent – meaning, your current employees – are right in front of you. You already know what skills they have and that they are a culture fit. As such, they should be the first people you think of when hiring for senior roles.
Keep the current employees informed on more senior openings. Encourage the managers to let you know if there are employees who have what it takes to get a promotion. Including these people in your talent pool means that they will always be on the top of your mind when it comes to filling senior roles.
6. Keep candidates who are not ready to apply interested
Think of people who are interested in your company but don't have the right experience (yet), those who are on parental leave, living abroad, etc.
When it comes to top talent, you can't afford to be picky. So even if someone is currently on a year-long sabbatical or still in university, if they've got an interesting profile and fit with your company culture, you want to have them in your talent pool.
Feed them with the right content to keep them interested and reach out when they're ready.
Devskiller, a developer screening platform, puts together information on industry salaries. This is helpful not only for the employers but also for potential candidates, that's why it makes for great content to share with the passive candidates in your talent pool.
7. Don't forget former employees
Just like you shouldn't forget your current employees, you shouldn't forget former employees either when it comes to building and maintaining your talent pool.
Yes, they left your company but that doesn't mean they're not interested in future opportunities – and boomerang right back. Especially if the main reason they left had nothing to do with how much they enjoyed working for your organization.
In your exit interview, include questions along the lines of: 'Would you consider coming back if the right opportunity presented itself?' or 'What would be a decisive factor for you to return to working for us?'
Based on their answers, you'll be able to categorize former employees in a specific part of your talent pool, keep them informed with relevant content and be ready to reach out when you have a relevant role for them.
8. Serve different content to different groups of candidates
As we've already mentioned, personalized content is key when it comes to building and maintaining a talent pool. Not every person in your talent pool is in the same stage of being interested. 
What's more, students and graduates aren't looking for the same kind of information as current or former employees. Create segmented email lists and send relevant content based on the interests of each particular group of candidates.
How? With talent pipeline technology, for example.
Pipeline technology can help you categorize each person in your talent pool – and make sure they get the right type of content to stay engaged. I.e. more generic, industry related information for passive candidates and more employee-generated content for your current workforce.
Shell offers an option to sign up for their talent community to both experienced professional and students and graduates. The groups receive different updates.
9. Look into your talent pool regularly
Having a talent pool is great but only if you use it. As such, it should be the first place you look into when you find out there is going to be an open position. Therefore, make a habit of browsing through your talent pool on a regular basis.
This will help you familiarize yourself with the kind of talent you've got in the talent pool and get you to the right group of candidates faster when you need to fill a vacancy. Also, you will be able to identify what talent you're missing and should focus on bringing into your talent database.
Before you go
Finding the right people is too hard to lose out on candidates who don't fit the bill right now but might be perfect in the future. So rather than falling out of touch, have them join your talent pool and keep them interested in your organization.
As much as possible, try to personalize the content you share with the candidates in your talent pool – keep in mind that students want different information than former employees or people on parental leave. If you want to start building and managing a talent pool, following the 9 ways listed in this article should get you well on your way.