Every challenge is bigger and more complex in volume recruitment. When screening thousands, or even hundreds of thousands of candidates, traditional recruitment processes begin to break down.
Resume screening becomes overwhelming, and interview scheduling never ends. The cycle is always on, with a constant stream of requisitions that need to be filled. In the midst of these processes, recruiters are often just trying to stay afloat, and rarely have time to worry about the candidate experience.
However, the importance of your candidate experience cannot be understated. Slow processes, lack of communication, or simply a failure to market yourself as an organization through your process can cause you to miss out on candidates.
Delivering a fast, engaging, and informative recruitment experience has become a competitive advantage.
How do you do it when hiring at scale? How do you ensure that both the candidate and the talent team are having an enjoyable experience during the recruitment process?
Let's dive into this topic!
Subscribe and stay up-to-date with everything recruitment related by receiving a weekly content digest and email updates on new resources!
The common volume hiring reality: poor CX and overwhelmed recruiters
Candidate expectations are rising, competition for talent is as fierce as ever, and recruitment teams are often trying to cope while buried in a stack of manual recruitment tasks.
Repetitive tasks like scheduling interviews and screening take time away from high-impact activities. Even when talent teams endeavor to deliver an engaging and fast recruitment journey to candidates, traditional recruitment technology often fails them, or can even work against them.
Tools that are not designed for volume hiring are put together in tech stacks that do more harm than good. Integrations are poorly done, and TA teams end up using several tools, collecting and processing candidate data in several "sources of truth", and switching between platforms to check assessment results and review candidate profiles.
At the other end of the spectrum, while recruiters are buried under manual tasks, top candidates are left waiting, ghosted, or even worse — being hired by your competitors.
According to Resource Solutions, 94% of candidates surveyed reported that their recruitment experience impacts their decision to accept or deny and offer, and 58% report that they are even more likely to accept a role because of a positive recruitment experience.
This means that your ability to hire talent is directly tied to the candidate experience that you are delivering. So, what can you do to boost your chances of attracting that top talent?
Before we get there, it's important to consider what your candidates' priorities are when applying to your requisition.
Typically, in entry-level roles, candidates have a primary goal: job security.
Typically, for high-volume entry-level roles, candidates have a primary goal: job security. They want to secure a position and a paycheck, and typically they want to do so quickly. This means that the most valuable thing you can offer is an efficient process, with a high degree of transparency about where they stand at each step.
In addition to speed, candidates are often looking for transparency about the process, role, and organization. At each step, candidates are constantly providing information about themselves with their resume and interview answers. Rarely do they get that same amount of information in return.
The takeaway? Candidates want a process that is fast, transparent, and engaging.
Let's take a look at what the candidate experience looks like for recruiters and candidates in traditional processes, and how it can be alleviated to help your organization attract top talent.
Volume hiring experience: the recruiter perspective
For every action, there's an equal and opposite reaction. Not to get too philosophical, but whatever your recruiter is doing or experiencing on one side of your process, your candidate feels on the other.
Typically, processes progress from sourcing, to an application phase, screening, a hiring decision, and then into onboarding. In traditional recruitment processes, at each phase the recruiter must take action in order to progress candidates to the next step.
This means that candidates are not only left waiting after the initial application, but often also after the pre-selection phase, again after the interview and sometimes even during onboarding until the recruiter acts. And at every stage, if recruiters are bogged down by hours of tasks, candidates are typically left waiting or receive no response at all.
It's clear, then, that to improve the candidate experience you must first improve the process your recruiters are using to hire. Here's how volume recruitment is different from regular recruitment, and why using the same strategy and tools won't work.
We've established that tedious, time consuming tasks can make it difficult for TA teams to engage candidates and manage expectations, so the key to improving the experience is to give your recruiters their bandwidth back.
Typically, candidates funnel into the process, are pre-selected, interviewed and a hiring decision is made. Usually, recruiters handle the early phases of a process and sometimes hand it over to a location or hiring manager to interview and make a final hiring decision.
The recruiters are responsible for critical touch points in the early phase of the process where first impressions are made, but are also the glue that helps hold the funnel together.
In an ideal world: recruiters leverage a strong employer brand to source candidates for open roles, and have the bandwidth to actively source more talent for the recruitment funnel when needed.
More importantly, when applicants enter the funnel, there should be technology in place to help accurately and efficiently identify the best talent for the roles, and progress top talent through the process. Matching technology should be in place to speed up the process for recruiters and candidates.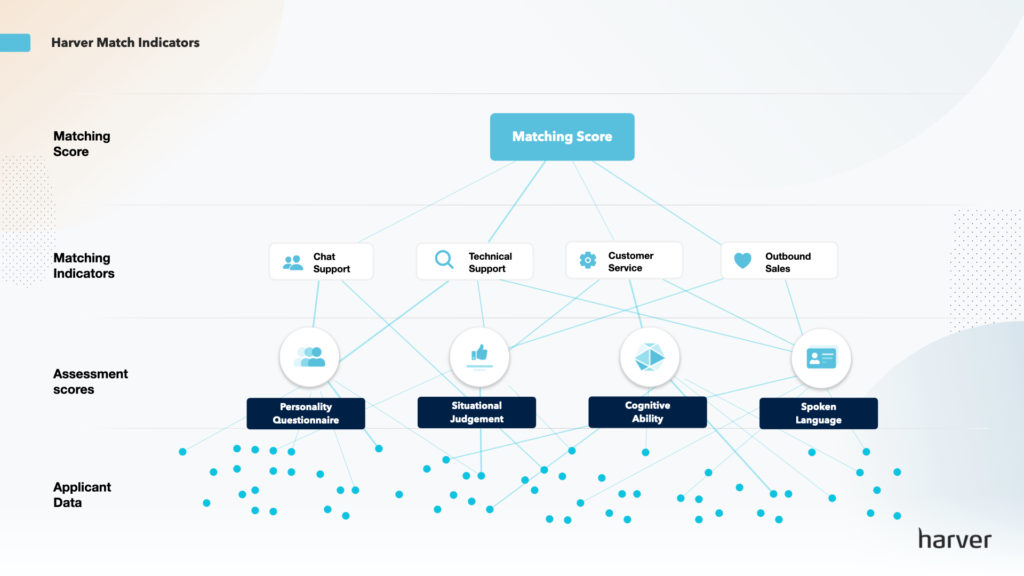 To put this ideal process into clearer terms, let's dive into what the experience feels like for candidates and how to improve upon it.
The candidate experience in volume recruitment
With job openings on the rise, and plenty of organizations hiring for entry level roles, it is risky to frustrate candidates or leave them waiting. For many companies hiring at scale, their candidates don't have a particular loyalty to their role or organization, and they will apply elsewhere if they think it gives them a better chance of job security.
Plus, it's a vicious cycle. A negative candidate experience will directly harm the success of your recruitment funnel. On the flip side, the better your candidate experience, the stronger your ability to attract talent will become. 86%
of job seekers look up reviews and ratings of an organization prior to applying.
Source: Glassdoor
So, how can you deliver an experience that wins talent and boosts your status as an employer of choice?
Make the process fast, easy to apply, mobile-friendly and offer job security fast.
It sounds simple in practice, but it takes a fundamental shift in how you conduct recruitment. Less legacy steps from traditional, manual processes, and more reliance on technology and automation to improve the experience for recruiters and candidates.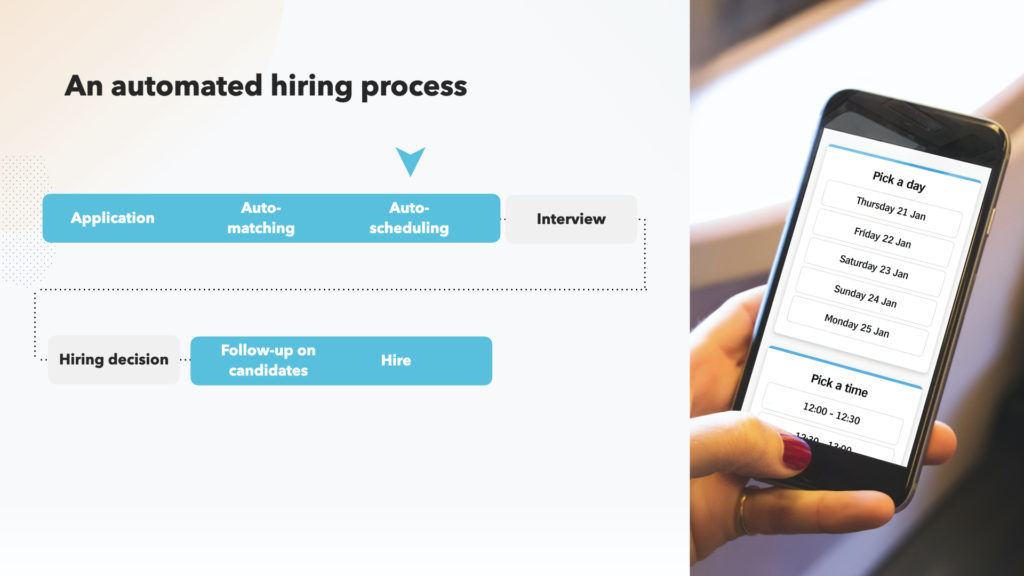 Your candidate experience is just that — an experience. It is about the touch points your applicants have with your organization, team and process. The feeling those three things leave them with is how they'll decide if that experience was positive or negative, or whether or not they'll join the team.
So, you need to nail the process, the application, and interactions with your team at every phase. For high volume recruitment, this means moving candidates quickly through the funnel, communicating your value as an employer effectively, removing friction from the process, and being transparent with every applicant.
Doesn't sound so easy, does it? Luckily, there is a solution, and your organization can take advatange of it: software tailor-made for volume hiring.
Here's an example of candidate experience created by Harver for Albert Heijn.
The full picture: the ideal volume hiring experience
Most volume hiring orgs have outgrown traditional recruitment processes, which usually means you've outgrown traditional recruitment technology, too. To transform your process, you'll need the right building blocks to remove manual tasks, allow candidates to self-service and deliver on your employee value proposition.
Here's what this means in practice.
The ideal volume recruitment process relies on four pillars: candidate experience, matching technology, automation, and business intelligence. These all work together to create the best experience for recruiters and candidates.
What does each block entail?
Candidate experience
Your candidate experience allows information to flow in both directions between the candidate and recruiter. It enables you to find the best talent with matching technology while engaging them and informing them.
Your candidate experience can be enhanced by realistic job previews, situational judgement tests, self-scheduling capabilities amongst other tools that make the process fast and frictionless.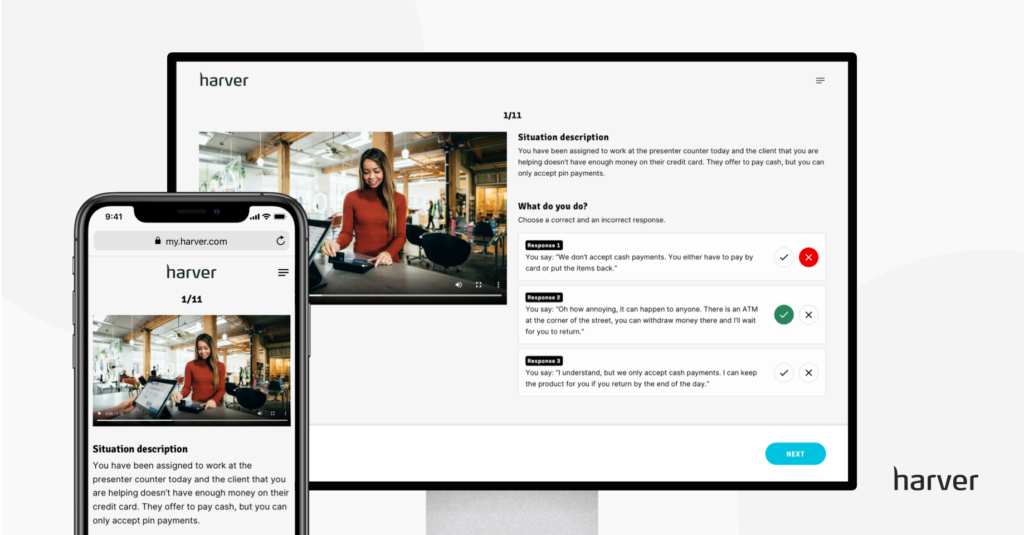 Assessments
Resumes are rarely a predictor of success for low complexity, high volume roles. And, they slow down your process and increase friction. Not to mention, uploading one and filling in forms isn't the most engaging experience for applicants.
Allowing candidates to demonstrate their skill in assessments that predict job-fit improves the fairness of your process, and enables you to speed it up and fill seats more quickly using automation.
Automation
It isn't only important about what happens at each step, but also what happens between steps. Automation allows you to move candidates more quickly through your process, with less bias and friction. It's enabled by other building blocks of your process: including assessments that generate the data you need to move applicants through your funnel.
Automation can also be used to remove scheduling hurles when you allow candidates to self-schedule interviews, and can even be done within the application experience.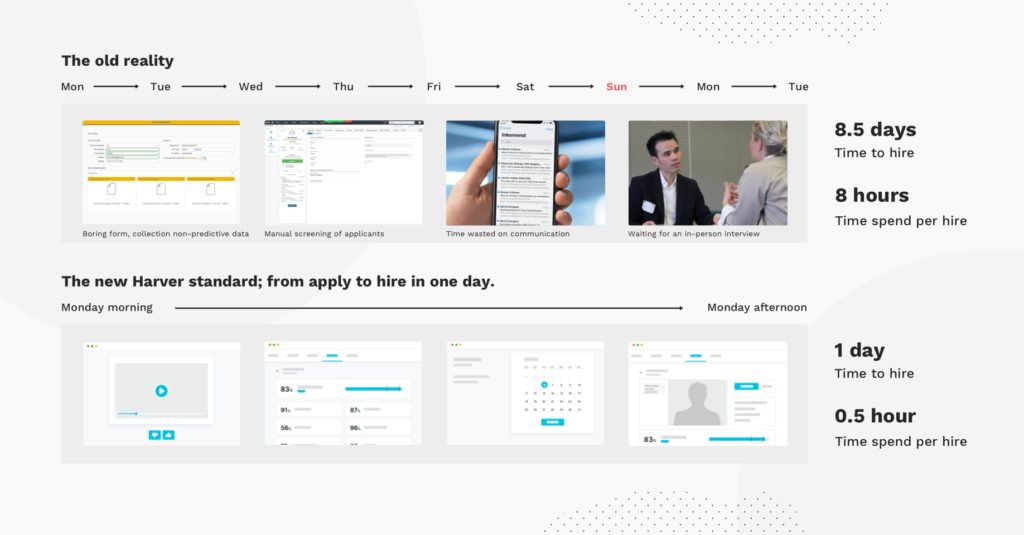 Business Intelligence
Digital processes generate a lot of data, and those insights are lost if you aren't continually collecting, monitoring and interpreting your data. Doing this manually can be time consuming, so having a robust, easy-to-understand BI suite enables you to monitor your process and KPIs without bogging you down.
You can't manage what you don't measure, and the real time insights from a BI suite will enable you to continuously pivot to speed up the process and improve your experience.
If you'd like to take a deeper dive into these building blocks and understand how they can fully transform your recruitment process, you can book a demo below.
Next steps
Your recruitment experience is the beginning of your employee experience — and is closely tied to your recruiter experience.
Recruiter workloads are rising, as are candidate expectations, and this is only more complex at scale. Thankfully, with an understanding of the most common pitfalls in traditional recruitment, and the goals of your candidates: you can craft an experience that caters to the needs of your organization and applicants.
The exact steps in the process will vary — but every high volume recruitment process will lean on candidate experience, automation, assessments and business intelligence to operate most effectively.
At Harver, we've collaborated with organizations around the globe across all industries to optimize their hiring processes and improve their candidate experience. And, we've seen incredible results with reducing attrition and speeding up time to hire while delivering an experience candidates love and remember.
Recruiters are defined by how successfully they can move candidates through the funnel, and your organization will be defined by its talent. Transforming your recruitment process is key to staying competitive in the talent market.
Ready to transform your hiring process?