Volume hiring is a continuous challenge for recruiters looking to scale up their efforts as their company grows. Just finding the right candidate for a position is challenging, however, doing so at scale in a short window of time may feel downright impossible – even for the most strategic talent acquisition teams around.
Does this sound all too familiar? If so, we get it: Although scaling up is no doubt exciting for an evolving organization, it's also difficult to manage hiring costs, work efficiently, remain competitive, and most importantly, put the right people in the right roles to minimize new hire turnover and maximize your operations.
With that being said, by investing in technology that does all the heavy lifting for you, you can scale your recruitment efforts and address any of the challenges you face – without increasing your recruiter headcount or wasting time and resources on ill-fitting hires in the process.
What are the challenges of scaling volume hiring?
Employers need to overcome volume hiring challenges to successfully scale up a recruitment strategy. Some of the biggest challenges organizations face include:
Candidate sourcing struggles
Candidate sourcing remains an ever-present struggle for many companies engaging in volume hiring. Too often, recruiters waste time and money with job boards that are not only inundated with other listings but also not the right recruitment source to find their target demographic.
Whether you need to source numerous candidates because you have more seats to fill or because your attrition rates are on the rise, you don't want to hire more recruiters to make it happen—and therein lies the challenge.
Fluctuating labor demand
Fluctuating labor demand can be a real headache for recruiters looking to fill open roles, particularly when the demand is greater than the number of job seekers on the market. Companies need to be prepared to scale their recruitment up and down quickly when the market changes.
For example, industries like retail, quick-service restaurants (QSRs), grocery stores, and call centers all saw increased demand during the COVID-19 pandemic. On the flip side, the tourism industry is an example of one that took a hit during the pandemic as people slowed and stopped traveling altogether.
Increasing your HR headcount every time you need to hire more candidates in a short period of time isn't a sustainable solution, so this is the second challenge that TA leaders have to face when trying to scale their recruitment efforts.
Time-consuming, manual processes
You can't scale and accelerate your recruitment efforts when every single task is performed manually and takes ages to actually complete.
When hiring a high volume of people for your organization, you need to screen, assess, select and interview an even higher volume to get it right. This can naturally be very time-intensive for talent acquisition and HR teams with a lot on their plate – not to mention costly and inefficient.
Quality of candidates when volume hiring
When it comes to low-complexity, entry-level jobs, a lot of candidates don't have a resume or experience. Some might have experience but come from different, unrelated industries. Either way, it's hard to scale your hiring if you want to focus on quality of hire (QOH) as well, as opposed to just hiring everyone who applies due to sheer volume alone.
As such, quality of hire is often sacrificed when hiring in high volumes, which can ultimately result in poor job fit and/or increasing rates of attrition. In the long run, this creates a vicious circle: the new hires who don't fit the role end up quitting, so you need to start from scratch.
How to use automation solutions to scale volume hiring
Supported by the right recruitment automation technology, you can optimize your volume hiring efforts and improve your efficiency and effectiveness. Here are four ways to use automation solutions to scale recruitment.
1. Improve candidate sourcing with programmatic job advertising
Candidate sourcing is the first step in the recruitment funnel and is often a pain point for recruiters.
According to research by Robert Half, 95% of business leaders say it's very or somewhat challenging for their company to find skilled professionals. Part of hiring the right people for the right roles is knowing where to find them: Which recruitment sources are most effective? When and where are your top applicants coming from?
Using real-time recruitment data aggregated and displayed via software, you can easily identify which recruitment sources yield the best performing employees, so you can spend your time and money as wisely as possible. However, when you're volume hiring, this sourcing stage can still be very time-consuming, even paired with powerful data for optimization.
That's where programmatic job advertising comes into play. Programmatic advertising is the practice of using software to purchase, publish and optimize job ads that appear all over the internet rather than just the popular job boards saturated with other listings.
Programmatic advertising utilizes the browsing data of ideal job seekers, coupled with sophisticated algorithms, predetermined rules, artificial intelligence (AI), and A/B (or "split") testing to deliver the right job ad, to the right job seeker, at the right time and place.
2. Prepare for fluctuating demand with recruitment automation
As we mentioned above, fluctuating labor demand is a pain point for recruiters across a number of different industries. Even amid game-changing predictions for the future job market, it can be very difficult to anticipate when demand increases or lulls will occur.
However, the right recruitment automation technology can help organizations scale their hiring up or down and prepare for fluctuating demand in the job market, which the COVID-19 pandemic showed us can turn on a dime.
Take QSR companies for example, which hire around 1 million workers in the U.S. each year. As a result of the COVID-19 health crisis, 3 in 10 restaurant operators said they had trouble filling open roles as demand for labor increased amid the pandemic.
By automating your manual recruitment processes, you can easily screen, assess and move candidates to your Applicant Tracking System (ATS) and quickly schedule interviews with the push of a button.
Without the administrative burden that comes with manual processes, your organization will be better prepared for whatever comes next—regardless of fluctuating labor demand that's difficult for recruiters or company leadership to anticipate in advance.
3. Automate manual processes to volume hire more efficiently
Volume hiring is time-consuming without the right technology and processes in place. Many recruiters struggle with being in a time crunch when hiring at scale, especially because candidates often lose interest if the hiring process takes too long. In fact, 57% of job seekers said they lose interest in the job if the hiring process takes too long.
Thankfully, automation is the name of the game in almost every industry now, offering organizations a cost-effective way to improve efficiency and save time, money, and other valuable resources – and recruitment is no different. Recruitment automation can dramatically shorten your time to hire and improve the candidate experience so you don't lose top applicants due to a lengthy hiring process.
With that being said, it's imperative that all of the systems in your recruitment tech stack integrate seamlessly to work together as effectively as possible. In other words, your ATS, high volume recruitment platform, interviewing solution, and onboarding system should all integrate and communicate with one another with ease to ensure you're making the most of your organization's technology.
Here's, for example, how an automated recruitment flow can look like when using the Harver platform.
Investing in integrated recruitment automation technology frees recruiters up from wasting valuable time performing manual tasks. Instead, they only need to step in to intervene for the steps in the recruitment funnel that can't be automated, such as holding in-person interviews, making hiring decisions, and training new employees.
We've detailed the process in the article below.
4. Improve your quality of hire with job previews and assessments
Making quality hires is essential for success in the recruitment business. Unfortunately, quality of hire often gets overlooked when recruiters are tasked with scaling up volume hiring efforts to meet the demands of a growing organization.
The good news is, there are various ways you can improve your quality of hire, even when you're hiring a high volume of individuals. One such solution is to incorporate scientifically proven pre-hire assessments into your candidate selection process.
These can be fully automated and added to your job application flows, so that candidates get assessed and their skills and characteristics are evaluated in an automated way, based on specific criteria.
By integrating the assessments into your candidate selection flows, you can synchronize the stage progression as well, so that candidates who achieve certain scores are automatically moved to the next stages of the recruitment process, without your intervention.
Below you can see the various assessments available in the Harver platform.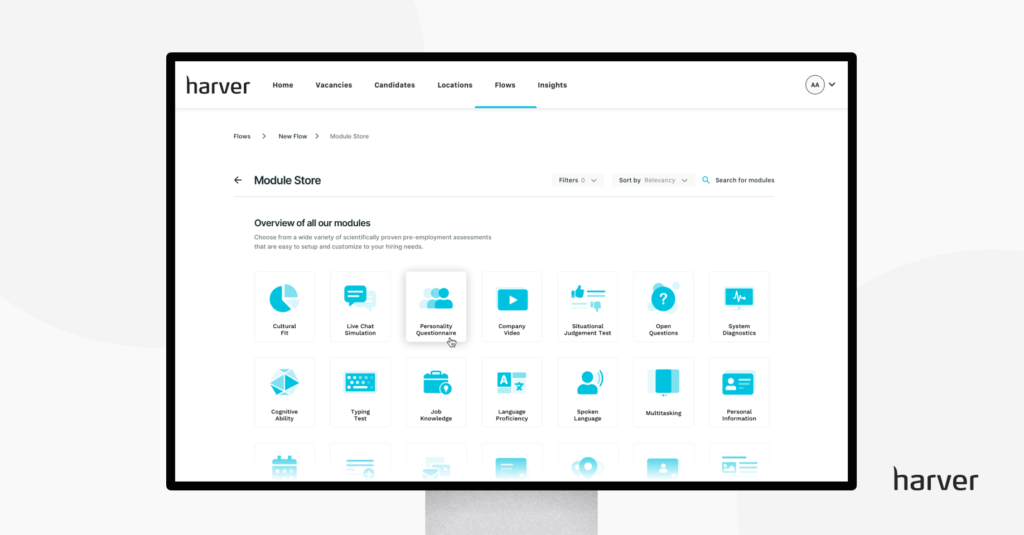 For example, you can implement assessments that focus on skills and characteristics instead of selecting based on resumes alone. Personality assessments – based on industry and supply of candidates – are incredibly useful if you receive too many applications and want more to drop off. Or, you can create a slightly longer application to filter out more applicants.
Then, learning agility assessments help evaluate candidates for roles where growth and development matter, especially when you want to prepare the people you hire for leadership roles. Skill tests assess specific abilities that are relevant to open roles you're hiring for, such as multitasking or typing speed for positions with contact centers, live chat support simulation for customer service representatives, and much more.
Finally, you can offer candidates realistic job previews through a virtual job tryout or situational judgment test (SJT). This popular behavioral assessment tool can help prepare candidates for life on the job you're hiring for and ensure they're a good fit for the role in question.
Job previews and SJTs are equally beneficial for candidates, giving them a glimpse of the day-to-day realities of the role, setting the right expectations early, and setting them up for success from the beginning. As a recruiter and organization, you can enjoy reduced turnover rates when you manage candidate expectations early on in the hiring process.
Here's, for example, what an SJT for call center roles looks like. Candidates are exposed to various scenarios that are specific for the open job, and have to choose the best and the worst way to deal with those scenarios, from a list of potential answers.
Candidates' answers are rated and their scores are aggregated and displayed in a recruitment dashboard so that your TA team can easily make data-driven hiring decisions.
Next steps
There you have it. With smarter sourcing, better preparation for fluctuating demand, automation to streamline workflows, and various pre-employment assessments to improve your quality of hire, you can scale volume hiring without increasing your recruiter headcount or spending extra time, money, and resources trying to find the perfect fit for each open role in your organization.
If you'd like to see how Harver can help you streamline your recruitment strategy and scale up your volume hiring efforts, you can book a demo below.
Ready to transform your hiring process?