Most jobs have a job spec, a documented description of the key requirements for the job. However, this tends to be an overview of the job, it doesn't outline all the specific tasks the job requires day in day out.
So without knowing all the specific tasks of a job:
How do you know what to look for in potential candidates if you don't know what the exact tasks they'll be required to do daily are?

How can candidates fully comprehend what is required of them – the physical, mental, cognitive, behavioral, and even psychological components of the job they're applying for?

How will you know if there are skills gaps in current employees if you don't know what skills are required to fulfill each task in the role?

What can you use as a benchmark to help you make fair promotion or salary decisions for each job?
By undertaking a full job tasks analysis of each role, that's how. What is job tasks analysis, how does it help you and how do you conduct one?
Let's dive in!
Subscribe and stay up-to-date with everything recruitment related by receiving a weekly content digest and email updates on new resources!
What is job tasks analysis?
Job tasks analysis identifies the larger work responsibilities for each specific job and then digs down into each one to the more granular level of the job.
Understanding the day-to-day tasks and precise skill and knowledge requirements that are needed in order to successfully perform a job allows you to determine if there are any training needs in existing employees, to identify any skill gaps, to write accurate job descriptions, and maintain fair hiring practices. Also, by systematically documenting every aspect of each job, as an employer, you're complying with professional and legal guidelines.
One important point to note while performing a job tasks analysis – you're only evaluating the job. This is not a definition of the 'ideal candidate' (or employee).
Why should you do a job tasks analysis?
To improve your hiring process. By doing a job tasks analysis, you're able to set objective, relevant, job-related selection criteria that are also legally defensible. By accurately reflecting the exact requirements of the job, you're likely to attract candidates who are a good job fit. Also, you're likely to reduce employee turnover because candidates and employees know what is expected of them, down to the smallest task.
To help make fair promotion and salary decisions. A job tasks analysis provides the objective criteria that you can use to make informed decisions regarding promotion and salary decisions. It's vital for estimating the right remuneration, as this typically depends on the job's requirements including what skills and education employees must have to perform the role successfully.
To set performance standards. Complicated tasks typically involve multiple steps, which can make them difficult to be carried out successfully. A job tasks analysis breaks down even the most complex of tasks into its constituent elements, making it much easier for employees to master each step, and ensure each task is carried out correctly.
A job tasks analysis also highlights the steps between each element of a task and shows how they're connected, allowing employees to see why they need to be performed and what could happen if they aren't. This reduces the occurrence of on the job mistakes, improving employee productivity, and streamlines work processes, as every aspect of every task of a job is clearly laid out.
To identify skills gaps. As well as identifying what steps are involved in each task, a job tasks analysis can be used to identify skill gaps on an individual and organizational level.
To highlight appropriate resources. Job tasks analysis can also highlight what resources are needed to enable an employee to carry out the task. Determining what needs to be done is only half the job, providing the tools to allow an employee to successfully do the job is the other half.
To ensure legal and professional compliance. There are some employment procedures that are required and regulated by the state or country, and failure to adhere to these regulations and requirements could result in fines or penalties. Carrying out a job tasks analysis not only helps avoid these penalties, but it helps you stay current with any new legal requirements under EEOC laws as well as providing proof that your hiring processes are done properly.
To develop and provide appropriate training. By identifying what needs to be done and what resources are required to get the job done, a job tasks analysis can also be used to help develop your training program to ensure that all staff are aware of what their job tasks are and how to use the resources provided to fulfill them effectively.
To write job descriptions. The job description is the foundation on which you recruit, hire, conduct performance evaluations, and promote employees. An accurate and valid job description is essential to ensure you carry out fair hiring, as well as be able to accurately assess the rigors and demands of the job and attract suitable candidates.
To update job descriptions. Jobs and their individual tasks don't remain the same in perpetuity. A job tasks analysis can be used to update and improve your existing processes or procedures and job description to attract the top tier of candidates.
A job tasks analysis not only highlights where more training is required, it will also make it clear where processes or procedures are outdated or not, making best use of the resources or technology that you have available. In fact, a job tasks analysis could even be used to help you determine if business goals or objectives are still being met.
Beside compensation, job details and qualifications are the most important parts of the job description according to job seekers. A job post based on a thorough job tasks analysis will give your potential candidate an accurate overview of the responsibilities.
Steps to conducting an effective job tasks analysis
Effective job tasks analysis requires the collection of data followed by the analysis and interpretation of it. To do it well is a skill in itself.
What information do you need? Where should you start? Who do you need to talk to?
Here are our suggested steps to conducting a job tasks analysis.

1. Identify the people in the know and interview them
Identify knowledgeable, experienced employees to interview. These are your go-to employees, the people who do the job, who have a history of working in the area, people who have actually done the role, people who understand the industry best practices.
They might include the current person in the role, their peers (who may see something the employee does not), as well as the employee's manager. Then proceed with conducting structured interviews to get to the bottom of the role.
Find out about the who, what, when, and why of the role. You basically want to know – what are the day-to-day undertakings of the role and what does someone need to do to be able to perform each job task?
Prepare for the interview by reviewing any existing documentation about the role such as previous job descriptions, existing onboarding instructions, or similar advertised roles on major job sites. You want to get answers from people who actually do the role on a daily basis, not just from managers or HR, as frequently they won't know the ins and outs of each particular role. They'll just get oversight of the output, not the actions or behaviors that go into producing it.
2. Conduct observation of the job
Job shadow the employee in the existing role. Observe them when they perform the job. Doing this will help you get a realistic picture of what the job's daily activities look like.
You might also identify tasks pertinent to the role that the current employee might not be aware they do. If you already know what tasks are involved in the job, monitor the duration of each task too.
3. Use questionnaires
Either open-ended or structured questionnaires regarding job responsibilities work well, or you can use a combination. Distribute these to current employees and ask for them back in a timely manner. Analyze the answers to help you define the job tasks.
Stop guessing,
Start data-driven hiring.
Learn how you implement a modern candidate selection process, that is: streamlined, experience-driven and backed by data.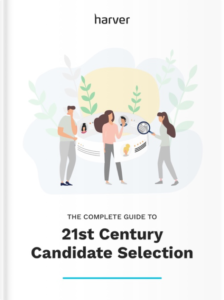 4. Ask for a work diary/log
If you don't have time to shadow employees, or if the job is incredibly complex, it might be easier to ask current employees to keep a work diary or log of their activities instead, to get a better understanding of their day-to-day tasks, responsibilities, and skills and knowledge applied.
Make sure that the employees understand the purpose of keeping such a diary and that it's not keeping too much of their time. If they already have logs of their activities for time-tracking purposes, you can ask to reuse those.
5. Collect additional information
Don't rely only on internal resources to do your job tasks analysis. Check out external resources too to gather extra information on the role in question.
You can use O*NET Resource Center's database of jobs to check how they define the skills, competencies, and responsibilities of the job you're analyzing, for example for Customer Service Representatives.
Also, check similar roles your competitors have, review their job postings and employees on Linkedin. If it's a new role, collecting this kind of information and talking to the hiring manager and the team is your best bet. Finding out what competencies or skills employees are required to have to fulfill the role would fit in here, i.e. writing, customer focus, teamwork, etc.
On O*Net website, you can find typical tasks for common roles, including their importance to the role. These are common Customer Support Representative tasks.
6. List the known duties of the role
Based your findings, start listing down the tasks and responsibilities of the role. What are the day-to-day functions? What were the responsibilities listed when the current employees were hired and how have they subsequently evolved?
Be thorough in the information you write down. Don't just list the responsibility i.e. 'produce weekly report'. Also include the tasks and subtasks involved in fulfilling the responsibility, i.e. 'gather data from 4 different departments, then check data using X tool to ensure its accuracy and chart the results against Y report and determine answers'. If you don't dig down into the details, you won't give an accurate representation of what is actually required to carry out the role.
7. Verify your findings with current employees
After you've collected information from all the above-mentioned sources and have put your findings together, verify them with the current employees and hiring managers to make sure that they accurately represent the role.
Compare the results (if you can) with other companies that have similar roles – do the job descriptions sound familiar?
8. Start defining your selection criteria and employee selection methods
Once you have a clear overview of what the role entails and what employees need to succeed in it, you can start setting clear selection criteria. Basing them off of your job tasks analysis will help you make sure that the criteria are job-related and objective.
Also, by knowing exactly what you need to look for in your candidates, you can define the most suitable employee selection methods to include in your recruitment process. For example, if you find out that the role requires strong critical thinking skills, you can test logical reasoning and other cognitive skills in an online cognitive ability assessment and prepare a couple of interview questions focused on this competency.
9. Formulate the job description
Only after you've carried out a thorough job tasks analysis will you know what the exact job tasks are, what skills and competencies are required to be successful in the role and how you will assess them, can you formulate a job description.
Then, based on the job description, you can create job ads to start attracting candidates. Tailoring them to highlight the essential duties of the position, the equipment, technology, and software used to carry out the role as well as determine the minimum job requirements to fulfill the role. These can include minimum education requirements, qualifications, certifications as well as the necessary work hours.
Over to you
Job tasks analysis gives you the power to not only improve your recruitment and selection process, but it also ensures your employee experience is more transparent. It may take time and resources to carry out, but a full job tasks analysis is an incredibly effective process that could be beneficial to help your recruitment efforts.
It could also ensure you're up to date for setting KPIs, promotions, and up-, cross- and reskilling your workforce. You'll know you've undertaken a thorough job tasks analysis when you have a comprehensive list of role responsibilities and tasks as well as a list of competencies required to carry out the job successfully.
Stop guessing,
Start data-driven hiring.
Learn how you implement a modern candidate selection process, that is: streamlined, experience-driven and backed by data.