Talent professionals always want to find the best person for the job and the organization.
Organizational or culture fit has been gaining importance in recent years but assessing for job fit is no less vital.
If a job isn't a good fit for a candidate, at the very least, they'll get bored. According to a survey by Korn Ferry, 1 in 3 professionals change their jobs due to boredom. A further 24% of those surveyed left their positions as the culture at their current job didn't fit their values. The most interesting part of the survey, however, was that only 19% of those surveyed said they were leaving in pursuit of a larger salary.
Figures like this paint employers an intriguing picture—candidates now want an engaging job that fits their skills, ambitions, motivations and values, not necessarily one that just pays a lot. And that's where job fit comes into play. It can help you assess candidates based on a mix of experience, environment, and values.
In this piece, we're going to take a look at what exactly job fit is, and how you can conduct a job fit assessment to make better hiring decisions.
Subscribe and stay up-to-date with everything recruitment related by receiving a weekly content digest and email updates on new resources!
What is job fit?
Job fit is where a candidate is assessed based on their hard and soft skills, strengths, experience, and needs relative to the job in question. It looks at the requirements of a particular job, environment, and values and weighs whether or not a candidate is a good match.
Job fit also measures if a person can not only get the work done but form relationships at your company that will keep them motivated and working productively. The idea behind this is that no matter how well qualified and experienced a candidate is, if they can't build productive relationships within a team—they're unlikely to be a top performer.
Because of how encapsulating job fit criteria can be, there are a lot of factors that can influence an eventual hiring decision beside the skills and knowledge needed for the job. For example, certain personality traits can predict whether or not a candidate will be content or possibly become bored if you hire them for a particular position. Other factors, like a candidate's assertiveness, are good predictors of how suitable they are for jobs like managerial roles.
The hard part about assessing job fit? Making sure you obtain the right information about your candidates and evaluate them against relevant, job-related criteria before you make a job offer.
Why should you care about job fit?
Obviously, you need to make sure that a candidate can actually do the job you're filling before you hire them. However, job fit is more than uncovering candidates who have the necessary skills, experience, and motivation to perform well in the role.
It can also indicate how productive, engaged and happy a candidate will be in their future job role. In turn, job fit can help improve retention and decrease turnover within your team. However, if you fail to take job fit into account during the hiring process, you risk hiring employees that will be unhappy and unfulfilled in their roles and leave prematurely.
Hiring a poor job fit poses a risk of employee disengagement. The other forces of disengagement are misalignment with manager, with team, and with culture.
How can you best assess job fit?
1. Get a thorough understanding of the role
The first task in building a job fit strategy is to outline and understand precisely what you want out of a candidate in a role you're trying to fill.
You need to do a job analysis that looks at the content of a role, its responsibilities, and the skills a candidate will need to succeed. Conducting a job analysis involves answering questions like:
What are the day-to-day functions of the role you're analyzing?

What are the main goals and KPIs for this role?

What specific skills and knowledge does an employee need to perform well in this role?
What are the possible career paths for this job?
Through conducting a job analysis, you can get a better understanding of what the role entails and what an ideal candidate profile is like. It also allows you to set your job fit selection criteria and help you see if the role you're offering fulfills your candidates' needs.
As a part of your job analysis, look to your current team and ask them what a fresh candidate would need to succeed in the job you're hiring for.
Nobody knows more about the job you are trying to fill than the people who are currently doing it. You can ask your existing employees about their challenges, career paths, and team structure to give you a better understanding of the day-to-day realities of the job role. You can ask them questions like:
Are your skills being fully utilized?

What did you expect the role would be like and how have these expectations been fulfilled?

Are you able to produce your best work in your current environment? If not, why?
You can use this information to create job ads that realistically outline the responsibilities, day-to-day tasks, and must-have and nice-to-have hard and soft skills that you expect a candidate to have. This kind of transparency in your job postings will help you attract more potential job fits, as the candidates are aware of what is expected from them from the very start of the recruitment process.
Employees across different industries have varying levels of job match. In fact, as many as 49% of workers in the UK might have a different skills level than their current job requires, which could indicate a poor job fit.
2. Use the right pre-employment assessments
Apart from interviews, pre-employment testing is one of the best ways for job fit assessment.
There's a reason why 71% of companies featured in Candidate Experience Research Report use pre-employment assessments—they work.
These assessments can help recruiters see exactly how candidates think and solve problems. For example, if you know a candidate needs strong critical thinking skills for a particular role, you can assess these through a cognitive ability assessment with a focus on logical reasoning and check the results before moving their application forward.
Moreover, you can utilize situational judgment testing (SJT) in your hiring process. These tests assess a candidate's behavior by presenting them with realistic scenarios they could face each day in the job. They will then be given a range of options to choose from so you can see what they would've done to solve the problem if they were eventually hired for the role.
This type of assessment also allows candidates to assess job fit from their side – can they see themselves doing the job? If not, this is the right moment for them to de-select themselves from the recruitment process.
Stop guessing,
Start data-driven hiring.
Learn how you implement a modern candidate selection process, that is: streamlined, experience-driven and backed by data.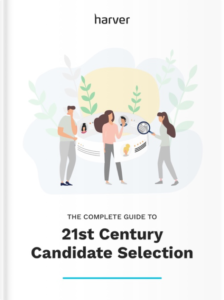 3. Develop a good interview process
Interviews are a popular method for job fit assessment. To create unique interview questions for the upcoming interview process, you can use the information gained through the job analysis.
Ideally, your interview should be structured and consist of a mix of traditional and behavioral questions that relate to specifics of the job role as well as what environment the candidate wants to work in.
Your interview process can also include a work assignment or a task to complete, based on typical tasks a candidate would perform in the role. What's a better way to assess a job fit than letting the candidate actually do the job?
Make sure that this practical task is truly representative of the job responsibilities and that it comes in the later stages of the recruitment process.
Finally, don't forget that in the ongoing situation where face-to-face meetings aren't always possible, you need to have an efficient process in place to conduct remote interviews for evaluating job fit.
4. Evaluate candidates' motivation
Motivation is one of the single most important factors when it comes to assessing job fit.
If a candidate is motivated to do the job, it can not only keep boredom at bay, but they will be less likely to leave a job purely for a bigger pay packet. On the flip side, it's essential to know if a large salary is a motivating factor for a candidate applying for a role at your company.
The first step is to question them: What is your motivation for applying for this job position?
Then, dig deeper. Ask questions about what they want their day-to-day life to look like if they were to come and work for you. Question the candidate about their work ethic, job flexibility, social behaviors and ability to work within a team. Digging deeper into a candidate's motivation for applying for the job can shine a light on whether or not they'll eventually be happy in the job.
Good job fit also means that the employee is willing to work on their skills while on the job.
5. Focus on long-term perspective
Candidates are increasingly aware of their career paths. And if they don't see one at your company, it'll be an uphill battle to convince them to come and work for you.
Ask yourself; Is the candidate going to thrive in the role long-term? And if their responsibilities change, do you have internal mobility programs in place to help retain them? Then, get a sense of what the candidate is looking for from the job by asking them what they would like to learn throughout their career. Simply ask them: What are your long-term goals?
Asking this simple yet revealing question during the hiring process is critical, says career coach and author Julie Jansen.
"A lot of people think of goals in terms of career progression," she says. "But employers aren't asking whether you want to be promoted when they're asking about your goals."
Understanding what a candidate wants in their career trajectory can reveal whether or not they'll be a good fit for the role. Hint: if they're only working in the industry as a stepping stone to another career, they'll likely be distracted by their real long-term ambitions. If you can figure this out during the hiring process, it can stop you from investing time and money into an employee who sees themselves working in another role or industry altogether.
6. Make sure job fit and organizational fit complement each other
Finally, it's important to recognize that you don't have to decide between hiring for job fit or organizational fit.
Ideally—you'll hire a candidate who is both. Keep that in mind when you're designing your selection process, so you hire in a way that allows you to assess both and make the best hiring decisions. Assessing a candidate's organizational fit alongside job fit will make sure they have the skills needed to collaborate with the rest of the team and will also thrive within your company culture.
And organizational fit becomes especially important when you're hiring for a managerial position. As Forbes points out, up to 50% of employees who leave their jobs point to management as the reason they walked out the door.
"People might join a company for the compensation, growth opportunities, or mission, but they frequently leave because they don't have a good relationship with their manager," Jack Altman writes. "Unsurprisingly, the manager relationship is highly correlated with employee engagement."
This makes assessing soft skills an increasingly important task for recruiters. As Hays recruitment agency CEO Alistair Cox explains, innovative products, tech, and expertise are all essential ingredients when hiring—but recruiters now need to look further.
"In my experience, it's a team supplemented with rich soft skills that give a business a competitive edge."
"With an emphasis on up-skilling specific expertise in recent years, a lack of focus on vital inter-personal skills and a dearth of good training in this area is now apparent within many businesses".
"Training will only get you so far though; change needs to come from the top and become a part of the culture."
A perfect job fit without organizational fit can result in an unhappy, disengaged employee.
7. Make your job fit assessment a two-way process
Job fit isn't only about you as an employer determining whether a candidate is suitable for the role. It's also about the candidate being able to see for themselves whether the job would fit them.
As we've already mentioned, you can start by improving your job postings. Don't focus just on the requirements but rather, be detailed in describing what the job entails and what it's day-to-day challenges are. For example, you can outline a typical day in the life of a particular role would look like. This will give the viewers of your job ads a better idea of whether or not they have what it takes to do the job.
Realistic job previews in a video format and situational judgement tests are also good ways of letting the candidates decide if they like what they see and if they can see themselves working in the role.
In your interview process, make room for the candidates to ask questions about the role, for instance, by giving them a chance to meet their potential teammates. These people can provide your applicants with more details about the job and, again, it helps them self-assess their job fit.
To sum up, be realistic with your candidates about the responsibilities of the job in question throughout the recruitment process and give them multiple opportunities to find out about the duties, tasks and assignments the role entails.
Now—it's your turn
Assessing for job fit requires a deep understanding of the position and then centering your efforts on figuring out how each candidate could fit.
Yet it takes more than looking at a candidate's skills and experience to know whether or not they'll be a good fit for your team. A successful job fit strategy will incorporate the right interview questions and test your candidates in real-life scenarios using pre-employment assessments. Finally, it will balance hard and soft skills while always linking back to whether the candidate's motivations and values match that of your team and your company.
All of the hard work that goes into building a job fit strategy pays off. When you hire the perfect job fit, you'll find a productive, enthusiastic employee who is likely to stay with you for some time!
Ready to transform your hiring process?