Remote interviews are becoming more and more prevalent, especially during and post the COVID-19 pandemic. And they differ from regular face to face, on-site interviews – the likes of which you'll have encountered in your career to date.
As the name suggests, remote interviews are conducted without the candidate and interviewer meeting one another physically – they are geographically separated from each other, the interview happens either via voice call only or most often also includes video and other tools.
With the need to maintain social distancing, remote interviews are fast becoming ubiquitous, meaning you need to take practical steps to make sure yours run smoothly.
So how do you conduct effective remote interviews? If you're new to remote interviewing or want to improve your process, read on.

What's in?
Subscribe and stay up-to-date with everything recruitment related by receiving a weekly content digest and email updates on new resources!
1. Review your current interview process
If you're switching to remote interviewing, now is a good time to review and streamline the process you already have. Is it effective? Is it structured? What can you do better?
For a lot of companies, hiring isn't a dedicated process, it's a bunch of meetings with potential employees. But you're not just meeting another person, you're gathering evidence to decide if that person has the necessary skills, values and cultural fit to carry out a role at your company.
Therefore by turning your adhoc recruiting efforts into a structured recruitment and interview process, and ensuring that everyone involved is trained on it, not only maintains consistency throughout the entire hiring process, but it results in a more accurate and reliable hiring decision.
Also, pay attention to how you're shortlisting candidates for your interviews.
Now more than ever, online assessments are important to help you narrow down your candidate pool. Without being able to meet and speak to people in person, it is essential to make sure you can assess applicants for the skills and competencies they need in a remote setting. 80%
of recruiters have been using video in the interview process in the COVID-19 period.
Source: Jobvite
If you want to ensure recruitment continuity even when it's not possible to meet face to face, it's time to improve your remote interviewing process.
2. Get the right tools
When remote interviewing, having the right tools is key to success.
Are you going to stick to phone calls? Or are you going to conduct one-way video interviews, live virtual interviews, or both?
Meeting the candidate face to face, albeit over a screen, is infinitely better than just having a phone call, as it allows you to gauge various non-verbal cues (more on that in point 6).
While you could use video platforms such as Skype, Zoom or Go-to-meeting to host the interview, there are dedicated remote interviewing tools that offer you additional functionalities for efficient recruiting, like embedded evaluation forms and simple interview recording. If you plan on conducting interviews that include whiteboarding, you can find a tool with that capability.
In short, carefully analyze your needs before you select an interviewing tool.
Also, make sure that your virtual interview software integrates with your ATS and is compatible with mobile devices.
3. Educate yourself about remote interviewing 'etiquette'
You want to show all potential candidates that just because the interview is remote, it is no less professional than if you were to meet in an office. Be just as engaged in the conversation, so get rid of all potential distractions by finding a quiet space.
If you have a lock on your door, use it –

you don't want this to happen to you

.

Turn your notifications off on both your phone and your computer, or at least silence them.

Even if you're WFH, dress the part – look professional and take the interview seriously.

Remove any obvious clutter from your desk such as children's toys and other personal items.

Keep your background neutral and businesslike, you don't want to distract the candidate either.

Think about lighting – you don't want light behind you, turning you into a silhouette. Instead, position yourself so you have natural light in front of you.

Because you're not physically with the person, you might miss the cues that they've finished talking, so to minimize talking over each other, leave a couple of seconds before speaking.

And to prevent any last-minute faff or worry that you're not set up correctly, have a test run to make sure everything works for you. Ask a colleague to call you on the medium you're using to conduct the interview to make sure that everything works OK – your camera, your microphone, or even your phone line.
4. Develop a process for remote team/peer interviews
You will most likely need to involve multiple people in the remote interview process – hiring managers at the very least. Also, your candidates want to meet their potential colleagues. So have a standard process of how this could work and make sure that everyone knows when in the interview process this will take place. If the peers aren't usually in on interviews, educate them about how to do remote interviews and let them know what the agenda is and the order of events. 49%
of candidates say it would be valuable to video interview with a member of the executive team.
Source: Lighthouse Research & Advisory
Involving execs into the interviewing process, especially for more senior roles, has a positive effect on candidate experience and engagement.
5. Communicate the interview details
When remote interviewing, it is better to over-communicate – this may be your hundredth remote interview, but for the candidate it might be their first and the tools that you're using might be new to them.
So give all of your candidates the same information and let them start off on the same foot.
Let the candidates know about the interview before you start:
When the interview is.

Who it's with (include every member of your team who will be in on the interview).

What platform you're going to be using (and how to use it).

What the candidate needs to prepare beforehand (if they need to prepare something).

Will you just use audio or will you require video?

Do you need to screen share with them or vice versa?

Y

ou can even include some remote interview tips (like find a quiet space, minimize distractions, etc.)
The more information you give candidates about what they can expect from the interview, the easier it will be to assess them solely on their relevant skills and experience, not their ability to use remote interviewing technology, nor how they react to surprises.
Stop guessing,
Start data-driven hiring.
Learn how you implement a modern candidate selection process, that is: streamlined, experience-driven and backed by data.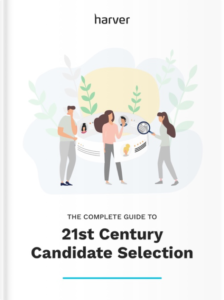 6. Keep your focus and listen actively
When you're holding your remote interview over Zoom, for example, it's not your imagination, it is harder to focus without face-to-face communication, video chats require more concentration.
Every time we communicate with someone, a friend, a colleague, only a tiny percentage of what we communicate is verbal. The vast majority (70-93%) of what we convey is through non-verbal communication, where the meaning is innate and instinctive for us.
Things such as body movements, facial expressions, eye contact, hand movements, body posture, even tone of voice, carry depth and create meaning for the words we are saying.
When remote interviewing, most of these non-verbal cues are not easily observable, making it harder to communicate – so you really need to listen actively to what the interviewee is saying.
Try and treat the interview as if you were conducting it in person and think about your body language – sit up, lean forward, smile when appropriate, demonstrate that you're engaged in the conversation. 56%
of managers assess culture fit by observing behavioral cues during an interview.
Source: Kelly Services
Listening and observing actively will help you gauge organizational fit of your interviewees in a remote interview.
7. Take time to introduce your company culture
Your candidates might not have the opportunity to see your office and meet your team. Or maybe you don't even have an office. So make sure candidates don't miss out on finding out all about you.
Give them background introductions, tell them about your company culture, what values you hold. Share stories, examples, references to what you mean by your culture – don't just state the values that you hold, explain the behaviors that you expect employees to demonstrate for each value and give candidates best practice examples to help them understand what you mean.
Trying to understand a company's culture when you can't experience it firsthand is tough for anyone, so build a picture for the candidate.
8. Make it a two-way conversation
Like any job interview, a remote interview is a two-way conversation. It isn't you on send for an hour. Give candidates enough space to ask questions – actively encourage them to ask.
You might think it's difficult to assess if a candidate is a match remotely (if you're new to remote hiring) but bear in mind that it is just as difficult for the candidate to picture themselves as an employee in your company, if they haven't had the chance to look around and meet you and your team in person.
Interviewing remotely is just as much a risk for the candidate as it is for you, so provide plenty of opportunities for candidates to ask questions and be ready to give answers.
You could even preempt potential questions that they might ask and if they don't ask them, you could pass on the information anyway. The more you can find out about one another, the easier the remote interview will be.
To help keep the conversation flowing, treat the remote interview like a regular interview and make sure you have your notes to hand – you'll want both a list of pre-determined questions as well as the candidate's resume in front of you. 34%
of candidates indicate that a video interview lasting over an hour feels too long.
Source: Cammio
When designing your remote interview process, consider the length of the interviews. As video chats require more concentration, they might become tiring faster than face to face conversations.
9. Keep the team aligned
When you're hiring, it isn't something that you do in isolation from the rest of the team. Make sure your whole team is involved and kept up to speed with where you're at throughout the whole process.
This is so the interviewing process is continually moving forward – the last thing you or the candidate wants is for anything to cause the hiring process to stall. Job hunting is stressful enough without introducing unnecessary delays into the equation.
Make sure every team member is aware of how many rounds of interviews there are and who is involved in each one, who is responsible for them, as well as what is required from all interviewers for each one.
Also, make sure everyone knows who is ultimately responsible for the hiring decisions.
What are your deadlines? Create a timeline or hiring schedule to ensure the hiring process runs smoothly and timely. Strong remote collaboration between all parties will mean you can be confident your remote interviewing goes to plan.
10. Have a plan B ready
Remote interviews rely on technology. And technology can also fail. So have a plan B in case something goes wrong.
For example, if the connection fails – make sure you have the candidate's phone number so you can easily switch to a phone call from a virtual interview, should the need arise; or have a system set up so you can reschedule for the first possible opportunity.
The reason the connection was lost could be as simple as a battery dying on a computer or a smartphone, so give the candidate time to switch devices or to plug their existing device into a power source before you try to reconnect. And don't hold any tech issues against them – they may not have fast internet or the most modern devices at home.
Over to you
Remote interviews can be an effective employee selection method if conducted right. But remember that you'll need to pay extra attention to building connections with your candidates as you have to do it without actually meeting them face to face.
Developing a structured interview process, making it a two-way, informative conversation, focusing on candidate communication before and after the interview goes a long way in conducting productive remote interviews.
Stop guessing,
Start data-driven hiring.
Learn how you implement a modern candidate selection process, that is: streamlined, experience-driven and backed by data.