Even before the COVID-19 pandemic turned the global economy upside down, experts pointed to concerning skills gaps as potential speed bumps for future hiring. From AI and technology to home health and medical specialists to a historic shortage of truck drivers, hard-to-fill positions run the gamut of industries:
Financial advising
Data science
Home health experts, medical management, and registered nurses
Truck drivers and shipping specialists
Information technology and cybersecurity specialists
Managerial positions, particularly in food and beverage
While the impacts of the pandemic have battered countless industries over the course of the past year, many of these positions remain in demand and difficult to recruit for. In fact, many have become even more essential. Shipping specialists and support, including roles related to warehouse work, saw demand spike over 20% in just a few months. IT specialists and the public health sector have also been highlighted as more essential — and hard-to-fill — than ever before.
These companies aren't the only ones left wondering how they'll find the talent to move into the future. Read on to learn about the qualities that can make a position hard to fill, and the tips and tricks to help you stand out to candidates and find a terrific match.
Subscribe and stay up-to-date with everything recruitment related by receiving a weekly content digest and email updates on new resources!
What is a hard-to-fill position?
A hard-to-fill position might seem self-explanatory: these are the jobs that keep recruiters up at night, the positions that really challenge us to find a perfect fit. But what is it about these jobs that make them so tricky?
In Payscale's recent Compensation Best Practices Report, 59% of respondents reported having positions available that had been open for at least six months — or longer! There's a variety of reasons that these jobs proved tough to fill:
The physical location, workplace, or coverage area was not appealing to candidates
Company culture was a difficult match
Lack of a competitive salary or otherwise low compensation/benefit offerings
An overly specific, too narrow, or impossibly broad job description
Candidate scarcity: lack of necessary training, talent, or qualifications in the given field
Weak or compromised employer positioning/branding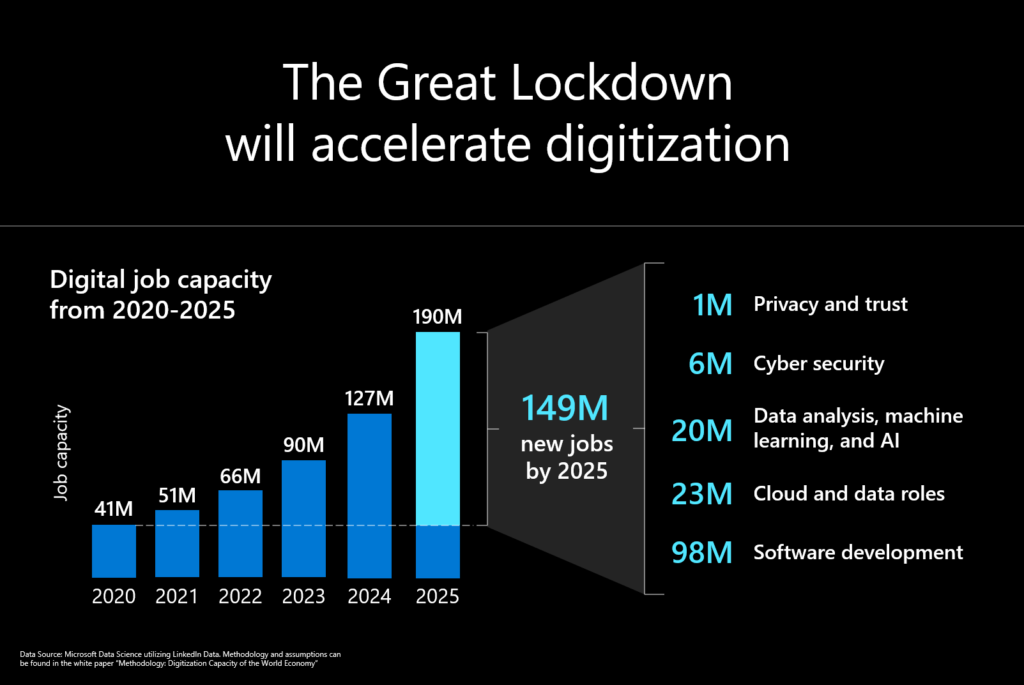 The current situation will speed up the growth of digital jobs and if no action is taken, also make these roles even harder to fill.
Just because recruiting for hard-to-fill positions is difficult, it doesn't mean it's impossible. So what can you do to succeed?
1. You'll need a strategy
By crafting a strategic recruitment plan, you prepare yourself and your team for the specific challenges of each step of the hiring process suited to your hard-to-fill position. This proactive recruitment strategy can save time and money, help to avoid making costly mistakes, and optimizes your team's resources.

A strategic recruitment plan creates opportunity beyond finding a great fit for a given position: it's a chance to align company goals and skills gaps with your team's overall future hiring initiatives. Evaluate your hard-to-fill job in the context of the coming year, and consider the upcoming recruitment calendar, tracking and assessment tools you'll use, budget details, and management strategy, too. This is certainly a case where the devil is in the details!
2. Craft an accurate, compelling job description
The contemporary job search is much like any other consumer marketplace: candidates seek a seamless, positive shopping experience supported by great branding and a high-value product. When it's time to put your hard-to-fill job in front of potential talent, the first step to catching their attention is in the job description.

Be compelling, inclusive, and above all, realistic. Readers don't appreciate a long list of skills and experience qualifications required. Instead, share what your company has to offer, and clearly communicate your mission, values, and the unique benefits of working with your organization. While the specific requirements for a given role are essential, don't forget the special perks, social responsibility initiatives, and challenging projects that make your company unique.
If your company policy allows you to do so, share the salary range/compensation you're offering. 61% of job seekers say that compensation is the most important part of a job posting.

Remember to use positive language and show your company's personality, too!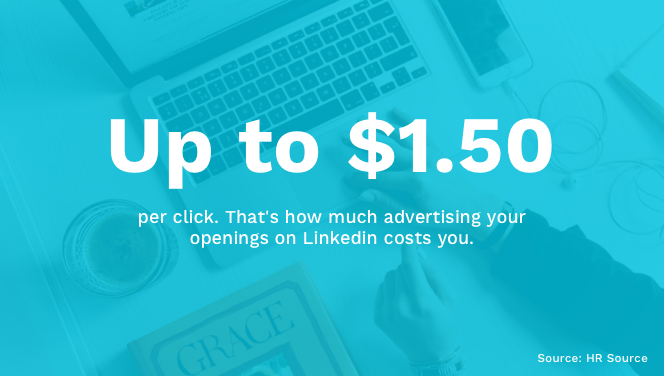 Advertising your roles on Linkedin isn't cheap, that's why you should make your job postings as effective as possible.
3. Go native
One of the most common issues with hard-to-fill jobs is specialization. The perfect candidate must possess a skill set that is specific, unusual, and scarce in the general marketplace. To find this talent, lean in on more flexible recruitment methods: explore niche communities, special interest websites, and targeted online job boards. These spaces have been created to help their unique members build networks relevant to their field of specialty, and it's just the network you need.
Cash Nickerson, President of PDS Tech, Inc., says it well:
"My best tip for this comes from the old TV show, 'Mutual of Omaha's Wild Kingdom.' It studied animals in their natural habitat. Humans live and work in social habitats. To recruit for a hard-to-fill job, you need to find the work and social habitat where these people are. There is simply no substitute for finding someone who does that job currently and asking them the following questions: 'How do I find someone like you?' 'What associations or work-related clubs have you joined?' 'What was the last trade association conference you attended?' 'What search string would you use if you were looking for someone just like you?' For the cost of a drink or lunch you will crack the code for finding the talent for that hard to fill requisition."
4. Look within
Perhaps the hiring challenge with your role isn't scarcity at all — it could be quite the opposite! Sometimes, the most complicated jobs to fill are so new that no one has ever held a position quite like it.
For new and emerging roles at your company, it's time to get personal and look within. The internal understanding of your business and knowledge of your existing culture and processes are key to informing the big-picture goals of talent in this type of role. If you've already worked to disperse specialized knowledge and training among your team members, all the better. If not, upskilling with a qualified internal candidate is certainly a quicker, more efficient route to finding a fit than an external search.
If you haven't been working to encourage cross-functional training and internal mobility, this could be a great time to start. In addition to providing extra support and ease for day-to-day coverage, a little extra mentoring can go a long way in planning for talent succession and turnover.
Internal talent pools can be a great resource for filling specific positions. You need to work on your internal mobility and internal recruitment programs to enable this.
5. Boost the brand and the benefits
Today's recruitment landscape is fundamentally multifaceted. Candidates want to connect with their roles beyond a paycheck and look for companies that cater to their lifestyles, interests, and values.
Building a strong employer brand that communicates what it's really like to work at your organization can help your hard-to-fill job stand out to strong achievers in a sea of other choices. Bolster your recruiting strategy with tools that connect directly with talent: employee-referral programs, dedicated brand ambassadors, social media channels, and content marketing are all great brand-building methods.
While culture fit is a must, what you're offering to your employees in terms of compensation is just as important. Note that modern compensation is about more than cash — today's job seekers display deeper interest in total rewards, and your rewards package can play a major role in building your employer brand. Susan Hollingshead, Chief People Officer at Vendini, describes modern compensation as a "craft cocktail:"
"Nowadays, compensation is a craft cocktail of cash compensation, incentives like stock in various forms, perceived opportunity for growth and development, lifestyle options like work-from-home and commuter subsidies, and benefits package. But there's a critical social nexus as well — how important is the company's mission and its social responsibility profile to the candidate? For some candidates that may outweigh or certain weigh in against cash and benefits, even against lifestyle options, or be seen as part of those lifestyle options."
Find Susan's full interview here.
6. Break down bottlenecks
Whether it's one-click ordering or curbside pick-up, easier is better in the world of shopping — and that applies to the job market, too. What can you do to eliminate frictions and make it easier for someone to sign on to your team?

Examine your current hiring process carefully. Is time-to-hire unnecessarily long for any reason? Does talent have easy access to the tools and information they need? Can you streamline your interviews, or perhaps your approval process?

The Wisconsin Workforce Development Board made recent headlines by steamrolling hiring bottlenecks with a drive-through job fair. Nearly 700 companies and 4,000 job seekers from across the state participated in the first event, and more have followed with comparable success. While a drive-through isn't likely the best strategy for your company, remember that there's always room for innovation and improvement in your hiring process. Seize the opportunity!
Skills shortages are a common problem nowadays. Creating a proactive recruitment strategy will help you tackle these.
7. Persist, persist, persist
While innovation and branding can help to position your talent search for success, there's just no substitute for patience. Call, connect, and communicate. Recruit relentlessly. Dig into your talent pipelines, both large and small.

Networking skills and exceptional effort are essential to any recruiter's success, especially in the case of hard-to-fill jobs. Don't let the roadblocks of remote work and "the new normal" hold you back — virtual recruitment strategies are seeing success spike, resulting in large numbers of new hires hired in a fully remote way.
According to a new study from staffing firm Robert Half, 75% of senior managers surveyed reported that their companies conducted both interviews and onboarding sessions via virtual tools within the last few months. Over half of these teams only started reaching out with these strategies since the start of Covid-related office closures.
In parting: There are no tricks
While it would be terrific to have a secret recipe or step-by-step success plan for filling the toughest jobs, it's unfortunately not that simple. We refer to these positions as "hard-to-fill" because the task is just that — challenging. Even the most experienced recruiters need to leverage their best networking skills and most creative solutions.
Of course, there's never a substitute for hard work.That said, by building a plan with a little strategy and a lot of persistence, you'll find the journey might not be as tough as you'd expect!
About the Author: Jonathan Hill is the Chairman and CEO of The Energists, a specialist recruiting and executive search firm operating in the energy industry. He has 25 years hands-on operational experience in the upstream industry within the geoscience, drilling and formation evaluation domains. Prior to The Energists, he was VP Marketing & Technology at Schlumberger. Jonathan brings to bear extensive experience in start-up, turn around, divestiture and M&A phases of the business evolutionary cycle in companies of all sizes in various markets around the world. Jonathan holds a double major BS (Hons) in Applied Geology and Business Operations, is a member of the Society of Petroleum Engineers (SPE) and has served on the technical subcommittees of the Aberdeen and Dhahran chapters of the Society of Petrophysicists and Well Log Analysts (SPWLA).