Any business that hires hourly workers will know that it's not always easy to find good, hardworking, and reliable team members. Never more so than today, when there are 82.3m hourly workers in the US, representing 58% of the workforce.
Hourly employees play an essential part in many industries, most notably, retail, hospitality, contact centers, warehousing, and manual labor.
But, as the global pandemic continues, the labor market is changing and facing many challenges. Consequently, it's never been so crucial for your hiring strategy to be on point–that's if you want to hire the best hourly workers.
Subscribe and stay up-to-date with everything recruitment related by receiving a weekly content digest and email updates on new resources!
Current challenges
In today's uncertain world, hiring managers have to tackle a variety of hurdles.
Here's just a few:
Pressure on managers to hire new, qualified workers fast next to their regular duties.
Different types of candidates applying from diverse professional backgrounds. So, more time is spent sifting through suitable candidates.
Budget cuts (especially if your business has suffered a downturn during COVID-19).
High employee turnover. The average annual turnover for hourly workers is 49%, costing almost $5k per employee.
Increased competition amongst local businesses to hire hourly workers as the gig economy grows
Economic uncertainty during COVID-19 – particularly in non-essential retail and hospitality where there's a need for hourly staff. But businesses may be forced to close again if we go back into lockdown.
Companies operating at reduced capacity still need experienced, skilled hourly employees, not just bodies.
Suppose your company is facing any or all of the above challenges. How can you hire hourly workers that suit your company culture and get the job done?
Let's take a look.
Stop guessing,
Start data-driven hiring.
Learn how you implement a modern candidate selection process, that is: streamlined, experience-driven and backed by data.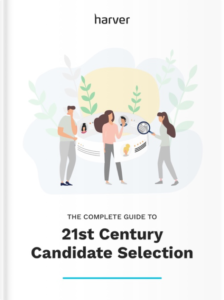 How to hire hourly workers
First off, you need to evaluate the hiring strategy you have in place. If you're unsure where to begin, don't worry. Below, we outline an approach you can adopt to screen, interview, and onboard high-quality hourly workers:
1. Have a clear sourcing strategy
Look at where you typically find hourly workers. Are you missing a trick? You may have always advertised in local newspapers or used word-of-mouth recommendations. But, look at what your competitors are doing. Are they using large online job sites and programmatic advertising? Are they having success with these methods?
Consider using closed Facebook community groups, putting up posters in your physical store/work premises, and posting a listing on Craigslist to advertise your hourly roles. That way, you're increasing your reach.
The same approach you use for finding salaried staff may not work when hiring hourly workers. Similarly, ensure that your sourcing strategy reflects the demographic you're trying to attract. Remember that the largest cohort for this scenario is 16-to-24-year-olds, followed by 24-34-year-olds. So, take that into account when sourcing candidates. Where are they most likely to see and respond to your job ad?
More than 80% of hourly employees work within a 5-mile radius of their home, and your sourcing strategy needs to reflect this. Ideally, your digital recruitment software will have geolocation search tools to pinpoint where candidates live. That way, you can ensure you're hiring local hourly staff.
Overall, be prepared to adapt your employee hiring strategy while still being clear about:
What the job is
The job description
The hourly rate
The skills needed to do the job
Despite the increase in unemployment, sourcing hourly workers has become difficult in quick-service restaurants according to hiring managers.
Other places to source candidates
If you have access to data on former hourly employees who worked for you temporarily and you were happy with them, consider contacting them. You never know, they might be looking for another job!
Also, if you have a bank of speculative applications sent to you when you had no openings, sift through them. See whether there are any suitable candidates for the hourly roles you're recruiting for.
Top Tip: As applications arrive, keep a record of where the best candidates come from for future recruitment drives. With this info to hand, you can further refine your sourcing strategy for more fruitful results.
2. Simplify the application process
The application process doesn't have to be overly complicated for hourly roles. Ideally, you'll ask candidates to send their resume and summarize how they meet the job description's demands.
The longer it takes an applicant to complete a job application, the less likely it is that they'll bother to apply. Suppose you reduce the time your hourly workers need to complete your online job application form by 10%. In that case, it's estimated you'll see a 2.3% increase in mobile applicants and a 1.5% increase in desktop applicants.
Also, ensure your online applications are mobile-compatible so that candidates can apply while they're on the go. Today's workforce expects companies to boast mobile technology, with as many as 58% using mobile devices to apply for jobs.
Use mobile-friendly recruitment software that enables you to create and receive mobile applications. Ideally, your recruitment software will allow you to flip between mobile and desktop while reviewing applications.
Ultimately the less painful it is for applicants to apply to work for you, the faster you'll attract good quality, hourly staff.
3. Build an efficient, digital hiring process
Don't assume candidates will wait around while you sift through applications. They'll likely be applying for multiple hourly roles, and if one of your competitors is faster than you, you'll lose out. Hourly workers send an average of eight job applications before finding a position. Interestingly, 37% say that being hired quickly is the most critical factor when applying for a role. This is followed by pay (33%) and being close to home (17%).
So, ensure your digital hiring tools are efficient enough to quickly respond to all your applicants (this can be automated). As you start to interact with prospective recruits, communicate the different stages of your recruitment process and when they can expect to hear from you next.
Streamlining and automating parts of your hiring process relieves hiring managers from repetitive, laborious tasks.
4. Identify the strongest candidates fast
You need to identify the skills and competencies your candidates need to excel in to thrive in the role you're hiring for.
Once you've established that, you can set up a short assessment to evaluate applicants for these abilities.
Your digital hiring software can help you here.
By using pre-employment screening methods, you'll save yourself time and money. Digitized tests work wonders for weeding out unsuitable candidates from the get-go. For example, you can set customer service/sales/attitude-related tests for retail and restaurant staff and numeric tests for back-office/admin/bookkeeping staff.
Pre-employment assessments also help you identify candidates with the right transferable skills, even if they don't necessarily have direct experience with working in the industry you operate in.
Be sure to also incorporate reference checking into your screening process. So, when you meet candidates for an interview, they can be onboarded quickly (should you wish to hire them).
You could also consider phone screening candidates before inviting them in for an interview. But, more on this in a sec!
Don't forget to grab your free copy of our white paper on the digital transformation of restaurant volume hiring. Learn about:
5. Allow candidates to apply to multiple locations
If your company has multiple sites/restaurants/cafes/stores you're recruiting for, rather than just one particular spot, consolidate your approach. Ensure you incorporate a question into the application process that asks candidates if they're willing to work at other sites and let them apply for these locations straight away too.
Not only does this attract flexible candidates, but you're also equipping yourself with the means to redistribute your workforce where you really need them.
We've explored this topic in the webinar below.
6. Manage expectations
Be transparent about the role by being clear about the following in your job ad and in your recruitment process:
What the job entails
The hours available
Overtime/bonus potential
Your expectations for working weekends/overtime
The potential for career progression
Whether your business is at risk of temporary/permanent closure due to COVID-19
Ensure you're open and honest about every aspect of the job, right the way through the recruitment process. This shows you're a trustworthy and transparent employer, which will attract employees who welcome your honesty.
For example, Macy's Seasonal – Retail Sales job ad clearly describes the physical demands of the role, setting candidates' expectations:
If the role(s) you're hiring for can be used as a stepping stone to a longer-term or better-paid career, say so. Your website can reflect examples of this, where employees started as hourly workers and were promoted to salaried employees.
If, however, that isn't the case, you can still highlight how the role gives applicants the experience they need to move onto the next step of their career path.
You can also emphasize other benefits, such as:
Discounts
Flexible hours
Overtime
Training opportunities
Company referral schemes
It's also worth highlighting anything that may be attractive to the type of candidate who perhaps wants to fit their hourly role around childcare or studying.
7. Make the interview work for you
Develop an effective interview strategy you can adapt for each and every hourly role you recruit for. This involves standardizing your questions and agreeing on a scoring method for the interviewee's performance.
If you're hiring in high volume numbers, it's easy to forget details about candidates after a long day or two of the interviews. A structured approach will help you stay organized.
Apart from the usual "why do you want this job" and "what skills can you bring to the role" type of questions, set some scenario-based questions too. For example, if you're recruiting for a restaurant/retail role, ask how the candidate might handle a tricky and/or abusive customer.
Also, remember to ask open-ended questions rather than just ones that need a yes/no answer. For instance, you could ask applicants to give examples of where they resolved a problem at work or went the extra mile.
If you're unable to meet candidates in person because of COVID-19 or geographic restrictions, use your recruitment software to run video interviews instead.
Such software can help you:
Take a more flexible approach by conducting interviews from anywhere
Save time and eliminate the need to travel
Connect quickly with candidates
8. Onboard with care
During the COVID-19 pandemic, companies need to clarify the safety measures they have in place. For example, if you're recruiting for store/restaurant or any on-site workers, ensure your onboarding materials contain info about the hygiene measures they're expected to follow.
Onboarded workers will also want to know what you're doing to keep them and your customers safe. Typical questions you may be expected to answer, include:
Will they be provided with masks and hand sanitizer?
Are there plastic screens in place in and around cash tills?
Will hourly team members be expected to clean work premises, including toilets?
What types of cleaning materials do you make available?
If a worker feels unwell, what procedure(s) should they follow?
Put yourself in your potential hire's shoes and consider the information they'll want to know. Some of these questions may come up at the interview, so be prepared to answer them at all stages of the recruitment process.
Top Tip: Ensure your recruitment communications reflect your commitment to health and safety. Your website needs to be up-to-date. Your job ads (and other recruitment materials) need to reflect the demands placed on hourly workers during the pandemic.
Ineffective onboarding of your hourly workers can lead to early employee turnover and unnecessary costs.

9. Analytics are your friend
Just as when you hire salaried employees, analytics can help you employ hourly workers more efficiently. Namely, by measuring and monitoring relevant metrics, such as:
The length of time it takes to hire hourly staff
How long it takes candidates to move through your hiring pipeline
The best recruitment channel for the cost
By setting up recruiting KPIs, you can track how you're doing and optimize your process wherever necessary.
Are you ready to start hiring first-rate hourly workers?
COVID-19 has presented recruiters and hiring managers with significant challenges when hiring hourly workers. It's no easy feat at the best of times; however, it's even tougher under the present circumstances, especially when hiring for brick and mortar stores/restaurants. 
By embracing the digital recruitment processes, you'll not only speed up your time to hire, but you'll also weed out unsuitable candidates, identify candidates with transferable skills and potentially save your business money. 
Digitized recruitment methods allow you to adapt your recruitment funnel and keep it moving so that you succeed in hiring top-quality hourly staff (at scale). All the while still providing a great candidate experience. 
Ready to transform your hiring process?