COVID-19 has hit all industries, some more than others.
And the number of jobs in specific industries such as hospitality and travel decreased dramatically, while other sectors like logistics and warehousing continue to hire. All of this means there are lots of people currently looking for jobs outside the industries they worked in before. The best part is that these people can be great hires because they possess some valuable transferable skills that your organization can benefit from.
74% of employers are now prioritizing new hires that have transferable skills, and putting hard, technical skills on the backburner. If you want to join these employers in recruiting candidates with transferable skills, first—you need to know what to look for. And then, how to look for it.
In this article, we're going to look at:
Let's get recruiting 🕵️
Subscribe and stay up-to-date with everything recruitment related by receiving a weekly content digest and email updates on new resources!
What are transferable skills, and why are they important in recruiting?
Transferable skills are skills that a candidate possesses that can be used in different industries, jobs, and circumstances.
Although the meaning of transferable skills varies, they are always skills that belong to an employee, who takes them wherever they go. Whether it's being a good listener or having the ability to work in a team, employees learn transferable skills through experience and working in different environments or tackling different projects.
When hiring new employees, recruiters usually take a look at each resume and check that they have the technical skills needed to fit the role. For example, if you're hiring a software engineer, the first box you need to tick off is making sure they know how to code. You might then look to see what projects they've worked on in the past and what results they've managed to get for their previous employer.
These are all skills and experience that relate to the candidate's direct experience with their current company. But what about the skills they can bring to your company like interpersonal skills and problem-solving? They are skills that are super useful to any employee, and candidates can utilize them at different points in their career.
If you only focus on direct skills and experience without looking for a candidate's transferable skills, you could be shrinking your talent pool. Looking for candidates that have transferable skills, however, helps you hire candidates who are motivated, driven, and looking to use their experience to take new and exciting projects.
Your candidates might not know how to identify their transferable skills, especially if they're applying for jobs in different industries. You can help them by using concrete transferable skills examples in your job ads or by sharing stories of your employees who changed careers or roles.
5 transferable skills to look for in your candidates
Transferable skills you should be looking for in your candidates differ per role. To get your transferable skills analysis started, here are 5 skills that are useful across a wide range of industries and positions.
1. Communication skills
Arguably the one of the most important transferable skills is how a candidate talks and interacts within a company.
If someone has good verbal and written communication skills, it's easier for them to show their ideas, collaborate with others, and solve problems quickly. There are four areas that you need to look out for to spot a candidate's communication skills: how they talk, their ability to listen, if they can write clearly and succinctly, and finally, if they understand the technical jargon that comes along with the job role.
2. Teamwork skills
New hires must be able to work as part of a team.
In our ever-changing work environment, new hires will now have to work not only together in a physical sense, but likely in a remote environment as well. If a candidate cannot find a way to work together and collaborate with the rest of the team, that's a red flag.
Teamwork skills revolve around a person being able to bring new ideas to the table and listen to the feedback given by other colleagues. If a person is willing to work together, it makes it easier to get projects done and empathize with other team members if they're having problems getting their tasks done.
Teams who work together are not only more engaged in their work—they're more productive.
Even if a role requires a great deal of independence, it is still crucial to stay aligned with the team. That's why teamwork is an essential transferable skill.
3. Problem analysis and solving skills
Can the person solve problems by themselves, or do they need guidance?

Someone may have critical thinking skills and the ability to solve problems, but it's one transferable skill that's hard to know about by just reading a cover letter. When Adobe surveyed how to transform teaching programs, 97% of educators believed creative problem-solving skills should be at the top of the list. Their reasoning? If a person has good problem-solving skills, they can then look at a problem and come up with a viable solution quickly.
And that is invaluable in any role.
4. Motivation and work ethic
A person may have a resume stacked high with accomplishments, yet if they lack motivation—they might not be the best person to hire.
73% of hiring managers now search for people that have a strong work ethic and will be someone the company can count on. If a person is motivated to succeed in a position, they'll likely show up on time, be organized, not afraid of accountability, and take the responsibility seriously. Motivated people are also less likely to need supervision, as their initiative means they're getting their work done—on time.
5. Tech savviness & digital literacy
The more tech orientated our work environment becomes, the more sense it makes for your new hires to be technologically competent and digitally literate.
Candidates need to show that they're making an effort to keep their technological skills relevant and current. Tech savviness also comes into play with how easy a person can adapt to new technology and software. If a new hire can adapt to your tech stack and learn how to use your tools and software quickly, it'll be easier for them to hit the ground running in their new position.
A majority of roles nowadays require at least basic computer skills. Analyze what exactly they should be (e.g. basic knowledge of Microsoft Office) and what level you expect.
How to attract and assess candidates with transferable skills
1. Determine which transferable skills you're looking for
The first step to assessing candidates for a new job role is deciding what transferable skills you need them to have.
If you are hiring for a customer-facing role, you might be looking for someone with strong interpersonal skills. If you need someone to fill a spot for customer support in a contact center, a candidate with superb oral communication skills should be put at the top of the list.
Once you know what skills a job needs, you can then focus on those in your recruitment and selection process.
2. Improve your job postings 
First impressions of a job matter—so the post advertising it needs to be on point.
If you are hoping to attract candidates with transferable skills, you need to emphasize that those skills are more important than experience. Make it clear that experience within the industry isn't essential, so long as a candidate has the transferable skills needed for the role.
By telling candidates exactly what transferable skills are essential and highlighting that training will be provided if necessary, it's easier to attract skilled candidates that haven't had experience in your industry before.
Pro-tip: Need help crafting the perfect job post? Check out our 16 tips for writing the perfect job description
3. Enhance your career site 
First impressions aren't only decided on the job post. Candidates also want to learn more details about your company and its goals, and what it has to offer them.
Did you know that two-thirds of candidates consider career sites as top channel for researching new opportunities?
A well-crafted career site should highlight any training and development opportunities you'll offer to candidates as well as featuring stories of current employees who have transitioned into the company from different industries. If a candidate can see these transitions and empathize with them, it'll be easier to imagine making the switch themselves.
You can take it one step further and turn these stories into interactive videos. By featuring different internal teams, like marketing and customer success, you can give hunters a real-life peek into what their roles look like.
Your applicants can better understand your company's mission, successes, hiring process, and culture. It's a unique way to show candidates what your company is all about and how they could fit in without having to type it all out.
Stop guessing,
Start data-driven hiring.
Learn how you implement a modern candidate selection process, that is: streamlined, experience-driven and backed by data.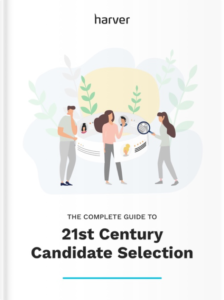 4. Use online assessment tools to evaluate candidates' skills 
Figuring out whether or not a candidate has the transferable skills you're looking for is a tough job.
The good news? There are tools out there you can use to make unbiased decisions based on their skills. By using assessments that look into a candidate's cognitive aptitude and personality, you can make tough hiring decisions based on facts and data.
For example, a multitasking test will judge a candidate based on their ability to juggle tasks. The test reflects a busy work environment and can give recruiters a solid idea about whether or not a candidate will be able to multitask in their new job role, regardless of the roles they'd held before.
Testing your candidates in the pre-employment phase of the hiring process is the best way to gauge their abilities to problem solve, think critically, and communicate. When designing your assessment process, always focus on transferable skills specific to the job you're hiring for.
5. Interview right & use assignments
Nothing can give you a better sense of how a candidate can communicate and listen than an interview. Focus your interview questions on the transferable skills you're looking for. For instance, if you want to gain insights into your candidate's interpersonal skills, you can ask them: Can you describe an example of how you have helped a customer (or someone you worked with)? How did you connect with them? How did you feel during the interactions?
Further, it's crucial to test a candidate on their behavior as well as how they'll react to different working situations. In a survey of UK employers, 77% said that simulating real work experiences were very effective in understanding how a candidate would handle situations and tasks. So, make tasks and real-life tests a part of the interview process to assess your applicants' relevant transferable skills.
For example, if you're hiring for a communications position at your company—test out what the candidate can do. Ask them to write a mock product description or a press release for a new product feature. The aim here isn't to just judge the end result of the mock task, either. It's to see how they cope with the assignment altogether. If they're able to think on their feet, use their imagination and adapt to the task at hand, it shows that they have transferable problem-solving skills that they'll be bringing to the role.
Of course, these assignments aren't always reflective of the day-to-day working environment at your company. But, they can give you a strong indication of how a candidate responds to pressure, problem-solves, and uses critical thinking to get a task done.
However, only 32% of employers use this employee selection method frequently or always. When assessing transferable skills, seeing a candidate "in action" is extremely helpful.
6. Combine the employee selection methods 
Finally, don't rely on a single method to correctly assess transferable skills—combine those methods.
Don't rely on just an interview or just assessment tools to make the right hire. Combine all of the methods available to you so that you can be confident that you're picking the best person to fill every position that becomes vacant.
It's up to you to decide what methods are predictive and best suited for the roles you need to hire for. Picking the selection methods that match up with your hiring process can help you to hire better people—faster.
Wrapping up
Hiring candidates with transferable skills widens your talent pool and helps you attract diverse talent.
The problem is—it's not always easy to uncover what transferable skills a candidate actually has.
That's why you need to know what you're looking for and choose the right methods to discover it. By deciding what transferable skills your company is looking for in each position, crafting a better career page and interviewing process, and using pre-employment tests, it's easier to find them.
Transferable skills are a must-have for new hires as they determine not only how well a candidate will do their job, but how they'll communicate within your team and adapt to their new role. If you put in the work to craft a system that finds and attracts people that have transferable skills to your company—you'll be rewarded with more skilled candidates.