Regardless of which industry you're hiring into right now, one thing all volume hiring recruiters will agree on is this: the labour market is tight right now. With so many vacancies to fill and not enough candidates to fill them, it's crucial you focus your hiring strategy on identifying what your applicants are good at, not what they lack. 
It's a mistake that organizations have been making for years: Assess candidates for skills they need to qualify for one particular role, and if they don't have those skills, leave them in the CRM never to be looked at again.
To tackle the current labour shortage, 74% of employers say they're now prioritizing new hires with transferable skills, and reducing the need for hard, technical skills to qualify for their roles. And this is because workers who boast transferable skills are invaluable to any organization – especially those hiring at scale for entry-level roles.
So how do you get a slice of this transferable skills hiring revolution? You just need to know what transferable skills to look for, and how to find them in your job applicants.
Subscribe and stay up-to-date with everything recruitment related by receiving a weekly content digest and email updates on new resources!
What are transferable skills?
Transferable skills are job skills that a candidate has developed throughout their lives that they can 'transfer' to a variety of different roles, industries, and situations.
The candidate might have picked up their transferable skills in a previous job, in education, through an internship or just generally picked these skills throughout their life. But the important thing is, transferable skills can be useful in so many different circumstances that they make a candidate a potential top performer for a role even if they don't have the right technical skills, experience or training.
Often, when organizations are hiring new employees, recruiters will decide if a candidate is relevant for a role based on whether they have the right hard skills on their resume or cover letter. But this approach will only result in you missing out on perfectly good candidates, and this is the last thing you need when you're hiring at scale in a labour shortage!
For example, a candidate might not have call centre experience or training on their CV, but what if they're a great listener, a team player and have excellent problem-solving skills?
These transferable skills combined would make them an ideal candidate for a call centre role, but they'll slip through the net if your hiring process relies on resumes to find right-fit candidates.
And because jobs in volume hiring industries are entry-level in nature, this makes transferable skills even more important. Most candidates you hire for these roles won't have a lot of past work experience or training, but they might've picked up some great transferable skills at school or through life experience. 
Examples of transferable skills
Here are just a few examples of transferable skills that will be valuable in entry-level volume hiring roles:
Communication skills – the candidate's ability to share information clearly and concisely in a way that leaves no room for misunderstanding. This includes interpersonal skills, active listening skills, writing skills, and verbal communication skills too.
Problem-solving skills – whether the candidate is able to easily identify a problem and offer a solution. Problem solving skills also relate to other transferable skills like analytical skills, problem analysis and critical thinking.
Teamwork – volume hiring roles always require a level of good teamwork – and being on a team and part of a team are 2 different things. Transferable skills that indicate good team work are things like time management, collaborations, relationship building and good communication.
Leadership skills – while it's true that in volume hiring you'll be looking mostly to recruit entry-level workers, candidates with good leadership skills will always benefit any organisation. Some examples of skills that show good leadership are delegation, decision-making, project management and other management skills.
So clearly, if you only focus on hard skills and competencies without looking for a candidate's transferable skills, you'll be shrinking your talent pool substantially.
This is why you'll have a lot more success with your volume hiring process if you first assess for skills and then see what roles each job seeker would fit. That way, no good candidate will slip through the cracks.
But which transferable skills should you be looking for?
Stop guessing,
Start data-driven hiring.
Learn how you implement a modern candidate selection process, that is: streamlined, experience-driven and backed by data.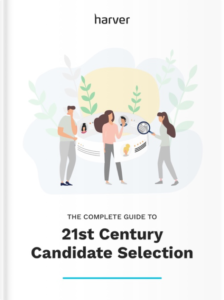 How to determine which skills to assess
Traditional pre-employment assessments will tell you clearly if a candidate fits the requirements for a specific role. But what if the candidate's not right for that role, but could be perfect for another position within your organization?
This is why standard, out-of-the-box assessments aren't sufficient for your volume hiring needs. When you're looking to hire across multiple roles simultaneously, you need a custom selection flow that assesses candidates for skills that will make them a top performer at the company more generally, and use technology to match them up to the role that speaks to their strengths.
So how do you identify the skills that would make a candidate a top performer at your organization?
At Harver, we use what's called a 'job and culture analysis' to determine what skills would benefit your organization based on things like your company values and working environment as well as your job descriptions.
To do this right, you want to take into consideration not just the job functions you cover, but also things like company culture and environmental context too. Essentially, you want to think about all factors that could influence the overall performance of a new hire, no matter what role they're in.
And once you have your list of transferable skills to look for in new hires, you just need to bring in the right assessments to find them!
How to use assessments to identify transferable skills
There are some pre-employment assessments that are much more effective than others at identifying certain types of transferable skills. This is why using standard assessments in your volume hiring process won't get you the results you want – you need custom assessments that focus on finding the skills you actually need.
To make sure you're maximising your candidate pools, we'd recommend following these steps to develop custom assessments that help identify people who fit your specific requirements and needs:
Determine the skills you need to assess
Establish which assessments are best for identifying those skills
Develop a custom assessment sequence/flow that will help you identify candidates with the skills you need and match them to the right roles within your organization.
Depending on the industry you're hiring into, the sequence of assessments will vary. However, in most volume-hiring roles, we've found the following assessment flow to work well in identifying top performers with a variety of transferable skills:
Realistic job previews
By providing the candidate with a realistic simulation of tasks they'll be performing in their new job, you can assess for a multitude of different skill sets simultaneously.

77% of employers say that simulating real work experiences in assessments were very effective in understanding how a candidate would handle situations and tasks. Not only this, but job simulations also give candidates a realistic idea of what the job will be like, which can reduce attrition by as much as 63%.

Good for assessing… practical transferable skills like multi-tasking and organizational skills.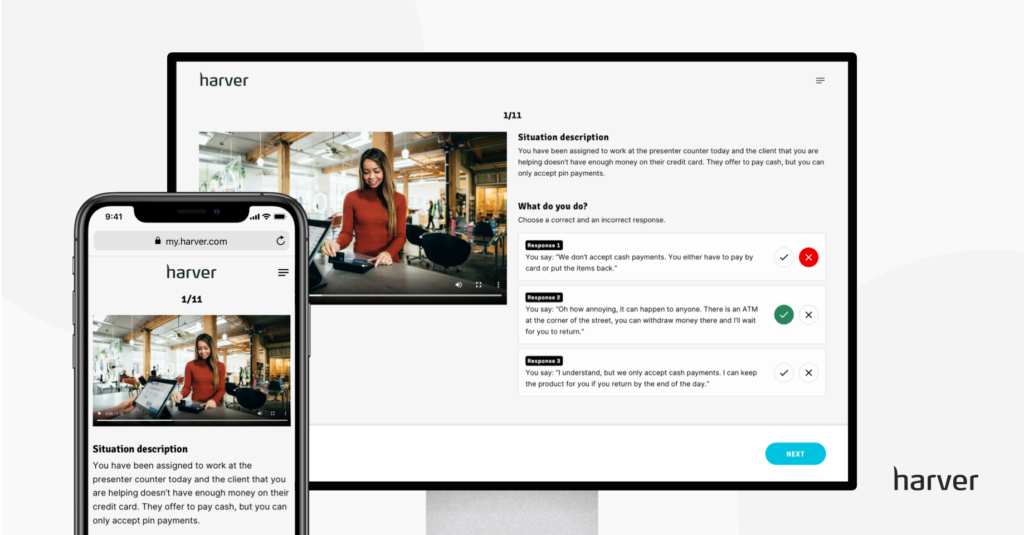 Situational judgement tests
Situational judgement tests involve presenting job seekers with a series of situations related to the kind of work they would be doing within your organization to see what their natural reactions would be.

Candidates select what they believe are the best and worst responses to these scenarios, and are scored on their response. SJTs can identify a lot of transferable skills that can be otherwise difficult to assess.

Good for assessing… decision-making skills, emotional intelligence, thinking skills, stress management and initiative.
Personality questionnaire
Like SJTs, a personality questionnaire involves asking a series of questions that focus on gaining deeper insights into a candidate's likely behaviours. However, the main difference is that personality questionnaires are excellent for measuring company and culture fit.

Good for assessing… ambition and ownership, empathy, communication skills, motivation and a passion for learning, etc.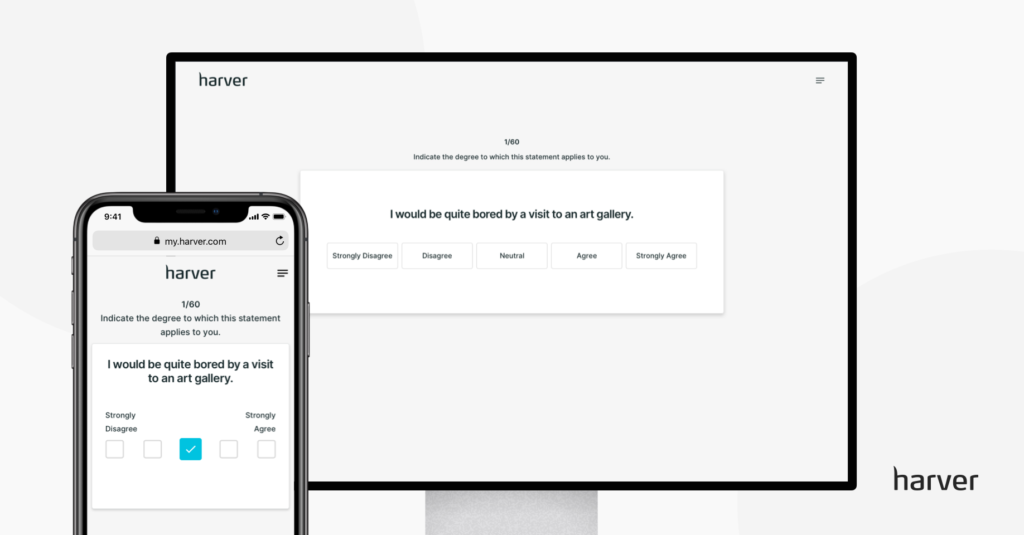 Cognitive ability test
If, for example, your roles all require an element of technical skill, assessing for cognitive ability will also highlight the quick learners who will pick up new tasks easily if they lack the appropriate experience or training.  
Good for assessing… skills like adaptability, attention to detail, speed of information processing, ability to meet deadlines, etc.
Async (one-way) video interview
Adding a one-way video interview stage to your hiring process involves providing a series of interview questions that the candidate can record answers to and submit as part of the application process.
With asynchronistic video interviews, you can get a sense of an applicant's communication skills and gauge things like comprehension and critical role-specific skills.
Good for assessing… interpersonal skills, verbal communication and how they would cope with public speaking in a customer-facing role.
While this assessment flow is perfect for identifying your applicants' transferable skills, you'll likely want to customize the stages to suit your specific industry and needs.
For example, if you're hiring for BPOs or call centers, you might replace the Situational Judgement Test stage with a custom-designed live chat simulation. 
Experience our best-in-class Live Chat Assessment first-hand!
Perfect for remote hiring, our live chat assessment makes it easier than ever to hire live chat agents. Candidates experience the job, while you get actionable data to drive hiring decisions.
Or, if you're hiring for retail roles within a niche market (healthcare, for example), you might want to add a job knowledge test to your selection flow too.
Whatever your assessment flow looks like, the main thing is to ensure candidates are always matched up with roles that speak to their strengths. To achieve this, Harver uses two-way matching technology that links up candidate's skill set with the right opportunity. 
This technology is a real game changer when you're hiring into organizations like BPOs, where you'll be recruiting for very different roles within the same company. For example, the skills you need to be a great live chat agent will be different from those required for call agent or a technical support role, but there will also be a lot of cross-over, transferable skills involved too. 
What next?
By digitizing your volume hiring process and letting the matching technology do the hard work, you'll see your candidate pools increase and be confident that no good candidate will slip through the cracks. 
To see Harver's pre-employment assessment and matching technology in action, book a demo below.
Ready to transform your hiring process?