When we hire people to work for us, we're looking to hire the best of the best—we want top performers.
Top performers can be up to 400% more productive than average performers. It's undeniable how much of an impact they can have not only on your team—but your company's bottom line.
But it's not just a case of finding top performers and offering them a position in your company. According to a study by Harvard Business Review, top performers look for specific conditions in their job roles.
But how can you make sure that you recognize and recruit top performers?
By making your job opportunities more attractive for top performers, and fine-tuning your recruitment process to weed out average performers when you're hiring candidates.
Here are nine tips you can use to attract more top performers for your business.
What's in?
Subscribe and stay up-to-date with everything recruitment related by receiving a weekly content digest and email updates on new resources!
1. Analyze your current top performers 
Start in your own backyard.
Take a look at your current employees who you consider to be top performers. Ask yourself, what do they do differently? What are their hard and soft skills and traits?
The top performers you already have working for you will give you an idea of the performance standards you're looking for.
And this is easier to do if you're already tracking performance. Manhattan asset management company AllianceBernstein tracks and rates its 3,700 employees every year to figure out what their top performers look like. The company's senior team sets aside several days each year to evaluate their employees on their performance as well as their potential.
By tracking their top performers, they always know where their top performers are (and how many they have in the company).
Analyzing your current top performers will help you understand which teams or departments need strengthening in terms of hiring A-players.
By analyzing the top 15% of your workforce, you can figure out how having the high performers on board benefits your company.
Listen to 9 Tips For Hiring (And Retaining) Top Performers For Your Business on the Recruitment On The Go podcast!
2. Identify key characteristics of top performers
Now that you know who your top performers are, figure out what key characteristics they have in common.
This isn't a one-size-fits-all approach, but you should be able to pinpoint some characteristics that all of your top performers embody. Most top performers are self-starters and have killer interpersonal skills. Top performers are also likely to be people who:
Produce quality work

Are confident decision-makers

Continuously develop new skills

Listen to feedback and are open to suggestions

Make their own work and

Handle pressure
A top performer is productive. But they also have all of these characteristics. These are the people your company can't afford to lose, and they have the skills and performance standards you should be looking for in every new hire.
Beside the general top performer characteristics, identify specific skills high performers have for every role you're hiring for. You will be able to recognize these in your candidates easier if you know exactly what you're looking for.
3. Translate the top performer characteristics into your job descriptions 
Think your job description is clear and to the point?

Chances are, it's not. A study by Allegis Group found that while 72% of hiring managers thought their job descriptions were clear, only 36% of candidates could say the same.
A good job description should clearly show that you're looking for more than hard skills; you're seeking a top performer with the right soft skills, too.
Don't just write out a bunch of requirements. Convey the company's overall culture and how the role will help your company achieve its goals. Paint a picture of what success in the role will look like, and don't focus too much on degrees or years of experience. Instead, make it a mix of hard and soft skills that the role will require.
Lastly, keep it casual. Top performers reading the job description should view it as friendly and human, not robotic and from a template.
Pro-tip: Go one step further and perfect the career page on your company's website. Two-Thirds of job seekers visit a company career page after learning about a job opening, and it's one of the best ways to make a great first impression on potential new hires.
If your job descriptions are unclear and you don't show potential candidates what your company culture is like, you might discourage future top performers from applying.
4. Bring recruiting in-house 
Your company needs to know what talent is available on the market and be aware of what your organization is looking for.
And this means dedicating time to building your talent pool and using diverse channels to source diverse candidates. Doing your recruiting in-house is the best way to find strong team players and retain them.
Hiring in-house will not only save your company (a lot) on external recruitment agency fees, but it can also give you control over the end-to-end of the recruiting process. In a lot of cases, recruiting in-house means independently searching and screening candidates to find future top performers.
Recruiting in-house will require hunting out top hires on job boards, managing their applications, and discussing salaries internally. Not having an agency involved will give your company the chance to set out a commission and bonus structure based on each candidate, as well as discuss anything they're looking for like remote work opportunities and training programs.
An agency will likely be results-driven. They want to get your roles filled as soon as possible. Recruiting in-house gives your company the breathing room to take some more time when you're hiring, and make sure you're bringing a top performer on board.
Stop guessing,
Start data-driven hiring.
Learn how you implement a modern candidate selection process, that is: streamlined, experience-driven and backed by data.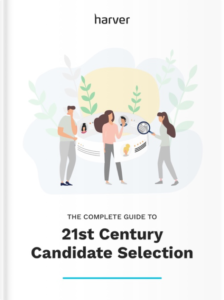 5. Assess the skills
We all know top performers aren't just good on paper. They have the right soft skills to fit into a team and a company's culture.
As we mentioned before, you're looking for top performer skills like confident decision-making, active learning, and stress management in your candidates.
You need to assess these soft skills, but they're notoriously hard to evaluate.
89% of talent professionals said that when a new hire doesn't work out, it's because they lack critical soft skills. And 92% of talent professionals reported that soft skills are equally or more important to hire for than hard skills. Most talent professionals said they use behavioral questions and read the potential new hire's body language to gauge whether they have the right soft skills for the position.
You can also use assessments like cognitive ability and leadership skills tests early in the recruitment process to shortlist the right candidates.
That way, by the time a candidate reaches the interview process, you already have a good idea about strengths and weaknesses of your candidates and you can use these insights to help with what questions you want to ask them in the interviews. Using pre-employment assessments, it's easier to find how candidates would fit into the role and the company before you hire them.
Designing a formal soft skills assessment process will help improve quality of hire, as well as prevent bad hires.
6. Have other top performers conduct the interview 
Do you have your average-performing employees conducting interviews for new hires? This might be doing your interviewing process more harm than good. Average performers might not be able to recognize top performers because they don't embody the characteristics of a top performer themselves. And what's worse is, they might feel threatened by a top performer who is interviewing for a position, and sabotage the hiring process completely.
That's why it's always better for your company's top performers to conduct interviews themselves, especially if you're hiring for a technical position. Your HR employees will have limited knowledge around any highly technical aspects of a job, but a top performer in that team will know the ins and outs of what they need from a candidate. Your top performers will know the right questions to ask candidates and will be able to gauge whether the candidate has the same soft skills as them.
Top performers hire top performers. Average performers don't.
7. Ask for multiple examples in the interview process
Asking behavioral questions and seeking numerous examples is an ideal way to vet top performers in the interview process.
For example, you might ask a candidate to reflect on a time when they managed a project: what obstacles did they face? How did they overcome them?
And here is how you weed out average performers from top performers. You ask your candidate for multiple examples of a situation. Every candidate will be able to come up with a single example of a situation, but top performers? Well, they'll come up with five examples of when they were in a specific situation, and tell you exactly how they overcame obstacles.
Asking for multiple examples can help separate candidates who have rehearsed single answers for the interview from top performers who have lived and learned from situations in their past. It's a great way to help you predict future behavior in similar situations from your interviewees.
Problem solving is a top attribute of high performers and getting multiple examples of how they overcame obstacles will provide you with valuable insights into your candidates' behavior.
8. Map out future career paths
Top performers are ambitious creatures. They want to be sure their career can grow at your company before they sign a contract.
So during the hiring process, make sure you map out what their future career path can look like at your company. Show them what they'll be able to learn, what projects they'll be involved in, and what promotion opportunities they have.
If you don't show candidates that you're invested in their individual career goals, they're unlikely to want to help your company achieve its goals.
Show your candidates how they can progress at your company by mapping out their career opportunities.
9. Offer fair compensation
The top value of an employee when they're looking for a job is being offered competitive compensation.
If you want to hire top performers, you need to offer them fair compensation. The truth is, even if a top-performer loves their job, they'll be open to offers from another company if it comes with higher compensation than what you're willing to offer. You can't expect top performers to work for average compensation—excellent work deserves to be rewarded.
Start by researching the market and comparing salaries and benefits packages against other companies in your industry. You should always offer candidates the market rate (or above) whenever you hire them.
But you should also offer fair compensation to your current employees. If you've got a team member who is performing exceptionally, reward them with a raise. Motivated high performers will take note and realize that your company is willing to invest in them if they perform well.
Lastly, offer them more than just monetary compensation. Tiffany Servatius from Scott's Marketplace says the modern working environment is shifting away from "traditional" compensation models, and they're becoming less appealing to new hires.
"Show candidates that you value work-life balance and individuality," she suggests.
"Whether its the option to work some days from home or allowing employees to move about an open office environment, give them some flexibility."
Hiring top performers is hard work, but it's worth it
Hiring top performers for your company takes more work than posting a job ad and interviewing a bunch of candidates.
In today's candidate-driven job market, it is more difficult than ever to find top talents for your company. Top performers are looking for a job that not only gives them fair compensation but offers them growth and opportunity.
But putting in the work to find these top performers pays off. Since they can be up to 4x more productive than average employees, putting in the effort to find them can pay off big for your company in the long run.
Stop guessing,
Start data-driven hiring.
Learn how you implement a modern candidate selection process, that is: streamlined, experience-driven and backed by data.