With the QSR and restaurant industry suffering some of the highest turnover rates of any sector, recruiting for these businesses is tricky. Turnover can run as high as 130-150%, attributed to several factors, most notably wages.
In fact, as many as 70% of staff changeovers come down to pay in this trade. On top of that, there's also a staggering perception that careers in QSR and restaurants are primarily temporary. All in all, this leads to high turnover costs and lots of time repeatedly invested into the recruitment process.
This is especially so, as many QSR hiring managers still do lots of the hiring process manually. Whether that's looking through CVs or following up on potential candidates, these tasks take lots of time.
Luckily, most of the stages in the recruitment funnel can be automated, and with the right tools – meaning, software built for high-volume hiring – the majority of the manual tasks can be taken over by machines, allowing restaurant managers to focus on what matters the most: their customers.
Don't forget to grab your free copy of our white paper on the digital transformation of restaurant volume hiring. Learn about:
The recruitment funnel in quick-service restaurants
The typical hiring process in quick-service restaurants consists of the following stages:
Posting a job advertisement on job listing websites, career pages and social media pages
Evaluating the applications
Screening the candidates and selecting the suitable ones to interview
Checking references
Conducting interviews
Offering the job and onboarding the new hires
Of all these steps, the hiring decision cannot be automated, but the other stages can and should be, especially when talking about volume hiring, as both restaurant managers and candidates want a process that's short, effective and fair.
Now, if we look at the practical aspect of recruitment automation, the what and how varies depending on the needs of the quick-service restaurant and the bottleneck they're trying to remove.
For example, if the main issue is that restaurant managers don't have enough time to scan CVs, and this leads to lengthy processes and candidates lost to competitors, then the right solution might be to automate the candidate screening, assessment, selection and interview scheduling stages.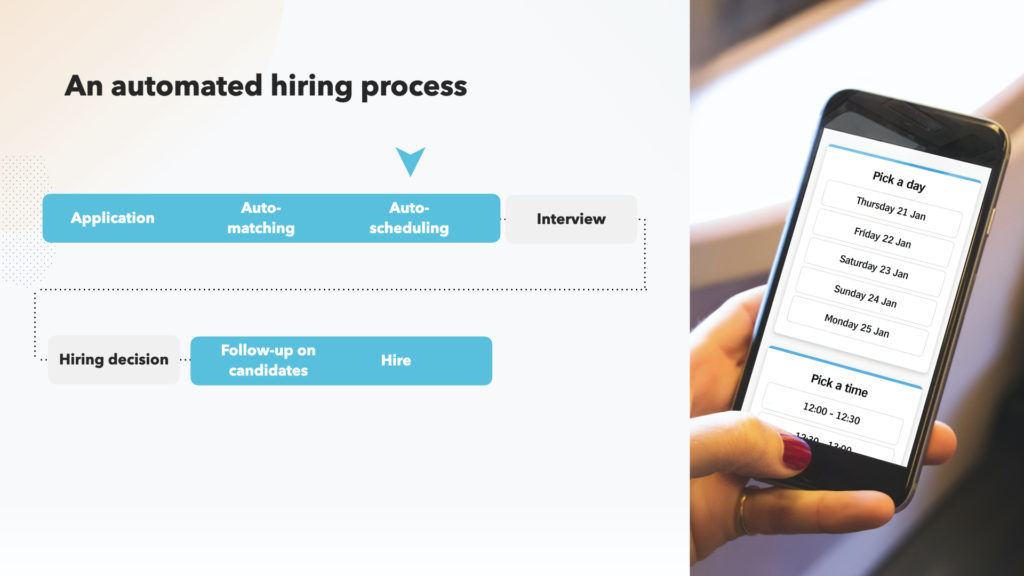 If the main issue is that one location has too many candidates, while other locations don't receive enough applications, as it's often the case in multi-location QSRs, the solution might be to automate the sourcing part, and to reroute candidates between locations to improve hiring efficiency.
As each restaurant has its own needs, we won't be able to cover all the potential solution designs or tech stack variations.
We will, however, look at the ideal scenario, where an end-to-end digital hiring software is used, and then we'll show you some alternative tools you can use if you operate at a smaller scale, or want to automate only some of your recruitment operations.
Subscribe and stay up-to-date with everything recruitment related by receiving a weekly content digest and email updates on new resources!
End-to-end digital hiring software for QSR
As we're about to explore, there are tools for nearly every stage of the hiring process that make the phase easier or more effective for your recruitment team. That said, high-volume hiring can get incredibly complicated, and designing an efficient process requires a thorough understanding of the differences between regular and mass recruitment.
Confusion often arises if you're using different tools at different stages of the recruitment process. In that case, you might have to carry information across to the next system manually, and both your team and candidates have to familiarize themselves with new interfaces, resulting in an inconsistent experience.
An end-to-end digital recruitment tool is the answer to these problems. Such software handles every stage of the process, from optimizing sourcing and assessing candidates to automating interview scheduling, sending notifications to rejected candidates, and collecting recruitment data for further analysis.
In essence, an end-to-end recruitment platform efficiently screens and assesses candidates and automatically moves them along to the final interview stage, while providing your hiring team with actionable insights.
Harver: high-volume hiring software
Harver offers a full-suite candidate selection platform specifically designed for high-volume recruitment. We support companies in the BPO, contact center, retail and QSR verticals by helping them digitally transform their recruitment process, from "Apply" to "Hired".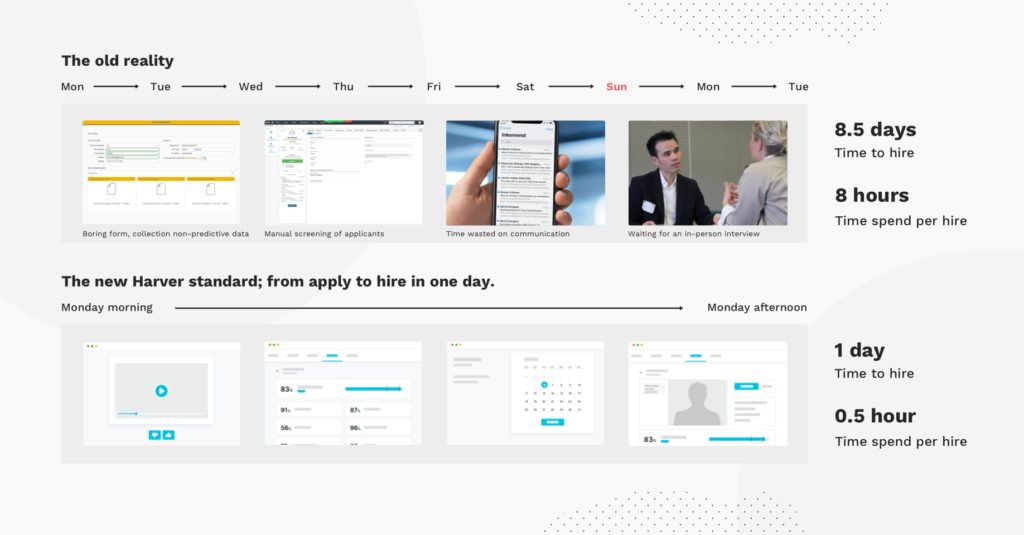 Our platform uses four main pillars for digitizing the traditional candidate selection processes:
Matching technology
Automation
Candidate experience
Business intelligence
Let's see how each of these pillars helps in streamlining the volume hiring process and making recruitment faster, more fair and more efficient.
Harver uses matching technology to find top-performing candidates
Most of the volume hiring roles in QSRs are entry-level, low-barrier roles, where candidates aren't expected to have too much experience, and a resume or a cover letter isn't the best predictor for job performance.
Moreover, we know that selecting candidates based on CVs alone leads to bad hires and high attrition rates, as such decisions tend to be biased. So instead of relying on resumes, we're using a two-way matching framework.
Here's how this works: on the one hand, you have the recruitment team, who can build an application flow for a family of jobs by incorporating various assessments in the application process. The process can start on a career website or on the organization's website, and once the candidate clicks the Apply button, he or she is taken through the flow.
To help QSR recruiters select the best candidates – meaning those applicants who have the skills needed for the role and who fit the company culture, we've developed a multi-assessment platform that combines benchmarked off-the-shelf pre-employment assessments with custom tests.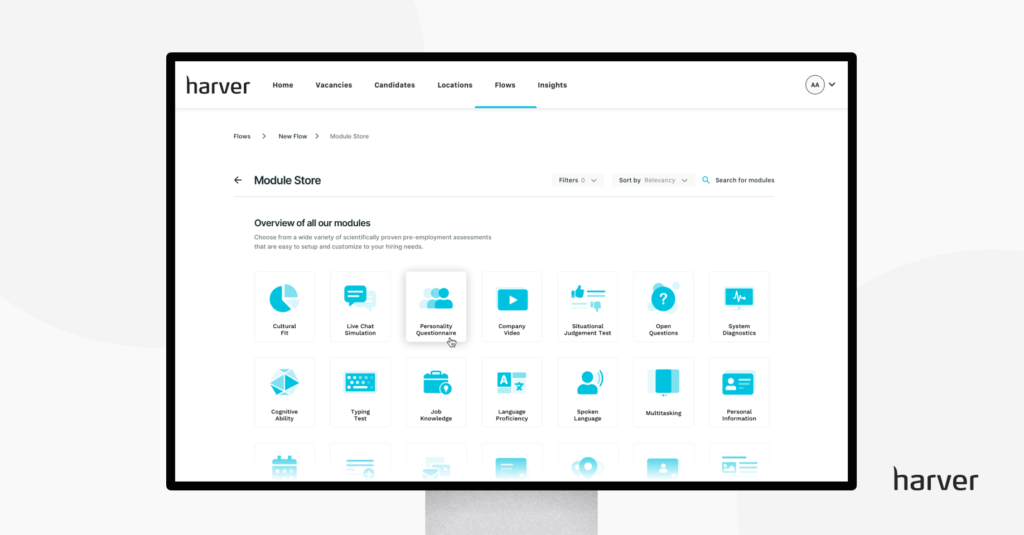 The out-of-the-box pre-employment assessments, such as personality questionnaires and cognitive ability tests, are combined with company-specific situational judgement tests (SJTs), which give candidates a realistic preview of the job.
The SJTs consist of highly engaging videos that showcase the company culture and the work environment, while exposing the candidate to the various aspects of the role, from routine tasks to critical incidents.
Here's an example of situational judgement test developed for an QSR client. The candidate has to select the best way to handle a situation which is likely to occur in an QSR. For example, a customer taking too long to order, or an angry client who's unhappy with the quality of the food.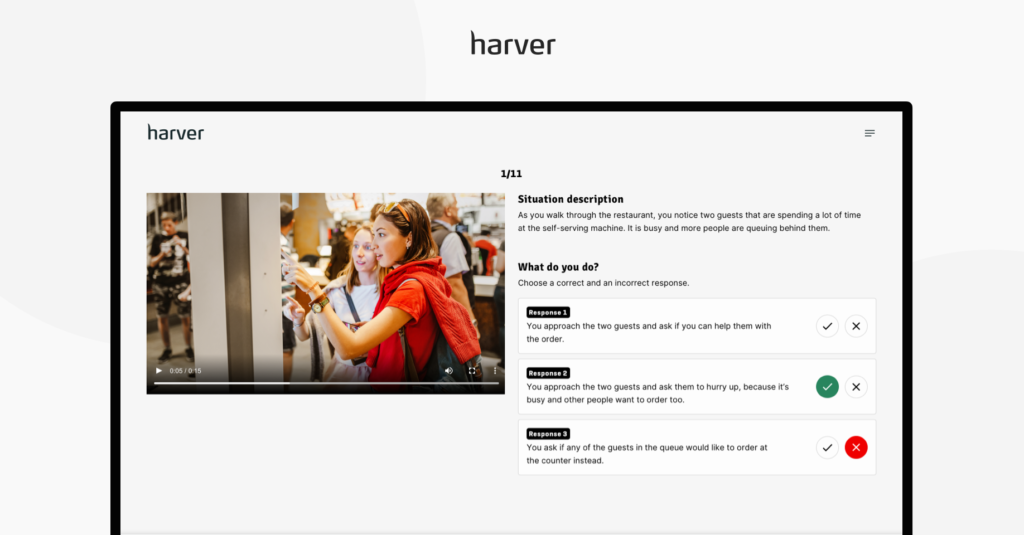 While going through the assessments, candidates are rated for specific skills, such as multitasking, customer orientation, sales skills, and so on. The recruiters can see each candidate's score in the backend of the system, so they can easily identify the candidates who possess specific skills and characteristics.
So on the one hand, the recruiter can make a data-driven, unbiased decision when selecting a candidate, based on their skills and on an objective applicant score.
On the other hand, this two-way matching framework enables the candidate to self-select out of the application process, if the reality of the day-to-day work doesn't match their expectations.
We know that the misalignment in expectations is one of the main causes for the high attrition rates in QSRs, so we help recruiters create an application process that informs the candidates and allows them to decide, at each step of the process, whether they want to continue or not.
If a candidate thought that the role would be different, that it would involve more contact with customers for example, or a less stressful environment, he or she can stop the application process before it reaches the interview stage.
The opposite is true as well: if applicants like what they see and their scores are high enough, meaning that they meet the selection criteria, they are moved to the next stages automatically and can schedule an interview with the recruiting team right away.
And this leads us to the second pillar of our end-to-end digital hiring solution: automation.
Harver automates the manual tasks to create an efficient process
As mentioned earlier, our platform is built for high-volume hiring, where speed and efficiency are crucial for both the recruiter and the candidate.
To make the process as smooth as possible, Harver automates most of the steps, from the initial candidate screening to progressing applicants to the next stages and sending notifications to keep them informed.
The depth of automation varies from one client to another, but in principle, Harver works alongside an ATS, simplifying the tech stack needed for high-volume recruitment. In big line, an automated recruitment flow can look like below.
Harver can replace most of the recruitment tools, consolidating them into one platform, one experience, and one unified data set that contributes to faster, better, and more fair hiring decisions.
Also, our platform makes it easy to scale recruitment efforts up or down when demand changes, as instead of hiring more team members and increasing the headcount of your HR team, all you need to do is adjust your selection criteria and schedule more time slots for interviews in your agenda.
Harver helps you create an engaging candidate experience
Candidates who apply for quick-service restaurant jobs are often customers as well, and they want to work for those brands because they like the company and the food. However, a poor applicant experience can ruin this relationship and turn the loyal brand advocate into a detractor.
Candidates should receive a friendly and informative experience, even at scale. They should be able to see the role in action and learn about what they're signing up for – both possible with pre-employment assessments that include SJTs (situational judgement tests) and realistic job previews.
Here's for example the candidate experience we've designed for McDonald's, one of our QSR clients. As you can see, the experience is fully digitized, engaging, and in line with the expectations of the young generation.
Besides offering candidates a realistic job preview to help manage their expectations, this application flow enables recruiters to showcase their company culture and to keep the hiring process human, despite the lack of actual interaction with the candidates.
Harver makes data collection and analysis easy
In volume hiring, your data is your biggest business asset, as it can help you optimize your recruitment process to ensure you source, select and retain the best candidates out there.
Our platform collects candidate data throughout the application process and turns it into easy to understand insights, which can be easily accessed through our powerful BI suite. We provide a full array of reporting dashboards, including Operations insights, Matching, Candidate experience insights, Sourcing metrics, Multi-location insights, and Bias insights.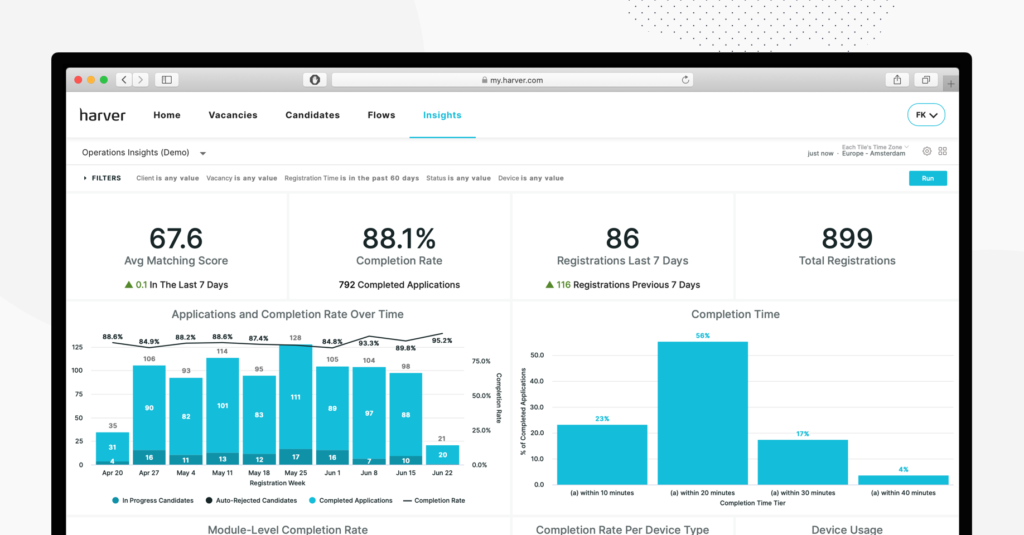 If you'd like to see the platform in action, or discuss your particular needs, you can book a demo below.
Ready to transform your hiring process?
Sourcing platforms for QSR
Sourcing tools make it quicker and simpler to identify suitable candidates by proactively searching candidate profiles and resumes. Without appropriate sourcing tools, finding high-quality talent is like searching for a needle in a haystack, and can result in throwing money into the void.
Without the right insights, it's easy to allocate your precious budgets to less efficient sourcing methods. Worse than that, if you're sourcing candidates from places that don't provide the best talent, you'll soon have to repeat the entire process when inevitably, the unsuitable candidate quits within their first few months.
Resume databases are one example of a high-caliber sourcing tool. Here, you have access to hundreds of potential applicants with searchable profiles. Here are a few platforms worth considering.
RestaurantZone
This platform specializes in hospitality jobs, from executives and management to hourly employees. Their database includes over 700k hospitality professionals, and they provide different packages, such as Non-Exclusive Search, which guarantees 5 qualified candidates within 7-14 business days, or Direct Hire, which gives recruiters access to high-quality staff that's directly available.
Hired
Hired is a jobseeker platform that aims to connect employers with suitable candidates. An employer can create a company profile and start browsing. If they find anyone eligible for the role, they can express their interest. Candidates respond an impressive 95% of the time!
Indeed and CareerBuilder
Popular job sites like Indeed and Careerbuilder let you post job ads. Here, thousands of applicants are already browsing for their next gig. As such, presenting your job posting on any of these sites works wonders for extending your reach.
Screening tools for quick-service restaurants
Next up, screening. At this stage, you start reviewing job applications. QSRs often receive hundreds, so they need to find a way of filtering through the masses to identify the best fits.
Without appropriate tools, screening can be incredibly time-consuming, which can lead to recruiters skimming past top talent. Not to mention, it's easy to alienate potential recruits because of the length of time you take to get back to them.
Recruiters often use an ATS (Applicant tracking system) for this purpose. These screening tools read through resumes on your behalf and only present you with the best candidates.
A decent quality ATS should enable you to send automated emails to candidates. This makes updating candidates whether they've been filtered out or moved onto the next stage in your recruitment process a breeze. Not only will this save you hours of valuable time, but the time you do spend on applications centers on candidates more likely to fit the bill.
Here are a few example of ATS tools suitable for QSRs.
Avature
Avature allows you to vet candidates by asking pre-screen questions in your sign-up forms. This enables you to discount candidates that wouldn't be a good fit immediately. The software automatically grades applicants as either hot, warm, or cold lead pools based on how likely they'll be a good fit for the job.
Workable
Workable is a helpful tool for small and large restaurant businesses alike. Their AI-powered sourcing makes screening easy and grants access to 400 million candidate records – win-win.
Smart Recruiters
Smart Recruiters' ATS is suited to large chains needing a modern tracking system to engage and hire new talent. It's advantageous if you're looking to gather candidate feedback to improve your automated processes.
Candidate assessment tools
Employers evaluate their shortlisted applicants during the assessment stage to whittle down who to interview. Here, employers might want to test for specific personality traits, skillsets, and adaptability to the position.
When it comes to QSR and restaurant workers, top-quality candidates don't necessarily need a particular skill set. They should, however, be prepared for the work environment and know what the role demands of them.
This is where using an appropriate assessment tool is paramount. You should provide candidates with sufficiently realistic assessments. That way, not only do you as the recruiter see how well suited they are to the job. But, candidates also get a feel for whether they'll be happy working in this sort of environment.
This goes a long way to setting realistic expectations and reducing early staff turnover, as unsuitable applicants can filter themselves out at this point.
That said, here are a few assessment tools that could help with this phase of the recruitment process.
Aspiring Minds
This offers various candidate assessments, including job simulations, personality tests, cognitive ability tests, and more.
Berke
Berke is another assessment tool for measuring personality and intelligence. Still, you can also use it to build hiring profiles of your 'ideal candidate,' which can then be compared against the candidate's test results to see who's the best match for the role.
HR Avatar
HR Avatar offers pre-employment tests on a simulation basis. It measures various factors, including cognitive ability, job knowledge, and more. Tests are animated and can simulate common real-life scenarios, like disgruntled customers.
Stop guessing,
Start data-driven hiring.
Learn how you implement a modern candidate selection process, that is: streamlined, experience-driven and backed by data.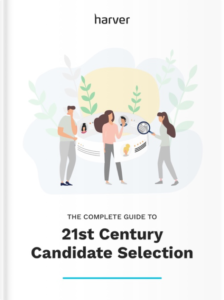 Interview scheduling tools
Now, it's time to start scheduling candidate interviews. Interviews can be challenging to coordinate – especially if multiple schedules are involved! Typically, there's lots of emailing back and forth, making it somewhat of an inefficient and time-consuming process.
However, the right interview scheduling tools can remedy that. Some even enable you to set your availability so that candidates can pick a time that best suits them and simply slot themselves in. From there, an automated email is sent out with all the relevant interview information, and the candidate can either confirm or cancel the meeting. Simple, right?
Here are some examples of the kinds of interview scheduling tools we're talking about:
Paradox Review
Paradox is primarily known for its chatbot, Olivia. But it also provides an interview scheduling tool that's worthy of note. While this isn't Paradox's key focus, it's worth keeping them on your radar.
10to8
10to8 is another interview scheduling software with a broader scope than just interviews. Candidates can automatically book appointments after reviewing your schedule. This tool also integrates with a lot of ATS tools.
GoodTime
GoodTime focuses exclusively on interview scheduling, making it an excellent tool for this specific purpose. The platform handles all the basics but also comes with helpful analytics and even interview training.
Next steps
With the right tools, you can make the recruitment process for your QSR or restaurant a lot simpler and save yourself hours of valuable time. The next step is to identify where technology could help streamline your recruitment process. Using too many individual tools can lead to a confusing candidate experience and a complicated tech stack for recruiters to navigate through.
This is why we recommend an end-to-end QSR recruitment solution like Harver. If you'd like to see our software in action, you can book a demo below.
Ready to transform your hiring process?