Do any of these situations sound familiar:
You've had two employees quit and the working week has only just begun.
You're worried you're going to be understaffed if any of your employees gets sick or has to quarantine.
You spend 90% of your time reading resumes instead of doing your restaurant manager duties.
Why? Because this is life in a quick service restaurant (QSR).
Quick service restaurants employ over 4.2 million people in the US alone. High turnover is a common problem in the hospitality industry, in the QSR industry it is even worse – in QSR turnover can run as high as 130-150%.
High turnover of QSR employees can be attributed to low wages, a perceived lack of career path, and an overwhelming belief that QSR work should only be temporary. Plus, the years spent standardizing and 'routinizing' QSR work has removed the requirement for any skills. Even though automation in QSR is progressing fast, there is still a constant need to look for new QSR employees.
Finding, recruiting, hiring and onboarding QSR employees is often the responsibility of the already overworked restaurant manager. So, here's how to hire QSR employees and make the process easier.
1. Write approachable job posts
If you want your QSR employees to stay with you for a longer period, they have to be able to see a future with you. If you want to attract and keep the right sort of employees, you need to write the right sort of job posts:
Make sure that the job description is detailed and clear, and that it accurately describes the role in question. Don't sugarcoat the job, misleading candidates is only going to increase your employee turnover when they realize you misled them.
Specify the hours. Don't try and cover up the fact that QSR work can be long and unsociable, frequently requiring employees to work at night and weekends. Be open and honest in your job post, sure it could deter candidates from applying, but they were only going to quit on you as soon as they realized the hours they had to work – it saves you money in the long run. Plus, there will always be people who will appreciate the opportunity to work outside the regular 'office' hours.
In the current situation, focus on how you're going to ensure your employees' safety. Address the elephant in the room upfront – share how you keep staff safe in your QSR, outline the safety processes you've implemented, let them know their safety is a priority of yours, not an afterthought.
Avoid using jargon. A lot of young people apply for jobs in QSR so they might not understand the jargon. You don't want to turn off potentially great applicants by using terms they aren't familiar with.
Write about the perks candidates will receive when they get the job. For example, Lion's Choice, a roast beef restaurant franchise chain in the St. Louis area offers employees, among many incredible benefits, 401(k) program and life insurance.
Consider using videos. A video shows things that would take a long time to describe in words. For example, if you have an outstanding workplace culture, you could write that down on your job post, or you could make a video where existing employees provide testimonials about what makes your QSR a great place to work.
In-n-out Burger lists their employee benefits on their website, making in clear which benefits apply to part-time and which to full-time roles.
2. Have an easy application process
If you've nailed the job post, the next thing to focus on is your application process. An overly complicated application process is one of the biggest turn-offs for candidates in any industry.
How can you prevent your application process from becoming too complex?
First things first – stop asking candidates to 'simply send over a cover letter and resume'. Not only does it mean your task of finding new QSR employees just got a whole lot more complicated, it also means with the reams of paperwork to wade through you could miss essential information, or worse, let bias guide you in your hiring decisions.
And it's just as bad for candidates – they don't know what you view as important and what you don't. So they either end up giving you their life story, or nothing. Neither of which helps you.
If you can't host a hiring party like Taco Bell and Shake Shack, then you need to create an easy application process:
It should be short, simple, fast, and mobile-friendly.

Almost 60% of job seekers are hunting on their phones, so let them apply from them too.
Ask questions the candidates want to answer and let them show their personality.
Give them a word count limit so you don't get multiple copies of War and Peace.
Throw in a light question occasionally to keep them interested.
Leave space for them to ask you questions too. They're probably just doing research at this stage, so just as you're trying to find out about them, they'll probably have questions of their own to ask you. Also, doing this will highlight any areas of your job post that need reworking.

Ask only for information necessary for you to be able to make your hiring decision.
If candidates drop off during the application process, find out when that happens and why. Maybe the process is too long/complicated.
Send an automated reminder to candidates who abandoned the application halfway through.
Remember the application process is a part of creating a memorable candidate experience. Take McDonald's Snapplications for example.
In short, you should treat your candidates like your treat your customers – provide them with a great experience every time they interact with you!
3. Look for relevant characteristics
Many of your applicants might not have a lot of work experience, so you shouldn't base your decisions off of that. Instead, look for relevant hospitality traits that are desirable in QSR employees, soft skills that are hard to teach, but make for a great hospitality employee:
Listening – being able to take accurate orders from customers and understand their needs is vital to providing outstanding customer service.
Oral communication – being able to communicate effectively with both customers and other members of staff makes everyone's life much easier.
Stress tolerance – QSR is a fast-paced environment and as such, it can become quite stressful. Being able to withstand the rigors of a working kitchen as well as handle demanding customers is quite a skill.
Quality orientated – You're serving food to the public, you need to ensure that everything that goes out is of the highest quality. Your employees need to have demonstrable high standards themselves in order to meet yours.
Consider applications of all ages – McDonald's for example, are increasingly recruiting senior citizens to fill their roles.
You can use an online personality questionnaire to search for the desired characteristics in your candidates and follow up with relevant interview questions.
Stop guessing,
Start data-driven hiring.
Learn how you implement a modern candidate selection process, that is: streamlined, experience-driven and backed by data.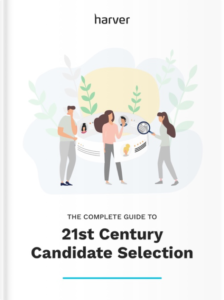 4. Embrace technology
Fun fact – the QSR industry is predicted to be the first job sector to be run by robots.
McDonald's, who have been testing ordering kiosks since 2003, reportedly spent almost $1 billion in 2019 installing more of them, as well as other necessary tech in their stores, in a bid to deal with the high turnover of QSR workers.
However, the robots aren't taking every job just yet, you still need human QSR employees, so let technology help you with your hiring process.
If you have a high number of applicants, you can conduct a short assessment within your application process. For example, use a video-based situational judgement test to gauge reactions of your candidates to certain aspects of the job that they will be expected to do on a daily basis.
Doing this not only gives you an insight into how they will handle their role, but it will also provide them with a realistic job preview.
What's more, the right QSR recruiting software can help you automate interview scheduling, candidate communication and get notifications every time a qualified candidate applies, which makes your busy life a lot easier.
5. Rethink your background checks
Running background checks can be useful to prevent you from hiring someone who has a history of regularly leaving QSR jobs within a few months of starting. However, that's not what we are talking about here. We mean criminal checks.
Hiring ex-offenders can make some employers nervous. Be upfront early on with applicants if you're going to conduct a background check, even if it's after you've hired them. If you have no intention of hiring ex-offenders, stating on the job description that you'll run background checks will prevent wasting everyone's time.
It's worth mentioning that many jurisdictions prohibit employers from asking about an applicant's criminal history or investigating it until after they've offered them employment – check the Ban the Box campaign. Consider researching second chance hiring – if it's good enough for McDonald's…
If you automatically exclude all applicants with a criminal record, you're significantly shrinking your potential talent pool.
6. Set clear rules for trial shifts
Your candidates, especially if this is their first job, won't have had work experience before, so it's logical that you want to see candidates in action before you hire them. However, you need to be clear about what the trial shift process is going to look like and what your candidates will be expected to do.
Set out exactly how many hours they're expected to work on their trial shift. What compensation they're going to receive for their time spent working their trial shift, and when are they going to know what your decision is?
Subscribe and stay up-to-date with everything recruitment related by receiving a weekly content digest and email updates on new resources!
7. Provide great orientation and training
Chick-fil-A offers a Leadership Scholarship Program with $1,000 scholarships to qualifying employees to attend the school of their choice. The result? Chick-fil-A turnover is less than 5%.
Here's the thing – if you can get employees to last 90 days working in your QSR, you'll see turnover drop dramatically. How can you get employees to stick around that long? By providing great orientation and training.
How do you make food safety fun? Gamify it. How do you teach employees how to fry chicken or get to grips with your coffee machine without hurting themselves in the process? Augmented reality technology.
Embracing technology to help with onboarding is one solution – invest in VR training like KFC and allow employees to train 'on the virtual reality job'.
Making investments in onboarding and training your new recruits in the first 90 days, not only helps you get your new hires productive faster, perform better, it also helps you retain them.
If these options are a little out of your price range currently, what other ways can you provide great orientation and training relatively inexpensively?
One way is to implement a job shadow for a set period. This is where each new hire shadows their more experienced colleagues before moving on to working under supervision until they are confident enough to work on their own.
KFC designed a virtual training escape room to gamify the employee training.
A final word
It really does begin with hiring. You can't develop the wrong person, so you need to focus on hiring the right people for your QSR.
Even though improving your process of hiring QSR employees might seem complicated, you only need to put it in place once and it will make your life a lot easier in the long run. And once you hire your employees, don't forget to look for ways of retaining them as well.
From ensuring you always treat employees fairly to providing them opportunities to develop personally and take on extra responsibility for starters. Show them you're invested in them as a person and an employee and it's more likely they'll stick with you.
It really can be as simple as this: recruitment technology + data + great candidate experience = successful QSR employee hiring. What have you got to lose?
Don't forget to grab your free copy of our white paper on the digital transformation of restaurant volume hiring. Learn about: