Did you know as many as 3 in 4 employers admit hiring the wrong person for an open position? If you're responsible for recruiting at your organization, you may understand this burden all too well. So, as you've already experienced the pitfalls of making such a mistake, you'll know that a bad hire results in a loss of money, time, and productivity.
This then begs the question, how can hiring teams consistently make the best possible hiring decisions?
If you're looking for the answers to this question, continue reading. We'll take a look at a few pieces of sure-fire advice that will massively increase the likelihood of you hiring the most suitable candidates for the job.
There's a lot to cover, so let's jump straight in!
What's in?
Subscribe and stay up-to-date with everything recruitment related by receiving a weekly content digest and email updates on new resources!
1. Define your ideal candidate(s)
You need a firm grasp of who your perfect candidate is.
This means delving into the skills and characteristics they need to succeed at the job, so you can assess applicants in these areas.
The clearer your criteria for a successful match, the easier it is to evaluate whether a candidate matches your requirements.
To get to the bottom of who your ideal candidates are, we recommend doing a job tasks analysis to define the job vacancy you want to fill.
Create the following:
A list of the competencies your candidate will need to demonstrate. Alongside a list of example behaviors that indicate the applicant boasts these competencies.
Examples of the types of activities and situations that resemble the kinds of tasks and scenarios the candidate will face on the job.
The level of skills proficiency required of the applicant
How you'll score the candidate at application, interview, and any assessments you set for them.
Once you have all this info at the forefront of your mind, you'll have a much clearer image of the kind of your ideal candidate profile.
When conducting a job analysis, take time to survey the top performers in your company. Interview them to get to the root of the kinds of skills, experience, attitudes, and personality traits that empower them to excel at your company. Needless to say, this data provides an accurate guide as to the core attributes your ideal candidates need to exhibit.
Top Tip: Document your job tasks analysis and ideal candidate profile. That way, you'll have this info ready and raring to go whenever you want to launch another recruitment campaign.
The Occupational Network Information (O*NET) has a wealth of data on skills, knowledge, abilities, and detailed work activities for many common jobs. It can be a valuable resource for you to establish requirements for your open positions. Above is an example of technology skills and knowledge customer service representatives need.
2. Start making data-driven decisions
If you're not already, it's time to start utilizing candidate assessments as part of your recruitment process. These provide valuable insights into the candidates' skill-levels and competencies.
Before administering these tests, establish a benchmark score or outcome you're looking for. That way, you can take the candidate's results and empirically assess whether they have the skills, know-how, and experience to do the job justice.
Let's look at a quick example you could implement into your recruitment process. For instance, if you're using a cognitive ability assessment, you can set a certain benchmark for scores and all candidates who reach it pass to the next phase of your recruitment process.
If you have the budget for it and want to take data-fuelled decision making to the next level – start using matching technology. This works wonders for any recruiter who has to sift through hundreds of applications. Weeding out the best possible candidates is an arduous process – which is where matching technology lends a helping hand.
This technology assesses candidates across various competencies to predict whether they have what it takes to excel in the role you're advertising for. You're no longer relying on your own (or your team's) subjective opinions. Instead, you're using unbiased and fact-driven data during the earliest stages of the recruitment process to find the best possible candidate.
With this info to hand, you're better positioned to evaluate whether to push the applicant through to the next screening round.
What's more, you can use your newly hired employees' performance data to further optimize your candidate selection process.
Collecting and analyzing relevant data about your candidates allows you to make smart and consistent hiring decisions.
3. Standardize your interviews
Not only is standardized interviewing key to eliminating interviewer bias, be it accidental or intentional, but standardized interviews are also twice as predictive of success as non-standardized interviews.
By 'standardized,' we mean that your interview questions for a particular role should be the same and asked in the same order and manner. You'll also need to utilize the identical interview scorecards to rate your candidates.
Glassdoor puts it this way: "Organizations that lack a standard interview process are five times as likely to make a bad hire."
Rethinking your interviewing methodology will result in a more consistent recruiting process that will help you drive consistent hiring decisions and ensure fair hiring practices.
4. Focus on the candidate's skills and attitude
As many as 29% of recruiters say one of the reasons they made a bad hire was because they struggled to find a qualified candidate. This same percentage also said they regret focussing on just the applicant's skills without considering their attitude.
From this, we learn it's equally imperative to assess a candidate's skills as well as their attitude. For example, if proactiveness and motivation to push themselves forward are important to the job in question and to your company, you shouldn't look only at whether or not an applicant has the skills you need but also what their attitude to work is like.
To evaluate a candidate's attitude towards their work-life is, get a broad understanding of where they see themselves and what their general attitudes towards work and colleagues, and their ambitions are.
You can ask them specific interview questions to learn more about their work ethic and willingness to improve themselves. Here a couple of examples of such questions:
Can you give an example of a time when you were unsatisfied with your work? Why? What did you do or not do? How did you feel about it? Looking back, what would you do differently?
Describe a situation that demonstrates your willingness to challenge and stretch your current skills and abilities.
Don't forget to concentrate on how the candidate's values align with your company values – it will help evaluate their organizational fit.
Stop guessing,
Start data-driven hiring.
Learn how you implement a modern candidate selection process, that is: streamlined, experience-driven and backed by data.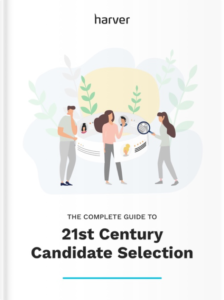 5. What questions are candidates asking? Pay close attention
What sorts of questions is the applicant asking? By listening closely to their questions, you'll get a sense of where their interest(s) lies. I.e., what aspects of the job role and company culture interest them the most. What are they engaging with? Are they inadvertently raising any red flags by asking these kinds of questions?
For instance, questions like 'What does this company do?' suggest they haven't done much (if any) research before the interview. From this we can deduce they veer on the lazy side, perhaps they'll be an employee that only wants to do the bare minimum to get by?
Alternatively, questions like 'Do you check references?' of 'Do I have to pass a drug test?' – imply the candidate might have something in their past they want to conceal. So, take note and do some digging to get the bottom of these kinds of questions before hiring!
The questions above are just a few of many examples to watch out for, but in general, paying attention to the questions a candidate is asking, you can gauge a lot about their attitudes and interests.
6. Set up diverse hiring panels
A diverse hiring team is essential for seizing different perspectives and opinions about prospective hires. As such, you're more likely to come to an accurate and balanced conclusion on whether the applicant's a good fit, and make the best possible hiring decision.
After all, it's human nature to lean towards hiring those you resonate with—I.e., people similar to ourselves. Consequently, a lack of diversity in a hiring panel leaves your recruitment process more susceptible to bias (even unintentionally). This, of course, will impact the quality of your hire.
So, in an ideal world, a hiring team should comprise different genders, races, ages, socio-economic backgrounds, etc. With such an eclectic mix, the panel's opinions will help keep any prejudices in check. So, you can focus on what really matters – whether the candidate is the right match for the job and your organization.
7. Let candidates try the job
No, we're not suggesting a long and drawn out probation period – instead, think job simulations, virtual job tryouts, assignments, trial shifts, etc.
This will bring to your attention what the candidate is like in action and demonstrate they can handle the day-to-day tasks and pressures of the job. On top of that, it also sets realistic expectations for the applicant about the job. This empowers candidates to walk into the position with their eyes wide open.
If you don't know where to begin with enabling candidates to trial the job, here are a few examples of job simulations:
If you're looking to hire a secretary, you could perhaps brief them on scheduling an offsite meeting and then get them to undertake the task to see how they get on. Similarly, you could ask them to review expense report guidelines and test them on how well they retained the information. For instance, give them an expense report to analyze and see whether they can identify any errors in need of correction.
Or, perhaps you're hiring a live chat agent? In that case, you can use a live chat support simulation where your candidates need to put their skills into practice. Not only will you see how well they would do in the role, but you will also help them understand what the job is about.
Work tryouts are a powerful predictor of future success on the job.
8. Set expectations
We just touched on this in the point above, but it's super important, so let's discuss it in more detail.
Making the right hiring decision doesn't only mean that you've found the best person for the job, it also means that this individual also thinks they've found the best role for them.
It's imperative you make it clear throughout the entire hiring process what your expectations for the candidate are. This means providing in-depth and accurate descriptions about the job role, company culture, and how the candidate will fit into the team.
Provide candidates with a designated point of contact. So, if they have any questions during the recruitment process, they have someone to turn to. Ensure that whoever's tasked with answering these questions understands the importance of communicating openly and transparently. Again, this goes a long way to set realistic candidate expectations.
9. Don't rush the process
For most organizations, making that all-important hire to fill the gap in your team is a priority. But, as tempting as rushing the recruitment process to achieve that goal is–don't.
Instead, give yourself all the time you need to establish your current workforce's inefficiencies and skills gaps. This will better position you to make the best possible hire to successfully fill that chasm.
On top of that, you'll also need to spend an appropriate amount of time connecting with your top candidates. After all, this is the only way you'll get to know them. This may sound laborious, but ultimately, it takes time and effort to make better hiring decisions.
Consolidate your hiring efforts with a solid hiring plan and relieve the pressure of having to rush the recruitment process.
Are you ready to start making the right hiring decisions?
Hiring the right person isn't always easy. You want to employ someone who will thrive at your company – so a lot's riding on this decision.
However, if you commit to streamlining your recruitment process by using data to guide your decisions, you're far more likely to make better hiring decisions. And don't forget to focus not only on skills but also on the candidate's attitude and organizational fit. Lastly, don't rush the process just to get it over with. Instead, focus on selecting the best person for the job.
If you follow all the above advice, we're confident you won't go too far wrong. Best of luck as you go about making your next hire!
Stop guessing,
Start data-driven hiring.
Learn how you implement a modern candidate selection process, that is: streamlined, experience-driven and backed by data.