There is currently a widespread shortage of workers across multiple industries and job levels, and talent acquisition is no exception. According to data from LinkedIn, there were almost 7 times more recruiter jobs posted in June 2021 compared to the previous year.
Even in an organization that hires for a handful of roles at any given time, this recruiter shortage can have a detrimental effect on productivity, team morale, and profits, but when it comes to businesses in the volume hiring space the effects can be much more profound. 
But what's causing the recruiter shortage? And what can organizations who hire at scale do to navigate this situation and minimize its business impact?
Subscribe and stay up-to-date with everything recruitment related by receiving a weekly content digest and email updates on new resources!
What's causing the recruiter shortage?
Skill shortages across many industries have led to businesses striving to hire full-time dedicated, in-house recruitment teams to solve their staff shortages. But with all companies having the same idea, this has led to steep competition and recruiters are now in high demand, particularly in the hard-to-hire finance and tech startup arenas.
This trend has started in the summer of 2020, after a drop in recruiter openings at the beginning of the pandemic, and has become more apparent during the Great Resignation.
In addition, the pandemic left thousands of recruiters out of work which meant they were forced to take up new, alternative positions, and many of them have not returned. Those who have returned are looking for roles with greater job security.
On top of this, companies are increasingly choosing candidates with past recruitment experience, as they require less training and can get up to speed faster. Before the pandemic, only 33% of recruiters had previous experience in this area, while post-pandemic, the number jumped to 59%.
Impact on organizations and talent teams
For companies in the hourly volume hiring space, such as retailers, contact centers and BPOs, or hotels and restaurants, this shortage of recruiters means not only slower hiring processes across all open jobs, but also an increased risk of burnout among HR, recruiting, and talent acquisition staff.
Before we discuss the solution for navigating the current situation, let's take a closer look at how the recruiter shortage is affecting talent teams.
Increased workload
A recruitment staffing shortage will lead to an increased workload for your existing recruiters. Alternatively, the burden may be passed on to store managers and admin assistants who lack the skills to perform in the role and will find themselves with less time to perform their key responsibilities. 
High-stress levels and burnout
An increased workload can only be sustained for so long before it results in high-stress levels, exhaustion, and even burnout. Your employees won't be happy, which can lead to further staffing shortages and negative consequences for your employer brand.
Delayed processes
A recruiter shortage can have a severe impact on the operations of your entire organization. For example, fewer recruiters means an increase in the time it takes to sift through applications, screen, and interview candidates, so your hiring cycles will be delayed. 
Poor experience for everyone
Because it takes your company longer to hire, the candidate experience becomes less than ideal, and you may end up missing out on top talent because your competition has already snapped them up.  
For all these reasons, it's essential that business leaders make handling the recruiter shortage a priority. But how should they fix this problem, and where should they start?
How to handle the recruiter shortage
The obvious solution to the recruiter shortage is to do everything in your power to fill those recruiter roles by offering competitive salaries, benefits, and unparalleled company culture. But this is only a short term solution, as it only treats the consequences, not the root cause of the problem.
Hiring more recruiters to handle the increasing number of vacancies is a valid solution only as long as the number of job openings stays manageable. However, especially now, when the shortage of recruiters is doubled by a lack of candidates interested in hourly roles, you need to start looking at more effective ways to alleviate the effects of talent shortages.
Let's explore the options below.
Upskill your existing talent
Recruiters often fall into talent acquisition from multiple other roles, commonly within HR, admin, and sales, which means that you may be sitting on star recruiters who are currently working as store managers or sales assistants.
High performers in these roles will already have great communication skills, be able to develop authentic relationships, sell products or services and know how to influence. Although they are likely to need some additional recruitment training, many of their current skills are transferrable. The right technology and systems can make this transition a seamless one.  
Assess your current ways of working
While a talent crisis is not desirable, it is an opportunity for organizations to assess their ways of working and find areas of improvement.
This applies to the recruitment function as well. A recruiter shortage will inevitably highlight the strengths and limitations of your current hiring process. In order to prioritize the issues that should be addressed first, try to answer the questions below.
Where are the bottlenecks and weaknesses in your existing recruitment strategy?
What causes a delay in candidates moving from one stage to the next?
What creates unnecessary work for your existing talent team, and slows everyone down?
What can be improved to create a faster, better experience for everyone involved?
What does your employer brand look like right now to an outsider? 
Put yourself in your recruiters' shoes and your candidates' shoes and assess your current ways of working from all angles. 
For example, how easy is it right now for a candidate to submit an application for one of your entry-level roles? Do they have to switch between platforms? Can they do it on a mobile phone or do they need to be at a computer? Can they apply for more than one role at a time, and across multiple locations?
How long does it take for them to hear back from you after applying? Do candidates know when they can expect to hear from you? Does every successful and unsuccessful candidate get a response from you?
Use these insights to map your entire hiring journey, from a recruiter and candidate perspective.
When it comes to your recruiters, are there any stages that require manual input and are time-consuming? Are you implementing automation wherever possible? When you're hiring at scale, seemingly small tasks quickly mount up and weigh talent teams and hiring managers down. 
Get clear on what you're doing well, what you can do better, and what's missing from your recruitment journey right now. It's essential to zoom out and look at the big picture before you begin to redesign your hiring process.
What can you automate?
If you want to decrease the overall workload on your recruiters, and thereby reduce the need for more hands on deck, it's vital to automate all the tasks that don't require real-time, human intervention.
A tight labor market means there's already a shortage of qualified candidates, therefore a flexible, agile, tech-driven, and scalable hiring process is key; an automated process that enables you to scale operations up and down, without human intervention, whenever the conditions in the labor market change.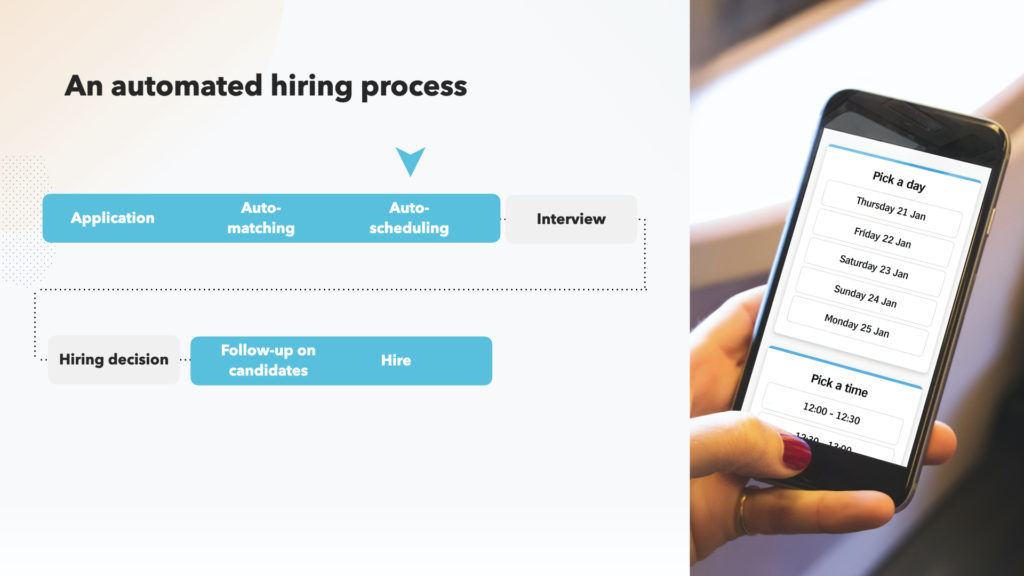 When hiring at scale, sifting through your candidate pool to identify the most suitable candidates for the role in question can become an endless task. Too many recruiters are also left with the job of interpreting skills assessments or deciding which candidates to move to the interview stage rather than focusing on the ultimate hiring decision.
A recruiter shortage will only exacerbate this issue, so this is where automation becomes your secret weapon.
Automating repetitive tasks can free your recruiters up for people-centered tasks they enjoy most—tasks that cannot be replicated by a machine. This leads to higher job satisfaction, and more accuracy in the candidates progressing through your recruitment pipeline and ultimately walking through your doors. 
Here are just some of the recruitment steps you can automate:
Job advertising and sourcing
Tracking applicants
Candidate pre-screening
Interview scheduling
Candidate communication
Background and reference checks
Assessing candidate skills
Comparing candidate profiles for job fit
Keep your recruiters and candidates engaged and informed by implementing a fully automated, smooth recruitment journey for everyone.
Leverage technology
Technology is rapidly changing the way businesses hire and can automate and simplify numerous steps of your hiring process. To combat a recruiter shortage in your business, evaluate your current hiring journey from a tech and tools perspective. 
What does your tech stack look like? What tech do you currently use? A CRM platform, an ATS platform, an HRIS platform, an assessment solution, a performance management tool, a scheduling tool, a video interview solution?
Are you missing any key technology? Are all the tools in your tech stack deeply integrated from a data point of view, to give you a single source of truth by collecting all data in one place? Do you need more human interaction at any touchpoint during the application stage?
How do your separate platforms integrate together? Does your tech stack simplify and speed up your recruitment process or does it slow it down and make it more complicated?
Most recruitment teams rely on at least a handful of tools in their recruitment stack. If these tools don't work together properly, they lose their value and create yet another bottleneck.
If you do have tools in your stack that aren't working well, replace them with ones that create the most efficient combination, or with an end-to-end solution that's purpose-built for volume hiring.
Support decision making with data
The final step is to analyze the data you're collecting, ensuring it's centralized, and helping everyone across the business understand and interpret it in the same way.
You're likely collecting a ton of business intelligence, but the only way to have this work for you is to be able to fully analyze and interpret the data. It's not enough for each of your tech tools to report on the data they capture in isolation.
If you want to be able to make automated hiring decisions, you need to be able to bring all that data together and see the big picture. 
Here are some key questions you should be able to answer through your data:
What sources are your best candidates coming from?
What are your current conversion rates from job postings?
Where is your biggest drop off point for candidates, and why?
Do you have enough qualified candidates in your talent pipeline?
What skills, behaviors and competencies do your ideal candidates have in common?
Is your recruitment process biased in any way?
The Harver platform, for example, captures all your data into one single source of truth, which makes it easy for you to understand what's happening in your recruitment journey at any given point, spot any inefficiencies, and resolve them. 
Next steps
As the labor market continues to change, recruiter shortages will inevitably come and go. Perhaps your business has already been affected by the recruiter shortage, or maybe it hasn't. It's far easier to take measures to prevent a fire from happening than it is to put one out. 
If you'd like to see how Harver can assist you in transforming your volume hiring process, and take it from a reactive and fragmented one to a tech-driven, automated and efficient process, you can book a demo below.
Ready to transform your hiring process?