Organizations are becoming increasingly aware that their HR departments are falling behind when it comes to digitization, and the onslaught of the pandemic has only highlighted this.
The impact of sticking with slow, manual, outdated processes and operations has a relatively small (but still noticeable) impact in regular recruitment, but this is magnified in the volume hiring space to the point where it cannot be ignored.
The organizations that have been the least affected by covid's chaos are the ones that have been able to adapt fast to a rapidly changing industry and had a recruiting strategy that enabled them to scale up and down without increasing recruiter headcount.
So, let's explore what recruitment agility is, why it's vital for volume hourly hiring, and how to create an agile, digitized process that allows your organization to react quickly and efficiently to changes in the labor market.
Subscribe and stay up-to-date with everything recruitment related by receiving a weekly content digest and email updates on new resources!
What hiring agility means in practice
The primary object of agility is to enable organizations to respond rapidly to short-term changes, shifting market trends, behavioral transformation, and technological interventions. It's a recruiting approach that empowers HR professionals and helps them become an integral part of their organization, driving the business forward.
Here's what agile talent acquisition teams can achieve with a flexible, forward-thinking approach.
The ability to scale up and down as needed
Following the pandemic, countless job seekers have been laid off or furloughed, which has led to dramatic changes in the labor market across certain industries, particularly hospitality. As the world slowly adjusts and reopens, demand for entry-level workers has soared. However, some candidates have chosen to switch industries in search of better job security, leading to a shortage in supply.
Agility enables hiring managers to scale up and down as needed. It is being able to fill new jobs when the labor market is tight and filter when there's a surplus of candidates without reducing or expanding the recruiting team.
A streamlined and efficient process
Agility also relates to having a streamlined and efficient hiring process not disrupted by an influx in candidate numbers. Companies who hire for multiple locations can route candidates between those locations accordingly to optimize their talent pool. This is key to ensuring your organization doesn't miss out on top talent.
Ensures a positive candidate experience
Hiring agility focuses on creating and delivering a positive experience for candidates throughout the recruitment process.
Typically, candidates are kept waiting between 21-30 days from start to completion. On the other hand, an agile process will ensure candidates receive instant replies and notifications and are interviewed via video instantly or within a few hours or days after applying.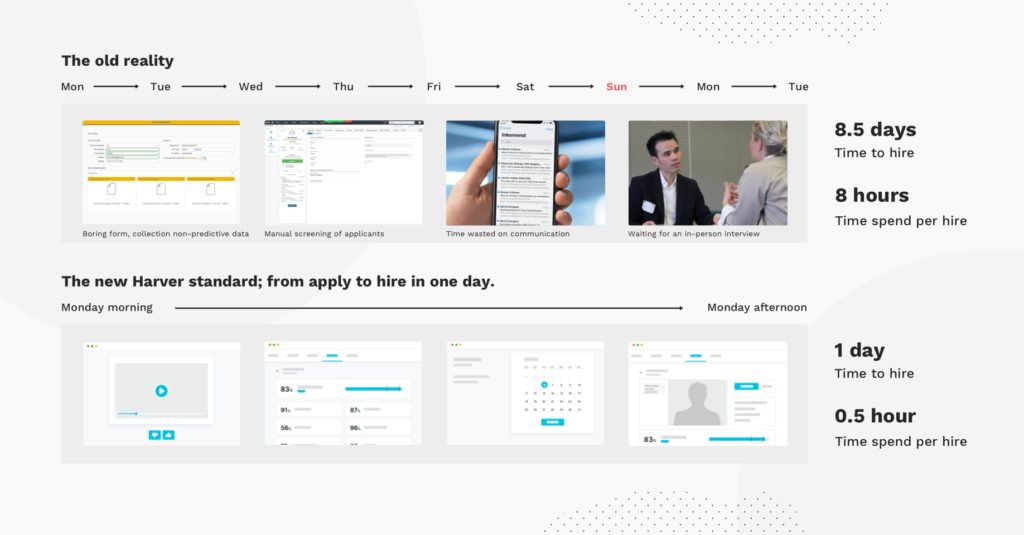 Real-time data and practical insights
Finally, an agile hiring process uses real-time data, which empowers the recruitment team to make fast decisions based on actionable insights. Agility enables organizations to hire based on their current circumstances and to have their future needs in mind.
This is what recruitment agility looks like in practice. Now let's see what steps an organization needs to take to become more agile.
How to achieve recruitment agility when hiring at scale
1. Take a holistic approach to recruitment
When you're hiring at scale, it's easy to fall into a pattern of inefficiency through operating with complex tech stacks that require multiple tools that don't integrate seamlessly. To avoid this, it's essential you take a holistic approach and look at the bigger picture of the entire hiring journey—from a recruiter's view as well as the candidate's view.
Hence where mapping your hiring journey comes into play. It's a visual representation of the journey your recruiters and candidates go on through the hiring process. This allows you to spot strengths and weaknesses, bottlenecks and gaps and gives you a solid idea of what your employer brand looks like to outsiders.
Once you know the key areas for improvement, you're able to design a hiring process that reduces the commitment needed from your recruiters. They can focus on what they do best and create a stellar experience for all applicants that leaves a great impression—even if they don't get hired.
If you'd like to see how Harver can help with mapping your hiring journey, you can book a demo below.
2. Implement a tech solution designed for volume hiring
Regular recruiting and volume recruiting require fundamentally different processes.
In regular recruitment, there is usually one or a handful of roles to be filled, often with a flexible deadline. Many processes are manual sourcing, sifting through CVs and cover letters, screening candidates, and inviting those shortlisted for a face-to-face interview—but recruiters manage.
However, multiple roles need to be filled at once in volume hiring, often across locations and within a strict time frame. There will usually be a large volume of applicants for entry-level jobs who are first and foremost looking for job security and a steady paycheck. Therefore, they are unlikely to wait around for recruiters and will often take the first job they are offered.
So, if you're hiring at scale, you need a solution that's built for volume to meet your needs that can integrate with your ATS (applicant tracking system). This will enable you to automate processes across the sourcing, assessing, interviewing, and selection stages and maintain efficiency and quality of hire.
3. Utilize automation
A true agility test in volume recruitment can be based on how automated your current process is. When dealing with large volumes of applicants, your entire recruitment process from application to hire should be fully automated, enabling you to meet the demand without having to scale or downsize your TA team.
Although hiring managers are known to like having a certain amount of control over the recruitment process, when it comes to volume hiring, it's simply not feasible to continue operating this way when technology can seamlessly mirror many manual, time-consuming tasks.
Leaving candidates waiting for days or weeks for a reply will put you at risk of losing the best talent to your competitors. Automation will speed up every step up the recruitment process and significantly reduce your time to hire.
When seats are filled faster, this alleviates pressure from your current employees and ensures a positive experience for your customers. Plus, your recruitment managers will no longer have to screen resumes or call candidates, which means they can spend more time on their primary job function.
4. Route candidates between locations and let them self-schedule interviews
When hiring at scale across multiple locations, some branches will be particularly challenging to recruit for. An intelligent recruiting system that routes candidates between locations and lets them self-schedule interviews helps you meet your demand for staff. It also allows you to offer job security faster and ensures you don't lose top candidates to your competition.
5. Accommodate work from home workers
The pandemic forced many employees to work remotely, where many applicants now expect to have this choice.
Being rigidly against employees working from home dramatically reduces your talent pool, and adaptability is key when it comes to recruitment agility. So be open to accommodating work from home workers and be ready to assess their skills and current tech stack to see if they have the right set-up to work remotely.
Next steps
Recruitment agility leverages technology to enable organizations to react quickly and innovatively to changes in the labor market and provide a more positive experience for recruiters and applicants.
If you want to avoid being left behind and trumped by your competitors, it's imperative you adapt your ways of working and create a recruitment process that ensures you have an endless supply of top talent at your fingertips.
If you're looking to build a more agile recruitment function and would like to see how Harver can help, you can book a demo below.
Ready to transform your hiring process?