Although the human resources and talent acquisition industry is lagging behind when it comes to tech adoption, recruiting technology is being used more and more to work more efficiently and put the right people in the right roles.
What spurred the rise of recruiting technology? While the trend started before the COVID-19, the pandemic accelerated the process, rapidly increasing adoption as recruiters scrambled to adapt and transition to fully remote hiring. Even in the wake of the pandemic, we expect that newfound momentum to continue.
That said, digital disruption in the HR industry has created a fragmented landscape, with the biggest trend being a split between regular and volume hiring recruiting software.
Just like physical tools made for right-handed people are inherently different from those for left-handed people, volume hiring requires different tools from those used for regular recruiting.
So let's dive into the volume hiring technology scene and break down why this software is in a category of its own.
Recent shifts in recruiting technology adoption
Despite the countless proven benefits of embracing HR and recruiting solutions, 8 out of 10 companies still struggle with tech adoption challenges. That said, COVID-19 has prompted a recent uptick in recruiting tech adoption. In fact, many recruitment leaders feel the pandemic has forever changed the recruiting tech stack.
According to Mark Brandau, global industry analyst at Forrester, the shift has largely been around organizations embracing automation to improve hiring efficiency—something we've seen slowly but surely happening in pre-COVID times that has gained increasing momentum in the wake of the global health crisis.
"Recruiters either want to automate sourcing and screening more because of high volume or they want to find better quality candidates. So they're focused on automation and quality of time to improve the caliber of candidates entering the funnel and their experience," explained Brandau.
These low-hanging fruit opportunities to optimize operations offer efficiency and quality gains that save recruiters time and improve the candidate experience.
Now with more vendors entering the recruitment tech industry and more recruiters embracing software across various industries, we're finally beginning to see a distinction between two very different categories: software for regular hiring vs. tools designed specifically for volume recruitment.
And while these solutions may seem similar, they are actually designed to fulfill different needs and solve different problems.
Subscribe and stay up-to-date with everything recruitment related by receiving a weekly content digest and email updates on new resources!
Why you need technology built for volume hiring
Regular recruiting and volume recruiting processes unfold in fundamentally different ways.
In regular recruitment, recruiters are usually looking to hire one individual to fill an open role. The deadlines are less strict, so even when the number of applicants is higher than usual, recruiters still manage to screen candidates and interview the suitable ones without having to alter their way of working too much.
Also, the recruitment tech stack doesn't need to be too complicated, because a lot of the steps in the hiring process are manual. Yet, because of the labor-intensive nature of regular recruitment processes, making several hires at once can be a significant undertaking—not to mention a drain on recruitment time and resources.
On the other hand, volume recruitment is a whole different animal, in which companies recruit multiple people for similar roles at one time. These positions are often entry-level, with a lower barrier to entry that makes them well-suited to volume hiring.
In volume recruitment, due to a large number of applicants, recruiters need tools that are built for volume if they want to maintain process efficiency and high quality of hire.
To give just an example: in regular recruitment, it's possible to manually source candidates, but at scale, talent teams simply can't afford to rely on manually activated ads and personal search.
The same goes for assessing and interviewing. In regular recruiting, candidates expect to have to wait a couple of days to receive an answer from the recruiter, so the talent acquisition team can take the time to go through applications, review CVs and cover letters, and then schedule interviews with the suitable candidates.
In volume recruitment, though, candidates expect an answer fast and are not willing to wait, because they're first and foremost looking for job security and a paycheck. So the first company that can give them that is the chosen one.
This means that recruiters need to move fast, and at scale, this can only be achieved by automating processes and limiting the number of manual steps involved in sourcing, assessing, selecting, and interviewing candidates.
Applying the traditional recruitment process at scale simply won't do the trick when you're engaging in mass hiring efforts – at least not without increasing your recruiter headcount.
So to sum it up, here's why you need software that's built for volume, when recruiting at scale:
Sourcing
In regular recruitment, you can publish ads and search for applicants manually. In volume hiring, this won't work without expanding your talent acquisition team, so you need an automated and data-driven solution that enables you to find the right candidates, at scale.
Application
In regular recruitment, your talent team can afford to reach out personally to the candidates that seem suitable for the roles. Manual screening, although not the most efficient, can work. In volume hiring, though, this just isn't an option; you need a full digital experience that's scalable and drives conversion, because you have hundreds of seats to fill.
Assessing
In theory, both regular recruitment and volume recruitment can use similar tools for assessing candidates: personality questionnaires, situational judgment tests, learning agility tests, and so on. But what often happens is that, in regular recruitment, talent teams use standalone assessments that provide a score per candidate.
Recruiters then have to put in the time and effort to interpret those scores one by one and decide which candidates are suitable for the role. In volume hiring, this approach just won't do it, as talent teams are hiring for multiple roles at once. The assessments need to be role-specific and designed for automation.
Selection
In regular recruitment, manual decisions based on human insights are ok, as you're only hiring for a few roles at any given time. In volume recruitment, this outdated approach won't work, because you need to select hundreds of candidates who all look the same on paper. You therefore need a data-driven, automated decision-making process.
Stop guessing,
Start data-driven hiring.
Learn how you implement a modern candidate selection process, that is: streamlined, experience-driven and backed by data.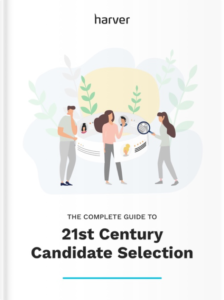 Interviewing
When hiring regular numbers of employees, you can afford to spend time scheduling interviews with each of them. At scale, you need a solution that enables candidates to self-schedule and record interviews that your talent team can watch later, when making hiring decisions.
As you can see, although the stages of the recruitment process are the same, the specifics make regular recruitment very different from volume hiring. It therefore becomes obvious that trying to hire at scale using tools that are built for regular recruitment is not a cost- or time-effective solution.
What does a high-volume hiring tech stack look like?
Historically, the majority of recruitment tools have been designed for regular use cases, however, things are beginning to change. Recruitment tech vendors are catching on and beginning to develop tools that are uniquely equipped to support the nuances of high-volume hiring.
Software that's purpose-built for volume hiring is designed to automate as many stages of the recruitment funnel as possible, eliminating manual tasks and improving efficiency.
The ultimate goal is to create an automated, well-oiled recruiting powerhouse that enables your organization to hire a high volume of candidates in one go. You just need a volume recruitment tech stack that equips you to make it happen.
In the image above, you can see what the end-to-end recruitment process looks like when the Harver platform is used for automating the hiring stages from "Apply" to "Hired". Using software that's built for volume simplifies the process, as recruiters no longer have to switch between multiple systems to progress candidates to the next stages in the funnel.
With Harver, for example, all the steps from application to auto-matching, interview scheduling and following up are automated, so the talent acquisition team only needs to worry about the actual interview and the hiring decision.
Moreover, because Harver is built for volume, all the integrations are streamlined so that no data gets lost in the process.
Volume hiring in the digital age requires integrated, end-to-end recruitment solutions designed to address each stage of the recruitment funnel with scaling up in mind.
There are high-volume recruitment tools that can be used for each stage, from sourcing and assessment to candidate selection and onboarding.
Sourcing
First, you need to adapt your sourcing strategy to accommodate volume recruiting. Volume recruiters today are turning to technology to create and list job postings as efficiently as possible. AI-powered job description software can help you optimize your postings to automatically include the right job titles, requirements and language.
Programmatic job advertising, or the purchasing, publishing and optimizing of job ads using software, is also especially beneficial for high volume recruiters. Using a programmatic job advertising solution, you can develop an automated system for advertising a number of job openings to your target demographic at one time, minus the hard, labor-intensive manual work that comes with doing it the old-fashioned way.
Applying
Next comes the application stage: For this, you'll need an applicant tracking system (ATS) to organize and keep track of a high volume of candidates at one time.
Like the sourcing tools in your recruitment tech stack, your ATS needs to be designed to find and hire the right people quickly and at scale. In addition to helping you hire at scale, an ATS for volume recruitment will empower you to build a talent pool with passive candidates.
Assessing
Of course, the process doesn't stop there. Next comes the assessment stage, which you may be wondering about—how can you automate something like that?
A high-volume recruiting platform like Harver helps recruiters to effortlessly screen candidates and identify top talent using a wide variety of scientifically validated pre-hire assessments to evaluate important hard and soft skills, such as:
Cultural fit
Cognitive abilities
Personality traits
Learning agility
Situational judgement
Multitasking skills
Typing skills
Language proficiency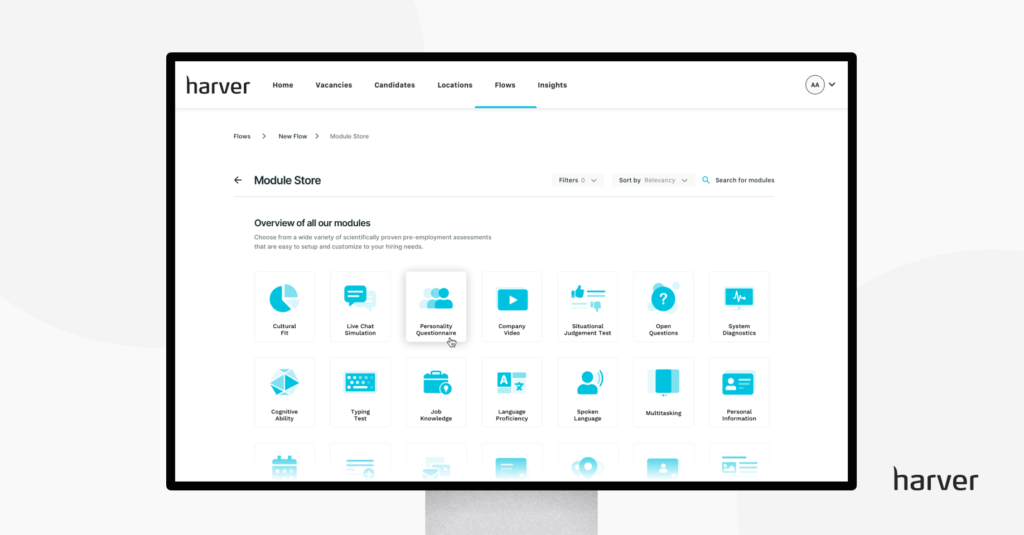 An automated pre-hire assessment solution for volume hiring using artificial intelligence (AI), predictive analytics and matching technology to quickly and consistently predict on-the-job success across thousands of applicants. Candidates' answers are then rated, ranked, aggregated and displayed in a recruitment dashboard for faster, more data-driven recruiting.
Better yet, in addition to speeding up your time to hire, a volume hiring solution like this ensures that each and every candidate has an equal opportunity, free from any unconscious bias. It's really a win-win!
Interviewing
Once you've identified the top candidates for a volume hiring initiative, you need to figure out a way to automate interview scheduling. Back-and-forth email chains and endless games of phone tag to coordinate schedules is simply not feasible when hiring a high volume of employees at one time.
To scale interview scheduling in volume hiring, you need software that enables self-scheduling, saving time and offering candidates a better, more streamlined experience. Should applicants fit your criteria, they'll automatically be sent an invitation to schedule an interview.
You can even have candidates record a short video and allow the technology to evaluate answers for you. On-demand video interviews are a flexible and innovative way to hire at volume while also enhancing the digital experience for your candidates.
Onboarding
Finally, you need technology to support onboarding countless new hires at one time. Content management and workflow automation systems offer a highly effective way for high volume recruiters to manage new hire paperwork as efficiently as possible, even with hundreds (if not thousands) of employees to onboard all at once.
High-volume onboarding automation software is also available, which can help to eliminate paper-based forms and manual data entry to simplify the process without harming the candidate experience or increasing the likelihood of high turnover that works against your efforts to recruit a mass number of employees.
Over to you
Now that you know which tools you should include in your volume hiring tech stack—not to mention how and why they're different—you're prepared to recruit and hire the best possible talent in the shortest amount of time, without needing to hire more recruiters or spend more money.
It's up to you to build a tech stack that empowers you to do just that, efficiently and at scale. And if you'd like to see how Harver can help, you can book a demo below!
Ready to transform your hiring process?