8.4 million jobs are forecast to be created in the US by 2028. Furthermore, Baby Boomers are retiring, meaning a lot of jobs are going to need to be filled sooner rather than later to allow companies to continue growing their business.
But to fill these current openings and to future proof the company, organizations need to step up their recruitment efforts to hire the right talent.
So how do you improve your talent acquisition process? Unfortunately, there is no "one size fits all" solution when it comes to workforce planning. Every business and organization will have its own specific staffing requirements that are linked to the company's mission and goals.
However, we have 9 ideas that you could implement to help you improve your talent acquisition process.
Subscribe and stay up-to-date with everything recruitment related by receiving a weekly content digest and email updates on new resources!
1. Build your brand
If you want to attract top talent to your business both now and in the future, you need to ensure that your brand is as attractive as it can be.
Be clear about who you are and create an authentic message that communicates clearly what candidates can expect from your company, should they become employees.
Be consistent in your brand messaging in all your communications, both internal and external.
Nurture your company culture and make sure you're recruiting candidates who fit your culture.
Understand that we live in a social world where 70% of candidates will check out a company's review on platforms such as Glassdoor, Indeed, LinkedIn, or social media, to see what employees past and present have said about your company, before applying to work for you.
Put your own personal brand ambassadors to work for you i.e. your current employees. Who better to champion your company than those who presently work for you?
84%
of consumers expect CEOs to inform conversations and policy debates on one or more issues.
Source: Edelman
2. Design your process with retention in mind
You don't want to lose new hires because their job expectations weren't met. Make sure that throughout your talent acquisition process your candidates get a taste of what the job would be like, e.g. through realistic job previews, situational judgement tests, assignments or job trials.
Also, entering the workplace and making up the next cohort of future employees – within the next 2 years they'll make up 50% of the US workforce, 75% by 2030, Millennials and Generation Z are a whole other kettle of fish. They have completely different requirements from the Baby Boomers and Gen X cohorts preceding them. So get to know your employees.
According to a recent survey, Millennials are the least engaged generation in the workforce, changing jobs more frequently than any other generation. This turnover costs the US economy approximately $30.5 bn annually. Who can afford that?
It is worth bearing in mind that the next generations at your workplace want more than just remuneration. And while this is a strong incentive, they also want:
Regular meetings with managers (employees having such meetings are 3x as likely to be engaged)

The company to behave ethically in all its activities

The company to have an ambition and purpose beyond simply making money

A diverse senior management team

Flexible working options

A high trust culture

Great company culture and workplace environment

To be treated as individuals, not as a number on the payroll
3. Develop talent acquisition managers
You can't expect those people responsible for the talent acquisition process to be able to meet your company's requirements if you don't train them on what it is you need them to achieve. As the old adage goes – 'the freshest coat of paint can't repair a broken foundation'.
That's why it's important to provide continuous training to your talent acquisition managers to make sure that they are always on top of the newest developments in the area and that they have all the necessary recruiter skills they need to be successful in their role.
30-50%
higher engagement and retention experienced by organizations with a strong learning culture
Source: Bersin by Deloitte
And while you're at it, get everyone in on the recruiting action. Effective talent acquisition will require buy-in from all involved in the company.
How?
Your current employees make great ambassadors, so put them to use. If you want to keep your talent pipeline filled up, incentivize your existing engaged employees to promote your company, it will go a long way to ensuring candidate referrals keep trickling in.
4. Be agile and flexible
Your talent acquisition process shouldn't be set in stone. You should pay attention to the changes in the market conditions, e.g. competitor's openings, students graduating, seasonality and the like.
Stay on top of your hiring demand data and react accordingly when necessary. By which we mean, try not to be reactive with your talent acquisition process, be proactive instead.
One way of ensuring you stay proactive in meeting all of your hiring needs is to meet regularly with hiring teams and make sure that everyone adopts an 'always open' approach to talent acquisition, to maintain a full talent pool.
You can also do this by frequently looking at how your talent pipeline is developing and take necessary measures to ensure the process is flowing smoothly and there aren't any kinks that might cause a bottleneck further down the line.
For example, consider strengthening some of your recruitment channels. Find out which channels yield the best results for your company, be they job boards, social networking, your own corporate website, and then take a look at who the different channels work best for i.e. entry-level employees or senior management.
Check out certain metrics for each of the channels such as:
And be prepared to take action to ensure you are optimizing your talent acquisition process. Essentially, do more of what works and less of what doesn't.
In order to be agile and flexible, you also have to be able to adapt accordingly to changing market conditions. For example, you might need to redefine responsibilities for certain roles to make sure you're hiring talent with the right skills to work with your new technology.
Another way to guarantee you remain agile is to work on your strategic workforce planning, thereby better enabling the individual teams, and the company as a whole, to be more responsive to acquiring new talent.
Stop guessing,
Start data-driven hiring.
Learn how you implement a modern candidate selection process, that is: streamlined, experience-driven and backed by data.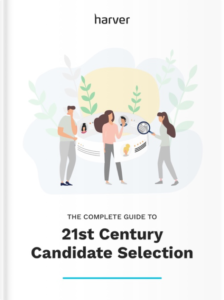 5. Keep all stakeholders engaged
To improve your recruitment efforts, first of all, start out by determining who needs to be involved in the talent acquisition process during its different stages. Typical stakeholders include:
Recruiters

HR

Hiring managers

The team

The candidates.
Keep all parties engaged with frequent communications and loop them in with regards to all developments, including any hold-ups.
If you find that you've come across a bottleneck during the recruitment process, rather than try and force your way through, gather all necessary stakeholders and re-evaluate the situation. Figure out who is in charge of which aspects of the talent acquisition pipeline i.e. what is required from each person at each stage in order to keep applications moving forward.
There is nothing more off-putting for candidates during the recruitment process than being left in the dark when delays occur. Sometimes projects do stall, that is just part and parcel of the talent acquisition process, but that doesn't mean you should cease communicating.
6. Screen in, not out
In times of low unemployment, your company might experience a lack of qualified candidates. That's why you should screen candidates in, not out.
Rather than assess candidates for potential and dismiss those that don't have the requisite hard skills that you may require, look for candidates that have transferable soft skills. These are the type of skills that don't always come naturally to some people, but the type of skills that we are hugely valuable at the workplace, for example:
Communications – both verbal and written

Time management

Teamwork

Problem-solving

Emotional intelligence

Conflict management and resolution

Personal productivity and discipline

Trainability

Learning agility
Learning agility and trainability are especially important for more junior roles where your candidates might not have much relevant experience yet but they need to learn a lot of new things at a rapid pace.
There is plenty of talk surrounding diversity and building inclusive teams, but actually following through on your words is what counts. In fact, in the US, 1/3 of large employers don't have programs in place to recruit diverse candidates.
30%
of employers across all sectors say that their organisation's recruitment and diversity strategy are completely aligned
Source: PwC
The importance of having a diverse team can not be overemphasized. Diverse workforces routinely outperform those that aren't diverse, and employees are shown to be happier too.
Educate your recruiting team about how to make your talent acquisition process more inclusive.

Teach them how to use adequate tools.

Create diverse hiring panels.

Educate your talent acquisition team on bias and how to avoid it.

Widen your candidate search parameters.

Ensure inclusion is part of your company culture.
8. Let technology help you
Using the right recruitment software in all stages of your recruitment funnel will help make your talent acquisition process more objective, effective, and faster by automating certain processes that don't necessarily need human input.
For example, utilize an ATS that is powered by AI as a backbone of your recruitment tech stack. With its help, you're more likely to identify your ideal candidates from the wealth of active and passive candidates that you might have in your system.
Employing pre-employment testing software will enable you to make data-driven decisions based on the actual skills and characteristics of your candidates while reducing the risk of unconscious bias. By conducting assessments early in the recruitment process, you will also save time on shortlisting qualified candidates and improve your interviews.
You can even automate your means of communications by setting up email flows based on candidates' actions or by employing chatbots to maintain consistent and open engagement with candidates, all the way from the application process through to scheduling interviews.
9. Promote internal mobility
Promoting internal mobility is not only great for employee motivation but also for your talent acquisition – both horizontal and vertical. Oftentimes, you already have the best talent on board, you just need to know who they are and what skills they have.
So harness the potential talent you already have and:
Build an internal mobility program

Promote your openings internally

Ensure promotion is part of the company culture

Encourage employees to seek multi-directional career transitions

Provide learning opportunities that not only benefit your employees but your company too
A final word
Your talent acquisition process has to be on point if you want to get ahead of your competition. You have to monitor it constantly to make sure that it is designed in the most effective way possible at all times. While the ultimate goal of your talent acquisition process is to hire the best person for the job, don't forget to provide a great experience for everyone involved.
Stop guessing,
Start data-driven hiring.
Learn how you implement a modern candidate selection process, that is: streamlined, experience-driven and backed by data.