Recruiters face another year of hiring challenges: employee resignations are at an all time high, the available talent pool grows shallower weekly, and candidate expectations have changed significantly in a short space of time.
To keep up with the latest recruitment technology, and to meet the requirements of a new generation of workers who expect different things from the workplace, hiring managers have to acquire a particular set of hard skills and soft skills.
So, if you're trying to figure out what fundamental skills are required to become a top recruiter in 2022, read on.
Subscribe and stay up-to-date with everything recruitment related by receiving a weekly content digest and email updates on new resources!
13 essential skills of a top recruiter
1. Keeping abreast of new technology
An obvious one to start with. There is a constant stream of new HR technology emerging and while you won't necessarily have to know the ins and outs of every single one, it's good to know what is out there. And how it might help you hire better.
It's all about staying informed and understanding what type of HR technology could improve the recruitment process within your organization.
If you don't have time to do this yourself, simply sign up to a newsletter, such as Harver, and have the relevant information pop into your inbox on a weekly/monthly basis.
2. Sourcing
Candidate sourcing is the process of seeking out, identifying, and reaching out to potential applicants for your open roles. If you don't funnel the best applicants into your hiring pipeline to start with, you can't expect to hire the top talent.
In a tight labor market, knowing how to carry out passive candidate sourcing, as well as being able to strategically source the best candidates is key to ensuring you hire the best employees.
But with 87% of people open to new opportunities, but only 30% actively searching for a new job, the skilled recruiter who masters candidate sourcing is going to be the one who ensures their organization is competitive in the talent marketplace.
3. Talent analytics
Understanding talent analytics and knowing how to make the data work for your organization is an essential skill to help you improve your recruitment process.
By using a data-driven recruitment approach you can increase your quality of hire, decrease the cost of hire, increase employee engagement and satisfaction, and decrease early attrition rates.
In fact, Bain & Company research shows a 40% gap between the productivity of organizations which had invested in talent focused analytics, and the rest.
4. ATS knowledge
Great recruiters have moved beyond manual recruiting practices, such as updating spreadsheets and managing the recruitment process over email. Modern recruiters in over 98% of Fortune 500 companies rely on applicant tracking systems (ATS) to help them compete in the current market.
Knowing how an applicant tracking system (ATS) can support you and automate your recruitment and staffing operations, is a skill you need to master.
5. Candidate experience
The way you treat applicants during the recruitment process is crucial for several reasons. For starters, it gives candidates a preview of what they can expect once they work for the company.
Secondly, even if applicants don't make it into your organization, the experience they've had during the applicant process is decisive in how they'll talk about your organization afterwards:
Was the candidate (read: customer) experience good? Then likely recommend your company to friends and family as well as buy your products or services.
Was the experience not so good? Unfortunately it's very probable they won't recommend you nor buy from you in the future.
A positive candidate experience is therefore one of the drivers for hiring top talent.
But understanding the importance of delivering an outstanding candidate experience (CX) is one thing, having the requisite skills to put it into practice is another. Why?
Because one of the trends shaping volume recruitment in 2022 is a renewed focus on delivering CX in order to hire top talent. In fact, 69% of candidates said they wouldn't accept a job offer if they'd had a bad candidate experience.
What does delivering a great candidate experience look like?
Maintaining communications with candidates
Writing bias free job descriptions
A frictionless, engaging, modern hiring process to job seekers
A mobile first approach for applications
Being considerate and respectful of all applicants
Short application process
6. Mobile first approach
Being able to adopt and implement a mobile first approach to recruiting should be no news to anyone. Mobile isn't even the future anymore, it's the present.
Job seekers use mobile devices more than they use desktops in their search for new career opportunities. Millennials and Gen Z expect to be able to apply for a job via their mobile phone.
As such, a lengthy application with lots of forms to fill out and reams of text to read are definite no-go's when it comes to mobile application. Slow loading pages and uploading mechanisms are also out of the question too.
Think of your mobile website or application from a customer point of view:
Is it easy to use?
Does everything load up smoothly?
Is your content 'mobile friendly i.e. are the texts short and to the point, with a clear call to action?
In today's mobile focused world there is no excuse to have a bad mobile experience.
If you're not up to speed with mobile, you won't be able to implement a mobile friendly approach. If you haven't already, you need to make mobile skills one of your top priorities now.
7. Social media
Whether you like it or not, social media has a huge influence on all aspects of our lives. And the HR industry is no exception to that: 49% of HR professionals say they plan to implement social recruiting in their recruitment strategy.
Social networks are being used more and more by companies, with nine out of ten brands using social media to source, attract and engage their candidates.
Running recruitment challenges, for example, on Instagram or Twitter as an 'innovative' way of finding that 'one perfect talent' is a relatively common hiring strategy. And a dedicated group on Facebook can be a great way of maintaining a talent pool of people interested in your company.
We aren't saying you need to become a Twitter or LinkedIn expert overnight. As with all the new HR technology that's coming out, it's not about using every single social network that's out there, it's about knowing they exist, and understanding what some of them could do for you.
What's important is to know where – meaning on what type of social media – you're most likely to locate your target audience, i.e. your ideal candidates. Obviously this will depend on the area in which you're active. QSRs will probably have a different social network preference to BPOs for instance.
Identify where you need to upskill on social media for the benefit of your organization, and then learn how to leverage that particular channel to your advantage.
Stop guessing,
Start data-driven hiring.
Learn how you implement a modern candidate selection process, that is: streamlined, experience-driven and backed by data.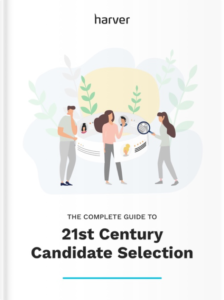 8. Data based decision making
If you haven't implemented a data-driven recruitment approach, now is the time to do so.
Until recently, the hiring process has been based on guesswork and gut feeling. But this approach only leads to bad hires, and wasted company time and resources.
A key skill of the best recruiters is knowing which recruiting metrics are pertinent to your organization to ensure your hiring process is easier, quicker, more efficient, cost effective and bias free.
Adopting a data driven recruitment strategy means making sure your organization has recruitment software such as Harver in place. It means implementing the tools and processes for collecting, analyzing and visualizing data in an efficient and effective way.
Being able to understand data facilitates objective, unbiased hiring decisions, while identifying process bottlenecks even when volume hiring.
9. Recruitment marketing
Recruitment marketing is as important for organization growth as marketing to customers.
If you spend as much time marketing to candidates as you do for customers, you would have top talent queuing around the block to come and work for you.
Investing your time, energy and budget in showcasing the best of your organization, your company culture, and what makes you inherently unique, will allow you to attract candidates, even when your talent pool is shallow.
Having the skills to market your roles to the right people and retain them, are key to navigating a tight labor market.
10. Reliability
Reliability is an essential skill for recruiters, because in today's job market, candidates demand it of you.
Not only are you expected to make data driven reliable hiring decisions, it's also assumed you'll have the communication skills necessary to provide reliable updates and communications to both the hiring team and candidates too.
11. Critical thinking
With so many channels providing a wealth of information about candidates, recruiters need to be able to think critically. Doing so helps filter out the noise so you can focus only on job related data to make hiring decisions.
Recruiters who can master critical thinking are better able to manage biases, focus on the big picture, and use talent acquisition strategies to recruit more effectively.
12. Active listening
Research shows we only take in between 25-50% of what we hear.
Learning how to actively listen allows you to understand what's being said as well as what's not being said – 80% of what we communicate is done with non-verbal cues, i.e. facial expressions, body language etc.
Being able to actively listen gives you the ability to fully concentrate on and positively engage with what's being said.
To find out if your listening skills are up to scratch, try this quick 14 question listening assessment.
13. Agility
Today's recruitment environment is evolving faster than ever. There is an almost constant wave of new technologies emerging, each one promising to help recruiters hire better, faster, more accurately.
In order to try and keep up with everything, HR professionals need to be agile; they have to be able to adapt quickly.
Whether this means learning a new type of software, or stopping using an outdated but familiar ATS system doesn't matter. What counts is the ability to learn fast and move on.
With everything that's going on, from a technology standpoint as well as a candidate perspective, being agile might be the single most important skill recruiters will need in 2022 and beyond.
Final word
To help you stay up to date, why not sign up to the Harver newsletter, and receive regular HR and recruitment updates directly into your inbox?
Subscribe and stay up-to-date with everything recruitment related by receiving a weekly content digest and email updates on new resources!