It doesn't matter whether you're an in-house recruiter for a Fortune 500 company or a recruiting consultant for a bootstrapped startup, recruiting is never easy.
But to help you stay on top of your recruitment game, we've handpicked these eleven best recruitment blogs that you must add to your 2022 reading routine.
Here goes!
Subscribe and stay up-to-date with everything recruitment related by receiving a weekly content digest and email updates on new resources!
Volume hiring 
Yes, that's us!
But we haven't listed our blog because it's ours (or because we love writing all the content for it!) but
We research and write about the latest resources that help recruiters like you get better, for example — our lists of the best recruitment books, podcasts, conferences, and more. Not just that, we also cover specific recruitment strategies around seasonality and across industries.

A few must-read articles from our recruitment blog to get you up to speed in 2022:
…and many more!
Fountain is another recruitment software dedicated for volume hiring.
Their blogs are packed with content for hiring at scale, covering sectors like retail and manufacturing.
They also write about sourcing and screening, DEI, employer branding, and digital transformation. The brand also provides webinars, case studies, datasheets, guides, whitepapers, and videos to deep dive into these topics.
An evergreen article from this blog: How Glassdoor Reviews Impact Your High Volume Hiring
The article explains that whatever your HR team's ethos is when it comes to Glassdoor, it's crucial to take a closer look at how these sorts of review sites can positively impact your talent acquisition strategy. The writer recommends that to boost your reputation in Glassdoor, hiring managers must engage with the reviews, deliver honest feedback and look for opportunities for improvement.

Generic recruitment blogs
Being the most extensive professional social network, LinkedIn Talent Blog is your best source for top-notch recruitment tips, strategies, and trends. Contributors in different parts of the globe write recruitment insights from their own experiences.
Subjects featured include diversity, employer brand, interview questions, job descriptions, recruiting tips, skills-based hiring, trends, research and work flexibility. They also have a weekly digest that recommends ten must-read articles for HR professionals if you missed out on reading.
An evergreen article from LinkedIn: 12 Sourcing Tactics That Will Help You Find Exceptional (and Sometimes Overlooked) Candidate
The blog says that finding the right talent is like searching for a needle in the haystack: there is tremendous pressure to find the right needles before your competitors beat you to them. And then you persuade them that your organization is the one where they can stitch together a fulfilling career.
It suggests clever sourcing techniques to capture potential hires that are often overlooked: mining your ATS, automating repetitive tasks, and tracking candidates' open emails.
SocialTalent is the world's leading e-learning platform to improve the hiring process. They deliver training courses to equip talent acquisition professionals with the skills they need to search, hire and develop high-quality talent.
Their blog covers subject areas like diversity and inclusion, hiring, recruitment, and technology. On top of blogs, they also have ebooks, webinars, and customer stories for a more thorough look at the topics mentioned.
An evergreen article from this HR blog: A holistic formula for retaining staff
SocialTalent CEO Johnny Campbell dives into the topic of retention. Emerging as a major worry for organizations, talent is harder to hold.
He says a successful employee retention program combines solid hiring, onboarding, and engagement policies and processes. He reiterates if there's a weak link in any of these core areas, it can still result in attrition. You have to be strong and steadfast in every category to succeed.
Stop guessing,
Start data-driven hiring.
Learn how you implement a modern candidate selection process, that is: streamlined, experience-driven and backed by data.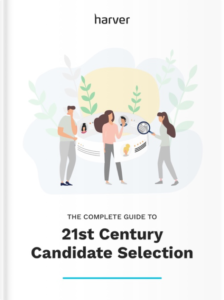 Glassdoor's blog is packed with super-practical and actionable content on building a winning employer brand.
Now, you might think that employer branding isn't exactly your key focus area as a recruiter. BUT think again … can you attract the top talent for your client or company if their current employees have posted negatively about it? Well, you can't. And because one of your key responsibilities as a recruiter — in-house or otherwise — is to get quality candidates to enter your client's/company's talent pipeline, you need to own this up as bad reviews are like a BIG STOP SIGN to the best candidates.
With tips from this recruitment blog, you can work with your hiring managers to build an excellent employer branding that will work like a magnet to get the best talent in your industry!
An evergreen article from this recruitment blog: How to create great job titles 
Recruiters can attract suitable job seekers with position descriptions that grab attention and sell the role. The article points out that job descriptions must be specific, clear, short, and have the right keywords.
With a mix of quick reads and long-form content, the Indeed blog offers recruiters everything they need to hit their recruitment metrics.
With tips from this recruitment blog, you'll learn how to get better at recruiting millennials, building a great employer branding, nurturing inclusivity, fighting unconscious biases and winning the best candidates for your client or company.
An evergreen article from this HR blog: 3 Tips for closing candidates (that work) 
The article explains that an effective closing requires honesty and transparency from having the candidate and the recruiter take the journey together. To close applicants effectively and improve the experience for everyone, the recruiter must be honest, candidate-focused, and be responsible for building an inclusive organization.
The TalentCulture mission is to "connect and engage professionals who want to understand and shape the human aspects of the business."
The TalentCulture blog is always on top of things, publishing content on a range of topics daily: career development, company culture, DEI, employee experience, employee well-being, healthcare & benefits, hiring & retention, HR strategy, HR technology, leadership, and learning.
An evergreen article from this recruitment blog: Hiring for Soft Skills: Benefits & Tips 
Hiring for soft skills improves your chances of finding the right candidate. The blog first mentioned the benefits like broadening and diversifying the hiring pipeline, increased workplace productivity, improved customer satisfaction, and ease of upskilling. It also outlined tips for implementing the soft skills recruiting process by focusing on job descriptions, structuring interviews, and screening for soft skills efficacy.
Undercover blog dishes out the latest hiring strategies, career advice, and tech and social media tactics. Articles are written anonymously by a guest author or by recruitment thought leaders.
An evergreen content/article/blog: Revisiting 'passive candidate recruitment strategies.
Passive candidates make up the majority of the global workforce.
Hence, having an effective strategy for targeting such candidates is crucial for businesses hoping to address skills gaps and be noticed in a competitive job market. Being approached directly by employers makes passive candidates feel respected and valued, increasing their enthusiasm for a role.
Passive candidates usually require fewer skills development, so less time and resources are needed to train them. Thus, hiring them offers a faster ROI for employers and an easier transition for the employee.
To successfully hire passive candidates, you need to research, revisit previous candidates and contacts, create referral programs, build an online presence and refine hybrid work policies.
The Greenhouse blog gives effective tips on everything a recruiter needs to thrive in today's competitive talent landscape.
This recruitment blog covers a whole range of recruitment tips on talent acquisition, trends, events, tools, tactics and everything in between. It also routinely features interviews from talent heads at the leading companies on topics like bias-busting, inclusivity and more.
With tips from this recruitment blog, you'll learn how to keep your all job seekers engaged as they move in your talent pipeline. You'll also learn about the most important touchpoints in your candidate's recruitment journey and how you can optimize them so that your best candidates don't abandon you halfway through it.
An evergreen article from this recruitment blog: Recruiting Metrics ABCs: Your Ultimate List of the Recruiting Metrics That Matter
Here's a must-bookmark glossary of the most common recruitment metrics. Learn what metrics like Application completion rates, Applicants per hire, Candidate experience, Time to fill and more mean.
This glossary won't just give you a refresher on what the terms mean, but it will also show you what makes all these metrics important.
For example, the author shares how looking at the Source of hire metric can point out issues that might need urgent fixes:
Are candidates you've sourced from underrepresented groups getting hired? If not, where is the drop-off happening? If candidates from those sources are applying for but not landing the role after an interview, you can identify if unconscious bias is a factor and deal with it.
The ERE blog republishes some of the best content on recruitment from its contributor websites. It brings together the top recruitment experts and influencers and offers everything from strategic C-suite recruitment advice to the most granular tips a recruiter can follow when carrying out their routine responsibilities.
With tips from this blog, you won't just become a better recruiter (by getting hands-on tactics for talent sourcing and acquisition), but you'll also get to stay on top of the all the "newsworthy" stuff (for example — the latest updates to Hire by Google).
An evergreen article from this recruitment blog: Suffering a Shortage of Applicants? A Checklist Covering the Top 10 Reasons Why
As a recruiter, it's impossible that you never heard yourself complain about the " shortage of applicants (or talent). " Well, this article explains why you face it. It highlights the problems with your talent sourcing process. It explains — for instance — how getting fewer hires via referrals (less than 40% of your hires) indicates a "foundational problem" with how you're approaching recruitment. Learn more in this long read.
The Workable blog is a goldmine of some of the most awesome and actionable content that HR professionals can use to take their game to the next level.
With tips from this recruitment blog, you'll not just learn how to improve as a recruiter, but you'll also learn to sell your vacancies to the best candidates. Whether it's writing job ads that attract the best talents or crafting winning recruiting pitches, the Workable blog offers a lot of value.
An evergreen article from this recruitment blog: Recruiter vs hiring manager: Who is really responsible for hiring?
It's so common to see people use the terms "hiring managers" and "recruiters" interchangeable. While the two terms seem similar in the sense they're used, they're two very different roles responsible for two very different sets of responsibilities — of course with a little overlap. This article clearly explains who does what!
Oh and while you're at the blog, check out this quick read as well: The ethics and etiquette of employee poaching
If you're looking for useful reads and actionable tips, the Recruitee blog is definitely something to bookmark! You can find tons of valuable content on talent acquisition, data-driven recruitment, candidate experience, employer branding, and other related topics.
And that's not all.
The Recruitee blog also brings you a weekly newsletter and monthly webinars to help you boost your recruitment efforts even more. Want to connect with innovative recruiters like yourself? Recruitee helps with that as well – check out the ultimate list of Facebook group for recruiters!
An evergreen article from this recruitment blog: The ultimate guide to recruiting email templates (and how to personalize them)
This article contains everything you ever wanted to know about recruiting emails in all stages of the recruitment process. How to structure your emails? How to make them informative and engaging? How to write interview invites, rejections and job offers? You will find all that and a lot more in the post!
Industry-specific publications
Retail blogs
Total Retail is the go-to source for executives searching for the latest news and analysis in the retail niche. Through various forms of content and community-building events, its mission is to provide retail professionals with the knowledge to perform their jobs more effectively.
Their blog encompasses topics like brick-and-mortar, e-commerce, management, marketing, merchandising, mobile, omnichannel, operations and fulfillment, professional development, and technology.
Professional development blogs tackle seasonal hiring strategies, retail industry trends, hourly employees, employee retention, and employee skills development.
They also have podcasts, videos, ebooks, whitepapers, and other research materials.
An evergreen article about retail hiring strategy: 4 Money-Saving Ways to Retail Can Improve Seasonal Hiring Procedures.
The article expounds that if retailers want to capture top talent during a seasonal shopping season, they may need to unwrap new hiring strategies. Supply chain issues and the rising cost of goods mean retailers cannot afford operational deficiencies from bad hires during the holidays.
The article cites four money-saving ways companies can mitigate the risk of bad hires: protecting people's safety and health, preventing insider theft, prioritizing digital security, and prohibiting cultural toxicity.
Don't forget to grab your free copy of our new white paper on the digital transformation of retail volume hiring. Learn about:
The challenges currently shaping the retail volume hiring space
How to align your recruitment strategy with today's reality by adopting technology
The four building blocks of a fully digital recruitment process
Vend is a cloud-based point-of-sale (POS) and retail management software company.
Their blogs give actionable, no-fluff retail advice every week dealing on the following: retail tips and trends, staffing and store management, sales and marketing, customer experience, success stories, POS, technology and omnichannel, and inventory and management.
An evergreen article on retail staffing: 27+ retail staff incentive ideas to encourage your team and improve employee retention.
The article elucidates that if you're not prioritizing employee happiness and engagement in your business, you risk falling behind in your market.
Fortunately, there are several ways to improve staff satisfaction and retention in your retail business by implementing some of these incentives:  monetary incentives, employee recognition programs, fun experiences, food and drink, learning and development, work perks, freebies and gifts, health and wellness, and work schedule flexibility.
Contact center/BPO blogs
ICMI works with contact centers to accomplish desired outcomes and prepare them for the future. They offer training, consulting, events, and resources (webinars, toolkits, industry research, trend reports, research).
Their blog presents usual areas of concern for contact centers: customer service, learning, and development, metrics, operations, people management, technology.
An evergreen article from their blog:  6 ways to create a culture that attracts and retains a strong workforce
Your contact center representatives must experience your company culture in their day-to-day activities.
The article enumerated some steps to make sure that consistently happens: creating a fun and positive workplace, no favoritism among reps, hiring reps for culture fit and training, and empowering agents regularly. Having an open dialogue with consistent communication is also essential to retain contact center employees.
Don't forget to grab your free copy of our white paper on contact center volume hiring in 2021. Learn about:
Call Centre Helper is UK's online weekly magazine aimed at giving call center people advice on making their businesses work more effectively.
Their blog revolves around call center tips, customer experience, employee engagement, service strategy, management, skills, metrics, planning, quality, and technology.
An evergreen article from their blog:  The Top Call Centre Agent Skills to Look for When Hiring
Hiring high-quality customer support agents involves selecting candidates who can effectively address a customer's needs, work well with a team, and enhance your team's culture.
The article lists down some basic soft skills that every agent should have: knowledge retention, attention to detail, empathy, flexibility, to name a few. It also cited how personality, team-related behavior, and performance should be considered when hiring talented customer support agents.
Hire better live chat agents, at scale.
Dive into the rise of live chat, the skills of top-performing agents, and how to best assess them to reduce attrition and guarantee top-notch customer service. 
Hospitality blogs
HospitalityNet is one of the most popular reading materials about the hospitality sector.
This blog is a must-read for managers and people who own and operate hotels, hostels, and bed and breakfasts because it gives you all the tips and strategies to run your establishment better.
It's also an excellent resource for employees to get updates on the latest job opportunities and hospitality courses to improve their skills.
Not exactly an evergreen content, but this study hints at the future of hospitality post-COVID-19: Labor Shortages and Increasing Labor Costs Post-COVID-19: How Future Hospitality Businesses are Going to Thrive?
The research says that after tens of thousands of hotels and restaurants were suffering from shutting down due to the pandemic, the hospitality industry is finally beginning to rebound. However, the rebound is not proceeding smoothly as the revenue lost during the pandemic can never be recovered. The hospitality industry cannot find enough workers post COVID.
Cvent is a SaaS company that specializes in meetings and events.
Their hospitality marketing blog is also full of valuable insights for hotels. It's a great place to learn about event marketing and reporting, ROI, hospitality sales and marketing, hospitality technology, hospitality buyer insights, industry trends, and customer success.
An evergreen feature/news/article from this blog:  The Complete Guide to Hiring Hotel Staff
Hiring hotel staff isn't easy, but it's a process that can make or break a hotel's success. This guide will help you bring in top talent and build a strong team, from recruiting the right people to retaining top talent. There is also an FAQ at the end of this blog.
Don't forget to grab your free copy of our white paper on the digital transformation of restaurant volume hiring. Learn about:
Wrapping it up
As a recruiter, you work closely with hiring managers or teams. In fact, you both work together as a team to realize your client's (or company's) growth goals. Which means any content that's useful to you might be useful to your hiring manager/team as well.
So, consider starting a Slack channel and share with them anything that they might find valuable. Most of the blogs on this list email their subscribers when they publish a new article, so consider subscribing to hear about their latest blog updates.
Subscribe and stay up-to-date with everything recruitment related by receiving a weekly content digest and email updates on new resources!