From clothing and accessories to grocery and convenience stores, retail makes up quite a large portion of the job world. In fact, nearly 12% of all available jobs are in the retail industry, and this sector faces specific recruitment challenges.
First, retail has high employee turnover. Retail workers are quick to leave for new positions, better pay, or even to get away from management they disagree with.
The retail industry also has a strong seasonal need. People shop more at different periods throughout the year, meaning stores need to hire more employees to help meet the demand.
When trying to hire full-time, part-time, and seasonal retail employees, you need to have a solid strategy in place to ensure you're getting the right people in your open positions.
Unfortunately, creating the right strategy can be complicated. To help you develop the best hiring game plan for your business, here are some retail recruitment strategy tips to keep in mind.
Retail recruitment strategy tips
The retail industry is pretty large, including everything from international department stores to local mom and pop shops and everything in between. Retail employees can sell everything from fruits and vegetables to the hottest fashion trends.
The retail industry typically includes multiple kinds of employees. Many retail stores hire part-time, full-time, and seasonal workers, meaning the retail industry can attract candidates with different age ranges, skill levels, and job needs.
Here are 5 key retail recruitment strategies to ensure you're assembling the right team.
1. Define your hiring goals
The start of any recruitment strategy should be to define your recruitment goals. By outlining ahead of time how many new employees you need, what kinds of employees you're looking for, and the timeline you'd like to follow through the recruitment process, you can develop a clear strategy that helps you meet your company's hiring needs.
In the retail world, your hiring goals may vary depending on the type and time of year you're looking to onboard new workers. Take a look at the history and growth of the store you're hiring for, as well as any upcoming holidays or events.
In addition to your current hiring needs, consider what new hires you may need to make in the future when creating your hiring goals. Start with a big picture goal linked to your overall business goals. Then, begin to break down your goal into a timeline that you can follow. This will help you stay on track to ensure you hire the right individuals at the right time.
You can further pinpoint your goals by linking them to the recruitment funnel. Assign due dates, expectations, and reach goals to ensure you're hiring as effectively as possible.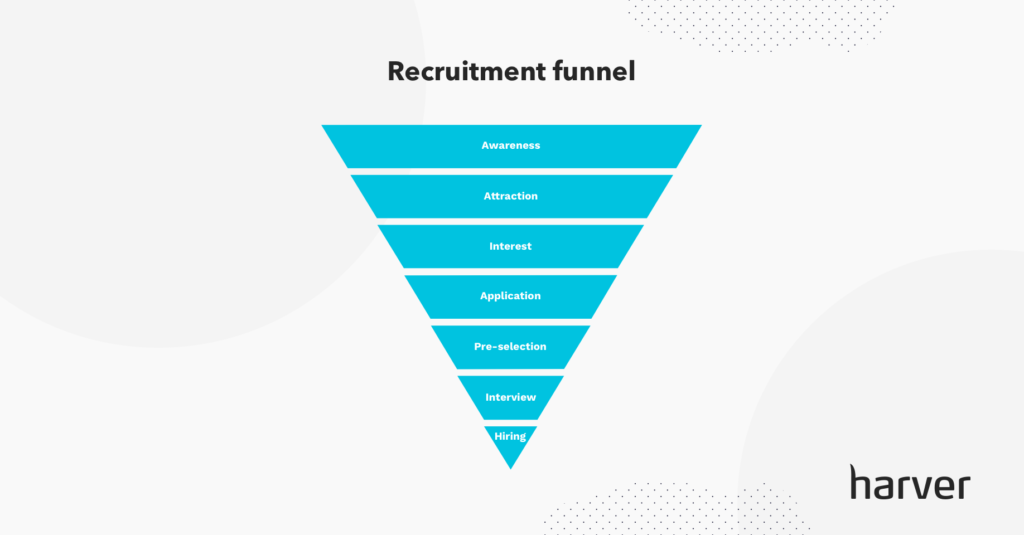 Don't be afraid to change your goals as you go. Outside factors, such as new competitors, a change in demand or opening of a new store, might influence the goals you established. If you need to make a shift to your strategy, remain agile enough to do so.
Don't forget to grab your free copy of our new white paper on the digital transformation of retail volume hiring. Learn about:
The challenges currently shaping the retail volume hiring space
How to align your recruitment strategy with today's reality by adopting technology
The four building blocks of a fully digital recruitment process
2. Know your candidates
Because retail encompasses such a large range of individuals, it can be difficult to really narrow down who your ideal candidate is.
While some companies may focus on hiring high school or college students looking for part-time or seasonal employment, others may only want experienced full-time candidates.
Before you begin your recruitment process, get an understanding of the kinds of employees you need working for your company. Then look for ways to best attract that audience.
If you're hiring minimum-wage, unskilled labor, sites like Craigslist or standard job boards can help you attract students or young individuals looking to gain some extra cash and experience.

If you're looking for more experienced retail workers, try more targeted job boards or LinkedIn.
Sourcing channels working best in retail
It is essential to know where your potential candidates are active and advertise your openings accordingly. (Image source)
You can also look at your customers when recruiting new employees. When your employees are passionate about your brand and products like loyal customers often are, they can help increase sales and educate new shoppers about what you offer.
You should also remember to look locally when creating your recruitment strategy. Unless you're hiring for an upper-level position, you most likely will want an individual already within your store's area.
Use location-specific job boards, local papers or blogs, or other targeted strategies to help pinpoint your area for the best candidates.
Your competitors can also provide you with some insight on the best way to connect with your ideal candidates. Because you're competing for the same employees, take a look at what other stores in your area are doing to attract applicants.
However, you don't want to simply copy what your competitors are doing. Instead, find ways to improve and adapt their strategy to your business bring better results. Identify any gaps they may be leaving open and shift your recruitment strategy to fill in those spaces.
Subscribe and stay up-to-date with everything recruitment related by receiving a weekly content digest and email updates on new resources!
3. Showcase your company culture
An employer brand can help you attract a stronger applicant base, as well as encourage current employees to stick around longer.
Having a defined employer brand shows potential and current hires who you are, what you offer, and what you expect out of your employees. By cultivating a clear image of what your organization stands for and what it means to work there, your employees can feel like they're a part of something greater.
Your employer brand should outline
culture

values

day-to-day philosophies
that each of your employees should follow. It can also include both expectations and benefits for your employees.
Once your employer brand is established, you want to ensure it's featured throughout your job descriptions, hiring and onboarding process, and employee handbook. Your brand should be more than just words on a page. It should come to life in everything you do.
Here's for example the candidate experience we've created for McDonald's, which includes company videos showcasing the culture, work environment, and colleagues. This is a great way to help applicants get familiar with the role while giving them a sneak peek behind the scenes.
Having a strong employee brand can help you attract and retain your best employees. When applicants understand the kind of employees you work with, are able to connect with your company values, and be engaged at their work, they'll stick around longer.
Your employee brand should also look at what your employees need to remain happy in their positions. This might be promotion options or learning and development opportunities.
Make sure to highlight the benefits your organization can bring employees. By showing you offer more than just a paycheck, you can establish deeper connections that encourage your employees to stay.
4. Use recruitment analytics tools
Recruiting the right employees begins with knowing exactly who your ideal applicant is. However, while you may have an idea of who you believe you're trying to attract, the reality might be much different.
Data and analytics can help you take a closer look at the applicants you're connecting with, who best fits your needs, and where you're finding them. You can then use these insights to improve targeting new applicants, as well as prioritize candidates who best fit your needs.
Here's for example how the candidate profile page looks in the backend of the Harver platform. Recruiters can easily see if applicants meet their criteria, based on the matching scores from the different pre-employment assessments incorporated in the application process.
However, data and analytics can be extremely difficult to track without the right tools and technology. To ensure you're getting the right information, you want to implement recruitment tools that suit your unique needs.
There are many different recruitment tools out there, each with a different purpose. Applicant Tracking Systems (ATS), pre-employment assessments, chatbots, and more can help you connect with your applicants on a stronger level.
An ATS can help you keep track of your applicants, the recruitment process, and any important details or information about your candidates. It can also allow you to monitor where your applicants are coming from so you can better understand which platforms are bringing in the best talent.
Pre-employment assessments are another great tool for gaining better insights into your job candidates. A pre-employment assessment tool can allow you to test a candidate's skills, thinking, and behavior before proceeding with the hiring process.
A BI suite is also recommended for collecting and analyzing data in a centralized manner. Below you can see for example the Insights tool that's built in the Harver platform and gives recruiters actionable insights into metrics such as candidate experience, sourcing KPIs, D&I metrics, or recruitment process efficiency.
In most cases, you'll want to take advantage of a few different recruitment tools to create a holistic view of your hiring process. Keep track of data and analytics related to your goals and identify characteristics or patterns to help better understand who your best candidates really are.
5. Develop a retention plan
Hiring retail employees is just one half of the battle. In order to truly grow and sustain your organization, you need to hire employees who will stick around.
Unfortunately, many individuals who accept retail positions are only looking for short-term employment. They might be students looking for part-time work while in school or when they return home for holidays, or they might be individuals hoping for some side income to supplement their full-time positions.
While these kinds of employees do serve a purpose, if you're only hiring individuals who have no plans to grow with the company, you'll find yourself constantly restarting the recruitment process – which can be time-consuming and costly.
Instead, you want to develop a retention plan to help improve the number of employees who remain within your organization. However, in order to do so, you need to get to know your employees and what they need.
Retail work is a team effort. In order to create an environment where your employees will want to stay, you need to create an environment where they feel safe and supported. Make sure managers are providing
assistance

constructive feedback

transparency.
You'll also want to create a clear roadmap for promotions, raises, and additional opportunities. To keep employees around longer, you want them to know exactly how they can advance throughout the organization.
Keep an open dialogue with your employees so you can best understand their long-term needs. Try to adjust your offerings and work with strong hires to ensure they're happy in their position and feeling fulfilled.
Positive work environment and excellent management are more important to employees than perks or cash bonuses. Tailor your employee retention strategy to the needs of your employees. (Image source)
Next step
The retail industry faces a high level of competition as well as difficulty finding long-term committed employees. Without a strong recruitment strategy, you may find it challenging to hire retail employees in a timely and cost-efficient way.
Developing and implementing a recruitment strategy can help you evaluate and meet your hiring goals, as well as set up a long-term plan for keeping employees around. With the right tools, communication, and research, you can find employees committed to helping your retail store grow.
Ready to transform your hiring process?