In a business environment that is constantly evolving, you need to be smart about who you're hiring and how they can help you achieve your business goals.
This means putting careful thought and consideration into the (future) skills of your workforce: the employees you already have on board, the ones that need further development, and the ones you still need to hire because you'll need them in the near future.
That's where strategic workforce planning comes into play.
In this article, we'll take a closer look at the advantages of strategic workforce planning and we'll give you a 7-step plan for success.
Subscribe and stay up-to-date with everything recruitment related by receiving a weekly content digest and email updates on new resources!
Strategic workforce planning definition
Before we dive into the topic, let's quickly clarify what workforce planning is.
In simple words, workforce planning is the process of analyzing your current staffing levels and anticipating future hiring needs, to make sure that you're not overstaffing, neither understaffing and that you're not creating a skills gap when hiring new employees.
Strategic workforce planning also helps uncover the training needs of your current and future employees and aligns your recruitment strategy with your company's strategic goals.
Listen to our 7 steps for a successful Strategic Workforce Planning
on Recruitment On The Go!
Advantages of strategic workforce planning
Strategic workforce planning is about making sure you've got the right number of people, with the right skills, at the right place at the right time so that they can deliver on the organization's business goals.
Let's take a look at some of the advantages of strategic workforce planning.
Cost optimization
A rather obvious benefit but nevertheless important one to start with. Strategic workforce planning enables you to, among other things:
Plan your recruitment efforts (more on this below).
Manage employee turnover. For example, when it comes to retiring employees.
Increase productivity. When you've got a clear overview of the skills you've currently got available in your organization, you'll be able to optimize those and boost productivity as a result.
All these elements combined lead to a significant reduction and/or optimization of costs.
34%
of companies have made good or significant progress toward goals of building a workforce to meet future business objectives.
Source: Oxford Economics
However, a majority of companies have only made slight or moderate progress. Strategic workforce planning can speed up this progress significantly.
Dealing with demographic and workforce changes
Strategic workforce planning allows you to – at least to a certain extent – prepare for demographic and workforce changes.
Think of the aging workforce, for instance.
In the US, about 10,000 Baby Boomers turn 65 on a daily basis and in the European Union, 16% of the total workforce is made up of workers who are aged 55+.
This so-called silver tsunami is undoubtedly going to create some serious challenges for HR, the main one being filling the talent and skill gap that's left behind by retiring Baby Boomers.
The same thing goes for the phenomenon of generational diversity in the workplace.
Companies increasingly employ people from up to four different generations, from Baby Boomers all the way to Generation Z – and it's no surprise that each generation has their own unique skills, style, needs, and goals for employers to take into account.
Strategic workforce planning enables you to anticipate these changes and get ready for them.
If, for example, you know that 5 of your senior managers will retire in three years' time, you can start preparing for that right now.
Perhaps you've already got the right people to replace them among your current employees. Or maybe they still need some further training in order to be fully equipped for the task. Or perhaps you will need to hire people externally.
Whatever it is you need to do, you can plan for it.
Having a long-term recruitment strategy
Unforeseen, premature departures aside, strategic workforce planning allows you to put a long-term recruitment strategy in place.
However, this is not something HR can pull off all by itself. On the contrary, a well-structured, long-term recruitment strategy requires a company-wide collaboration; the different departments in the company need to be aligned and their individual processes need to be streamlined.
Ideally, you even have a long-term plan to deal with unforeseen, almost immediate departures.
How?
By implementing a strategy that foresees a backup in terms of skills for as many positions in the organization as possible, for example. So that whenever someone leaves, there is at least one other person in the company with the skills to fill the gap (until a more sustainable solution is found, of course).
Having a long-term recruitment strategy also involves internal recruitment.
Internal recruiting tends to take less time and cost less money. On top of that, it encourages employees to really go for it and get the best out of themselves in order to get promoted.
Another advantage of having an active internal recruitment strategy is its positive impact on your employee retention: opportunities to learn and grow are one of the top three factors in retaining, among others, Millennials.
In other words: your strategic workforce planning should be just as much – if not more – about developing and upskilling your current workforce as it is about hiring new people.
60%
of companies say they need to improve workforce planning capabilities.
Source: Aberdeen Group
For example, better access to workforce data to improve decision-making can help companies bring their strategic workforce planning to the next level.
Steps to successful strategic workforce planning
Now, how to get started? We've listed 7 steps:
1. Consider the long-term goals of the organization
Like we've said at the beginning of this article, strategic workforce planning is about making sure your people are able to deliver on the business goals of the organization.
So it makes sense to start with those business goals, right?
Where is the company headed in the short – and longer-term? What does it want to achieve and what does it need in terms of human capital to achieve this?
This is also why it's important to get all stakeholders on board before you start with strategic workforce planning if you really want to get the ball rolling. You'll need to have buy-in not only from HR but also from finance, operations, line managers and the C-suite.
37%
of best-in-class organizations integrate their formal talent management strategy with the organization's business strategy.
Source: SHRM
Talent management strategy is an integral part of strategic workforce planning. By aligning it with the overall business strategy, organizations are able to stand out among their competitors in the war for talent.
2. Analyze your current workforce
What does your workforce look like at the moment? What people and skills do you already have in your organization? Strategic workforce planning starts with your current employees.
Talent analytics, and more in particular workforce analytics, can be very useful here. It will give you insights about, among other things: the age demographics of your workforce, its seniority profile, the type of contracts and their evolution.
When it comes to analyzing your current workforce, there are two key areas to explore in particular: the quality of the workforce and the quantity of the workforce.
The quality of the workforce is about assessing your employees on current performance and future potential. Who are your high performers? Do they have high or low potential? Depending on the answer, they'll have different (development) needs.
Talent analytics can be useful here, too, as it will help you identify what the key drivers of performance in your organization are.
The quantity of the workforce is, as the description suggests, about assessing the quantity of your workforce including new hires, employee turnover, and internal promotions.
For a more in-depth explanation – including practical examples – of how to assess the quality and quantity of your workforce, check out Erik van Vulpen's guide to strategic workforce planning.
3. Find future skills gaps
Once you've mapped out your current workforce including their skills and needs, you'll be able to plan ahead. At least in terms of potential skills gaps.
If you conduct a skills gap analysis, you will know when people will retire, for instance, and you can already start thinking of how to fill in the gaps they'll leave behind. Are you going to use gig workers and shift to a more project-based kind of employment? Or do you prefer training existing employees?
Or perhaps a combination of both?
Another factor to take into account here is the global digitalization and technological developments. This will create a (digital) skills gap that needs to be filled, something that has been confirmed by various research studies.
The World Economic Forum Future of Jobs report, for instance, stresses that by 2022, it is estimated that 54% of all employees will require considerable re-and upskilling.
Over
25%
of organizations expect automation to lead to the creation of new roles in their enterprise.
Source: World Economic Forum
The workforce is transforming due to automation, which means that the need for up- and re-skilling will be omnipresent.
4. Prepare for different scenarios
The future is unpredictable, of course. But that doesn't mean you can't prepare for various (unexpected) scenarios.
Take a supermarket cashier, for example. Supermarkets are increasingly installing self check-out machines so their customers can scan (and pay for) their products autonomously.
In terms of strategic workforce planning this means that you can already anticipate:
a decreasing need for cashiers

a potentially growing need for retraining people so they can move into different roles
But being prepared for the unexpected goes beyond industry-specific developments.
It also entails scenarios such as a sudden, significant change in your company's financial situation or, on an even bigger scale, a global economic slowdown.
And, more generally speaking, there are the rapid technological developments and automation replacing and/or changing jobs.
However, as much as this will change the world of work as we know it, it is unlikely that every job affected means that the person having that job will be fired.
Instead, it's up to HR – and their strategic workforce planning – to start anticipating right now and to come up with a combination of attrition, retiring, up-and re-skilling to avoid big rounds of lay-offs in the future.
32%
of companies have a strong vision for the workforce they want to build in three years.
Source: Oxford Economics
Two-thirds of companies are lacking a future vision of their workforce, which can cause them to lose productivity.
Stop guessing,
Start data-driven hiring.
Learn how you implement a modern candidate selection process, that is: streamlined, experience-driven and backed by data.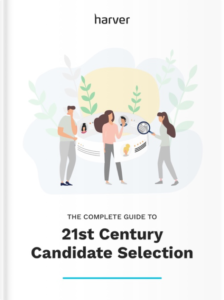 5. Don't hesitate to ask for external advice
Strategic workforce planning is not an easy task and definitely not something to be taken lightly. There are a lot of different factors to take into account if you want to make a solid planning.
Which is why you shouldn't hesitate to ask for (external) help. Hire a consultant or someone who specializes in strategic workforce planning to support you during (a part of) the process.
They'll be able to give you useful advice and tips on how to get started and how to keep your planning up to date.
6. Don't forget your company culture
Yes, the skills you need to achieve your organization's business goals may change. And yes, technology will play a role in what future skills you will be hiring for.
But you shouldn't forget about your company culture in your strategic workforce planning.
Just like the people and skills you need, your organizational culture is also constantly evolving. When you are planning, think about how you want to steer this cultural development and what core values you want to preserve over time.
50%
of executives say company culture is one of the top three drivers of company value.
Source: TTEC
Company culture has a big impact on corporate value and you shouldn't lose sight of it when working on workforce planning.
7. Monitor and adapt
Once you've built your strategic workforce strategy and started implementing it, the job isn't done.
Far from it, in fact.
We've said it before, the 21st century business environment is constantly changing; the technology, the workforce, the customers, all these elements are moving.
So, in order to have a responsive workforce, you need to have a workforce planning that is adaptable too. And to find out what needs adapting, you need to monitor your process – which indeed means using analytics. Then you're able to modify your strategic workforce plan accordingly and always stay on top of the business transformation.
In closing
It's always good to have a plan. Especially if you are a large company hiring for hundreds of roles every year you need to think strategically about how your workforce can achieve the highest productivity at any given moment.
Having a sound workforce plan in place will help you optimize costs, prepare for demographic changes, create a long-term recruitment strategy and, at the end of the day, improve your bottom line.
The 7 tips listed in this article are the first step in the right direction if you want to get started with strategic workforce planning.
The most important one to takeaway is probably number 5: don't hesitate to ask someone (externally) who's more experienced to help you on your way towards successful strategic workforce planning.
Stop guessing,
Start data-driven hiring.
Learn how you implement a modern candidate selection process, that is: streamlined, experience-driven and backed by data.