Building a digital recruitment strategy means more than just posting vacancies on career websites. It takes the recruitment funnel into consideration and looks both at candidate experience and at process efficiency, to make sure things are scalable in the long run.
What this means for you as an employer is that in order to build a robust digital recruitment strategy, you need to start with the big picture, understand all the parts involved, look at what needs to be done manually and what can be automated, and then execute on your hiring strategy.
It also means that you should have proper tracking in place for data collection, to make sure that you're measuring the effectiveness of your strategy properly and that you can iterate and adjust when things do go as planned.
So let's dive into this topic and see what are some recruitment tactics that you can incorporate into your hiring strategy to ensure that you hire the most suitable candidates in a scalable manner.
What is digital recruitment?
Digital recruitment goes far beyond posting vacancies on online job boards and social media, although these platforms undoubtedly play a part. Rather, it touches on a whole host of digital tools and strategies that span the entire recruitment process – from start to finish.
Such tactics include:
Digital job board advertising
Posting on career websites
Mobile recruiting
Utilizing online assessments
Social recruiting
As you may have already gathered, digital recruitment refers to the process of using tech and the internet to find, attract, analyze, select, and hire candidates to fill your open job roles.
There's a good chance you're using one or two of the methods listed above. But, unless you're using the majority, you're probably a long way off of adopting a genuine digital recruitment strategy.
What are the advantages of digital recruitment?
Before we delve into how to execute a digital recruitment strategy, here are just a few of the many benefits:
A more extensive reach: You're able to reach far more remote applicants including international talent, as well as more passive candidates.
Greater efficiency: Sourcing, selecting, and hiring candidates takes less time. Namely, because communication with prospects is far more manageable as is automating parts of the recruitment process.
A higher ROI: While you'll need to invest in developing and implementing a digital recruitment strategy, the ROI is usually higher than traditional recruitment methods. How so? Well, when implemented effectively, you'll hire top-performing candidates in a shorter time frame.
We've covered the subject of building an effective digital recruitment strategy in our HR & recruitment podcast Recruitment on the go, which you can listen to below.
Tips for building a robust digital recruitment strategy
Now, let's delve into the nitty-gritty of launching and developing a digital recruitment strategy and discuss some hiring tactics and tools you can use to build a scalable process.
1. Create and share relevant content
You need to refine your messaging so you can engage with different groups of candidates more productively. This means taking the time to identify who your ideal candidates are and using their avatar to fuel your copy.
It'll also give you a better idea of where to share your content, for instance:
Your company website
External blogs
Your social media handles
Your email newsletter
Let's circle back to the content of your messaging for a sec. There are tons of things you can do to make your content more compelling, for example:
Using stories and testimonials from your current employees
Publishing industry salary reports
Posting industry news and updates
These are just a few of the many types of content you could harness. So, we advise researching what your audience is interested in before launching your digital recruitment strategy.
It's also worth noting that to effectively create and manage your content, you'll need to identify the needs of your candidates and provide them with a solution. Part of doing this is getting to grips with how you'll differentiate yourself from your competition.
This means explicitly tailoring your content to engage with your ideal kinds of job seekers. For instance, are you hoping to attract Baby Boomers? Gen X? Millennials? You'll need to carefully customize your messaging to capture the imagination of your target candidate.
To help you do this successfully, you'll need to cultivate a better understanding of your ideal applicants, be aware of their:
Online habits
Interests
General lifestyles
Average expected income
With this info at your disposal, you can better create informative pictures, infographics, or videos that explain and eventually convince potential talent to apply to work for you.
Shopify sources the content on their career site from their employees, giving their candidates an opportunity to learn about the company life and culture.
2. Have a solid social media recruiting strategy
If you don't already have a social media presence, that needs to change. The stats speak for themselves, employers who started using social media to hire, saw a 49% improvement in candidate quality.
Once you have your profiles up and running, publish informative posts, videos, and engage in discussions with potential candidates.
Social media platforms are also fabulous places to develop your employer brand. This may sound time-consuming, but it's worth it — especially if you're looking to hire Millennials.
In fact, as many as 80% of Millennials look for a good 'culture fit' with potential employers before sending an application.
So, use social media to your advantage by conveying the kind of company culture applicants should expect!
Not only that, but you can figure out where your 'ideal candidates' are hanging out online. Namely, by publishing content that engages and converts talent across all your social media channels.
Over time you'll see which networks work best for you, but while you're still in the testing phase, we suggest doing the following:
Publishing job postings on LinkedIn
Using videos to showcase employee testimonials on YouTube
Tweeting about company awards or events
Establishing a presence on Facebook
In addition to traditional social media platforms, join forums specific to your niche. Make a name for yourself there, this is an excellent way to connect with more remote and/or passive pools of talent.
Last but not least, utilize UTM parameters to track clicks. You can use these insights to optimize your campaign and better refine your outreach.
What's UTM technology?
Well, a UTM code is a simple string of text you paste on the end of your recruitment ad URLs. To create this code, you'll need to set a campaign name, medium, and source.
Typically, recruiters set their campaign name after the vacant job title. More often than not, the medium is where the ad's published (an online job board, careers page, etc.) and the source could be how you're driving traffic, e.g., Facebook, Twitter, Linkedin, etc.
You can then use Google Analytics to analyze your traffic and conversion rates for each parameter you set. Once you know which combination works best for you, you can focus your time and effort on that.
Top tip: There are lots of tools that will add a UTM code automatically to your URL, like utm.io, which is an entirely free service!
Workology sketched out the social recruiting universe with career site in its middle. Linkedin, Facebook and Twitter are often central to companies' social media recruiting strategies.
3. Prioritize candidate experience
It's hard to be objective when reviewing the recruitment experience your company offers. This is why "mystery shopping" your own application and selection process is an absolute must.
Go ahead and apply for one of your vacancies. It's one of the most effective ways of getting a real understanding of how candidates experience your recruitment strategy. With this kind of feedback, you can then take the necessary steps to improve.
For example, for our clients who deal with volume hiring, we craft custom candidate experiences that include realistic job previews, personality questionnaires and situational judgement tests.
This approach allows us to showcase the company culture and manage the expectations of applicants, while assessing their skills and fit for the role.
Here's what the candidate experience looks like at McDonald's after implementing the Harver recruitment flows.
The key is to build a rapport with candidates by treating them with as much respect as possible. This is essential for bolstering the number of prospects that complete your recruitment process from start to finish.
Don't forget about optimizing your career pages, job postings, and applications for mobile.
While almost 90% of job seekers think mobile devices play a critical role in the job-hunting process, only 20% of employers say their career site is optimized for mobile. Make sure that mobile users have a frictionless experience when exploring your company and its opportunities online.
4. Build your reputation
It almost goes without saying, you'll want to develop and maintain a reputation for being a top-notch employer.
According to Reoot Peleg, founder of HR for HR, these days, the fields of recruitment and marketing significantly overlap one another. In fact, he goes as far as to say: "Recruiters need to create branding for the company while marketers create branding for customers."
Branding yourself as an employer will take a little time and effort but it's well worth it. Companies with strong employer brand experience up to 50% reduction in cost per hire and 50% more qualified applicants.
Create a strong employer brand online
Ensure your messaging is consistent across all your platforms (email marketing, social media, your website, etc.). This is essential for building a stronger and more memorable brand, plus you're less likely to confuse candidates with inconsistencies.
Get on 'best places to work' lists
Lists like Glassdoor's Employees' Choice Awards and Indeed's Best Places to Work are great examples of these kinds of lists. They're calculated solely on employee feedback, so be sure to claim your company profile and encourage employees to leave a review.
Manage reviews
Obviously, you'll need to maintain and update all your online profiles. Make sure the photos you've uploaded are current, the links work, and your description is 100% accurate.
If you receive a negative review, you don't want to ignore it. We're not saying to enter into a full-scale argument by replying with a passive-aggressive comment…that would achieve the opposite of the desired effect.
Instead, emphasize your commitment to clear communication and constant improvement. Show anyone reading the review that you listen to what employees have to say, and that you take steps to rectify issues that arise.
If you have an award, don't hesitate to share it! BCG has been awarded numerous corporate awards and they highlight them on their career site to convince potential candidates to apply.
5. Design a digital candidate selection process
The ultimate goal is to create a selection method that's a positive experience for both recruiters and candidates.
How?
By building a hiring process that's easy to navigate so everyone can glide through the recruitment process. This means being completely transparent with candidates every step of the way.
Here's how we handle this at Harver. When we start working with a client on redesigning their recruitment strategy, we look at the way they assess candidates, how they progress the applications from the first stage of the funnel to the last one, and how they manage the candidate experience.
Then, we identify the areas that need improvements and that can be automated using the Harver platform. The next step is to map the ideal candidate selection process. With Harver, hiring managers no longer have to waste time with scanning candidates, looking at CVs, scheduling interviews manually or moving applicants from one column to another in their ATS.
Moreover, by creating client-specific assessments and situational judgment tests, we ensure that only the candidates who fit the job requirements and company culture are moved to the next stages of the recruitment process.
This means that the hiring managers only have to interview candidates who have already been assessed. In our platform, recruiters can see their analytics data and matching scores per candidate by accessing the different insights dashboards.
We've detailed the topic of candidate selection for volume hiring in our e-book below.
Stop guessing,
Start data-driven hiring.
Learn how you implement a modern candidate selection process, that is: streamlined, experience-driven and backed by data.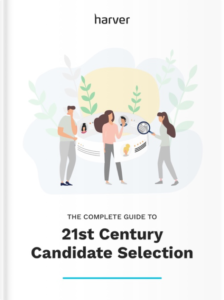 6. Create feedback loops
By creating feedback loops we mean asking candidates what they think about your recruitment process. Once you have comments and opinions to analyze, look at how you could improve, and refine your strategy.
This process needs to be continuous. Otherwise, how else do you keep improving?
Here's for example how the applicant feedback collection looks in our platform. Once the candidates go through the application process, do the assessments and get a matching score, we ask them to rate the experience.
In the backend, HR managers and recruiters can see all the feedback and analyze the word clouds to find patterns.
For example, if most candidates mention that the application process was too long and you see that the drop-off rates increase with every step, it might be a good idea to shorten the process.
Zappos reached a 97% candidate satisfaction score with Harver.
7. Pick the right tools
Your digital recruitment strategy will only be as good as the tools you use. Period.
Start by carefully selecting software to launch, develop, and refine your current methods. Spend time looking at your hiring requirements, then consider what tools you'll need to help achieve your objectives.
Sit down and talk to your recruiters. You need to understand what resources they're already using and how they're leveraging them. What recruiting software helps them achieve the best results, and why is that the case? From there, you can better work out what's needed to take your recruitment strategy to the next level.
Is it a candidate relationship management system (CRM)? Pre-employment assessment tools? A social recruiting program? Whatever it is, do your research first.
Top Tip: Before spending any money, ensure all these tools integrate with one another!
Using the right online assessment tools help companies hire up to
85%
of interviewed candidates.
Source: Harver
Shortlisting highly qualified candidates with the help of online pre-employment assessments enables companies to make the interviewing process much more efficient.
8. Train your team
It's not enough just to have the right machines and software if your team doesn't understand how to use them. Whenever you buy a new bit of kit, you'll need to train your team members. Teach them how to utilize these tools to the fullest. Otherwise, you won't see the full fruits of your investment.
9. Track recruitment metrics
You can't improve what you don't measure. It really is as simple as that.
Think about the focus of your digital recruitment strategy and measure your progress using vital recruiting performance indicators.
For instance, is your aim to improve the quality of your new hires? Or, is it to bolster your employer brand? Whatever it is, set a precise objective for your recruitment strategy, select the right metrics to measure your success, and keep a close eye on the data.
This will help you identify any potential areas for improvement. All that's left for you to do is to take action and see whether your tweaks lead to a better result.
The experience you provide candidates has to be consistent.
If they see your brand as an innovative and creative place to work, don't spoil it by, for example, having a cumbersome application process or not even acknowledging you received the application.
If you're talking a good talk, you'll need to follow through on that. Otherwise, you'll lose the trust and respect of your prospects.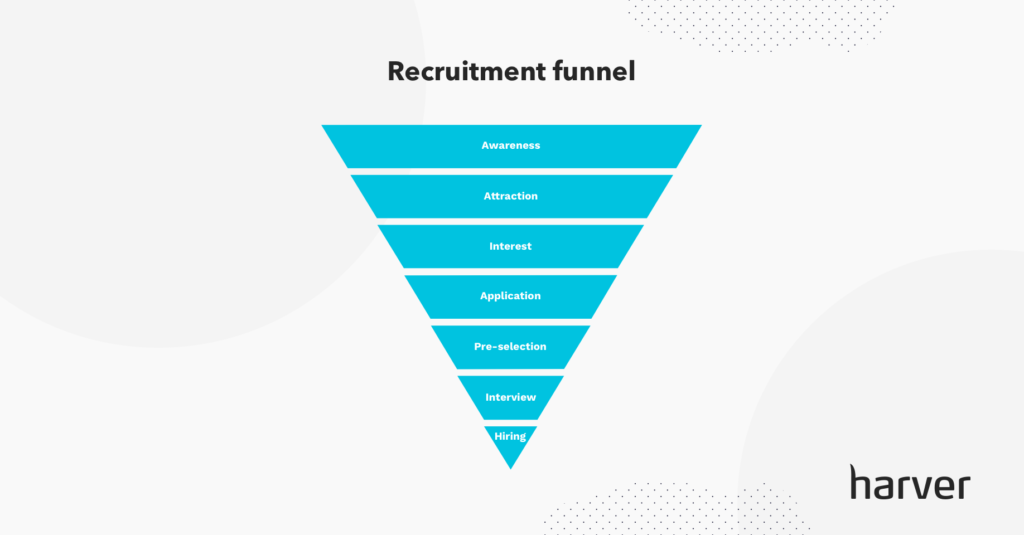 Your digital recruitment strategy needs to span from creating awareness around your brand and your openings to getting new hires onboard.
Ready to launch a digital recruitment strategy?
A high-quality digital recruitment strategy can drastically improve your recruitment process, not only for the candidates but also for recruiters.
Don't forget, the objective is to provide the smoothest possible experience which you can create by asking and receiving feedback from candidates and monitoring key performance indicators.
With this data at your fingertips, you'll develop and improve your digital recruitment strategy in no time.
Ready to transform your hiring process?