Rapid growth can be very exciting for a company on the rise—but it can also be a challenging and chaotic time of transition.
When a company needs to expand quickly, it also needs to grow the internal team to add the capacity and skills necessary to scale. Having the correct number of employees on the team is essential for ensuring expansion goes smoothly, but doing so can be easier said than done. In fact, recruiting and retaining the right people is one of the biggest challenges companies face during a scale-up phase.
There are so many important things to consider and questions to ask to get it right: Who can you hire to help take your organization to the next level? Which steps should you take to develop a scale-up recruitment strategy that attracts top talent to your business?
In this article, we'll share 9 of our favorite tips for developing and improving scale-up recruitment strategies to guarantee results.
Subscribe and stay up-to-date with everything recruitment related by receiving a weekly content digest and email updates on new resources!
What happens in the scale-up phase?
First things first, you might be wondering what a scale-up phase is and why it's challenging for companies to navigate. There are certain times when a company needs to expand or "scale-up" quickly, like after receiving a new round of funding from investors or launching a successful new product.
In other words, a scale-up phase is a distinct period of rapid company growth that increases at a faster rate than what would be considered average. Not only is the scale-up phase typically the most significant stage of growth, but also the one that poses the most significant challenges for growing businesses.
Scaling a business is all about adding resources and talent is one of the most important of these.
What scale-up challenges do companies face?
Scaling up is exciting, but it isn't easy. Organizations face a myriad of challenges during this stage, many of which can ultimately make or break an expanding business. While they need to focus on their products and services when scaling up, they also have to hire the right people to sustain the growth. Here are some of the most significant challenges that companies face in the scale-up phase:
Determining the right time to scale-up

Managing scale-up costs and time

Staying competitive in the industry while scaling

Identifying the appropriate roles to hire for

Maintaining operations during the scale-up phase

Building and maintaining a great culture
Hiring needs and challenges vary significantly—particularly when you're comparing a small startup to a large corporation. For example, a startup will be more concerned about managing the cost and time that's invested in scaling up. A larger organization is more likely to focus on maintaining operations and staying competitive while scaling.
Overcoming business challenges in time is key to successful scaling up.
What can you do to improve your scale-up recruitment strategy?
While there's truly no "one-size-fits-all" approach that will work for every organization, there are certain steps you can take to improve your scale-up recruitment strategy:
1. Analyze your challenges
It starts with understanding the challenges that are unique to your organization. Once you know your challenges, you can plan your recruiting efforts better to improve on your process and put the right people in the right roles. Consider your situation and answer the following questions to help guide the direction your recruitment strategy will go:
What are your long, medium, and short-term goals? Do you need to hire a lot of people fast, or do you need to make a couple of strategic hires? Do you have a problem with attracting the talent you need? Does your hiring process take too long? Is it too complicated or expensive?
2. Be strategic from the very beginning
It's important to be strategic from the very beginning of your recruitment process, especially when your company is scaling quickly. Because growing prematurely is the reason that many organizations fail, getting the timing right is essential. After all, you want (and need) your company's growth to be sustainable.
When you're planning for expansion, consider what you can afford and which skills are most critical for success. You should also consider the size of your organization. How big is it now, where do you want it to get to, and what will it take to make that happen? If the company can't afford to hire for all the extra capacity and skills you need, it might be a good idea to stagger your growth and hire in stages based on the order of importance.
Developing a detailed recruitment plan will help you estimate how much time and budget you need to allocate to hiring and make sure that you always have the crucial skills at your disposal.
Building high performing teams is extremely important to your company's productivity. You need to create a strategic recruiting plan that enables you to hire such teams.
3. Be prepared to sell the roles
If you're working on scaling up, chances are you're probably not a well-known company—meaning you're competing against more established employers for top talent in your area. Why would a candidate come work for you over the competition? What can you offer employees that others can't?
You need to actively sell the roles and the company to your candidates to convince them to work for you. A great way to do this is by building your employer brand to strengthen your reputation as an employer. A strong employer will give you a competitive advantage and help you attract job seekers to your organization.
Think about the benefits and perks you can offer to your employees. Health insurance, flexible hours, vacation time, or work-from-home options are some of the benefits that are most valued by job seekers. Don't wait too long before developing a competitive compensation package, otherwise you might have a hard time hiring (experienced) employees.
4. Focus on making impact hires
When your company is in a hyper-growth period, you want to focus on making hires that will have a significant impact in the long-term. The best scale-up recruitment strategies aim for recruiting future leaders who can be the pillars of your growing company.
High impact hires typically have specialized skills and unique expertise that make them very difficult (if not impossible) to replace. More often than not, these are the positions that will generate results for your company, whether it be through revenue, strategy, delivery, or another important area of business.
This quote from Nazy Kerr, our own Head of Talent at Harver, sums it up well:
"Impact hires share a defining trait regardless of their seniority level or experience: a great cultural fit for the company whose contributions are going to yield compounding results and resonate deeper within the organization than a standard hire-to-fill-a-role." Inspired employees are
2.25x
more productive than satisfied employees.
Source: HBR
Impact hires have the capacity to inspire others. Having inspired employees on board will boost your company's productivity.
5. Dedicate time to hiring
You're in a key phase of your growth, so you need to hire the right people who will help you scale further. To do this, you have to dedicate time to recruiting in order to hire the best people for your team, meaning it can't happen overnight.
That said, of course, time is of the essence when you're looking to grow. Even if you're in a hurry to fill the roles, don't rush through the hiring process but rather look for ways to make it more efficient. Digital tools for sourcing, marketing, candidate screening, candidate assessment, and onboarding can help you optimize your entire recruitment funnel—not to mention help you make smarter, more strategic hiring decisions. These solutions allow you to be more nimble in your recruiting efforts and fill each role with the best candidate possible.
(You can learn all about building the ideal recruitment tech stack in this article!)
Stop guessing,
Start data-driven hiring.
Learn how you implement a modern candidate selection process, that is: streamlined, experience-driven and backed by data.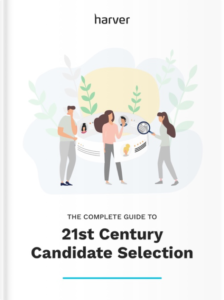 6. Organize job trial days
Job trials are a great opportunity to check how people actually do the work and how they blend with the team. It can either be a few hours or up to full a day under pre-arranged conditions with the candidate. A paid trial day is essentially a test run that will give you an idea of a candidate's work style and their culture fit.
A job trial is also a great way for candidates to assess whether or not they're a fit for your organization. Employment is a two-way street, and your scale-up recruitment strategy will only be successful if you not only hire but retain the best talent. That's why you want to make sure it's a fit on both sides—and job trials are the perfect way to do so.
7. Build your company culture
When you're hiring employees to scale-up your business, keep in mind that you're also shaping the future culture of the organization. What do you want your company to be like in the future? What are the values you'd like to instill and maintain as your company grows and changes?
The scale-up phase of your is critical when it comes to company culture formation, so keep important factors like inclusivity, transparency, and your mission and values in mind when recruiting candidates. You want to hire people that share your energy and vision for what's to come, which will ultimately improve employee engagement and retention. Consider implementing some of the principles of values based recruitment into your hiring process to select individuals who truly fit your organizational culture.
Dolt Wittkamper, Head of EIT Digital Accelerator, shared great insights on scaling up and how it impacts company culture:
"Reid Hoffman wrote something interesting in his book Blitzscaling: if you are growing at a crazy fast rate, you can take risks. You can focus on hiring the best people for crucial positions and just getting the right amount of people for not so crucial positions. But when you are at 30 or 50 employees, recruitment requires permanent dedication and attention, because you need the best people. I believe that companies who are consciously building a certain 'culture' will be more successful." 51%
of candidates want to visit the office of the organization they're applying to to learn about their company culture.
Source: Linkedin
Inviting promising candidates to visit your office is a good way to assess organizational fit.
8. Seek out expert help
If you're struggling with improving your scale-up recruitment strategy, you might want to call in the pros to help you navigate the process. Specialized recruitment companies have the contacts and knowledge to help you scale the way you need to.
This can be especially helpful when you need to fill highly-skilled, niche roles. For example, if you're hiring for roles for your tech department, you might be looking for candidates that possess certain technical skills and certifications that make it even harder to find the right people. That's where a tech recruitment company can come to the rescue.
However, if you decide to work with a recruitment agency, bear in mind that they are not going to do all the work for you. You need to work closely with them to make sure that they understand the job specifics and your requirements and give them feedback on the candidates they're bringing to you.
9. Look for diversity of thought
While you do want your employees to share certain values, you don't want them all to think in the same way. That would not lead to the next-level innovation and creativity that you desperately need for the scale-up phase of your organization.
To truly take your business to the next level, you need to look for candidates from a variety of different backgrounds. The more diverse your employees are, the broader their viewpoints, insights, and perspectives. This will help you make sure that you have a diverse employee base that brings a wide range of thoughts, ideas, and solutions to problems to the table. 83%
of executives agree that a diverse workforce improves their organizations' ability to capture and retain a diverse client base.
Source: The Economist
Not only will a diverse workforce help you innovate and scale faster, it will also allow you to build a diverse client base.
A final thought
Scaling up is challenging, and to do it successfully you need a great team that you can rely on to get the job done. You don't have to get everything right the first time around, but you do need to be ready to learn from your mistakes and optimize your scale-up recruitment efforts wherever you can.
Remember that you can (and should) learn from similar companies that are facing the same challenges you are. As you learn, be ready to adapt your process to increase your chances of success. By following these tips and refining your scale-up recruitment strategy, you can be sure to find the right people for the right roles and help take your company to the next level in the process.
Stop guessing,
Start data-driven hiring.
Learn how you implement a modern candidate selection process, that is: streamlined, experience-driven and backed by data.