According to QSR Magazine, at the beginning of 2020, only 13% of limited-service restaurants were fully staffed in hourly, non-management positions, and 40% of restaurants were saying they're severely understaffed.
While this problem isn't new, staffing restaurant locations seems to be more difficult in the post-pandemic world, where unemployed Americans make as much staying at home as working in a quick-service restaurant. Not to mention that some areas have a limited supply of qualified candidates by default, and this makes hiring for multiple locations even more challenging.
So how can multi-location QSRs manage the talent shortage and attract new talent to staff their locations, in today's tight labor market?
Don't forget to grab your free copy of our white paper on the digital transformation of restaurant volume hiring. Learn about:
What makes hiring for multi-location QSRs so complex?
Hiring for multiple locations presents its own fair share of unique challenges.
Talent shortage
Before the pandemic, restaurant owners were feeling the difficulties of a labor shortage. Even now, with unemployment higher than it was at the start of 2020, QSRs and fast-casual restaurants still face the challenges of finding new, high-quality talent.
When the barriers to entry (and therefore exit) are low, it is more frictionless for candidates to move between companies, especially if one is offering a better schedule or an extra dollar of pay each hour.
In addition, the industry lost some of its workforce during the pandemic. Many workers left the industry and aren't jumping to return because of safety concerns, job insecurity, or a desire for better pay and benefits that they can find in a different line of work. 20%
fewer people employed in food service in December 2020, compared to February 2020.
Source: QSR Magazine
Also, some markets are particularly challenging to recruit for, often when the local population is older, and QSR roles typically appeal to younger applicants due to less-than-ideal wages, long hours, and limited career growth opportunities.
But the talent shortage isn't the only challenge that high-volume QSR recruiters have to deal with when staffing multiple locations.
High turnover rates
Quick-service restaurants typically struggle with high attrition rates, primarily due to misaligned candidate expectations for what the job entails. Too often, applicants think they want to work for a QSR, but expectations fall short once they're on the job.
Good candidates need to be prepared to work in a fast-paced environment, multi-task and switch between tasks quickly, interact with difficult customers, and more—but this is often not what they imagine the job is about.
As a result, QSRs lose nearly 100% of their workers every year, the employee turnover rate being one of the highest across industries.
Location managers aren't recruiters
Location managers struggle with administrative tasks and processes due to the limited time and resources they can dedicate to hiring, and this is particularly challenging in high-volume recruitment.
QSR managers aren't recruiters in nature and don't have time to go through all the applications they receive. Some use their own applicant tracking system (ATS) to compile and house applications, but often still don't have the ability to review the resumes and react as fast as they need to.
This often leads to managers not responding to applicants quickly enough, which causes candidates to lose interest or take a similar role with a local competitor.
Subscribe and stay up-to-date with everything recruitment related by receiving a weekly content digest and email updates on new resources!
Fragmented hiring processes
QSR recruitment is typically decentralized: location managers are responsible for recruiting all new employees and for reporting back to headquarters when they're facing labor shortages or other challenges.
While it's true that restaurant managers know the local markets the best, at scale, this type of fragmented, decentralized process creates other problems. Not only it takes time away from other tasks, but also leads to situations where headquarters have little to no insights into how hiring decisions are made.
Also, without a central hiring system in place, rerouting candidates between locations is less likely to happen. As a result, some QSR locations might have too many candidates, while others might struggle with just a few applicants to choose from.
We've detailed this topic in the article below.
Lack of data and visibility
A lack of data and visibility into the recruitment processes is certainly less-than-ideal, especially for QSR managers looking to improve their hiring efficiency and effectiveness. And it is one of the issues that makes multi-location recruitment more difficult than it should be.
Without insight into what's working and what's not, you can't optimize as you go, which is why recruiting data is key.
Negative candidate experience
Many of these challenges create a poor candidate experience that feels like the waiting game. Time to interview and hire is often far too long, which also causes applicants to lose interest in the process. 10.2 days
is the average time to hire in the restaurant sector.
Source: Workable
The candidate experience for QSRs needs to be in line with the target group's expectations: an efficient, engaging recruitment process with regular updates on their application and a full breakdown of what to expect from the role.
We've covered these challenges in the webinar below.
How can quick-service restaurants tackle these challenges?
Focus on retention of current employees
In the restaurant industry, high employee turnover remains the biggest challenge for recruiters. This means not only that location managers struggle to find and keep good employees, but also that they can't afford to fire the poorly performing staff. And this creates additional issues, such as low employee engagement and a poor customer experience.
So a first tactic that QSR location managers can use for tackling employee turnover is to focus on retaining their current top performers. Among others, QSR employees expect a flexible schedule, a decent salary, employee discounts and training, and an attractive benefits package.
Use data to optimize sourcing
You can't improve what you don't measure, so if your challenge is finding good candidates for QSR locations, you should first look at your sourcing strategy.
The way candidates are sourced should directly reflect the way the candidates you're looking for live their day-to-day lives. Outdated sourcing processes, where you wait for the candidate to come to you, won't be as effective in today's competitive labor market. If your competition takes a more proactive approach to attract talent, you'll miss out.
So start by looking at the way you're collecting sourcing data and using it to extract actionable insights. Do you know which of your sourcing channels brings in more candidates, or better-qualified ones? Or which channels help you attract applicants for hard-to-fill positions?
In the Harver platform, for example, recruiters can see how their sourcing channels are performing, and can optimize their strategy to attract the right candidates.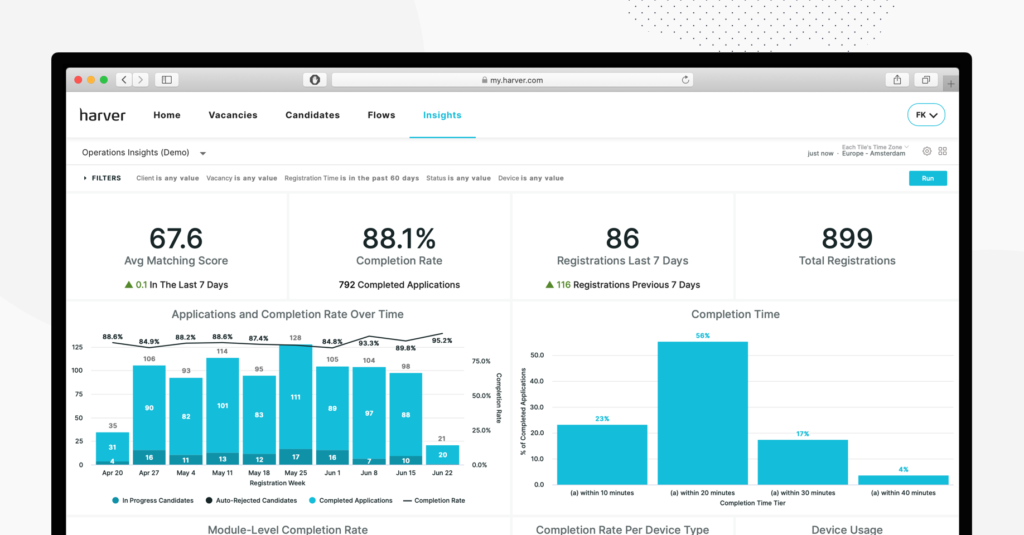 Hire applicants with transferable skills
In industries such as QSR, where recruiters have to fill multiple seats and are hiring high volumes of employees for low-complexity, entry-level jobs, recruiting based on resumes can do more harm than good. And that's because past experience isn't predictive of job performance.
More important than one's experience are their skills and attitude, so a good solution for decreasing attrition and staffing locations more efficiently is to adjust the recruitment process and focus on selecting candidates with transferable skills. 57%
of unemployed people are unable to identify their transferable skills with confidence.
Source: LiveCareer
In traditional, vacancy-driven recruitment, candidates are selected based on their fit for specific open roles. With matching technology, however, you can identify candidates who have a specific skill set and can wear multiple hats, because they have transferable skills.
How do you do this, in practice? In the Harver platform, we use pre-employment assessments such as situational judgement tests and personality questionnaires that enable recruiters to easily spot the applicants that are a good fit.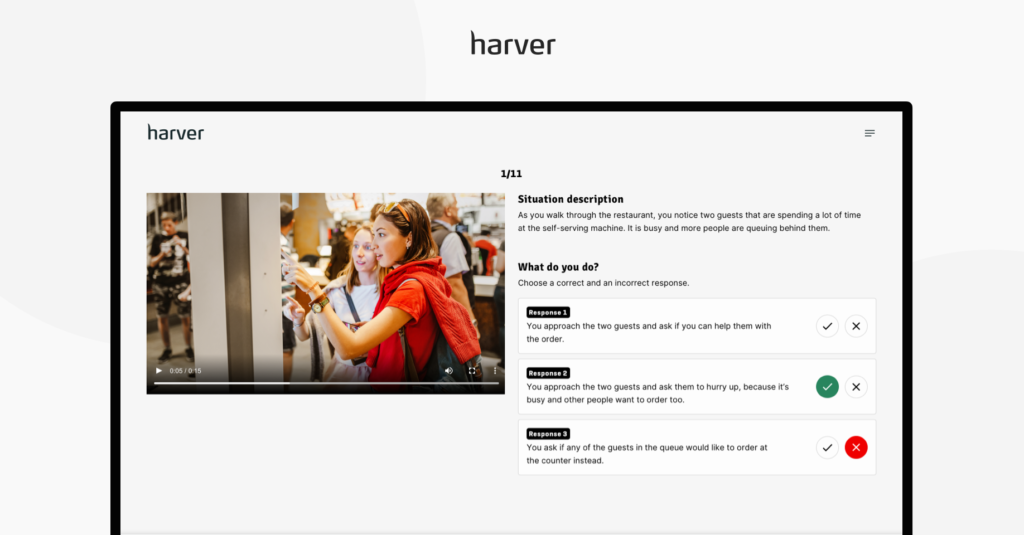 Through SJTs, candidates get a realistic preview of the job, meaning that they can see what the day-to-day work is like, and can decide to stop the application process if their expectations aren't met. By enabling self-selection, you can avoid onboarding and training people who end up leaving within a few days after getting started.
As candidates go through the sequence of assessments, their characteristics and skills are measured with scientifically validated assessments. The assessment scores are then displayed in the candidate profile, so recruiters can make data-driven decisions.
Reroute candidates to understaffed locations
You can also reroute candidates between locations, to make sure you balance the supply and demand, especially when it comes to tough markets. We've explored this topic in the webinar below.
Here's what this looks like in practice. Instead of relying on recruiters to tell candidates to apply to other roles if they're rejected, or expecting QSR managers to ask their colleagues if they have too many applicants for their open positions, you can automate the process and allow candidates to apply to as many locations as they want.
Using recruitment automation technology, you can show them where they have the highest chance to get hired, based on the influx of candidates and need for a particular location. For example, the chance might be 90% instead of 40% in a specific location, because they need more candidates.
This increases the likelihood of finding and selecting good applicants, making it easier to fill the seats in less popular QSR locations where talent supply is typically lower.
If you're curious to see how this functionality works in the Harver platform, you can book a demo below.
Ready to transform your hiring process?
Improve your process efficiency
Applicants typically apply for 4-5 roles at the same time, which can lead to less responsive QSRs missing out on great candidates because the process is too long.
However, if you assure applicants they'll receive a response within 48 hrs, they likely won't reach out to other organizations, allowing you to optimize the process on your end while providing some sense of job security.
But what if you just can't seem to reply fast enough, despite your best efforts to do so?
You can automate everything from screening restaurant staff to sharing assessment tests, interpreting matching scores, and moving candidates to the interview stage when the score is high enough. This allows you to respond to applicants in less than 48 hrs, so you don't lose any due to process inefficiencies.
Moreover, location managers don't have to interact with candidates early on in the process; all they have to do is set their availability in the backend of the system. Then, candidates who pass various pre-hire assessments and are identified as a good fit are invited to schedule an interview when it's convenient.
Data collection and analysis
To be successful at hiring restaurant staff, you need full visibility into your organization's recruitment metrics. Collecting and reviewing data and insights on operations, matching scores, the candidate experience, quality per source, time to hire, and so on, can help you easily identify opportunities to improve your processes.
At Harver, we offer both standard and custom dashboards with the most important recruiting metrics for QSRs.
Manage candidate expectations
For entry-level candidates that are looking to secure a paycheck, the most important things your organization can offer are job security and the information to decide if the role is right for them. This helps in reducing employee turnover due to misaligned expectations.
Yet, the application experience matters too. More and more entry-level job seekers are using their smartphones to find their next job. As such, they expect to not only be able to find a job using their mobile but apply for it from their device too.
Then, the application process needs to be short and engaging. According to Glassdoor, candidates applying on mobile devices complete only 22% of applications, compared to 47% on desktop. And this happens because mobile applications take almost twice as long to complete: 10.5 minutes per application on mobile, compared to 5.9 minutes on desktop.
What this means for you is that in order to attract and hire talent in a tight market, you need to offer a short, engaging, and informative experience. For example, you can build a fully digital candidate experience that mixes realistic job previews with company videos to showcase the culture and the work environment. This gives applicants more information than they'd typically receive from a manual recruitment process.
Because the process is digital, the application experience is able to educate candidates about the role, no matter the volume of talent who are applying. Moreover, at the end of the process, you can ask candidates to provide feedback and rate their experience. This data can later be used for optimizing your recruitment funnel.
Next steps
These are just a few ideas for improving restaurant staffing, including for locations in tough markets. As you can see, with the right strategy in place and the right tools, you can make the hiring process for your quick service restaurant simpler and more effective.
The next step is to identify where technology could help streamline your recruitment process. Using too many individual tools can lead to a confusing candidate experience and a complicated tech stack for recruiters to navigate through.
Harver is built specifically for high-volume hiring, helping quick-service restaurants to quickly identify top candidates at scale. If you'd like to see our software in action, you can book a demo below.
Ready to transform your hiring process?