… And that you can use for your recruitment process.
Since you've clicked on this article, I reckon you're an IO-Psychologist, Recruitment or HR executive, or just generally interested in SJTs, which is great! Because for all of you, I think there's something to learn from this article.
About 4 years ago, I started working for an Amsterdam and New York-based recruitment technology company, specializing in — according to my marketing colleagues — 'digitally transforming recruitment processes for enterprise organizations around the world'.
Central to this 'digital recruitment transformation' is a range of assessments that provide users of our software with the information they need to make data-driven hiring decisions. In my role, I'm responsible for the construction of Situational Judgment Tests (SJTs). Some of our clients include the likes of Netflix, KPMG, Valvoline, Booking, Sitel, and many, many more.
Now, before we dive into what I've learned from working with these big companies, let's get you up to speed on SJTs.
---
What is an SJT?
According to Wikipedia, an SJT is a type of psychological test that gives the test-taker a realistic, hypothetical scenario and asks them to identify the most appropriate responses or to rank the responses in the order they feel is most effective. This is of course, pretty abstract, so what it looks like in real life, is something like this: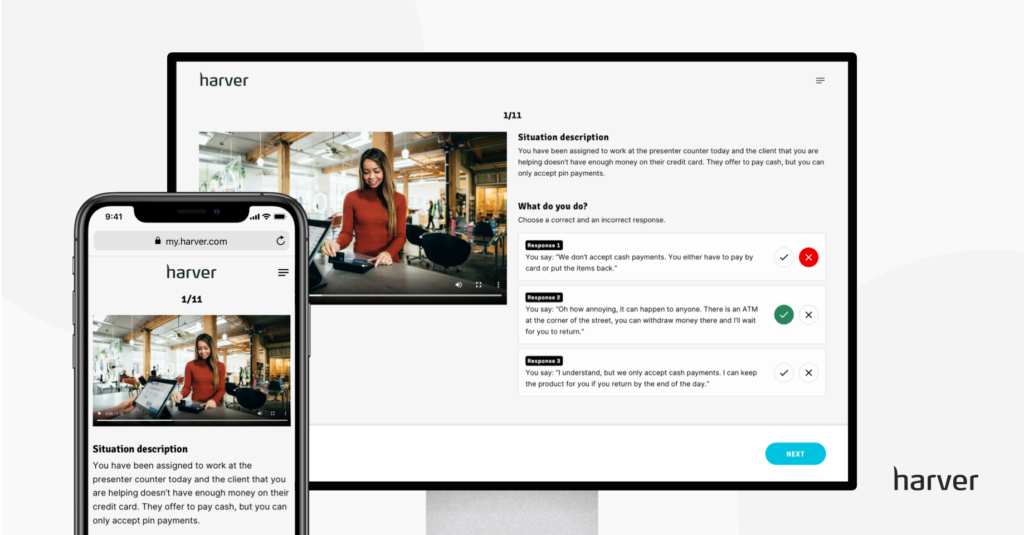 Basically, it starts with a video that shows a situation that might occur in real life at the job that a candidate has applied for. For a fashion retailer, for example, we can show a client who wishes to return a pair of jeans because the fit is not exactly what she expected. What to do, what to do?
In the SJT, we present the test-taker with a question, followed by 3 answers. 1 is best, 1 is worst and 1 is also a good response, but not the preferred one. It's on the candidate to choose the best and worst answer correctly. This best and worst answer setup is not the only one available though. There are more ways of structuring an SJT.
The three answer option setup that we provide challenges the test-taker to select what is the most effective and what is the least effective way to respond in a critical job situation, which both are proven predictors for performance.
Now that you know what an SJT is and how it's constructed, you must be wondering what it does? Well, quite a number of things in fact:
First and foremost, SJTs are used to measure skills and competencies that are essential for the job. Second, they help determine whether or not an applicant is able to judge situations that occur on the job correctly.
And then there's a third … that's maybe less obvious but just as important; SJTs give candidates a taste of what the job is like. This helps them decide if the job is something that they would like to do for the next year or years. This way, an SJT can also have a self-selection effect when a candidate decides that this is not the case.
Alright, now that we know how SJTs work, let's explore why all these leading companies want to implement them all of a sudden.
Why are SJTs a thing all of a sudden?!
Although SJTs have been around since the 1950s, they first started to become popular in the 1990s. Primarily in industries like Healthcare and the Military. This was mainly due to the fact that time, knowledge and budget were available to develop a solid test. So why then is it that more organizations are looking for SJTs all of a sudden?
Well, that's because it's becoming increasingly easy to implement them in the hiring process. Recent developments in AI, Cloud Computing and Data Science have opened up a vast array of possibilities for innovative recruitment leaders all over the world.
Instead of sending written SJTs to candidates as part of a bland assessment, it's now possible to integrate them into an application process in such a way that it gives you the data you need, but is fun for the candidate as well. Especially that last part has made the run for SJTs a thing, but more on that later.
What my experience constructing SJTs has taught me
Of course, there are a number of textbook reasons why one would implement an SJT. A quick google search will also come up with a number of results but here's what I can confirm from my own experience.
SJTs are super effective in decreasing employee turnover
The big benefit of implementing SJTs in your hiring process is that you can minimize employee turnover and increasing quality of hire. This is because SJTs have a predictive validity: that is the ability to predict job performance.
By hiring a candidate with the right skills and competencies, accompanied by enthusiasm and understanding of the job, you're able to decrease employee turnover. So what I have come to learn and what I see from implementing these sorts of assessments is that the people who perform well at their job, are the ones that scored high on the SJT.
They are great for managing expectations
The test also serves as a realistic job preview that includes both what makes the job great, as well as what can be challenging or heavy. This is a great way to show candidates exactly what the job is like. So another key learning here is that quite often, the reason why an employee quits is because of the mismanagement of expectations. Basically, the job is not what they expected it to be. This is especially true for retail and customer service companies.
On a personal level: besides the textbook reasons, here's what I learned about SJTs first hand, and why I think more organizations should implement them.
SJTs are perfect for showcasing your company culture
Alongside serving as a realistic job preview, SJTs are also great for employer branding. Essentially what you are doing is presenting your organization to candidates, showing them what you're all about, the purpose of your company and what the job entails.
Let's say for example you have an informal way of communicating with each other at your company or that you're driven by a unique purpose, you can perfectly showcase this in the (video) situations that you share with your applicants.
They provide a great candidate experience
Candidates love SJTs! A good candidate experience can bring about a lot of enthusiasm and passion to your company. In fact, research shows that nearly four out of five job applicants believe that the candidate experience serves as a solid indicator as to how a company values its people.
What I see in the feedback I get from candidates is that they love the fact that they get to see what the job is like via the SJTs. On top of this, applicants like the fact that they are getting something back from the company rather than only feeling like they have to "bring" something to the application process.
Implementing SJTs gives you amazing insights
During the implementation process of SJTs, I help organizations look inward and reflect on their day-to-day practices. Many times this brings forth amazing insights as to how people are feeling and/or what's happening in the workplace.
For example, sometimes I see that the vision on what's important for a particular job differs between HQ and the employees who are actually doing the work. Because of such insights, I am able to help them realize what is amiss and bridge the gap.
Final thought
The most important thing to remember when you're developing an SJTs to implement in your recruitment process is that you should take the right steps to come to a valid measure. This includes the following:
Thorough information gathering about what are the critical situations in the job, what it takes to be successful in it, and what message should be communicated to candidates.
Find out which key competencies, including actual behaviors you would like to see from an employee in order to be successful. These should form the basis of what you are going to measure with the SJT.
Work with subject matter experts to define and finetune the situations. And make sure you validate the situations and answer options after development again with a sample of actual employees who've shown to be high performers in the job.
Make it realistic, also showcase situations that are part of the job that can be challenging for an employee. When you develop a solid measure and give the candidate a realistic preview, you can take advantage of selecting the best candidates yourself and for candidates to make a more conscious decision to actually apply.
I hope you've enjoyed reading this article! If you have questions on pre-employment assessments and the effect they can have on the candidate experience and your recruitment KPIs, feel free to reach out!