Companies hoping to attract the cream of the crop when it comes to the next generation of workers are targeting potential candidates as early in their careers as possible. In fact, some companies are making contact even before candidates have begun their career path.
Yes, recruitment has become incredibly competitive, if you hope to compete for top graduates, you need to up your campus recruiting.
As the fight for attracting top talent ramps up, companies are being forced to innovate their campus recruiting strategy, because what worked in the past, is no longer cutting it with the students of tomorrow.
For many companies, their tactic for campus recruiting hasn't changed since the last century – representatives simply turn up on campus, set up their stall at a career fair towards the end of the graduates' third year, and hope to attract some interest.
If this is you, it's time to step up your campus recruiting game.
With innovation touching upon virtually every aspect of our lives now, and a shift to a candidate-first job market, you need to innovate your campus recruiting if you hope to compete for top graduates.
Not sure how to switch it up a gear? We've got 10 ideas to innovate your campus recruiting.
What's in?
Subscribe and stay up-to-date with everything recruitment related by receiving a weekly content digest and email updates on new resources!
1. Help students move in
You read that right. Beat all the other recruiters out of the starter's blocks and initiate a relationship with potential candidates from the day they start university, not the day they finish.
General Electric and Consumers Energy showed great campus recruiting initiative when they were on hand for move-in day, 2017, at Michigan State University's College of Engineering. Amongst the movers helping students shift sofas and desks up and down steps, was a VP and a Chief Engineer, that's how seriously these guys are keen to recruit top talent.
2. Create a landing page aimed specifically at recent grads
We inhabit a digital world and you won't make an impact on recent grads if you don't have a dedicated career site. Up your campus recruiting efforts and set one up – your graduate applicants won't then have to wonder if that role is really entry-level.
If you don't have a separate site, establish a dedicated landing page at the very least, so graduate applicants know they have come to the right place. Present graduate opportunities in one place and make graduates excited about joining your company.
Jaguar Land Rover has a

dedicated page

for graduates with information about the opportunities, recruitment process and testimonials.

Black Rock has a great student-focussed

career page

. They have altered their language to appeal to their target audience as well as having their current young employees share their testimonials and success stories in short videos.
Airbus also has a dedicated page with opportunities for students and graduates, helping the starters to find opportunities matching their interests.
3. Turn technology to your advantage
Handing out flyers as part of your campus recruiting strategy just won't cut it.
LinkedIn conducted a recent survey that revealed millennials consider 'innovative and inspiring work environments' to be one of their top factors when job hunting.
The next generations are all tech-savvy, so you have to be too. Millennials and Gen Z place a high onus on social media, so if your company and recruitment campaign doesn't include a social element, you are unlikely to attract the top tier.
Include other resources to show off what you're doing.
General Mills

, through the Oculus Rift headset, took students on a VR tour around their office and the Minneapolis-St. Paul metro area, while still on campus.

General Electric

also brought their tech with them to campus, showcasing their products to students and giving potential candidates a walk-through of their deep-sea projects through VR.

Boeing

invites engineering students to its Immersive Development Center, where they can explore Boeing's technologies.
4. Show interest in students throughout their time at university
Innovate your campus recruiting by being physically present at the campus, not just once or twice in three years, but continuously. Your company is building its brand image with these employees of the future, and interacting with students during their time at university is only going to reinforce a positive image of your company.
So take an interest in how your potential candidates are doing – show them you care about them and how they are handling university. Nurture talent when they're struggling – for example, General Electric reps mentor undergraduate students.
Keep your finger on the pulse and learn what students are interested in – show them that you're really invested in them and support activities and causes they care about, such as current topics like global warming and renewable energies. Find ways to showcase to students how your company is doing its bit to tackle these issues.
To help soon to be graduates, run resume workshops, not just for the students you are interested in, but for all of them. You never know who might come to you in the years to come.
Make sure to build good reputation of your company among the students, as it is important to them in choosing a future employer.
5. Adopt a data-driven approach
If you're spending time and money on campus recruiting at multiple different campuses, you want to know how your efforts are paying off.
To do that, you need to be measuring your goals to determine the effectiveness of your recruiting strategy.
Metrics to pay attention to include:
The number of hires you made on each campus

What interview to offer ratio you get

How many offers to acceptances you get

Retention rates of new hires
By tracking these metrics, you can track students' interest in your company and know what is (or is not) working where.
If you don't have the resources in place to do this yet, you can use Yello app. For companies who don't have the means to follow up on all interested students, Yello's mobile app gives recruiters the tools to track potential candidates from each event, giving companies insight into which events worked well at which campuses.
With Yello, you can take students through your recruitment process: interviews, applications, even offers of internships, you can do it all through this one digital platform.
Stop guessing,
Start data-driven hiring.
Learn how you implement a modern candidate selection process, that is: streamlined, experience-driven and backed by data.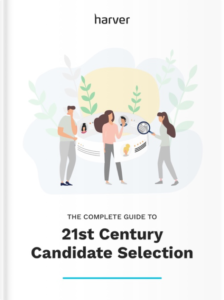 6. Arrange informal meetings
Nothing petrifies students more than a dress code. The more casual and informal you are with you campus recruiting, and the more you can make your meetings and get-togethers relaxed, the more open students will be with you, and you can start to build rapport.
By arranging informal meetings you are aiming to create career education experiences for students that feel like a normal, everyday university event, not something intimidating. Here are a few ideas:
Host lunches between students and a few junior members of your company – have employees talk about 'a day in the life of' so students can hear about your company first hand.

Offer students the opportunity to shadow members of your team, from the office junior up to the CEO.

In 2016, Executive Search firm

Odgers Berndtson

took this idea one step further and gave 18 promising future leaders (who were then students) the opportunity to spend the day with a CEO of companies such as Ikea, Manulife, Cisco, GE, Twitter, Cineplex and Goldcorp. The CEO for a Day program is still running!

Arrange company tours if shadowing isn't an option; just get potential candidates through your doors and into your surroundings so they can see what working for you would be like – cultural fit goes both ways after all.
7. Organize a hackathon
As a part of their campus recruiting strategy, General Electric have been known to host hackathons to connect with students and start building relationships with them. Hackathons are a great way to drive engagement and attract top talent.
They allow you to see multiple potential applicants at work at once.

Those candidates who don't perform well in 1:1 interviews have the chance to get comfortable and showcase their creativity to your reps, over the course of the day.

You, the recruiter, can assess potential candidates' cultural fit as they work alongside your team.

They are especially beneficial if you don't have the recruitment marketing budget to source candidates internationally.
If you do host one, group soon-to-be graduates with experts from your company, and let them work on a problem together. Candidates will get valuable insights into the way your company works and you will get to see them in action.
If you don't have the capacity to organize a hackathon yourself, participate in industry hackathons, explore virtual hackathons or sponsor one like Deloitte did in February 2017, when they hosted Europe's largest blockchain hackathon.
8. Develop custom recruitment campaigns
With your campus recruiting strategy, make sure your messaging campaigns are clear and easily understood. You want students to know who your company is, what your business is about and what you can offer them.
From there, highlight all the different routes students can come into contact with your company, for example, by applying for scholarships or participating in internship schemes or work experience programmes.
Make your recruitment campaigns engaging and creative. Take a leaf out of the British Security Service's book – their Can You Crack It? recruitment campaign is the stuff of legends.
You can make this relatively simple: let potential candidates for the finance department solve a math puzzle (Are You Smart Enough To…?), or organize a best essay contest for creatives.
Ogilvy, one of the world's leading advertising, marketing, and public relations agencies, organized a World's Greatest Salesperson contest. They offered a 3-month paid fellowship to the winner.
9. Host webinars with practical information
Most universities will have a way you can request a chance to hold a classroom presentation, but you aren't guaranteed to reach as wide an audience as you might like.
So innovate your campus recruiting strategy and consider hosting a webinar instead. Host the webinar at a time that doesn't interfere with classes or team practice, and get together with your recruitment/HR department and pull together practical tips on:
Modern job hunting

What to expect from the recruitment process

Even hold a Q&A session with hiring managers
Essentially be helpful, open and honest to show students you're genuinely interested in their future and want to help them succeed.
10. Maximize student referrals
You'll be aware that employee referrals rank as one of the most successful methods for recruiting, as they significantly improve time to hire, quality of hire and reduce cost per hire.
Therefore, set up a student referral programme to aid your campus recruiting. Seek student referrals from employees snared during your last graduate recruitment round, this summer's interns, their friends and family, university teachers and college professors. Ask everyone to get involved.
A few things to bear in mind about campus recruiting
Campus recruiting takes time. Developing a relationship with the university and creating activities to attract candidates won't bring you results tomorrow, it's a continuous effort but one that can yield recurring dividends.
Employer branding should be the center of your efforts, so think strategically about the messaging you can target recent graduates with.
Be aware that if you don't pay attention to your social media presence, your competitors do and you might be losing potential qualified candidates to them.
Make students aware of all the different opportunities available at your company. They might not know that working at a tech company involves so many other positions, not just IT roles. Let them know you need salespeople, HR, operations managers, marketing creatives and myriad other positions to run the company effectively.
Measure ROI to check how efficient your efforts are and refocus what you should be prioritizing. Optimize the winning strategies and ditch the ones that aren't working.
Conclusion
As you can see, campus recruitment can go far beyond career fairs and company presentations. Simply spice up your campus recruitment strategy with a few innovative elements, and gain a competitive advantage in the war for talent.
And don't forget to let us know how you did!
Stop guessing,
Start data-driven hiring.
Learn how you implement a modern candidate selection process, that is: streamlined, experience-driven and backed by data.