The COVID-19 pandemic has been a huge remote work experiment worldwide. And while remote work has been growing by about 10% annually, the current situation will likely speed up the growth. A recent survey done by Gartner found that post-pandemic, 31% more employees are likely to work remotely at least some of the time than before.
What's more, 74% of companies intend to shift at least some employees to remote work permanently post-COVID-19. In the post-pandemic world, the number of roles requiring at least part-time remote work will increase. Companies will need to hire people who not only have the desired technical skills and job knowledge but who also have certain personality competencies that predict job success in remote roles.
Before we dive into these competencies, it's important to know that they are derived from personality inventories. They can be assessed through personality questionnaires in combination with cognitive ability assessments, followed by specific interview questions, which we will give you examples of in this article.
Let's start!
1. Integrity
When your employees work remotely, there's a lack of direct supervision, so you need to choose people that you can rely on, trust them to perform their best, and respect the rules. You can do this by assessing your candidates' integrity.
Integrity is a personal quality associated with being honest, fair, having strong moral and ethical principles, and self-awareness. A person with a high level of integrity isn't tempted to break rules, has a strong sense of right and wrong, and treats others with respect.
It is difficult to monitor employee behavior when they work remotely. That's why an applicant who is honest, respectful, and responsible is a good candidate for a remote worker. Their behavior will most likely be ethical and principled, resulting in a trusting and rewarding employee-employer relationship.
When you have interviews with your shortlisted candidates, you can ask them, for example:
Have you ever found yourself in a situation where you had to admit that you'd made a mistake? How did you handle this situation?
In their answers, look out for their ability of self-reflection, their desire to improve and learn, and how they show respect and appreciation for others. 24%
of companies using pre-employment assessments administer integrity tests.
Source: CriteriaCorp
2. Planning and organizing
Remote employees need to be able to get their work done without anyone looking over their shoulder and checking up on them. To achieve this, they need to have the ability to identify their priorities, plan the steps to complete their tasks, estimate the time to dedicate to these tasks, and execute them.
In general, remote workers must be able to plan and organize their work and time effectively and have a high level of self-discipline. When priorities change, remote employees should be ready to modify their plans accordingly, on the go.
Planning and organizing is a key competency for remote employees to succeed in their role. When hiring for remote positions, look out for high levels of conscientiousness. Highly conscientious individuals know what goals they want to achieve, how they can get there, and also work consistently to accomplish them.
Here's an example of an interview question to assess planning and organizing competency:
Tell me about a time when you have had to translate a strategy into actions and plans.

What did you specifically do that was effective?

How did you know that your plans were clear enough to be implemented?

How do you break down strategy into manageable tasks?

What would you do differently in hindsight?
Candidates with good planning and organizing skills should be able to give you specific examples of such situations.
Stop guessing,
Start data-driven hiring.
Learn how you implement a modern candidate selection process, that is: streamlined, experience-driven and backed by data.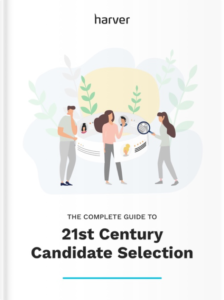 3. Work standards
A successful remote employee is capable of working autonomously and staying productive in a work from home setting. They also need to be diligent and pay attention to detail in their work to make as few mistakes as possible and always look for potential improvements to processes and solutions.
Typically, good remote candidates set high standards of performance for themselves. They aren't afraid to take on responsibility for completing tasks and be accountable for their job, and they also encourage their teammates to do so. They can admit their mistakes and work hard to remedy them.
You can ask your candidates interview questions like:
Can you give an example of a time when you were unsatisfied with your work? Why? What did you do or not do? How did you feel about it? Looking back, what would you do differently?
Candidates with high work standards are usually their own toughest critics and are able to reflect on what they could do better and how.
Subscribe and stay up-to-date with everything recruitment related by receiving a weekly content digest and email updates on new resources!
4. Problem analysis and solving
Being able to analyze and solve problems effectively is a desirable competency in any employee and it is critical for remote workers, as they often need to work without specific and direct guidance. Problem analysis refers to the ability to analyze complex and/or unexpected situations at work. An ideal remote candidate has a proactive approach when it comes to getting the full scope of a problem and working toward a solution.
When an employee isn't good at problem analysis and only relies on information that is immediately available to find a solution, there's a risk they will come to wrong conclusions. That's why a good candidate should be motivated to look at a problem and potential solutions holistically, applying a great deal of logical thinking and attention to detail.
Remote employees with good problem analysis skills approach challenges independently and do their best to gain a deeper understanding in order to find a solution. This is especially important if teams work across different time zones and real-time collaboration isn't always possible.
Good interview questions to ask about problem analyzing include:
How do you cope when you face a challenge you've never previously experienced?

What do you do in a situation when you cannot seem to find the right solution to a problem?
A qualified candidate should be able to describe their problem analysis thought process in detail. One's ability to analyze and solve problems can be assessed through pre-employment tests such as learning agility assessments.
5. Teamwork
Although being adept at working independently is crucial for remote employees, so is working as part of a team. When the team is distributed, effective teamwork becomes key to successful cooperation. This goes for almost every industry, whether it's technology, retail, creative, or other sectors.
And while it is very important to build a collaborative work environment and provide your employees with the right tools to be able to work together, it is just as essential to select candidates that have the necessary teamwork skills. These people are likely to connect with others, gather feedback and reach out more to teammates, which is essential to succeed in a remote work environment.
Teamwork includes communication, conflict management, listening, reliability, and respectfulness. Look for these characteristics in your candidates for remote roles to make sure that they can effectively work within a team despite physical distance.
You can ask specific questions about teamwork in your interviews with the remote candidates. These can include:
How would you handle it if there was a problem with a member of your team not doing their fair share of work? In a Workday survey
51%
of corporate respondents considered team-working skills to be among the 5 most important soft skills.
Source: PEW Internet
Having strong teamwork skills is important for many roles, remote and hybrid ones especially.
6. Self-development
With remote employees, you have limited opportunities to supervise their professional and personal development. That's why you need to look for individuals committed to their self-development to be sure that they won't stagnate in the remote role.
These people approach all situations as learning opportunities, continuously work on overcoming their limitations and weaknesses, and act upon feedback that they're given to improve their work and skills.
A remote worker with good self-development competencies is able to learn new skills, apply them to their role, and find innovative ways to do their job effectively. They can quickly adapt to changes in work processes, tasks, and policies without direct instructions.
In short, you should look for candidates who not only actively seek opportunities to learn new things but also have a strong sense of work ethic. In an interview, you can ask specific questions related to self-development such as:
Feedback is an effective step in personal learning and development. Describe several instances in which you proactively sought feedback and then acted upon the feedback to improve.

Describe a situation that demonstrates your willingness to challenge and stretch your current skills and abilities.
Again, a candidate competent in self-development will be able to give you concrete examples of how they approach learning and self-improvement.
7. Customer orientation
Customer orientation is imperative for every role where the employee is in direct contact with customers such as customer service, sales, or frontline roles in retail and hospitality. However, this competency is also important to consider when hiring remote workers, as it translates to dedication to go above and beyond in any role to satisfy customers. For example, in software development, customer orientation would mean to always focus on customers' needs in terms of product/service features.
In general, customer orientation of an individual will tell you a lot about how this person will treat different stakeholders in- and outside of your organization. Will they be sympathetic towards others? Will they be able to accommodate others' suggestions?
Candidates who show flexibility, sympathy, and friendliness in dealing with others make for good remote workers, that's why you should be on the lookout for these qualities when assessing them for customer orientation.
In the interview, follow up with questions customer orientation-focused questions like:
When have you considered the perspective of clients when making a decision?

Why was this important?

What did you specifically consider?

What did this information add to the final decision?
Even if they have no experience in working with customers directly, a good candidate should be able to find examples of how the customer was in the center of their work. 57%
of talent professionals say they struggle to assess soft skills accurately.
Source: Linkedin
If you want to assess these competencies, you need to develop a structure process to uncover these in your candidates.
A final word
In the post-pandemic world, work is going to be different. More and more employees will spend at least some of their time outside of the office and when recruiting new people, you will need to make sure that you're hiring individuals who are capable of working remotely in an effective, professional, and productive way.
Assessing your candidates for the competencies predictive for success in remote positions will help you build a strong, future-proof workforce. At Harver, we've developed a full suite of pre-employment assessments to support companies in the volume hiring space in finding the best candidates, faster.
You can check our library of assessments here, or book a demo below, to see them in action.
Ready to transform your hiring process?