If you're struggling to attract new talent in the current tight job market, old school recruitment marketing tactics won't work. The relationship between employer and employee has changed.
With the wealth of remote work and flexible opportunities now available, attracting top talent has become a whole lot harder, and employers need to offer much more than just a competitive salary. Candidates are opting for jobs that offer a better work-life balance and more flexibility, as well as growth opportunities.
Thus, if you want to attract, recruit, retain, and engage the right people for your organization, you need to differentiate yourself from the competition.
You do this externally through your employer branding, and internally, by building a strong employee value proposition (EVP). Both are as important as each other – your employer branding will attract the right people to your organization, your EVP will ensure they stay.
In this article, we'll explore what makes a strong EVP and show you how to build an employee value proposition that drives your talent acquisition and improves your retention rates.
But what is an EVP? Let's start here.
Subscribe and stay up-to-date with everything recruitment related by receiving a weekly content digest and email updates on new resources!
What is an employee value proposition?
Well, when done right, it's the core of your employer branding. Your EVP identifies the core strengths of your organization i.e. what makes your company such a great place to work, and distills them down to provide the answer to the question: why is your organization unique and why should top talent work for you? 
Why is it so important to consider your employee value proposition? Because research shows that 75% of Americans won't take a job with an organization with a bad reputation, even if they are unemployed. 
So what should your EVP include?
What makes a strong EVP?
According to Pawar and Charak (2015), the employee value proposition is an arrangement of benefits an employer provides to an employee for the skills, capabilities, and experience they bring to the organization. 
While these benefits do include monetary compensation, money shouldn't be the mainstay of your EVP. Your EVP should also include non-monetary benefits and rewards too, for example, support, recognition and values that you as an employer provide to enable successful employees to reach their highest potential at work.
A strong employee value proposition should define the essence of your company, highlighting what it is that makes your existing employees proud and motivated to work for you. 
The purpose of a strong EVP is three-fold:
To attract, recruit, retain, and motivate employees
To inspire customer loyalty
To deliver shareholder value
One important point to note: an EVP is not a two-way agreement; it is your comprehensive list of benefits that you provide your employees to bring out the best in them. 
However, it's not just about creating an employee-centric value proposition. According to Gartner, progressive organizations are shifting their approach from just viewing employees as workers, to valuing them as humans. 
And by making this simple switch, they're seeing a 28% increase in employees who are likely to recommend their organization, decreasing annual employee turnover by 70%, and increasing new hire commitment by 30%. 
So what should an EVP include?
The following categories are all essential in building a strong employee value proposition, as they determine how your employees and potential candidates perceive your organization as an employer.
Organization – including reputation, market position, industry, size, and diversity
Rewards – including compensation, health benefits, leave and schedule
People – including manager and coworker quality, management practices, senior leadership, and camaraderie
Opportunity – including development opportunities, future career path, growth rate, and meritocracy
Work – including job impact, innovation, work-life balance, recognition, and travel time
In the next section, we'll show you how to create an employee value proposition, highlighting the various ways you can distinguish your organization from the competition.
How to create an effective employee value proposition
When you create an employee value proposition, it's not something that you can do on your own. Yes, you have certain information available to you that you can include: compensation including financial rewards, employee benefits, career development opportunities, and work environment. 
However, to identify the true essence of your company – what makes you unique, your culture, your values, why people are inherently proud to work for you, why they remain motivated to work for you, you have to speak to the people who live and breathe your organization's value and culture everyday.
1. Understand your reputation
To understand your reputation, talk to current employees, and past staff. You have to understand what their existing perceptions about your company are.
What are people really like to work with? What is your manager and coworker quality like? What are their views of your management practices? What do they think of your senior leadership? How is camaraderie in teams?
It might make for uncomfortable listening, but it's the only way you're going to learn the truth.
Begin by asking employees (old, new, and potential) these questions:
What has attracted you to the company?
What makes the organization unique?
What do you value most about working for the organization?
What compels you to stay?
What has caused you to leave?
You can gather this information through employee surveys, through focus groups, through your job application process, and through exit interviews with former employees.
2. Financial compensation
While compensation isn't everyone's primary motivator, it plays a big part in building your employee value proposition. The financial element of your EVP covers everything from salary expectations to your entire financial offering.
Paying fair and performance based compensation is a great HR practice, one that demonstrates you value employees as humans, not just a number on your payroll.
Find out how satisfied employees are with their compensation. Where do your staff salaries sit roughly within your industry? Are they fair?
3. Additional benefits
What other perks you offer employees such as healthcare, leave, work from home options, even retirement planning, falls under additional benefits. For younger generations, these can be even more important than financial compensation. 
You might provide health insurance, contribute towards retirement saving, offer additional paid leave, subsidized gym membership. Your additional benefits package is limited only by your imagination.
If you aren't sure what to give, ask employees what they want. What additional benefits fit your culture? What attracts diversity?
Get creative with your offerings. And remember, there is no one size fits all when it comes to what different employees will value most. Try to customize for different cohorts where possible – i.e. paid parental leave for new parents, graduate repayment assistance for graduates, etc.
Stop guessing,
Start data-driven hiring.
Learn how you implement a modern candidate selection process, that is: streamlined, experience-driven and backed by data.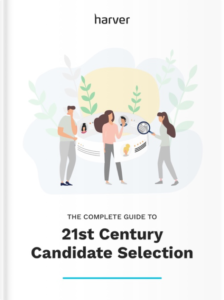 4. Career development
When filling high volume, entry-level roles, the majority of the applicants won't have career development at the forefront of their mind. They aren't looking for career progression with your organization, they merely want job security and a pay check now. 
But give them more than they expect. Provide them with career opportunities – give them learning and development initiatives so that they can progress within your organization.
Even for the most entry of positions, outline a career path from the bottom rung up to line manager and beyond. Highlight the growth potential in their job and how you as an organization value them and will contribute towards their career development. 
Career development can include:
Training courses
Further education
Leadership training
Promotion opportunities
Job shadowing 
5. Work environment
Work environment in your EVP incorporates factors such as work/life balance, company culture, flexibility, etc. The importance of the work environment is not to be underestimated. Organizations have to provide a work environment that not only supports employees, but enables them to do their best work.
Having a positive work environment feeds into employee experience and ultimately employee engagement and employee satisfaction, and increases employee retention rates. 
6. Determine the key elements of your EVP
Once you've done your research, you'll be in a better position to know what will attract and retain the top talent. You'll have answers to questions such as:
What is the preferred salary range?
What additional benefits do the top performers value?
What aspects of company culture do my top performers value most?
What does the ideal work environment look like for my top talent?
What career opportunities are my target audience looking for?
Bear in mind that you will have to create multiple EVPs for different segments of your organization. There will be one for entry-level roles, one for managers, another for professionals etc. Each EVP will have certain elements that are important to the type of audience you're hoping to attract with it. 
7. Create your compelling EVP
Once you know what sets your organization apart from the competition, what employee experience you offer that is different from everyone else, you can begin to craft a strong employee value proposition.
Your EVP needs to be clear, bespoke, and attractive, and it has to align with both leadership and employees' expectations. It's how you'll attract the top talent to your organization and ultimately retain them. 
8. Highlight your EVP in employer brand videos
When organizations reach out to Harver for support with their volume hiring process, they want to create a candidate experience that resonates with their target audience, delivering something unlike they've ever encountered before.
And one way we do that for them is by incorporating employer brand videos into the application process.
Almost 70% of consumers prefer to learn about a new brand through watching videos over any other medium. After all, a picture paints a thousand words.
Rather than try and describe your EVP, capture it in an employer brand video and demonstrate it as a part of your application process. Each candidate receives the same message – they're shown what your core values are, what your culture is, and what your EVP is.
Next steps
In a tight labor market, building a strong EVP will help set you apart from the competition.
Right now employees have the upper hand and they're looking not only for a great organization to work for, but for an organization that delivers outstanding employee experience. And attracting them begins with crafting a strong EVP.
Harver's volume hiring technology can help you showcase your EVP during the application process through an engaging, fast, and fun candidate experience that reflects your brand and culture. If you'd like to learn more, you can book a demo below.
Ready to transform your hiring process?