In just a few short months, life as we knew it has completely transformed. Thanks to the COVID-19 pandemic, the world is changing rapidly—and while the future is still unknown, we're most likely heading toward a serious global recession.
With unemployment already on the rise and the labor market beginning to change indefinitely, it's now more important than ever before to be agile, adapt your strategy to the worsening economic conditions, and get ready for hiring amidst a recession.
Wondering how to navigate such an uncertain and unprecedented time? We've got a few tips to help you get started!

What's in?
Subscribe and stay up-to-date with everything recruitment related by receiving a weekly content digest and email updates on new resources!
How COVID-19 is reshaping the global workforce and economy
Before we dive into the tips for hiring in a post-COVID-19 era, let's take a look at how the current crisis is reshaping the job market and economy globally.
In recent years, we've seen the transition to a candidate-driven job market. Before COVID-19, which seems light-years away at this point, the global rate of unemployment was at a historic low. Recruiters have become increasingly tech-savvy and creative when it comes to standing out as a top employer and beating out competitors for the best talent.
Of course, everything is different now. According to the International Labour Organization, the COVID-19 pandemic will be responsible for more than 300 million jobs lost worldwide. And that's not all; it's estimated that lockdown measures are impacting 2.7 billion workers, or 81% of the global workforce, in one way or another.
In any case, it looks like recruiters should prepare to be inundated with an influx of applicants.
The economy is taking a hard hit as well. The World Economic Outlook reported that the global economy is projected to decline by -3 percent, with advanced economies seeing up to -9. Because numbers like this are significantly worse than we saw during the 2008-2009 financial crisis that took nearly a decade to recover from, it's clear that companies need to adapt and evolve—or get left behind in the wake of coronavirus.
The economic outlook for 2020 doesn't look positive, that's why hiring is changing, too.
10 tips for recession hiring in a post-COVID-19 era
1. Understand the changes to the job market
COVID-19 has impacted just about every person, company, and industry out there—but each has been affected differently. How have the recent changes to the job market affected the industry you're most active in? How will it impact your candidate supply when you start hiring in a post-COVID-19 era?
Knowing where your industry lies is the first step to revamping your strategy and hiring during a recession. Arran Stewart, co-founder and chief visionary officer for Job.com, did a great job of articulating how different industries are being affected by the pandemic:
"Some sectors have been obliterated, like hospitality and travel. Conversely to that, some are absolutely booming. Logistics and healthcare workers are in huge demand as are certain retail workers, like supermarkets."
This suggests, for example, that many former hospitality employees will be looking for jobs in other industries, and you will need to pay extra attention to their transferable skills when considering them for your roles.
Job seekers will also recognize the health risks associated with certain roles such as frontline positions, and might be hesitant to apply for these.
It is important for you as a talent professional or a manager to stay on top of news about the labor market developments to predict how they are going to affect your recruiting efforts in the post-COVID-19 period.
2. Anticipate your short- and long-term hiring needs
The key to recession hiring is to analyze and anticipate your short- and long-term needs before the post-COVID-19 era begins. To do this, you'll need to quickly adapt and adjust your hiring plan to adequately reflect the current and future state of the workforce, instead of holding on to the plan you'd made before the pandemic. Think about how you're going to fill in the skills gaps at your organization, both now and later.
Here's how Harver's own CEO, Barend Raaff, explained the current climate and why being proactive is important: "Companies that are struggling today, should remember that this crisis will eventually end and they should have a re-opening strategy in place. Keep former employees close because tens of thousands of companies will re-open overnight, resulting in an unprecedented recruitment storm."
The labor market is shifting from candidate-driven to employer-driven. However, employers still need to be strategic about filling their roles and selecting the best candidates.
3. Prepare your recruitment tech stack
Recruitment technology has never been more essential than it is today. From remote interviewing to applicant tracking, there are a number of solutions that can ease the process of hiring in a recession. To prepare your recruitment tech stack, review the solutions that you use right now and see how they will help you fulfill your hiring needs in the weeks, months, and even years ahead.
If you're looking for new tools, opt for agile solutions that you can continue using even when your needs change. Here are some of the tools to consider adding to your recruitment tech stack to support hiring in recession:
Sourcing tools

Applicant tracking system

Pre-employment assessment tools

Virtual interviewing software

Recruitment marketing suite

Onboarding software
4. Define what candidate quality means for you
While there's no doubt that recruiters will soon see a significant uptick in job applications, it's important to continue prioritizing candidate quality, person-organization and job fit. In times of budget cuts and cost optimizations, you don't want to spend money on hiring someone just to lose them because they weren't a fit, and having to do the recruitment process all over again.
So ask yourself, what kind of candidates are you looking for? Determine who an ideal candidate is for you before you start receiving applications and review it once you get the applicants in.
By putting candidate quality first and making sure you're choosing the right candidates for the roles in question, you can maintain a strong company culture and keep engagement levels up—even during a difficult recession. Besides, the last thing you want is to lose employees because you've made ill-suited selections. Pre-employment assessments used early on in the hiring process can help you weed through applications and find the people who are the best match for your business.
Once you fully understand what candidate quality means for your organization, you should make it a point to analyze your recruitment channels and see where your best candidates are coming from. Then you can focus your efforts on those channels and on finding qualified candidates for your organization.
This chart visualizes quantity and quality of candidates based on the source. Creating a similar chart from your data will help you determine which channels are worth investing in.
5. Focus on promoting job security and growth
When you start hiring in a post-COVID-19 era, remember to focus on promoting long-term job security and opportunities for growth. That's the number one thing job seekers will be looking for in times of economic downturn.
If you're trying to attract new employees during a recession, it's important to build job security into your employer value proposition (EVP). You can then promote security and growth in your job postings and communications to candidates to ease their concerns about the future.
Stop guessing,
Start data-driven hiring.
Learn how you implement a modern candidate selection process, that is: streamlined, experience-driven and backed by data.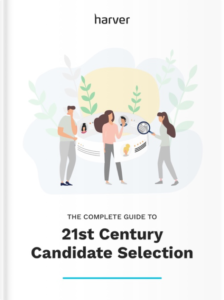 6. Align the team on your recruitment strategy
Your recruitment strategy has obviously changed, and you need to make sure your internal team is aware of the modifications. Make sure that people who are involved in recruitment, such as hiring managers, team members, and executives, understand what you're focusing on right now and why.
By making sure your team is aligned and up-to-date on your recruitment strategy, you can pivot quickly and make sure everyone stays on the same page. You'll also want to get your team's input when making hiring decisions, so it will be helpful to make sure everyone is aligned from the jump.
7. Don't forget about diversity and inclusion
It is easy to forget about diversity and inclusion in recruiting when you have a surge of applicants lining up to work for you post-COVID-19. However, if you want to continue building a productive, engaged workforce during the economic downturn, you have to continue looking for diverse talent and creating an inclusive culture within your organization.
There is evidence to support that diversity recruiting might even help your company withstand a recession. It's been proven that inclusive companies fare better during tough economic times. Michael Bush, CEO of Great Place to Work, explained: "In our study of nearly 2,000 companies we found that key metrics related to equity and inclusion not only drive stronger company innovation, but also predict whether companies will thrive or stumble during a recession."
8. Focus on maintaining a strong employer brand
Mark Cuban, a well-known entrepreneur, said it best: how companies treat their employees during the COVID-19 pandemic will likely define their brand for decades to come. Your employer brand is always a top priority for your business; however, being present and empathetic is especially critical, both right now and after the world returns to some semblance of normalcy.
According to a LinkedIn survey, 1 in 4 company posts on their site mentions coronavirus. What's more, companies on LinkedIn with the most engagement used specific keywords and phrases more often than others. For example, terms like social distancing, public health and take care garnered higher engagement than coronavirus posts with less compassionate language.
Think about your employer branding messaging and how you can strengthen your employer brand even in a difficult period, as it will have long-lasting effects.
9. Hire fully remote workers and contractors
Remote and contract work has been on the rise in recent years, with more and more companies embracing less traditional work setups. Before COVID-19, 5 million employees, or 3.6% of the U.S. workforce worked from home some or all of the time. With so many companies forced to embrace telecommuting, many believe remote work and hiring will be the new normal in a post-pandemic world.
There is likely to be a significant upswing in the adoption of remote work. Some estimates suggest that 25-30% of the global workforce will work from home multiple days a week by the end of 2021. In fact, Zillow has already committed to allowing employees to work fully remote for the remainder of 2020.
It's also a good time to consider hiring contract workers if you're unable to bring people on full-time. This is a much better option than a hiring freeze, and with 35% of the U.S. workforce freelancing, there are plenty of candidates to choose from! Building a long-term partnership with a freelance employee offers many of the same benefits as hiring for full-time, without all the costs that come with it.
10. Build a talent pool and stay in touch with quality candidates
Your hiring efforts might be limited right now but it's likely that you're getting more qualified candidates that you can hire. Build a talent pool and keep them engaged via relevant communication. Once you're ramping up hiring again, make sure your talent pool is the first place to look for the candidates.
Here's how Jennifer Ho, vice president of human resources at Ascentis, broke it down: "Ensuring a solid pipeline of talent prospects will always be necessary. As companies may find themselves in a hiring freeze, an established pipeline ensures a smooth rebound when recruitment resumes. Also having a powerful employer branding strategy integrated with your recruitment strategy will help bridge any gaps." For
66%
of organizations, building a candidate pipeline is currently their top priority.
Source: Entelo COVID-19 Addendum Survey
Once your recruiting efforts resume, you will be able to fill your roles faster and save costs in the process, too.
Over to you
Difficult times are ahead of us and businesses have to adapt their strategies to survive and thrive in times of recession. Hiring will also be much different than it was in 2019 when unemployment was low and companies were fighting for candidates. The key is to understand the changes in the labor market and address them by changing your recruiting strategy.
While the future is no doubt uncertain, one thing remains true: The recovery process is going to take some time, and in order to survive the storm, you have to be agile and ready for what's to come. What that is, is anyone's best guess.
Stop guessing,
Start data-driven hiring.
Learn how you implement a modern candidate selection process, that is: streamlined, experience-driven and backed by data.