Unless you've been living under a rock for the past two decades, you are well aware of just how difficult it is to find, evaluate, and retain top tech talent for any meaningful length of time.
Smart, savvy, and up-to-date recruitment efforts are the only way to go. And one way to achieve this is by involving hiring managers in the recruitment process.
Recruiters and hiring managers share a common goal of finding ideal candidates in the least possible turnaround time.
Historically, the responsibility of hiring good candidates was placed solely with recruiters.
However, with the tech industry becoming highly competitive, the need to involve hiring managers in the recruitment process to fill the seats with the right people is becoming obvious.
Hiring is often time-consuming and requires a great amount of teamwork. Hence, recruiters and hiring managers should work together toward their common goal of recruiting the best talent in a shortest possible amount of time.
In an ideal world, the collaboration between a hiring manager and a recruiter is always a smooth one. But sometimes, recruiters may struggle to meet the expectation of their hiring managers. Let us try to break it down for you.
What's in?
Subscribe and stay up-to-date with everything recruitment related by receiving a weekly content digest and email updates on new resources!
Who is a hiring manager?
Hiring managers are key members of a recruiting team. They request new positions to be filled. They make the final decision about whether or not a candidate has made the cut.
Once candidates accept the job offer and start their employment, they report to their respective hiring managers.
However, these people may not have the recruitment expertise. This is where the rest of the recruitment team comes into play.
It is of utmost importance for the recruitment team to support hiring managers with easy-to-use technologies and resources that can ensure quality hires.
Finding tech talent is difficult in itself, that's why the recruitment process needs to be as smooth as possible to overcome the challenges.
Hiring managers vs. recruiters
People often get confused between hiring managers and recruiters. Even though both are involved in the recruitment process, their tasks are complementary rather than overlapping.
While recruiters focus on building a strong candidate pool for a given position, hiring managers participate in identifying and hiring the most qualified applicant from that pool.
So who is responsible for hiring candidates? The answer is both. Finding candidates does not solely depend on recruiters but it is also the responsibility of the entire organization and especially that of the hiring manager. Hiring managers play a key role in the recruitment process not only because new hires will report to them but also because their strong personal brand attracts others.
In addition to identifying the strongest candidate from a talent pool, hiring managers serve as the point of contact between the applicant and the company in the later stages of the hiring process, especially during contract negotiations.
Also, in the event that hiring managers deem none of the candidates efficient, it is their job to notify the recruiter to work on another applicant pool.
How can you tell the hiring process is broken?
So, you have researched the developer landscape, spent ample time on building your employer brand, and gauged the nuances of communicating with highly talented candidates.
However, you still feel like you're not hiring developers as quickly as you'd like to. This is a clear indication that your hiring process needs to be reevaluated.
Here are things that can hold your entire developer hiring process back.
You're screening resumes the wrong way

Your interviews are unstructured

Your jobs are really difficult to apply for

Your interviewers haven't received formal training

Your feedback cycle isn't fast enough

You don't know what you're looking for

You're searching for the wrong keywords

You're blind to diverse candidates

Your job descriptions drive candidates away before they apply
A lack of collaboration between the recruiter and the hiring manager can also hinder the progress of the recruitment process. How do you make sure that your hiring managers are engaged in the hiring process?
Hiring manager review takes up the largest part of the hiring process.
Involving hiring managers
A recruiter and a hiring manager need to build a strong working relationship in order to make effective hires. Here's how hiring managers can help recruiters get the best candidates on board.
1. Get to know hiring managers' needs
Hiring managers often have the best insight into the requirements of the job. Hence, it is imperative for you to consult your hiring managers and understand the specifics of the roles you are hiring for.
Ask them what they are looking for in a developer, the skills that an ideal candidate must possess, and any other detail that you must pay extra attention to.
Here are some questions you can ask your hiring manager as the first step of the recruitment process:
What is the job title?

What skill sets should the ideal candidate possess?

What are the daily expected tasks?

What is the required qualification for the role?

What technological tools should the candidate be proficient in?

How is the team structured?

Who will the new hire report to?

What is the overall compensation?
Having said that, most hiring managers look for developers that demonstrate a strong combination of both technical and soft skills.
Additionally, they look at how well a candidate will fit into a specific role or complete a specific task. Are they dependable and responsible and yet fun to work with? Will the candidate fit into the company culture?
When looking to fill a new position, hiring managers search for someone who will help their department function.
Make a list of attributes after a discussion with your hiring manager and then screen resumes accordingly. Also, a knowledge of the key skills required will help you craft the perfect job description.
This shows how important clarifying the job requirements is in reducing time to hire.
2. Educate them about the recruitment process
There are typically 6 phases in a tech recruitment process. The candidate screening and shortlisting process for IT is the second most time-consuming process, after candidate sourcing.
In general, hiring managers are short on time and impatient to fill the role. Help hiring managers set the right expectations by telling them what exactly the recruiting process involves, how long it takes to hire a candidate on average, and what your recruitment strategy is.

Phases in tech recruitment
Identifying the hiring needs

Preparing the job description

Sourcing (internal sources + external sources)

Screening and shortlisting (pre-employment testing and telephonic/video interviews)

Interviewing (Face-to-face)

Evaluation and offer of employment
Additionally, you can ask for their feedback in areas where they are the subject-matter experts.
For instance, while assessing developers using skill-based assessments as a part of the pre-employment testing, you can ask hiring managers which questions to choose for the tests.
Also, involve them actively in evaluation of candidates. This can help you structure the hiring process efficiently.
3. Involve them when interviewing candidates
Recruiters are (typically) not technical experts. They mainly focus on sourcing and identifying talent to fill vacancies.
During interviews, candidates may sometimes get frustrated by the lack of in-depth knowledge on a recruiter's part.
This is where hiring managers come into play as they can ask (and answer) the aptest tech interview questions. For example, if pre-employment tests contain programming questions, hiring managers can ask the candidates to give a brief on the concept and how they approached the problem.
Tech questions are designed to let candidates prove their problem-solving skills, abilities, and knowledge that they mention on their resumes and throughout the interview process.
By asking the right set of technical questions, hiring managers can make sure candidates can do the tasks that will be required as part of the role.
Encourage hiring managers to create scorecards for different candidates during interviews. This will help you grade every candidate objectively against criteria that are important for the job.
For example, if you're hiring a data scientist, you might have 3 important criteria (strong knowledge of programming languages such as Java and Python, analytical skills, and mathematical skills), for which hiring managers can score each candidate on a scale of 1-5.
Another best practice to follow is to ask hiring managers to write down what candidates say during the interview.
When hiring managers review these notes later, they can recall the candidates' actual responses.
This, in turn, will enable everyone in the recruitment team to accurately assess a candidate's strengths and weaknesses and decide who makes the cut.
Following these practices will help you improve your tech interview process drastically.
Interviewing process takes up a lot of time from the hiring managers, so it needs to be efficient.
4. Identify potential deal-breakers 
Keep your hiring managers on loop and notify if the candidate has made any specific requests on salary expectations or flexible working hours.
For instance, software development isn't time-specific the way customer-facing positions tend to be.
Hence, most developers expect flexible working hours. These are potential deal-breakers and not identifying them early on in the recruitment process could lead to starting the hiring process all over again.
Stop guessing,
Start data-driven hiring.
Learn how you implement a modern candidate selection process, that is: streamlined, experience-driven and backed by data.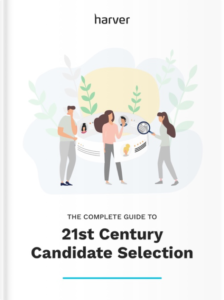 5. Let them choose their level of involvement
Recruiters should understand that each hiring manager brings a different set of opinions, values, and flair to the recruitment process.
Provide hiring managers with tools—the best applicant tracking systems help them get involved as much as they want in the hiring and onboarding process of candidates.
If they want to see every application, provide them with the right recruiting software that let them review every candidate.
On the other hand, if they only want to see candidates with the top skill sets, recruiters need a tool that allows the scoring of candidates and then deciding who moves to the next round.
With an organized hiring process, recruiters can work with their hiring managers to identify potential new hires who match the organization's values and department needs.
It all boils down to open channels of communication—communication between the HR department and the hiring managers. The right applicant tracking technology makes this communication easy.
Creating a collaborative hiring process helps improve quality of hire. While designing this process is usually the responsibility of recruiters (and the HR department), hiring managers also need to understand their role in it.
6. Fight bias
Research reveals that female developers don't bag the majority of the tech roles when compared to their male counterparts with identical skillsets.
Sometimes, recruiters and hiring managers are guided by their biases. They may end up hiring based on the way a candidate looks, the college they went to, etc., none of which have any effect on the role the candidates are being recruited for.
If you spot any such questionable behavior during the hiring process, you must consult the hiring manager.
By presenting each candidate's strengths and weaknesses, you can help the hiring manager make an objective decision.
While screening candidates, guide the hiring manager to focus on things that matter, like relevant skills and a penchant (vs. a passion) for the job.
7. Check in regularly
If you interact and meet your hiring managers only twice, once to understand job requirements and then provide a list of qualified candidates, you risk suggesting not-so-ideal candidates.
Getting frequent feedback from hiring managers while in the middle of sourcing is important as hiring managers may change job requirements.
Timely and relevant feedback is a pillar of a good relationship between recruiters and hiring managers, yet it is not a matter of course in many tech companies.
A final word
To sum up, with the willingness to communicate more openly, recruiters can foster a strong working relationship with hiring managers and hire more effectively, as a team.
Developing a smooth relationship between hiring managers and recruiters can be the key to assembling an amazing technical team. But it is important to remember that a hiring manager might not have extra time to spend on recruiting strategies as they have several other responsibilities. Work to identify and address their needs. After all, their satisfaction means you've closed a successful hire. This will reflect in the quality of developers you recruit.
About the Author
: Ashmita Roy is a Content Editor at HackerEarth. With a knack for writing, she hopes to write something, someday, worth plagiarizing. When she's not working, you can find her strumming her guitar or binging on Netflix.
Stop guessing,
Start data-driven hiring.
Learn how you implement a modern candidate selection process, that is: streamlined, experience-driven and backed by data.